As compared to other professions in the civilian world, the Indian Navy has a variety of jobs to offer to young men and women in the country. It gives you the opportunity to display leadership skills and also bestows you with a tremendous amount of responsibilities at a very young age. Are you fervent to serve your country underwaters? Are you all geared by the heroism of the Indian Navy officer depicted in the movie The Ghazi Attack? For the Navy aspirants possessing the same zeal and looking out for how to join the Indian Navy, here is a blog that aims to shed light on the various entry routes for men and women to join the Indian Navy.

Every career path has its own benefits that draw candidates to their application. What are Indian Navy's? Read below to know.
Candidates receive excellent salary packages as a result of taking entry into the Indian Navy.
Indian Navy officers get free accommodation, high-quality medical facilities and more!
Moreover, the officers get timely industrial training.
Naval Group Insurance Scheme provides all recruits with health insurance services.
The pension facility of the Indian Navy is another great benefit of joining it.
Indian Navy Day 
The East India Company formed the Indian Navy in 1612. During the India-Pakistan war, Pakistan attacked Indian airbases on December 3, 1971. In response to the strike, the Indian navy deployed three Vidyut-class missile boats, the INS Veer, INS Nipat, and INS Nirghat, to Karachi at top speed. The Indian Navy sank three Pakistani navy ships during this operation. The attack that sank the ships in Karachi was conducted by Commodore Kasargod Patnashetti Gopal Rao. So, every year on December 4, the Indian Navy Day is commemorated to honour the Indian Navy's efforts and accomplishments during Operation Trident, which took place during the 1971 Indo-Pakistan conflict.
Different Paths and Eligibility to Join Indian Navy
There are 6 paths available for candidates to become eligible for the Indian Navy. Follow the tabulated guidelines below and choose a suitable path to pursue your career in the Indian Navy. 
Option
Stream
Graduation
After Graduation
After Post Graduation
1
10 + 2 (PCM) or XII in Science Stream(Maths and Physics)
UPSC and NDA
–
–
2
XII in Science Stream(Maths and Physics)
Indian Navy (sailor direct entry) (MER exam) 55% or above in Maths and Science in 10th and 55% or higher in 12th in Maths & Science. (Computer knowledge preferable)
–
–
3
XII in Science Stream(Maths and Physics)
Graduation in any discipline. (Open to pre-final year students if they have the required certificate)
If you pass the CDS UPSC exam and have a "C" certificate, you are eligible to join the NCC Special Scheme.
–
4
XII in Science Stream(Maths and Physics)
Pursue a diploma in Mechanical, Electrical, Electronics, Telecommunications, Aeronautical or Ship Building, Instrumentation Engineering, Metallurgical, or Polytechnic Engineering with a minimum of 50% marks.
Indian Navy Direct Entry Artificer Apprentice Exam
–
5
XII in Science Stream(Maths and Physics)
Engineering degree with a minimum of 55% in mechanical (Electronics and Telecommunication/Control Engineering equivalent qualification recognised by the Institute of Engineers) (India)
Indian Naval Technical Exam for applying in Engineering, Electrical and Submarine branch and SNAES
–
6
XII in Science Stream(Maths and Physics)
Education Branch: (21- 25 years of age) Master's degree with 55 per cent marks in Physics (with Maths in B.Sc) or Maths (with Physics in B.Sc). (Women candidates having Chemistry with Physics as subsidiary at Degree levels are also eligible.)
Law: (22 – 27 years of age) Graduation in LLB
Logistics Cadre: (19 – 25 years of age) BE/B.Tech in Civil/Architecture or a Bachelor's degree in any field, including BCA with a degree/diploma in Material/Financial Management or Chartered Accountancy.
Apply for the Indian Navy Law & Logistics Cadre test to join the Indian Navy as an Executive & JAG.
–
The most sought-after way to enter the esteemed Indian Navy is to qualify for the varied competitive exams held at the national level. These exams will entitle you to an opportunity for direct entry into the armed forces. Leverage Edu has formulated a list of written examinations, conducted by different authorities which can be your absolute gateway if you are wondering about how to join the Indian Navy.
National Defence Academy (NDA)
With a simple educational qualification as that of class 12th, the aspirants can enter the navy through NDA Exam. NDA is a tri-service academy that recruits candidates for the Indian Naval Academy, Indian Military Academy, Indian Air Force Academy through a common examination bifurcated into two separate tests. The exam is conducted twice a year and only the male candidates of age 16.5-19.5 are eligible to apply. It is mandatory that the applicants must be unmarried. Let's have a look at the NDA exam pattern:
| | | | | |
| --- | --- | --- | --- | --- |
| Paper | Sections | Total Questions | Duration | Marks (Total=900) |
| 1 | Mathematics | 120 | 2.5 hours | 300 |
| 2 | English and General Knowledge | 100+ 50 | 2.5 hours | 600 |
Combined Defence Services (CDS)
Conducted by the UPSC twice a year, CDS is one of the most opted ways to get into the Indian Navy. The CDS exam is followed by an SSB interview which determines the final status of candidature. Through this exam, candidates can target all three i.e., the Army, Navy and Air Force. Only the male candidates possessing the minimum eligibility i.e., a graduate degree from a recognised institution can enrol for the examination. Those who are applying must fall under the age limit of 19-22. The CDS exam is divided into three parts, let's have a look at the CDS exam pattern:
| | | |
| --- | --- | --- |
| Sections  | Maximum Marks  | Duration  |
| English | 100 | 2 hours |
| General Knowledge | 100 | 2 hours |
| Elementary Mathematics | 100 | 2 hours |
10+2 (BTech) Cadet Entry
The male candidates pondering about how to join India Navy after class 12th MPC subjects, Cadet Entry is their gateway to their career aspirations. To enter through this route it is mandatory for the candidates to possess at least 70% marks in the 12th class. Those who get shortlisted for this technical entry will be given a call by SSB. Also, if you are willing to choose this pathway, you must make sure that you are between 16.5-19 years at the time when the course begins.
University Entry Scheme (UES)
If you are pursuing or have attained quality education through the engineering program, you can be a part of the prestigious Indian Navy through UES. Only the male candidates who are in pre-final or final year can apply. Candidates can apply to the branches of Executive Entry, General Services, Architecture Branch etc. Both male and female candidates can apply for the Architecture Branch. The applicants opting for this route must be between 21-24 years. MPC subjects at class 12th along with a minimum of 60% marks in every paper in graduation is compulsory for the candidates.
For all the female aspirants gauging how to join the Indian Navy, there are some special profiles and entry routes available for you. As per the Indian Navy, women can apply for the following mentioned profiles if they align with the set eligibility criteria.
Profiles
Age
Educational Qualification
Naval Architecture
19.5 to 25
60 % marks in BTech/ BE Degree
Observer
19 to 24
BTech/ BE Degree with
MPC Subjects in class 12th
Education
21 to 24
A master's degree in Physics
/ Chemistry/ Computer Application or
any other relevant field
Logistics/ Works
19.5 to 25
-For Logistics: BTech/ BE degree
or MBA
or PG diploma in Finance/ Supply Chain Management

-For Works: Btech/ BE degree (Civil)

-For Catering: MSc HM/ MBA HM

Law
22 to 27
Degree in Law
ATC
19.5 to 25
BTech/ BE degree with MPC
subjects in class 12th
Pilot General
CPL Holders
19 to 24
19 to 25
BTech/ BE degree with MPC subjects i
n class 12th
Those having valid and
current CPL issued by DGCA (India)
NAI
19.5 to 25
BE/ BTech Degree
Top 10 Indian Navy Training Institutes 
Following are the leading institutes in India for you to kickstart your Indian Navy training:
| | |
| --- | --- |
| College | Location |
| INS Agrani (Leadership Training) | Coimbatore, Tamil Nadu |
| INS Hamla (Logistics Training) | Malad, Mumbai |
| Institute of Naval Medicine | Colaba, Mumbai |
| INS Kunjali (Music Training School) | Colaba, Mumbai |
| INS Chilka (Sailors Training) | Bhuvneshwar, Orissa |
| INS Mandovi (Provost and Physical Training School) | Verem, Goa |
| INS Vishwakarma (Shipwright School) | Vishakhapatnam |
| INS Dronacharya (Gunnery School) | Kochi, Kerala |
| INS Garuda (Aviation) | Kochi, Kerala |
| INS Valsura (Electrical Training) | Jamnagar, Gujarat |
Career Opportunities in the Indian Navy
Here is a list of career opportunities in the Indian Navy:
Executive: This Indian Navy unit is in charge of working and fighting the ship, as well as using it during combat, preparing nautical maps for providing instructions and organising attacks, and participating in naval aboard activities. Providing effective battle training, conducting underwater inspections of ships to check for faults or repairs, legal requirements, keeping track of what is required, and the development and maintenance of IT infrastructure and applications are all tasks assigned to this branch of the Indian Navy.
Engineering: Students interested in Engineering, General Services, Submarine Engineering, and Naval Construction can join this branch of the Indian Navy. They work with submarines and are in charge of ensuring that they are in good functioning order and that they can be serviced. They are also involved in naval vessel design, construction, quality control, and repair.
Education: This is the department that assists in attaining a person's dream of training the nation's youth to become good officers and navy people. As a member of this division of the Indian Navy, the individual will be responsible for educating future officers and sailors for the nation's naval defence. They specialise in certain subjects and then train students in those fields.
Electrical: This unit of the Indian Navy is in charge of the warships' electrical needs. They also have control over underwater weapons, radar and radio transmission, missile systems, and computer-controlled machinery. Warships are like little cities that require everything that people on land do, including food, water, and even electricity. They are the ones who ensure that all of these systems are operating at maximum efficiency.
Medical: Professionals in this Indian Navy sector are in charge of looking after the health of personnel and their families, as well as learning and practising military medicine.
How to Work in the Indian Navy?
Some of the workings of the Indian Navy are mentioned below.
Act as a deterrent to war and intervention
Efforts to protect India's territorial integrity, inhabitants, and off-shore assets from threats posed by the sea
Carry out simulated drills, conduct anti-piracy operations, and keep an eye on foreign trade via waterways.
Influence land-based security efforts in collaboration with relevant authorities.
India's marine and maritime trade should be protected.
10 Facts About The Indian Navy
The Indian Navy is the naval arm of the Indian Armed Forces. India's President serves as the Supreme Commander of the Indian Navy. The navy is directed by a four-star admiral, the Chief of Naval Staff.
Here are the top 10 amazing facts about the Indian Navy:
The Indian Navy is among the top 7 naval forces in the world. 
Our supreme naval branch of the Indian armed forces, originally known as the Royal Indian Navy, was created in 1612 by the East India Company and renamed the Indian Navy following independence on January 26, 1950. 
The day the Indian Navy was created is not commemorated on Navy Day. Rather, it marks the anniversary of the Indian Navy's victorious Operation Trident, a strike on Pakistan's naval headquarters in Karachi. 
During the liberation of Goa in 1961, the Indian Navy launched its first independent expedition against the Portuguese Navy. 
During World War II, India's naval forces played a significant role.
The Indian Navy was involved in one of the greatest naval battles since WWII.
The missile BrahMos is the world's fastest cruise missile, with a Mach (ratio between the object's speed and the speed of sound) of 2.8–3.0.
In Kerala, the Ezhimala Naval Academy is Asia's largest naval academy.
The Indian Navy's Father, Chhatrapati Shivaji Raje Bhosale, is revered.
Viraat (Indian Naval Ship) was the navy's first aircraft carrier and the world's oldest.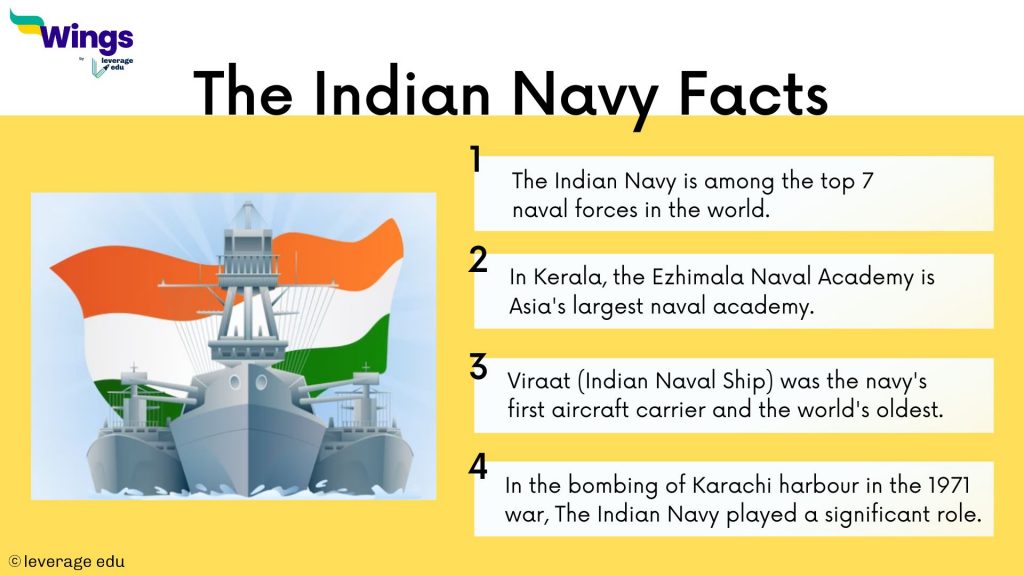 FAQs
1. Is Navy exam tough?
The Navy exam which is The Indian Navy SSR is extremely tough to crack.
2. How many years is Merchant Navy training?
Depending on the course, the training can range from 6 months to one year.
3. What is Indian Navy age limit?
The age limit of the Indian Navy is 17 to 25 years old
We hope that through this blog about how to join the Indian Navy you are all geared up to begin your career in the Navy. if you are confused about your career choices, contact us at Leverage Edu and our experts here will help you shortlist the right career path.