Do you wish to pursue a master's or PhD abroad? Then to do so, you would have to qualify for one of the prestigious competitive exams, the GRE. Graduate Record Examination (GRE), which is conducted by Educational Testing Services (ETS) is one of the important admission requirements to start a career abroad. The GRE test is available in two variants namely, GRE General Test and GRE Subjects Test. Often, GRE aspirants get confused about which one to choose and If you are also stuck in the same conundrum, then here is a blog that will shed light on the major differences when it comes to GRE General Test vs GRE Subject Test.

What is the GRE General Test?
GRE General Test assesses a candidate on three parameters, i.e. Analytical Writing, Verbal Reasoning, and Quantitative Aptitude. Every section has to be completed in a time-bound manner. The total duration of the exam is 3 hours 45 minutes.
What is the GRE Subject Test?
GRE Subject Test will gauge through a candidate's ability in the chosen subject. There are 6 disciplines for a candidate to choose from – Biology, Chemistry, Mathematics, Physics, Literature in English and Psychology. The total duration of this test is 2 hours 50 minutes with no sectional time limit.
GRE General Test vs GRE Subject Test: Key Differences
Now that you have a clear idea about what these tests assess, let us elaborate on some areas which will help us understand the differences between GRE General Test vs GRE Subject Test.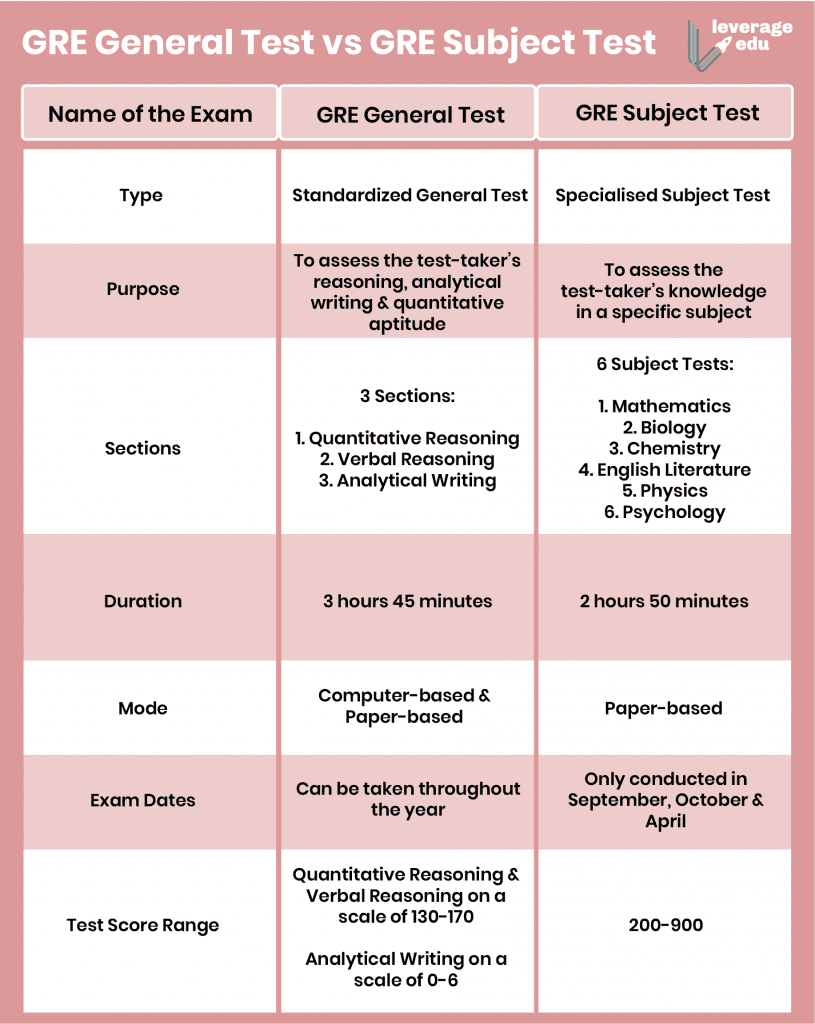 Motive of the Test
The foremost reason to select one variant over the other is the purpose you are taking it for. As explained above, the GRE General Test will test your critical and analytical thinking capabilities regardless of your prior study field as well as the one you are willing to opt for. On the other hand, if you want to showcase your knowledge in a particular domain of study, GRE Subject Test will solve your purpose the best.
Mode of the Test 
An important factor that comes into picture when we discuss GRE General Test vs GRE Subject Test is the mode in which they are conducted. GRE General Test is available in both offline and online modes, however, the former can be given throughout the year whereas the latter is conducted on predetermined dates. The GRE Subject test is conducted only in the months of September, October, and April and in only pen-paper mode.
Syllabus 
As the motive behind both the tests is completely different, the exam structure, as well as the GRE syllabus is distinct. The university will demand the GRE Subject Test score if you want to major in a particular subject. On the contrary, the GRE General Test score will be required to prove your general reasoning and aptitude abilities in order to pursue a wide range of programs. Tabulated below are the main subjects of these tests:
GRE General Test
GRE Subject Test
Analytical Writing
Quantitative Aptitude
Verbal Reasoning
Biology
Physics
Mathematics
Chemistry
Literature in English
Psychology
Note: Candidates will have to choose only ONE of the given test subjects for the GRE Subject as per their field of interest.
Test Scores
GRE Subject Test scores are evaluated on a score chart from 200-990. Whereas in the General Test, Quantitative and Aptitude sections are calculated on a scale of 130-170 and the Analytical Writing is scored between 0-6. Thus, the score evaluation method becomes a vital point in GRE General Test vs GRE Subject Test.
GRE General Test vs GRE Subject Test: How to Pick the Right One?
To apply for a postgraduate program at a university abroad, you will likely need to submit the GRE General Test score. But it largely depends on multiple factors whether you need to take GRE General Test vs GRE Subject Test.
Mainly, if the programme requirements need to you take the GRE Subject test, then you are bound to do so. But GRE Subject Test plays a decisive role when you are applying for a highly competitive programme or popular graduate school, so if you have the additional time, then it is advised to take the subject test corresponding to your chosen course.
If you have already appeared for a GRE subject test and are applying for the related course, then the GRE subject scores will definitely increase your chances of acceptance.

FAQs
What is the fee for the GRE test?
The application fee of the GRE test is US$ 205 [INR 16,000/-]
What skills are examined through GRE tests?
GRE General Test will check your Analytical Writing, Verbal Reasoning, and Quantitative Aptitude skills. While the GRE Subject Test will assess your domain-specific knowledge. 
How many times can I take the GRE test?
You can take the GRE test 5 times a year with a gap of a minimum of 21 days.
How important are GRE Subject Tests?
Similar to the GRE General tests, the GRE Subject Tests are usually included in the application for studying a postgraduate programme abroad. But the GRE Subject Test scores help the universities determine your knowledge and understanding of a specific subject which further assists them in assessing if you are the right fit for the program.
Should I take the GRE General or Subject Test?
While GRE General Test scores are commonly needed for completing the admission process of a postgraduate program, you can also provide GRE Subject Test scores to highlight your knowledge in a specific subject such as Psychology, Mathematics, Physics, etc. Also, if you are applying for a leading and highly competitive programme, it is recommended to take the GRE Subject Test as providing subject scores can increase your chances of getting accepted into your chosen university.
Hopefully, you are now clear about the salient features of the GRE General Test vs the GRE Subject Test. Are you still confused about which out of these two will you need to clear in order to enter your dream university? Then get in touch with Leverage Edu's experts who will provide assistance in finding the most suitable version and will also help you in GRE preparation through engaging online classes!