"Great stories happen to those who can tell them." – Ira Glass. Every actor is a storyteller with a hat full of characters and tales, some of them too true to face and others ready to take you places! Moulding oneself into someone else's persona and adapting to a character's mannerisms to bring them to life is what actors do. As a career, acting is filled with ups and downs as there is no sure-shot way of finding success in this field. Still being accepted as a full-fledged profession, pursuing a career in acting is not an easy path to take. Though there might not be a success mantra to becoming a film actor, this blog aims to bring you a comprehensive guide on pursuing this road less travelled, gathering essential skills and guidance to finally make it to the silver screen of your dreams!
Take A Look At Our Exclusive List of Film Making Courses!
Acting Courses after 12th
While this is more of a skill that can come naturally to many, once you have set your mind on becoming a film actor, the best way to begin is to furnish your skills by enrolling on acting courses. For those exploring programs in acting, there is a multitude of diplomas and degrees available such as associate, bachelor's and master's degrees. Pursuing a beginner-level course, you will get to learn about the nuisances of portraying different characters and understanding the essential features of storytelling. Take a look at the following programs offered in Acting which you can choose from:
Diploma in Acting and Theatre
Bachelor in Acting (Hons.)
Bachelor of Acting
BA (Hons) Acting
BA (Hons) Acting Musician
BA (Hons) Acting for Stage and Screen
BA (Hons) Acting and Performance
BA (Hons) Theatre, Television and Performance
BFA in Performance: Acting
BFA in Acting and Theatre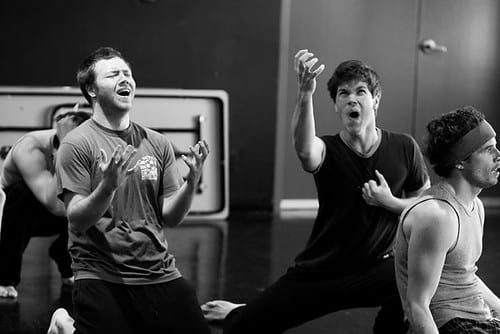 Acting Courses
MFA Classical Acting
MA Acting
MA Physical Acting
MFA Acting
PG Diploma Acting
Top Acting Colleges in the World
After choosing a course, finding an acting school can provide you with experienced mentors as well as exposure is inherently important. Generally, these schools incorporate a wide range of acting courses for budding film actors interested in polishing their art while you can also opt from specialized acting colleges, some of which are listed below:
TISCH School of the Arts, New York University
Yale School of Drama, Yale University
American Conservatory Theatre
Guildhall School of Music and Drama
Know the Skills You Need
As a film actor, you will need a plethora of skills ranging from a clear enunciation to expressive body language. Since actors are demanded to portray a different range of characters, spontaneity is a quintessential skill in this art. So, before jumping into the auditioning phase, it is important to imbibe a specific set of skills and imbibe them into yourself consistently. Take a look at the following pointers which elucidate the key skills requires to make it big in the film industry:
Clear and Fluent Pronunciation and Enunciation: For a film actor, dialogue delivery is an incremental part of the job. Your clear speech can help you tell the story in a much better way. Work on your speech, accent, try practising and improve your tempo, pitch and volume. In getting to a fluent pronunciation, perform breath controlling yoga or public speaking.
Ace Your Body Movements: Body postures and gestures create a powerful impact on the audience and play an important role in conveying the emotions of the character you are playing. Expressing yourself through physical movements will help you actualise characters better.
Improvisation: Improv is the essence of acting as at many times, you will be asked to formulate a character on your own. So, in order to become a film actor, you need to make improvisation your best friend as your impromptu skills can be an all-time saviour in your career quest.
Read Our Comprehensive Guide on Behavioural Skills!
How to Start a Career as an Actor?
The first and foremost step is to seek exposure through workshops, theatre, school plays, and street plays. Here is are some steps to take for those who wish to start an acting career:
Get as Much Exposure as Possible
Starting early in your acting career is as important as gaining the right skills. So, in order to actualise your aspiration of becoming a film actor, you can't limit yourself to waiting for opportunities in movies. Acting as a dramatic form is a part of the theatre, dance, TV and so many art forms. So, it becomes significant to keep yourself open to prospects in all entertainment media, be it through TV shows, theatre plays or others. Doing this will actually help you earn exposure into the vast domain of acting, learning from your fellow professionals as well as seniors, and endeavoring to master this art in all its ways.
Avail Networking Opportunities
Another central thing to becoming a film actor is to have networks in the film industry you want to work in. Since the roles won't find you on their own, if filmmakers and writers know about you, then you will be better able to make your way into their imagination when they will be writing stories. Thus, this way you will have increased chances of making it into their list of shortlisted actors for a story.
Build an Impressive Acting Resume
It is not an easy task to earn your bread and butter by following your passion, thus it is vital to have an impressive resume no matter which field you want to establish yourself in. For a film actor, a resume is more of a portfolio of their earlier works as well as projects. By circulating an acting resume, the casting team will get an idea about your experience and exposure to acting and the kind of roles you have aced. While drafting this type of resume, you need to keep the following things in mind:
Your description in the resume must be in a precise manner so that the reader can get to know about the exact features and specification about your physical appearance. For example: Mention your appropriate height, complexion, weight etc. because these are mandatory. Make sure you mention your current and updated address and mobile number so that the casting team can contact you easily.
Mention your past experiences in an intricate way to create a good first impression. Whether it was an advertising commercial, theatre shows, televisions shows or movie roles, elaborate upon each and every achievement which will give the reader a better view of your industry experience.
Try to create a list of versatile skills that connect with the vast domain of arts. These skills can be dancing, singing, writing and the like.
As a complementary feature, you can also mention some additional aspects, for example, knowledge of a foreign language, your experiences into other related fields as well as any other things that you think can catch the eye of the casting person.
Associate Yourself With an Acting/Talent Agency
As soon as you complete your acting and Film Studies, the foremost step should be enrolling yourself with a talent agency. Such agencies have official tie-ups with film producers and directors. They hunt and then shortlist the appropriate candidates for required projects. To begin with, explore talent agencies in your region and then approach them with your portfolio. Generally, the agency will provide you with a talent manager who will bring you suitable opportunities and will also approach casting agents on your behalf to find projects.
Above All, Stay Persistent
Since your career pursuit to becoming a film actor is not a clearly defined one, it is pivotal to implement a persevering attitude and learning to leap over every obstacle you are facing. There will be times when you might lose a role or miss an opportunity, but having patience and keeping your focus on the bigger picture must be your main aim. Remember to avail all the big and small acting roles that come your way and keep educating yourself and furnishing your artistic flair in every way possible.
Skills Required to Become an Actor
The ability to network and market yourself
Creativity
An analytical mind and the ability to self-reflect
The experience to understand a character
Resilience, self-discipline and stamina
The capacity to engage with the audience
Organisation and time management
Good understanding of emotions, scenes, and acting techniques
The ability to memorize lines
Teamwork
Responsibilities of a Film Actor
Actors are required to express a character through different behavioral expressions, movements, and activities
Actors have to use their body, voice, and language to play a character.
Create a reaction in an audience
Most actors have to work with other actors under the guidance of a director, who coordinates the scene and explains the part of all the actors in a scene
While some actors may do well with improvisational work, most actors work from a script
Actors have to memorize and practice their lines before shooting for scene
Additionally, actors are required to learn skills like dancing, action for stunts, singing, etc along with what all is required for acing the role
How to become a Film Actor without Experience?
Take acting classes
Complete formal education in acting
Audition and train locally
Join a local theater
Work on your special skills
Attend workshops
Build your resume
Take a professional headshot
Create your social media presence
Get in touch with an agency
Thus, climbing your ladder to getting established as a film actor is quite a road that many few are able to reach the end of. Needless to say, the right guidance can assist you in gaining the ideal skill set needed to pursue this artistic endeavour. This is where Leverage Edu experts can provide you with the necessary mentorship, be it in selecting an ideal acting course or exploring career opportunities abroad. So, sign up for a 30-minute free career counselling session with us today and let us enlighten your path towards a shining career!