Did you know that Chocolate has a rather interesting history? The 4,000-year-old history of chocolate began in ancient Mesoamerica, and ever since then, it has been treated as an element of wonder. Numerous ancient communities like the Mayans and Aztecs believed that chocolate was a 'drink of the gods'. Cocoa beans were once treated as currency by the Mayans! Till modern-day, chocolates are cherished around the world. Fascinated by these wrapped wonders of happiness and wish to explore crafting chocolates as a career? Read on to find out more about how to become a chocolatier.

Who is a Chocolatier?
Before telling the step-by-step process of how to become a chocolatier, let us first discuss who is a chocolatier and what a chocolatier does. A chocolatier is a chef that specializes in chocolate. Chocolatiers craft chocolate into all sorts of shapes, colors, decorations, and textures. Being a chocolatier involves a mix of art and science.
Chocolatiers apply their creative minds to craft delicious kinds of chocolates and display them in various elaborate ways. Along with that, they also have to use lots of science and mathematics. Chocolatiers have to learn about the chemistry of chocolate and calculate the way a piece of chocolate breaks and whether it melts in your mouth. Being a chocolatier is a job that demands a blend of technique and artistry.
Do you know after whom the famous chocolates Ferrero Rocher and Toblerone are named? Both these globally admired brands get their names from their creators, Theodor Tobler and Michele Ferrero.
Career as a Chocolatier
A career as a chocolatier requires precision. After all, Daniel Peter took eight long years to figure out the right recipe for milk chocolate. It wasn't until 1875 that he realized that condensed milk was the answer to all of his troubles. We're so glad Daniel never gave up!
| | |
| --- | --- |
| Degree Level | Associate |
| Degree Field | Bakery and Pastry Arts |
| Training | Internships and specialized training programs available |
| Experience | Previous culinary experience, often as a pastry chef |
| Key Skills | Critical thinking, reading comprehension, communication, and technical skills, a steady hand, originality, and creativity |
| Salary | INR 23,86,940 (2018 average for all food batch makers) |
How to Become a Chocolatier?
To learn how to become a chocolatier, read on to learn about the four main steps:
Earn an associate degree
Complete specialised training
Seek Entry-level employment
Develop a Career
Step 1: Earn an Associate Degree
The first step under 'how to become a chocolatier' is earning postsecondary training. Pursue an Associate degree in Bakery and Pastry Arts to learn how to prepare pastries, confectionaries, desserts, and loaves of bread. The extensive curriculum of this associate program generally includes coursework in baking methods, culinary mathematics, ingredients, and baking equipment, food safety, and nutrition. It also provides instructions on techniques used by expert pastry chefs, such as blending, creaming, and cutting ingredients. You will learn about units of measurement, conversions and scales, and how to determine costs for recipes.
Students aspiring to become a chocolatier are advised to complete an internship during their graduate studies. Several university programs in baking and pastry arts help their students in securing internships. Internship opportunities provide budding chocolatiers with real-world experience. Through these internships, you can work for and learn from experienced chocolatiers.
Step 2: Complete Specialised Training
The next step under 'how to become a chocolatier' is acquiring specialized training. You can train at a chocolate school, an educational institution dedicated to teaching chocolate confectionery that offers various programs. Enrollment in such courses may require the completion of a post-secondary culinary program. Students attending chocolate school primarily learn to temper, mold, and store chocolate. They also learn to craft artisan bonbons, chocolate bars, and other confections.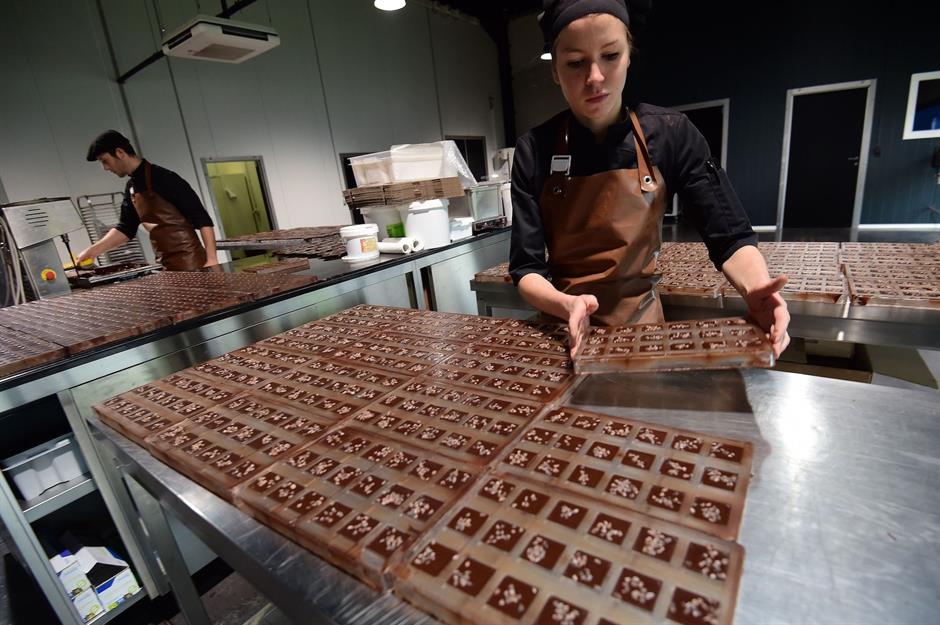 Step 3: Seek Entry-Level Employment
After receiving specialized training, you can dive into the world of tasty Tolerones and luscious Lindt's by seeking employment as an entry-level chocolatier. Prospective chocolatiers often obtain employment assisting experienced chocolatiers. You can hone your skills in preparation for higher positions. Apprenticeships and entry-level positions are brilliant ways to learn. You become exposed to all different aspects of the business and the craft.
Step 4: Develop Your Career
The fourth step under 'how to become a chocolatier' is to develop your career in the field of chocolates. There are multiple ways to develop your career as a chocolatier. You can take additional courses to discover new techniques and enter competitions to learn from other chocolatiers. You can aspire to hold higher positions in the chocolate-making industry, commence your own business, or venture abroad to look for new flavors. If being around endless amounts of chocolates wasn't reason enough, a chocolatier is a career that offers unlimited learning!
Check out our top reads: Chef Interview Questions Explained
Skills and Qualities Required to Become a Chocolatier
If you are now well-versed with the above-mentioned steps on how to become a chocolatier? Let's now look at some essential and specific skills and qualities that are required to become a chocolatier:
Creative thinking skills: If you are wondering about how to become a chocolatier, then the first quality that you should be possessing is creativity and creative thinking. Like other artists, chocolatiers must rely on their creativity to make chocolate masterpieces.
Adventurous nature: A chocolatier never ceases to explore new flavours. They must desire to seek out ingredients and discover ways to make new creations.
Patience: Chocolate can be challenging to work with. The slightest temperature change can alter its consistency. Therefore, chocolatiers must have patience.
Attention to detail: Chocolatiers require precision in their work. They must deliver flawless work to excel in their field.
The ability to handle pressure: Many things can go wrong in the kitchen. A chocolatier must handle every stressful situation with composure and grace.
Time management skills: In most cases, chocolatiers will have to manage several orders together. Being able to manage time is, therefore, an essential skill.
Marketing skills: You must market yourself well to attract potential employers and investors if you wish to start your own business.
Popular Schools
Our blog on how to become a chocolatier is incomplete without mentioning some of the world-class and highly renowned schools in this field of study. Enlisted below are some of the best art schools in the world where you can study and pursue a course to become a chocolatier:
Academia Barilla (Parma, Italy)
Culinary Institute of America (Hyde Park, New York; Napa and St Helena, California; San Antonia, Texas)
École Lenôtre (Paris, France)
Hattori Nutrition College (Tokyo, Japan)
Le Cordon Bleu (Paris, France, and additional locations)
Ecole Chocolat (Online)
Ecole Ducasse (Yssingeaux, France)
Italian Culinary Institute for Foreigners (Turin, Italy)
Apart from the above-listed art schools, various short terms courses are available regionally and online that can be explored to study chocolate and confections.
Salary of a Chocolatier

The average salary of a Chocolatier in the USA is around INR 24,64,398 per annum. The salary range generally falls between INR 20,10,639 and INR 30,31,746. Salary ranges can differ widely based on important factors, including education, certifications, skills, experience in your profession.
This is all you need to know about how to become a chocolatier. Chocolatier is an appetizing career that people might not be aware of but has a tremendous scope as chocolates are always in demand. Still, have questions regarding how to become a chocolatier and study abroad? Connect with our experts at Leverage Edu to make your journey towards your dream university a cakewalk and a satisfying sweet process.