The GMAT exam consists of 4 sections, out of which the verbal reasoning section is the longest in duration and also has the most number of questions. It has 3 types of questions – reading comprehension, critical reasoning and sentence correction. Many aspirants struggle with the sentence correction part due to its complex nature. However, scoring well in this section is not as difficult as it seems! In this blog, we are going to address different ways to tackle sentence correction questions and some tips to speed up your entire GMAT preparation.
GMAT Sentence Correction – Overview
GMAT sentence correction aims to test your ability to identify common grammatical errors. It assesses your written English skills to see whether you can understand long and complex sentences with clarity. The whole sentence or a part of it will be underlined, which can contain up to two errors. You will be provided with five options, of which the first option will be identical to the underlined part of the sentence and you need to select the option which makes the sentence free from any errors. You can expect between 11 to 16 sentence correction questions in your GMAT exam.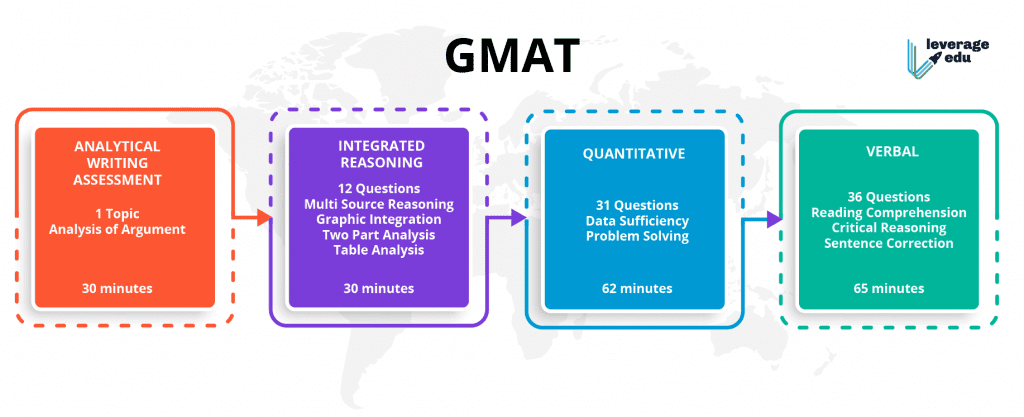 Register for Leverage Live – Make Your Home a New Classroom
GMAT Sentence Correction Topics
There are a few common errors that are tested in the GMAT sentence correction part. Being able to recognise the error type in the questions can help you in getting a better score in the exam since you will be aware of how you need to approach the question. Let's take a look at some of the common errors:
Subject-Verb Agreement
These questions will test your knowledge in identifying the subject and the verb in a sentence, and ensuring that they match with each other. For example, if the subject is in singular form, the verb also needs to be in singular and if the subject is in plural, the verb will similarly be in plural form. These questions are often made trickier by placing many words between the subject and the verb to confuse the candidate.
Pronoun-Antecedent Agreement
These types of questions require you to identify whether the pronoun and its antecedent is in the agreement or not. The antecedent is the word that the pronoun replaces, and therefore if there is no clear antecedent present in the sentence, that itself will count as an error. Additionally, you need to ensure that the pronoun and antecedent matches in form.
Wondering how to prepare for GMAT online? Find the right answer at Leverage Live!
Parallelism
These questions consist of related parallel phrases in the same sentence. It is not very difficult to identify the errors in these types of sentences, you need to check whether all the parallel phrases are written in the same format or are there any discrepancies among them.
Modifiers
These types of questions will consist of an incorrectly placed modifier i.e. a phrase or part which modifies the sentence. There can be many ways in which a modifier may make the sentence incorrect, for example, if a sentence beginning with a modifier doesn't have the subject mentioned after the modifier separated by a comma, the sentence will become incorrect.
Idioms
These types of questions can be challenging especially for non-native English speakers since it examines your knowledge regarding the structure of idioms. The best way to ace these types of questions is to build up knowledge of different types of idioms used in the English language. Read our blog on common idioms to get a better understanding of the topics.
Verb Tense Consistency
A few questions asked in GMAT sentence correction require you to make sure that the verb tense throughout the sentence is consistent. For example past tense should go with past tense in a sentence. You need to change the verb tense if it is specifically required to make the sentence meaningful.
Comparisons
These types of questions asked in GMAT sentence correction require you to analyse whether the comparisons made in the sentence are logical and if they are structured correctly in terms of grammar.
How Many Sentence Correction Questions Are on the GMAT?
In the GMAT examination, approximately 11-16 sentence correction questions are asked. The aim of these questions is to assess the correct and effective expression of a sentence. The sentence correction questions are asked as a part of the verbal reasoning section of the GMAT.
GMAT Sentence Correction PDF
The GMAT sentence correction questions with answers PDF is given below:
GMAT Sentence Correction Rules
In GMAT sentence correction, you will observe long sentences, sentences with errors, underlined sentences which will be asked to write correctly by bringing the correct version for the sentence or choosing from the alternative given choices. Here are some of the GMAT sentence correction rules :
GMAT sentence correction questions frequently cover verb-subject errors. The nature of the sentence must match the verb. A singular matter has to tag along with a singular verb. A plural matter has to be tag along with the plural verb
GMAT sentence correction questions comprise of most phrases that involve certain statements. GMAT sentence correction is more than correcting grammatical mistakes, it involves sentence creation that should sound idiomatically correct
GMAT sentence correction questions mostly comprise of questions to test your verb tenses the basics past, present, and future.
GMAT Questions and Answers PDF
How to Improve Sentence Correction on GMAT?
As you can see, you can easily get a good score in this part of the GMAT exam if you can identify the type of question being asked. Confused about how to prepare for the questions asked in GMAT sentence correction? Here are some tips for GMAT sentence correction:
Make sure that you are aware of the basic grammar rules
Learn more idioms – this will be of immense help in eliminating irrelevant answer choices
Try the elimination method – once you spot an error in the sentence, you can easily eliminate the answer choices which do not correct that error
Pay special attention to the placement of phrases in the sentence – different placements can change the meaning of a sentence
GMAT Sentence Correction Books
Sentence correction is an important part of the GMAT exam. Here is a list of important preparation books that are must-haves to kickstart your GMAT preparations in the right way!
| | | |
| --- | --- | --- |
| Name | Publisher | Link |
| Manhattan Prep Strategy Guide Set | Manhattan Prep | Buy here |
| Kaplan GMAT premier | Kaplan Test Prep | Buy here |
| Powerscore Verbal Guides | David M. Killoran | Buy here |
| The Official Guide for GMAT Quantitative Review | John Wiley & Sons | Buy here |
| Kaplan GMAT Math Workbook | Kaplan | Buy here |
| GMAT Official Guide 2020 Verbal Review:Book + Online Question Bank 1st Edition | GMAC (Graduate Management Admission Council) | Buy here |
| Manhattan GMAT SentenceCorrection Strategy Guide | Manhattan Prep Publishing | Buy here |
| Reading Comprehension GMAT Preparation Guide | Manhattan | Buy here |
| GMAT Official Guide 2019 Bundle: Books + Online | GMAC (Graduate ManagementAdmission Council) | Buy here |
| GMAT Advanced Quant: 250+ PracticeProblems & Online Resources | Manhattan Prep | Buy here |
| GMAT Math Prep Course | Jeff Kolby | Buy here |
| Kaplan GMAT Verbal Workbook | Kaplan | Buy here |
Also Read: Best Books for GMAT
GMAT Sentence Correction 700-level Questions
GMAT Sentence Correction Practice Questions
Now that you know all tips and tricks for sentence correction questions, here is a list of some additional practice problems to ace your preparation:
1: Select the correct order.
the sliding production points to an
clearly, manufacturers of white goods
absence of the traditional festival-eve restocking bump
are struggling to find demand for their wares and
III, IV, I, II
I, II, III, IV
II, IV, III, I
II, I, III, IV
2. Depression today not only describes ________ the hard economic state of affairs sweeping our world but the human state of mind.
Eulogises
Describes
Criticizes
Deletes
3. Pick the correct order:
current events and how they
a small part of the book of Revelations.
The book looks at
relate to Biblical prophecy, especially
III, I, IV, II
I, III, IV, II
III, IV, I, II
II, III, IV, I
4. Pick the most appropriate word to the word in bold.
TeetoInc, an information standards organization that helps small brands identify their products for commerce, recently spoke with small business owners who have run successful creative campaigns.
Recollect
Recognise
Discern
Discriminate
5. Pick the most opposite word to the word in bold.
Her friend explained how down payment assistance programs give first-time homebuyers money to pay for a portion or all of their down payment, with some programs even helping with closing costs.
Obscure
Translate
Expound
Benign
6. Virat, who he is my best friend, is a Batsman.
who
best
he
None of the above
7. I don't eat of either egg or fish
Eat
Of
Either
None of the above
8. Arrange the below mentioned Jumbled word question in a coherent and logical manner?
A. To sort that out, the government decided to make an underground railway track.
B. London, unlike other countries, has still kept its original red Trams.
C. The Infrastructure was placed in 1970.
D. They are driven in the middle of the road, arising in traffic jam problems.
Options:
A. BDAC
B. ACBD
C. BCDA
D. NOTA
9. In the below mentioned jumbled words question, the first and the last sentence are numbered 1 and 6. The other sentence is split into 4 parts- P, Q, R, S. Arrange these fours part to form a meaningful sentence.
The last of the Mughals _______________
A.of his wealthy and powerful ancestors
B.Through the Mughal coffers
C.King Bahadur Shah Zaffar held a legacy
D.until the East India Company made its way
____________ And rendered them useless
PQRS
RPSQ
RQSP
RPQS
10. Choose the proper sequence using the parts of the sentences mentioned below.
A. Sita wondered if
B. because he was so rich
C. work hard for a living
D. Ram would ever
ABCD
ABDC
ACBD
ADCB
FAQs
How to identify errors in GMAT Sentence Correction?
The best way to identify the errors in a sentence is to read it very carefully. Also, make sure to compare all the answers choices with the given sentence to eliminate the choices that do not match with the overall form or tone of the sentence.
What is the Penalty for not finishing GMAT?
You have to finish the test within the specified duration and answer each question. Not answering a question incurs a penalty, according to which 3 percentage points will be deducted for every unanswered question.
What is the GMAT Verbal Section?
The GMAT verbal section aims to examine your grasp over standard written English. It tests your ability to analyse arguments and critical reading. This section is of a duration of 65 minutes and has 36 multiple choice questions divided among three segments – Critical Reasoning, Sentence Correction and Reading Comprehension.
Hope you found this guide on GMAT sentence correction useful. Interested in pursuing your MBA abroad? Reach out to our experts at Leverage Edu for expert guidance in identifying the best MBA schools around the world. Sign up for a free session and take the first step towards opening up a world of possibilities!