Known as one of the sexiest men alive, Chris Hemsworth has a global fanbase, not just in his birth country of Australia, but all over the world. In his acting career, he is recognized for his on-screen personas and for performing dynamic roles in Thor, Avengers series, Star Trek, Men in Black, Extraction, and many more. His Marvel persona, Thor, is adored by people all around the world and is unquestionably one of the most popular and well-liked superheroes. He rose to prominence as a soap opera actor in his early years and is now one of Hollywood's highest-paid performers. Chris Hemsworth has been a breath of fresh air on the big screen since he first arrived. So if you're a big-time Chris Hemsworth fan, then read this blog to discover some lesser-known 11 facts about Chris Hemsworth.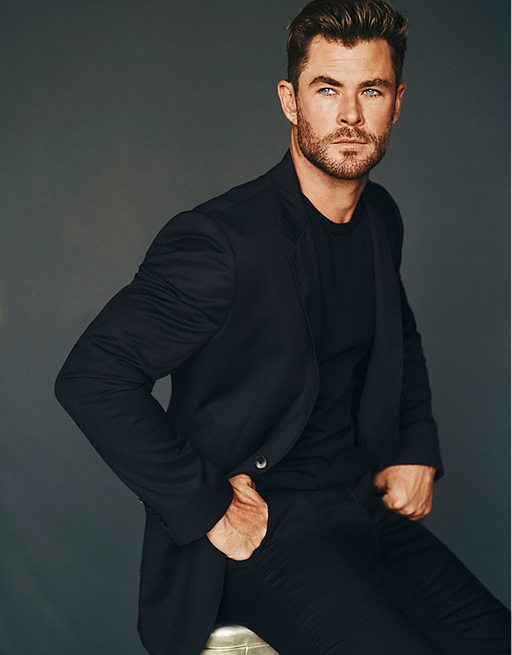 1. Hemsworth's First Appearance was in Star Trek
Before Thor, Chris Hemsworth briefly played the role of George Kirk, Captain Kirk's father, in the Star Trek movie (2009) that launched the new line of Star Trek films. He garnered attention for his role with his superb acting abilities. He will be further appearing in Star Trek 4 which will be released in 2023.
2. He had to gain 20 pounds to play Thor
Thor is a character that is meant to be muscular and strong-looking as characterized by the famous comic book writer Stan Lee in his comics. He's the god of thunder and lightning, who always possesses a hammer (Mjollnir) and never backs out from a fight. To play the role of Thor in the Marvel Series, Chris Hemsworth was asked to gain at least 20 pounds of muscle mass in order to become a perfect fit for the role.
3. Born in the 'Land Down Under'
Born in Australia, in Melbourne, Victoria, to Leonie (née van Os), an English teacher, and Craig Hemsworth, a social-services counselor, Chris Hemsworth was brought up in Melbourne and Outback. He did his schooling at Heathmont College before his family relocated to the Northern Territory and then a few years later to Phillip Island. Chris Hemsworth hence started his film/TV career in Australia. He was also appointed a Member of the Order of Australia in the 2021 Queen's Birthday Honours.
"My earliest memories were of the cattle stations up in the Outback, and then we moved back to Melbourne and then back out there and then back again. Certainly, most of my childhood was in Melbourne, but probably my most vivid memories were up there [in Bulman] with crocodiles and buffalo. Very different walks of life."- Chris Hemsworth
4. The Hemsworth Trio
Chris Hemsworth has two brothers, Luke (elder) and Liam (younger) Hemsworth. Both of them too are in show business. He is the middle child among them. Luke was the first Hemsworth brother to venture into acting. Later on, Chris and Liam followed in his footsteps. Each of them has set on their unique paths to make it big in Hollywood or the big screen.
5. Hemsworth's Infamously Famous Uncle
The movie Crocodile Dundee was based on Chris Hemsworth's uncle. Rod Ansell, the bushman, was the inspiration for the movie. Whether or not that motivated him to get into film in one way or another is tough to say, but it's still a notable fact.
6. Started his Journey with a Soap Opera
Only a few of his true fans must know this fact about Chris Hemsworth that he started his career appearing in many television series back in the day. In 2002, he starred in two episodes of the fantasy television series Guinevere Jones as King Arthur. He also made an appearance in the soap opera series Neighbours and in one episode of Marshall Law. In 2013, Chris Hemsworth appeared in an episode of The Saddle Club.
7. Chris' Rise to Shine via 'Home and Away'
Chris Hemsworth rose to fame in Australia when he played the role of Kim Hyde in the Australian television series Home and Away. In 2004, he auditioned for the character in Home and Away. He made his first on-screen appearance on 17 February 2004 and left the show on 3 July 2007. He had originally auditioned for the role of Robbie Hunter, for which he was turned down.
8. Good Pals with his Co-actors
Chris Hemsworth is very close to his Avengers co-stars. Of course, it's obvious due to the chemistry and relationship he shares with all of them. For him, actors like Tom Hiddleston, Chris Evans, Mark Ruffalo, and Robert Downey Jr. are just like family. He got close to them during their time on set together while shooting. Chris Hemsworth has even stated that Tom is a member of the family and that the Hemsworths have basically "adopted" him as one of their own.
9. A Quick Learner
Only a few people would know that Chris Hemsworth is actually an impressive dancer. Moreover, he is a great student and a quick learner indeed. He was even a contestant on the 5th season of Dancing with the Stars Australia with his partner, the professional dancer Abbey Ross in 2006.
10. More into Genuine People than Sycophants
Chris Hemsworth does not want to be flattered by his co-stars or his fans. He in fact wants people to be as real and candid with him as possible. He wants people around him to tell him what they actually think about his work and performance and not be intimidated by his star profile.
11. Not the Biggest Fan of Paparazzi
Some stars don't mind paparazzi and keep moving along their way. Moreover, they even liked to be followed by the paparazzi and being clicked constantly by them. But Chris Hemsworth finds it bothersome if he's surrounded by paparazzi while trying to have some quality time with his wife, 3 kids, and family. He is very protective and doesn't want to be approached at all when he's on vacation or living his personal life apart from his profession.
Here were some amazing and lesser-known facts you needed to know about Chris Hemsworth. He's a global star who is set to achieve new milestones with his upcoming projects. All hail to the almighty God of Thunder in reel life who is worthy of constant love. If you too want to make your study abroad dream to become a reality, then get in touch with our experts at Leverage Edu today.