Chadalavada Anandha Sundhararaman Bhavani Devi, simply known as CA Bhavani Devi, is an Indian Sabre Fencer. Born on 27th August 1993, she is the first Indian fencer to qualify for the Olympics Games. She will be proudly representing our country at the Tokyo Olympics 2021, which will be held in Japan. Devi, who will compete in Sabre, (a sport where athletes dress all white and have their faces shielded behind a mask) knows that this is her best shot to get Indians curious about this sport. Let's know more about CA Bhavani Devi's journey from childhood to becoming the first Indian Sabre Fencer in the Olympics, through this blog.
| | |
| --- | --- |
| Birth Name | CA Bhavani Devi |
| Full Name | Chadalavada Anandha Sundhararaman Bhavani Devi |
| Country | India |
| Nationality | Indian |
| Born | 27th August 1993 |
| Age | 27 years |
| Sport | Fencing |
| World Rankings | 42 |
CA Bhavani Devi's Early Life & Childhood
CA Bhavani Devi was born in Chennai, Tamil Nadu. Her father was a priest and her mother was a homemaker. She started her sports career in 2003. She went to Muruga Dhanushkodi Girls Higher Secondary School, Chennai, and then attended St. Joseph's Engineering College in Chennai and went on to study Business Administration from Government Brennen College in Thalassery, Kerala. In 2005, she was introduced to fencing at the school level and after finishing class 10th she joined the SAI (Sports Authority of India) Centre in Thalassery, Kerala.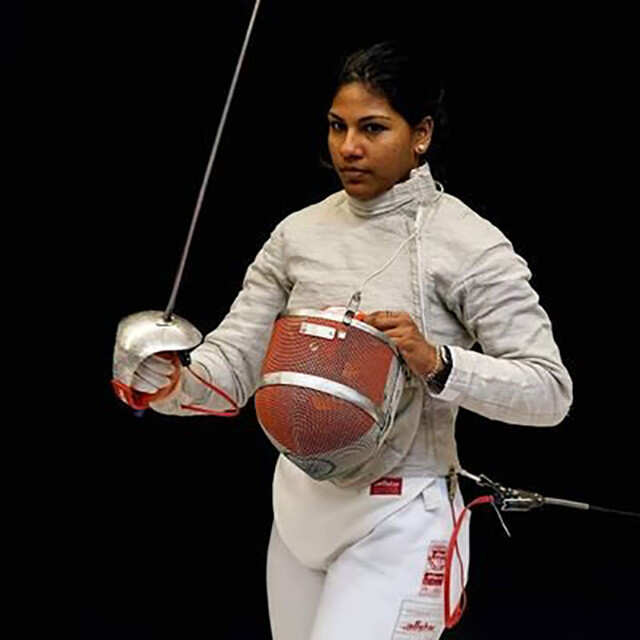 CA Bhavani Devi, the First Indian Fencer to Qualify for Olympics
"Indians will probably be watching fencing for the first time since I'm competing. This is also why I want to give my best performance. I just want to make them proud".
The Sabre Fencer of India, CA Bhavani Devi has become the first Indian fencer ever to qualify for the Olympics games. She secured a spot in the World Cup in Hungary after the host lost in the quarter-finals of the team event, allowing South Korea to progress to the semi-final. CA Bhavani Devi qualified through the Adjusted Official Ranking (AOR) method.
The Union Sports Minister also congratulated the 27-year-old rising star of India for qualifying for the Olympics by tweeting, "Congratulations to Indian fencer Bhavani Devi who has qualified for Tokyo Olympics! She has become the 1st ever Indian fencer to achieve the feat. My best wishes to Bhavani Devi".
Tournaments & Major Achievements
Here are some of the major achievements of CA Bhavani Devi and her awarded medal records in fencing:
| | | |
| --- | --- | --- |
| Medal | Year | Tournament |
| Silver | 2019 | Tournoi Satellite Fencing Competition, in Ghent, Belgium |
| Gold | 2018 | Commonwealth Fencing Championship, Australia |
| Gold | 2017 | World Fencing Championship, Iceland |
| Bronze | 2015 | Under-23 Asian Championship in Ulaanbaatar, Mongolia |
| Bronze | 2015 | Flemish Open, in Ghent, Belgium |
| Silver | 2014 | Under-23 Asian Championship, Philippines |
| Bronze | 2009 | Commonwealth Championship, Malaysia |
Fencing has always been a lesser-known sport in India. Neither the fencers nor the sport was ever in mainstream news. All thanks to CA Bhavani Devi and her consistent hard work and dedication towards this sport that changed the mindset of Indians. She has truly marked history by becoming the first-ever Indian fencer to qualify for the Tokyo Olympics in the Individual Sabre event. We at Leverage Edu salute her and wish her all the best for the upcoming events. For more entertaining and inspirational reads, stay tuned to Leverage Edu and subscribe to our newsletter.