Whenever we come across the name of the Multinational giant Microsoft, the first name that pops up in the back of our head is usually Bill Gates. However, the name which carries the corporation on its shoulders today is Satya Nadella. To be proudly called as CEO of Microsoft. One of the greatest personalities in the tech industry today, he is a living inspiration for many youngsters taking their initial career steps, especially in the corporate world. So, let's look at the illustrious career and Satya Nadella's education and see what made him successful.
"The way I measure my life is – Am I better than I was last year?"
Who is Satya Nadella?
Satya Narayana Nadella is the chief executive officer (CEO) of Microsoft, the leading developer of personal computer software systems and applications. He was appointed CEO in February 2014 and has since led a company-wide transformation to focus on cloud computing. Under him, Microsoft has more cloud computing revenue than Google, more subscribers than Netflix, and a near-trillion-dollar market capitalization (as of July 2018).
Highlights of Satya Nadella
| | |
| --- | --- |
| Full name | Satya Narayana Nadella |
| Birthday | August 19, 1967 (age 53 years) |
| Birth Place | Hyderabad, Andhra Pradesh, India |
| Education | Manipal Institute of Technology (B.Eng.), University of Wisconsin-Milwaukee (MS), University of Chicago (MBA) |
| Position | Chairman and CEO of Microsoft |
| Current Residence | Bellevue, Washington |
| Books | Hit Refresh: The Quest to Rediscover Microsoft's Soul and Imagine a Better Future for Everyone |
Education of Satya Nadella: Formative Years
Nadella was born on 19th August 1967 to a well-educated Telugu family. His father, Bukkapuram Nadella was an Indian Administrative Service Officer while his mother, Prabhavati was a Lecturer of Sanskrit language. Satya has often mentioned how his father's values and principles still hold water in his everyday actions and words – "I work and live in a very different context and time. And yet I am guided by the lessons he taught me by living his life to fulfil his passions and principles". These deep-rooted scholarly values were a part of the education of Satya Nadella and reflected well in his performance, as he completed his schooling in Hyderabad Public School, Begumpet.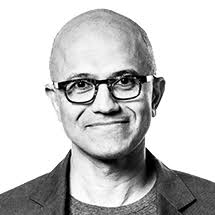 "Be passionate and bold. Always keep learning.
You stop doing useful things if you don't learn."
Higher Education and Initial Career
Nadella could not crack the IIT entrance examinations in his first attempt and had to choose between Birla Institute of Science and Technology (BITS) Mesra and Mangalore University (now Manipal Institute of Technology). Choosing the latter, he completed his B.Sc in Electronics and Communication Engineering in the year 1988.
After his graduation, Satya looked for educational opportunities abroad and finally got admitted to the University of Wisconsin, Milwaukee. Shortly after completing his Masters in Computer Science in 1990. After which he worked at Sun Microsystems as a member of the tech team before getting his big break at Microsoft.
"Our industry does not respect tradition it only respects innovation."
Microsoft's CEO Satya Nadella Professional Life
Prior to becoming CEO, Nadella held leadership roles in both enterprise and consumer businesses across the company. He served as executive vice president of Microsoft's Cloud and Enterprise group, responsible for building and running the company's Computing Platforms, Developer Tools, and Cloud Computing Services. His contributions have led to Microsoft being ranked No. 1 in cloud infrastructure for public clouds by Gartner. As President of Microsoft's $19 billion Server & Tools Business, he led a transformation from client-server software to cloud infrastructure and services that are at the center of Microsoft's commercial business today.
Satya Nadella's Success Story: Working at Microsoft
The year 1992 turned out to be exceptionally well for Satya, as he scored an Engineering job in Microsoft and also tied the knot with his longtime partner, Anupama. Some of his initial projects at Microsoft included the Windows NT operating system which brought in the revolutionary 32-bit system. While working at Microsoft, Nadella decided to pursue an MBA from the reputed Booth School of Business, the University of Chicago which he completed in 1996. This degree was a milestone in the education of Satya Nadella as after graduating, Satya was awarded his first Executive position as the vice-president of Microsoft bCentral in 2001. This department handled website hosting for many small businesses. A number of acquisitions and organizational changes led him to be the Vice President of Microsoft Business Solutions within a single year.
As time went on, Satya was soon recognized throughout the organization as an insightful and visionary leader who took decisive action with considerable foresight. His skills led him to be promoted to the position of Senior Vice President of Microsoft Online Services in 2007, handling crucial departments like Bing and Xbox Live. In 2011, he presided over the Server and Tools division, which handles software like Windows and SQL Server databases. Such was his leading capability that the division grew by over 4 Billion dollars in revenue within two years of him taking over.
"I believe men and women should get equal pay for equal work."
Prominent Works as the CEO of Microsoft
All these contributions to the organization finally paid dividends for Satya as he was chosen as the Chief Executive Officer of Microsoft in 2014, succeeding Steve Ballmer and working under the mentorship of Bill Gates. The time when Nadella was elected as CEO was especially crucial for Microsoft. Other companies were fast gaining foothold in the Productivity segment, while Microsoft's mobile venture with Nokia failed to gain momentum in the market. As soon as Nadella got hold of the company reigns, he made a few decisive changes, some of which are:
Accepted Linux operating system on the Azure cloud, which was long deemed to be a rival.
Released Microsoft Office for Apple's iPad and introduced the company's first laptop.
Diversified by buying Mojang, the company that created Minecraft.
Released iPhone and Android productivity apps like Microsoft Outlook.
Skipped Windows 9 and released an extremely improved Windows 10
"Finally, I truly believe that each of us must find meaning in our work.
The best work happens when you know that it's not just work,
but something that will improve other people's lives."
Award and Recognition of Microsoft CEO Satya Nadella
Microsoft CEO Satya Nadella is one of the most influential and respected business leaders in the world. He is not only credited with turning around Microsoft but also making it into a more inclusive company, that values inclusion, and diversity.
Nadella has won several awards and accolades during his illustrious career. Here are some of the top ones:
In 2019, Nadella was named Financial Times (FT) Person of the Year, "Microsoft was at risk of technological irrelevance but the chief executive has presided over an era of stunning wealth creation". Year after year, Nadella finds his name in Barron's World's 30 best CEOs list. The list, published every year by Barron's magazine ranks CEOs on their ability to increase shareholder value and profits, be innovative, and able to create an environment for employees to thrive.
On the eve of its 73rd Republic Day, India conferred the Padma Bhushan on Nadella, Google CEO Sundar Pichai, and Chairperson of Tata Group Natarajan Chandrasekaran. The honor from India is second only to Bharat Ratna.
Life Lessons from Satya Nadella
Satya is one of the few people today who have led their life as well as their organization by example. There are hundreds of things that a prospective leader or even a budding student can learn from the career and education of Satya Nadella, some of which are:
Teamwork is Paramount
An avid follower of cricket, Satya has played the sport at the school level in his childhood. On many occasions, he has stated the importance of good teamwork and leadership values for a functional and effective organization. He once made a statement that went "the new bowler coaxed the opposing batsman to mis-hit a ball skyward, an easy catch for our cantankerous teammate now at mid-off. A catch was taken, and he became the star of the moment." This implied the message that a single person's irresponsibility can hamper the whole group's performance.
Always have a Vision in Mind
Even in times of crisis, Satya took bold decisions. All these decisions were based on a clear understanding of a well-defined organisational objective. He did not focus on short-term revenues or predetermined work lines, instead, he went on to take risks in the market by investing resources in newer domains previously untouched by Microsoft like producing laptops and mobile applications like Microsoft Outlook. Coupled with innovation, these ventures helped Microsoft develop a niche in the market where it was losing its hold
There is no Limit to Hard Work
Satya Nadella's story is a perfect example of starting at the bottom. He joined the company with an entry-level engineering job, and never looked back. As he progressed with his work with Microsoft, he kept on growing and learning throughout. This was reflected even in the education of Satya Nadella. When he felt the need of having leadership qualifications to progress further in his career, he pursued an MBA degree along with his job. This gave him an outlet from the traditional Engineering, giving him a break at the Vice President's position in a department of the organization. Even at his executive job, he is known to work tirelessly, coming up with ways to keep the company par excellence.
Be Empathetic
In an interview, Satya recalled a specific question from his Job interview at Microsoft, where the interviewer asked, 'If you are standing on a crossroad and you see a baby fall, what will you do?' Unprepared for such a question at an IT job, Nadella replied he'd run to the closest phone booth and call 911. The interviewer got up, told Nadella the interview was over and walked him to the door. Nadella was stunned and asked him what happened. The interviewer said, 'You need to develop empathy because when a child is crying you pick them up and hug them.' Although Nadella was hired for the job anyway, he got to learn empathy later in his life on a more personal level when he witnessed his own children suffering from disabilities.
Top 10 Facts You Did Not Know About Satya Nadella
Satya Nadella is an Indian-American business executive. He is at present the Chief Executive Officer and a director of Microsoft.
Nadella was born to a Telugu-speaking family in Hyderabad, India. His father, Bukkapuram Nadella Yugandher, and his mother, Prabha Parthasarathy Yugandher are natives of Andhra Pradesh.
Nadella did his schooling at Hyderabad Public School (HPS) in Begumpet. Later he joined the Manipal Institute of Technology for his graduation and later pursued his master's degree from the University of Wisconsin-Milwaukee and MCA from the University of Wisconsin-Milwaukee.
He had been working with 'Microsoft' for 22 years before attaining the position of CEO. He started out as a software engineer in 'Microsoft' in 1993 but moved on to the sales department for a brief period of time before returning to research and development.
He is an avid reader and has been a part of many book clubs from the time he was a student.
Satya Nadella is married to Anupama, His childhood friend.
Satya Nadella is a great fan of Cricket as a sport.
Satya Nadella was personally Mentored by Bill Gates
Satya Nadella has written a book named 'Hit Refresh' which talks about his life and career. The book also talks about his experience as the CEO of Microsoft. The book was released on October 25, 2017.
Nadella is known for taking part in various social initiatives such as promoting women employees and providing them with equal pay.
Satya Nadela: Latest News
Microsoft Corp named Chief Executive Officer Satya Nadella as its new chairman, in place of John Thompson on Wednesday. Nadella, who became CEO in 2014 after Steve Ballmer, has been effectively scaling up its business including billion-dollar acquisitions like LinkedIn, Nuance Communications, and ZeniMax. The company states that Thompson, who took over as chairman of the software giant's co-founder Bill Gates in 2014, will serve as a lead independent director.
The important executive change arose just over a year after Gates moved down from the board because he would focus on philanthropic works of the Bill and Melinda Gates Foundation which is one of the world's biggest charities.
Presently, Satya Nadella continues to be at the helm of Microsoft, successfully guiding the company with his sharp acumen through the big changes happening in the tech industry. A company that many deemed to be outdated with its productivity tools in the era of cloud computing is successfully holding its ground in the market today, thanks to the able leadership of Satya Nadella. However, if you would ask him the same question, he would humbly credit his team, like every good player from his favorite sport.
Conclusion
This concludes the article on the Education of Satya Nadella. He has given a new energetic push to the company and is working with excellent speed in order to prepare for future advancements. From his past records, it is evident that he has a great vision for the future of Microsoft. We are sure that he will keep up that record and help Microsoft reach newer heights.
FAQs
What is the monthly salary of Satya Nadella?
Microsoft investors cleared an $84m pay bundle for CEO Satya Nadella. The sum incorporates base compensation, of $918,917, a $3.6m reward.Net worth in Indian Rupees is Rs 3084 Crores.
Is Satya Nadella from India?
Satya Nadella was born in Hyderabad, India on 19 August 1967.
Did Satya Nadella study at IIT?
He is not an IITian. He went to Study Ms in Computer Science at the University of Wisconsin -Milwaukee.
What is the qualification of Satya Nadella?
He procured a four-year college education in electrical designing from Mangalore University, a graduate degree in software engineering from the University of Wisconsin – Milwaukee, and a graduate degree in the business organization from the University of Chicago.
Is Satya Nadella a good CEO?
The stock has seen a massive gain. As such, near 90% of Microsoft's present worth has been produced under Nadella's authority, which makes him one of the best worth creating corporate leader.
If you also wish to follow the footsteps of Satya and pursue higher education abroad, Leverage Edu is here to help. With our career experts and specialized test prep modules, your dream career destination is not that far away!