Dr. Sarvepalli Radhakrishnan was born in the Indian town of Tirupati (now Andhra Pradesh) on September 5, 1888. He was a well-known teacher as well as a recognized academic and politician in India. He was from a low-income Brahmin household. They excelled in academics and frequently visited universities in Andhra Pradesh, Mysore, and Calcutta. He also served as a professor in Oxford and went on to become the Vice-Chancellor of Delhi University and the Vice-Chancellor of Banaras Hindu University as a result of his successful academic career.

He wrote various works to spread Indian culture, focusing on the establishment of a caste-free and categorized society. Dr. Radhakrishnan was a good philosopher who backed Hindutva in its present form. "The Philosophy of Upanishad," "East and West: Some Reflections," and "Eastern Religion and Western Thought" are just a few of his well-known works. Teacher's Day is observed on September 5th, which coincides with his birthday.
Who is Dr. Sarvepalli Radhakrishnan?
Sarvepalli Radhakrishnan was an Indian leader, politician, philosopher, and academic. He served as India's first Vice President and then as the country's second President. Radhakrishnan devoted his life and career as a writer striving to describe, defend, and spread his beliefs, which he called Hinduism, Vedanta, and the religion of the Spirit. He tried to demonstrate that his Hinduism was both intellectually and morally solid. He appears at ease in both Indian and Western intellectual frameworks, and his prose incorporates both Western and Indian elements. As a result, in academic circles, Radhakrishnan has been praised as a symbol of Hinduism to the West.
Sarvepalli Radhakrishnan Education
Thiruttani's K.V High School was where he received his primary schooling. In 1896, he went to the Hermannsburg Evangelical Lutheran Mission School in Tirupati and the Government High Secondary School in Walajapet.
He attended Vellore's Voorhees College for his high school schooling. After finishing his First of Arts class at the age of 17, he joined Madras Christian College. In 1906, he received both his bachelor's and master's degrees from the same university.
Sarvepalli's bachelor's thesis was titled "The Ethics of Vedanta and its Metaphysical Presuppositions." It was written in response to the charge that the Vedanta plan was devoid of ethical considerations. Two of Radhakrishnan's instructors, Rev. William Meston and Dr. Alfred George Hogg, commended his dissertation. Radhakrishnan's thesis was published while he was barely twenty years old.
Sarvepalli Radhakrishnan Family
At the age of 16, Sarvepalli Radhakrishnan married Sivakamu.
Radha Krishnan's distant relative Sivakamu
For almost 51 years, Radhakrishnan and Sivakamu were blissfully married.
Radhakrishnan was the father of six children, including five daughters and one son.
His son, Sarvepalli Gopal, was an accomplished Indian historian. He wrote the biographies of his father, Radhakrishnan: A Biography, and Jawaharlal Nehru: A Biography.
Philosophical Thoughts by Radha Krishnan
Radhakrishnan endeavored to reconcile eastern and western thought by defending Hinduism against misinformed Western criticism while also incorporating Western intellectual and religious notions.
Radhakrishnan was a key figure in the Neo-Vedanta movement.
He founded his philosophy on Advaita Vedanta but reworked it for a modern audience.
He recognized human nature's reality and diversity, which he considered as anchored in and sanctioned by the ultimate, or Brahman.
For Radhakrishnan, theology and creeds are both intellectual formulations and emblems of religious experience or religious intuitions.
Radhakrishnan assigned a grade to each religion based on how they interpret religious experience, with Advaita Vedanta receiving the best score.
Radhakrishnan considered Advaita Vedanta as the finest expression of Hinduism since it was based on intuition, as opposed to the cognitively mediated ideas of other faiths.
Vedanta is the ultimate sort of religion, according to Radhakrishnan, since it delivers the most direct intuitive experience and inner realization.
Despite his knowledge of western culture and philosophy, Radhakrishnan was an outspoken critic. Despite their claims to impartiality, he said that Western philosophers were influenced by religious forces from inside their civilization.
Early Life and Childhood of Sarvepalli Radhakrishnan
Sarvepalli Radhakrishnan was born on September 5, 1888, into a Telugu Brahmin family in Tiruttani, Madras Presidency, British India. Sarvepalli Veeraswami was his father's name, and Sitamma was his mother's. His father was a low-ranking revenue official in the service of a local zamindar (landlord), and his family was poor. He didn't want his son to go to school in English and instead wanted him to become a priest. Life, on the other hand, had different plans for the young kid. Radhakrishnan attended Thiruttani's K.V High School before transferring to Tirupati's Hermannsburg Evangelical Lutheran Mission School in 1896. He was a good student who received numerous scholarships. He spent some time at Vellore's Voorhees College before enrolling at Madras Christian College at the age of 17. In 1906, he completed his master's degree in philosophy. His MA thesis was titled "The Ethics of Vedanta and its Metaphysical Presuppositions."
Sarvepalli Radhakrishnan's Career From a Professor to the First Vice-President of India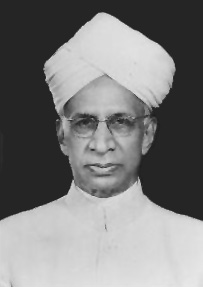 In 1909, Sarvepalli Radhakrishnan began his academic career in the Madras Presidency College's Department of Philosophy. In 1918, he transferred to the University of Mysore, where he taught at Maharaja College. In 1921, he was offered the King George V Chair of Mental and Moral Science at the University of Calcutta, which he accepted. In June 1926, he attended the Congress of the Universities of the British Empire, and in September 1926, he attended the International Congress of Philosophy at Harvard University. He was asked to deliver the Hibbert Lecture on the Ideals of Life at Harris Manchester College, Oxford, in 1929, as a distinguished academician. From 1931 to 1936, he was the Vice-Chancellor of Andhra University before becoming the Spalding Professor of Eastern Religions and Ethics at the University of Oxford and a Fellow of All Souls College. In 1939, he took over as Vice-Chancellor of Banaras Hindu University (BHU) from Pt. Madan Mohan Malaviya, a position he maintained until 1948. Radhakrishnan entered politics later in life than others. From 1946 to 1952, he served as India's representative at UNESCO.
From 1949 until 1952, he served as India's ambassador to the Soviet Union. In 1952, Radhakrishnan was elected as India's first Vice-President, serving under President Rajendra Prasad and Prime Minister Jawaharlal Nehru. In 1962, he succeeded Rajendra Prasad as India's second President, and he left politics five years later.
Sarvepalli Radhakrishnan's Major Works and Contributions
"The true teachers are those who help us think for ourselves."
'Indian Philosophy' (two volumes, 1923–27), 'The Philosophy of the Upanishads' (1924), 'An Idealist View of Life' (1932), 'Eastern Religions and Western Thought' (1939), and 'East and West: Some Reflections' were among his many works. Radhakrishnan is widely regarded as one of India's brightest and most prominent comparative religion and philosophy academics. In both India and the West, his defense of Hinduism against "uninformed Western criticism" has had a significant impact. He is regarded as making Hinduism more approachable to a Western audience.
Sarvepalli Radhakrishnan's Awards and Achievements
In 1954, he was awarded the Bharat Ratna, India's highest civilian honor.
In 1968, he became the first individual to be awarded a Sahitya Akademi fellowship, the Sahitya Akademi's highest distinction.
He was awarded the Templeton Prize for supporting nonviolence and presenting "a universal reality of God that embraced love and wisdom for all people" shortly before his death in 1975.
India's first Vice President and second President. Indian philosophy has been placed on a world map.
Sarvepalli Radhakrishnan's Contribution towards Indian Education and Teacher's Day
"Instead of celebrating my birthday, it would be my proud privilege if 5 September is observed as Teachers' Day." – Dr. Sarvepalli Radhakrishnan.
Teachers' Day is observed on September 5 in India as a homage to the contributions of teachers to society. On this day in 1888, India's former President, academic, philosopher, and Bharat Ratna awardee, Dr. Sarvepalli Radhakrishnan, was born. Dr. Radhakrishnan was born into a poor Brahmin family in Tiruttani, Andhra Pradesh, and was a talented student who completed his studies with the help of scholarships. When Dr. Radhakrishan became India's second President in 1962, his students contacted him to ask for permission to mark September 5 as a special day. Instead, Dr. Radhakrishnan proposed that September 5 be designated as Teachers' Day to honor teachers' contributions to society. On this special day, the entire nation honors Dr. Radhakrishnan, an outstanding educator who was well-liked by his students. Students show their appreciation for their professors' hard work and efforts, which have shaped their life.
S Radhakrishnan defines education as the acquisition of information outside the academic and professional realms. He believed that education should not be limited to bookish learning or the memorization of facts and statistics, nor should it be used to fill the mind with useless material. It is also not the memorization of others' thoughts and their reproduction in examinations to obtain diplomas and degrees for employment.
Dr. Radhakrishnan was a believer in ideals. His education is based on idealistic values. For the pupils, he recommended Yoga, Morality, Geography, General Science, Agriculture, Political Science, Ethics, Literature, and Philosophy. Dr. Radhakrishnan's curriculum includes intellectual and moral pursuits such as poetry, painting, and mathematics. The report of the University Education Commission 1940-49 is Dr. Radhakrishnan's greatest contribution to educational thinking and practice. Our mental education, moral strength, and moral integrity, according to the panel. "If we claim to be civilized," it continues, "We must develop thought for the poor and suffering, chivalrous regard and respect for women, faith in human brotherhood regardless of race, color, nation, or religion, love of peace and freedom, abhorrence of cruelty, and ceaseless devotion to the claims of Justice." According to him, the aim of education should be:
To instill the belief that life has a purpose,
To cultivate the wisdom to awaken the innate ability to live a soulful life.
To prepare for the democratic process,
Self-improvement is a skill that may be learned.
To become in touch with one's cultural heritage
5 Lesser Known Facts About Dr. Sarvepalli Radhakrishnan
"Knowledge gives us power, love gives us the fullness."

When he became President of India, he accepted just Rs 2500 out of a monthly salary of Rs 10,000, with the remainder going to the Prime Minister's National Relief Fund.
The Radhakrishnan Chevening Scholarships and the Radhakrishnan Memorial Award were established by Oxford University.
In 1954, he was given the Bharat Ratna, and in 1961, the German Book Trade Peace Prize. He was also awarded the Order of Merit in 1963 and the Templeton Prize in 1975 for spreading the concept of "a universal truth of God that encompassed compassion and wisdom for all people." And what's even more incredible is that he gave the entire prize money to Oxford University.
He was knighted in 1931 and was known as Sir Sarvepalli Radhakrishnan from then until India's independence in 1947. He was renamed Dr. Sarvepalli Radhakrishnan after the country gained freedom. He was appointed Spalding Professor of Eastern Religions and Ethics at Oxford University in 1936. In addition, he was elected as a Fellow of All Souls College.
Helpage India, a non-profit organization for the aged and impoverished, was created by him.
Dr. Sarvepalli Radhakrishnan's life and contributions to the school of Indian modern philosophy are invaluable. He was a learned man and an educator who made significant contributions to the realm of education. He was an Indian scholar who had renounced his faith. As Indians, we continue to remember him and commemorate his birthday on September 5th as Teacher's Day.
We respect all instructors because of him, and we especially observed this day because of him. He is a role model for all Indians, and despite his death, he lives on in the hearts of all teachers and students.