"If you can't fly, then run, if you can't run then walk if you can't walk then crawl, but whatever you do you have to keep moving forward" – Martin Luther King Jr. It's hard to find someone in the world who has carved out a place for themselves without putting in a lot of effort to get there. In life, success is a process of elimination and selection or choosing between the worthy and the worthless. As a result, unless we are motivated by a strong desire to make our lives count, we may not leave a lasting impact. Today, we're going to see the life of a true hero, who never gave up even in the most challenging time – Satish Kumar!
| | |
| --- | --- |
| Name | Satish Kumar |
| Age | 32 |
| Height | 6'2 |
| Sports/Discipline | Boxing, 91 kg |
| First Olympic Game | 2020 Tokyo Olympics |
| Major Achievements | Asian Games: Bronze medal – Heavyweight in 2014Asian Championships: Bronze medal – Heavyweight in 2019Commonwealth Games: Silver medal – Heavyweight in 2018 |
Satish Kumar, the Talk of the Town
Subedar Major Satish Kumar Yadav, born on 4 May 1989, is a Bulandshahr-based Indian Army Junior Commissioned Officer (JCO) and amateur boxer. He earned a bronze medal in the super heavyweight category at the 2014 Asian Games in Incheon, and he is the first Indian boxer to qualify for the Olympics in the super heavyweight category.
Satish Kumar, the son of a Bulandshahr farmer, aspired to join the Indian Army like his older brother. He joined as a Sepoy in 2008 and relocated to Ranikhet, where he was recognized for his height during a boxing camp and encouraged to pursue the sport. He had no idea what boxing was at the time, assuming it was WWE because he had heard of The Undertaker and John Cena. It is truly amazing to see how he has come; who had thought that an amateur boxer would one day make it to the Tokyo Olympics 2020!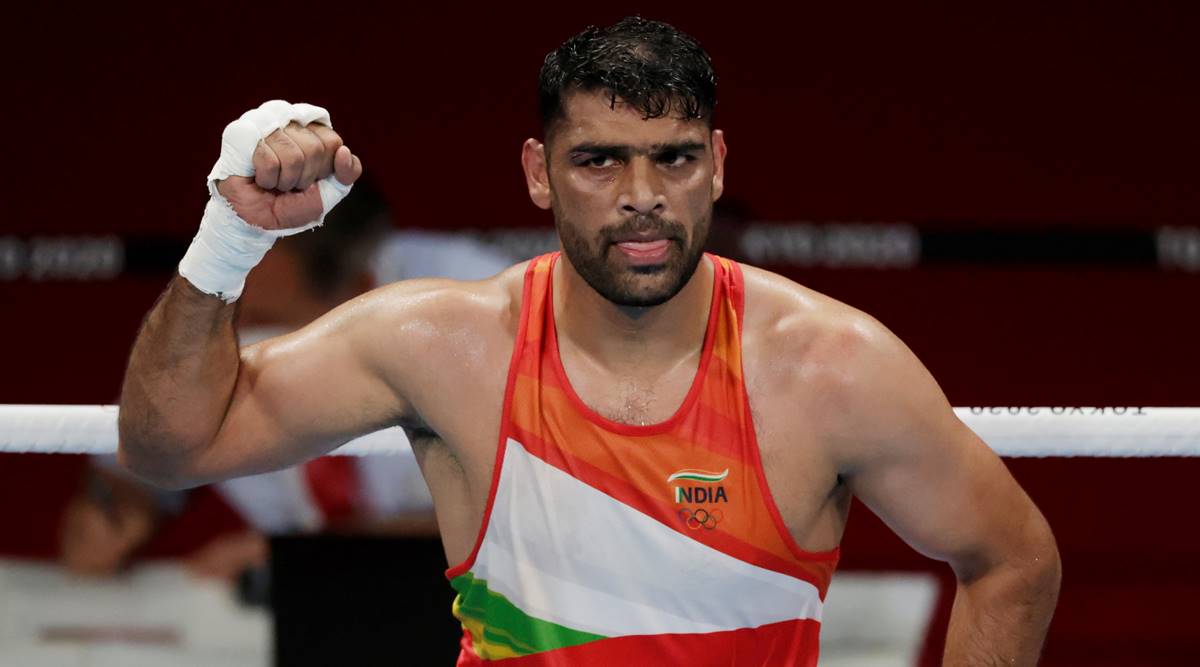 Early Life and Achievements
Satish Kumar's first tryst with the sport was during his early days as a Sepoy in the Army in Ranikhet in 2008. He was gifted with a gangly 6'2″ height. A small group of boxers was practicing near the army training camp under Ravishankar Sangwan's supervision. Sangwan, on the other hand, had his eyes on a young, well-built Satish and approached him immediately, asking, "You have the ideal build for a boxer, do you want to give it a shot?" The rest, as they say, is history.
For many years, Satish ruled the super heavyweight class. Satish Kumar was not picked for the 2014 Glasgow Commonwealth Games (CWG) despite his outstanding performance in the ring, but he made a powerful statement by winning back-to-back bronze medals in the 2014 Asian Games in Incheon, South Korea, and 2015 Asian Boxing Championships Bangkok, Thailand.
Satish also won a silver medal in the Commonwealth Games in Gold Coast, Australia, before winning gold at the 3rd men's nationals in Pune to round off the year. He earned silver at the Makran Cup in Iran in 2019 before qualifying for the Olympic Games in Jordan in 2020.
2020 Tokyo Olympics: Satish Kumar Loses to Jalolov (Quarter-Finals)
Satish Kumar lost to Bakhodir Jalolov of Uzbekistan, the World Champion, and top seed, in the +91kg quarterfinals at the Tokyo Olympics on August 1, 2021. Armyman Kumar, India's first super heavyweight boxer to qualify for the Olympics, was defeated by 0-5 by a stronger opponent. Despite this, he won the hearts of Indians with his brave act, hard work, and dedication.
After the match, even Jalolov praised Kumar for his valiant attempt. Kumar, who had sustained cuts during his last round bout, had a positive approach against a much taller southpaw. Satish Kumar was impressed with his left-right combinations, despite Jalolov's excellent use of right jabs and follow-up blows.
Jalolov used his combinations to win the first round by 5-0. Kumar, though, came closer to the Jalolov and landed a couple of blows on target despite the powerful punches. Despite Kumar's increased attack, which included some excellent hooks, Jalolov's fast movement and superb defense kept him in the game.
Also Read about Sunil Chhetri: India's Goal Machine!
Twitter Praises Satish Kumar for his Courage
Big personalities, actors, fans, and sports figures flooded social media praising Satish Kumar for his courage. Even his opponent Bakhodir Jalolov appreciated Satish Kumar after the match on Twitter. Have a look at some of these tweets:
Satish Kumar showed us what a hero does: he never gives up! We wish him all the best for his future competition and wish him a speedy recovery. For more such inspiring blogs and content, stay tuned to Leverage Edu!