A world-renowned expert in Artificial Intelligence and Machine Learning, Vishal Sikka was born in a small town in Madhya Pradesh, India and founded his own Silicon Valley startup. He is one of the individuals who has put India on the world map of global blue-chip companies with his sheer grit and determination. If you're keen to know more about this man with years of experience and expertise, then read on to this blog to know much more about Vishal Sikka.
Must Read: 50 Inspiring & Great Personalities of India and the World
Vishal Sikka's Early Education
Born in a humble Punjabi family in Shajapur, Madhya Pradesh, Vishal Sikka's parents were working professionals. His mother was a school teacher, while his father was an Indian Railways engineer. He was only six years old when his family relocated to Vadodara, Gujarat.
He studied in Kendriya Vidyalaya, Rajkot and consequently completed his schooling at Rosary High School, Vadodara. He enrolled in the Bachelor's in Computer Engineering course at the Maharaja Sayajirao University of Baroda. He discontinued this course to join Syracuse University in New York, where he completed his graduation with a BSc in Computer Science.
When he was applying for postgraduate admission to Stanford University, Marvin Minsky, known as one of the fathers of AI, signed a recommendation letter for him. He completed his PhD from Stanford University in 1996. His thesis was titled 'Integrating Specialized Procedures into Proof Systems.
Must Read: 10 Indian Scientists Who Changed The World
The Onset of Vishal Sikka's Career
After a short job at Xerox's research labs, he realised his dream and tried his hand at entrepreneurship twice. His first start-up, named 'iBrain', was a competition to Business Objects at the time. PatternRX, Inc acquired iBrain.
Vishal Sikka founded his second startup called Bodha.com. This company centred on developing technology for the non-invasive integration of enterprise data and data. Peregrine Systems bought Bodha.com. After this acquisition, Vishal Sikka joined Peregrine Systems, in the role of Vice-President for Platform Technologies. He was responsible for application development and integration of technologies and architecture.
Must Read: Top Women Entrepreneurs in India
Vishal Sikka's Journey at SAP
Vishal Sikka joined SAP, a German organisation, in 2002 to lead its innovative, strategic projects. Later, he climbed the corporate ladder to the Senior Vice President of Architecture and Chief Software Architect position. He spearheaded the direction of SAP products and infrastructure architecture.
In April 2007, he was named SAP's first-ever Chief Technical Officer. The SAP spokesman Frank Hartmann stated that the company needed a CTO to accomplish some broad changes. These changes mainly involved the company's revamped focus on the mid-market segment. They also wanted to introduce innovative on-demand products and the extended rollout of NetWeaver and its SOA strategy. In these years, he developed SAP's revolutionary product, HANA and played a significant role in redefining its strategy.
On 4 May 2014, he finally announced his exit from SAP for personal reasons. Soon after, he was named the CEO of Infosys Ltd.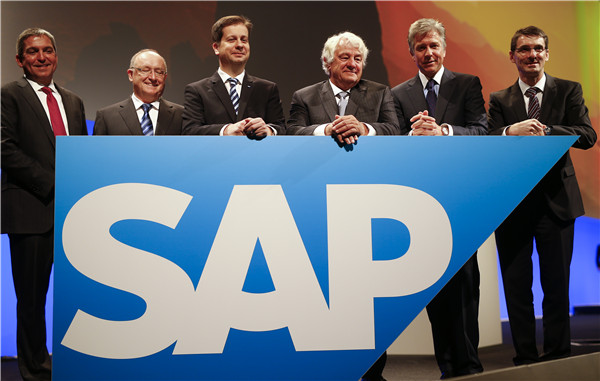 Vishal Sikka's Journey at Infosys
Vishal Sikka became the Chief Executive Officer and Managing Director of India's second-largest IT services exporter, Infosys Ltd, on June 12, 2014.
His attractive offer includes a $13 million yearly salary and $9 million in stock options. He aspired to improve the company's business model. His vision was to transform Infosys into a complete technology firm. In a tweet in July 2017, he pointed interest towards a driverless cart in Infosys's Mysore campus. This driverless cart was designed to train employees about modern technologies like artificial intelligence (AI) and machine learning.
In 2016, Infosys launched the much-admired 'Zero Distance' as a part of Vishal Sikka's strategy to engineer more business and increase productivity by urging employees to develop ways to help resolve clients' complex problems. Three years and two months later, on 18 August 2017, after becoming CEO, he resigned from Infosys as MD and CEO.
Vianai, Sikka's Brainchild
In 2019, he founded Vianai, a Palo Alto-based Artificial Intelligence company, with $50 million in initial funding and an incredible team of over 30 people, including employees, consultants, contractors and advisors that included personalities like Indra Nooyi, Sebastian Thrun, John Etchemendy, Divesh Makan and Alan Kay.
In a demonstration of the platform at Oracle Open World on September 17, 2019, he unveiled the company had built its programming language to facilitate more developers and companies to employ AI and Machine Learning techniques.
Vishal Sikka hopes that this brainchild shall be on the frontline of technology and business. In the company, he aspires to inculcate a culture of inclusivity, progressiveness and kindness. He hopes that Vianai remains relevant and creates a difference in the lives of millions, plausibly billions.
Also Read: Find Out How Falguni Nayar Made Nykaa a Beautiful Success
Oracle Board of Directors
In December 2019, Oracle announced that Dr Vishal Sikka had been chosen to Oracle's Board of Directors. As a part of the Board, he would be providing strategic insight and expert advice on Oracle Cloud and its services.
Vishal Sikka's Views on the Post-Pandemic World
In 2019, Vishal Sikka believed that the changes in the post-pandemic world were full of uncertainties and challenging to foresee.
He remarked that several have become habitual to working from home. Things that used to need travelling somewhere can now happen remotely. It is astounding to see how efficient things have become, with little fuel and energy required to get the same job done within minutes.
Education has also become very different as children are attending classes through live video conferencing. Many of these changes will exist even after we emerge on the other side of the crisis.
A large section of the community has also been affected devastatingly, on the other hand. People previously employed in the services sector have lost their jobs.
Similar to organisms, some companies do not have the immune systems to deal with such a crisis.
AI has the ability to transform the education and healthcare sector.
Large companies and startups will be affected by the pandemic, and it depends on how one navigates through the troubles. This coronavirus pandemic will demand us to make changes, and we would be left with no other choice than to accept and adapt to these changes.
Also Read: Learning Skills For Students & Working Professionals
Vishal Sikka's Views on 'AI as an amplifier'
Vishal Sikka has always been passionate about the notion of technology acting as a human amplifier,
He thinks that technology can enhance our ability and help us view more, perform more and be more.
Inspired by Richard Feynman's thought that the most excellent way to learn is to teach, he taught two classes last year, in California and China. He identified problems, did some prototyping, got funded and brought Vianai, a unique platform, to life.
AI can expand human capability. It is not a replacement for human effort, as some people might remark. This perception can help humankind cross some of the world's most significant hurdles, from climate change to cancer.
He believes it is good to let AI perform some of the most tedious, hazardous, ordinary and automatable tasks. People will get more time to perform tasks that need greater levels of thought, innovation, and collaboration. The jobs that require the human elements of advanced rationalising, imagination and creativity.
Also Read: Career in Artificial Intelligence: Opportunities & Outlook
Vishal Sikka's journey can inspire the youth to achieve what he did with the right vision, determination, and non-complacent attitude to fight what may come. Despite facing multiple hurdles, he is one of the brightest minds with an enthusiastic spirit and continues to do wonders. For more such inspirational and amazing reads, stay tuned with Leverage Edu!