You must've heard about Sunil Chhetri, the Indian striker who recently surpassed Lionel Messi and Cristiano Ronaldo to become the second-highest active international goal-scorer with 74 strikes. With multiple records under his belt, this 36-year old football star has had a spectacular journey of pure hard work and passion. Sunil Chhetri is the captain of the Indian football team, who has headed the team to reach several milestones. If you're keen to know more about his journey, then read on to this blog till the very end to learn much more about Sunil Chhetri.

"If you don't believe in yourself, how will anyone else do? The day you start doubting yourself, the war is finished there. Because you know yourself, your capability, and you know how far you want to reach, therefore never doubt yourself."
– Sunil Chhetri.
Sunil Chhetri: His Background
Sunil Chhetri was born in Secunderabad, Telangana, on 3 August 1984 in a humble, sports-loving family. His father was an officer in the Indian Army who played football for the Indian Army's team. His mother and her twin sisters were players in the Nepal women's national team. Following in his parents' footsteps with a keen interest in sports, Sunil Chhetri started playing football at a young age and participated in various tournaments.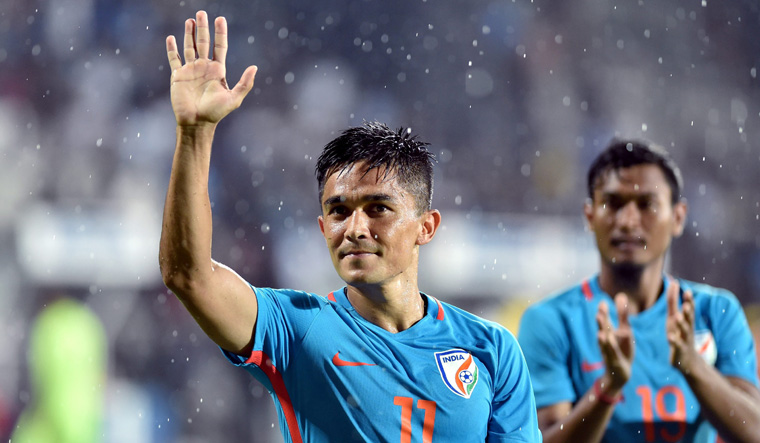 Also Read: 50 Inspiring & Great Personalities of India and the World
Sunil Chhetri's Club Football Career
Mohun Bagan
Sunil Chhetri began his professional journey in 2002. He was signed by Mohun Bagan of the National Football League after playing with City FC of New Delhi. He set foot into club football for three seasons at Mohun Bagan from 2002 to 2005. 
JCT
In 2005, Sunil Chhetri was signed for JCT for the 2005–06 season. He scored three goals during that season. Chhetri bagged two hat-tricks for Delhi in the group stages of the 61st Santosh Trophy.
In the 2006–07 season, Sunil Chhetri scored eleven goals in the league for JCT as the club finished in second place in the table. His most excellent games were the matches against his former club Mohun Bagan and Dempo, in which he bagged braces in both matches. JCT won both games with the score 2–0 and 3–2, respectively.
Soon after, during the initial season of the Hero I-League, Sunil Chhetri scored seven goals as JCT finished the league third in the table. His only brace came against Salgaocar during the finals. In December 2007, Sunil Chhetri was awarded the AIFF Player of the Year for 2007 for his outstanding form and performance for the club and country.
East Bengal
Before the 2008–09 season started, Sunil Chhetri signed with East Bengal. He scored a crucial goal during the Federation Cup, which led to East Bengal securing a place in the semi-finals. During the semi-final match, East Bengal was against arch-rivals and Sunil's former club, Mohun Bagan. Sunil Chhetri missed the decisive penalty and East Bengal was officially knocked out of the tournament.
Dempo
After being released by East Bengal, Sunil Chhetri signed a two-year contract with Dempo in 2009, which permitted him to appear for trials abroad if he wished to, in the future.
Foreign Interest
Sunil Chhetri was grasping international attention all this while. Many foreign clubs showed interest in signing him. However, circumstances always had a different plan for Sunil Chhetri. One major interest event was in 2009 when Hindustan Times announced that Sunil Chhetri had entered a three-year contract with Queens Park Rangers, the English Football League Championship. However, the British government denied a work permit because India was not in the top 70 of the FIFA World Rankings. Sunil Chhetri remained optimistic: "But it's not the end of the world. I will continue to work hard for my country team and my club Dempo, who have been very supportive." he said.
Overseas Career
In 2010, Sunil Chhetri tried out with the Kansas City Wizards of Major League Soccer. He then signed for the team, becoming the first Indian to play in MLS and the third Indian to play outside South Asia.
Peter Vermes, the head coach of the Wizards, said, "One thing we like about Sunil is that he's a crafty player. Technically he's very sharp, and he's a guy that has good attacking tendencies."
Sunil Chhetri debuted for the club in the Lamar Hunt U.S. Open Cup qualification play-in game versus the Colorado Rapids. Unfortunately, he ended up with a yellow card and was substituted out of the game at half-time as Kansas City lost 1–2. On 23 July 2010, it was declared that Sunil Chhetri would perform in a mid-season friendly match against Manchester United. However, this induced controversy as he had not yet played a league match.
One match later, it was announced that Sunil Chhetri was to represent India in the 2011 AFC Asian Cup. Hence, he subsequently left the Wizards.
Chirag United, Mohun Bagan and Sporting Clube de Portugal B (2011-12)
Chirag United signed Sunil Chhetri for the rest of the 2010–11 I-League season. On 22 July 2011, it was declared by Mohun Bagan that he had confirmed a one-year deal with them. He later went on to join Sporting Clube de Portugal in 2012.
Bengaluru FC season
In the 2013–14 season, Sunil Chhetri scored 14 goals and seven assists in 23 appearances. He led Bengaluru FC to its first-ever I-League title in his debut season.
Chhetri began the 2014 Durand Cup season, scoring three times but missing the penalty in the shoot-out in the semi-final versus Salgaocar, which turned out to be the decisive penalty miss as Bengaluru was knocked out.
In the 2014–15 Federation Cup, Sunil Chhetri kept up his form. He scored a goal in the final, winning the 2014–15 Federation Cup.
Mumbai City
During the 2015 Indian Super League, Mumbai City picked up Sunil Chhetri for Rs. 1.2 crores. He was the most expensive Indian player at the auctions. He created history as the first Indian player to score a hat-trick, against a game versus NorthEast United. He became the top scorer for Mumbai City as he stole 7 Goals. In 2018 he was still in the pole position of All-time top scorers for Mumbai City FC.
Bengaluru FC
In 2015, Sunil Chhetri was loaned to Bengaluru, where he scored five times in the league, leading his team to win the league title twice in three years. The first time, Bengaluru had reached the quarter-finals of the tournament.
On 9 June 2016, Sunil Chhetri entered a one-year contract. He scored two times as Bengaluru won the 2016 AFC Cup Semi-Final. Sunil Chhetri's second goal was a 30-yard strike, where he received the ball from C.K. Vineeth dodged one defender, and unleashed a screamer to give Bengaluru the lead.
Scoring 14 goals in the 4th season of the Indian Super League, he became the Indian top scorer of the league. Sunil Chhetri advanced to secure the 'Hero of the League' title. He is ISL's all-time leading Indian goal-scorer. In 2021, Chhetri became the first player to make 200 appearances for Bengaluru FC. On 25 February 2021, he reached his 100th goal for Bengaluru FC in the final league match.
Also Read: Education of Rabindranath Tagore
Sunil Chhetri's International Career: Representing Tricolour Overseas
2004-2006
In 2004, Sunil Chhetri played his maiden game for the Indian U-20 team in the 2004 SAF Games. On 3 April 2004, he played twice for the Indian U-20 squad against the Bhutan team in their 4–1 victory. On 12 June 2005, he scored his maiden goal for the senior India national football team against Pakistan.
2007-12
Sunil Chhetri's first international tournament was the 2007 Nehru Cup. In the inaugural game, India defeated Cambodia 6–0, where Chhetri scored two goals. He was a part of the build-up to N.P. Pradeep's crucial goal led to the team becoming the first champions of the tournament since 1997. In 2007, India also started their 2010 FIFA World Cup qualification campaign.
The SAFF Championship in 2008 began with three victories in the group stages. In the opening game, Sunil Chhetri scored a goal in a 4–0 win over Nepal and in the 2–1 semi-final victory over Bhutan. In the 2008 AFC Challenge Cup, Sunil Chhetri played in all of the matches and scored four goals. In the semi-final against Myanmar, he scored a single goal in a 1–0 victory after being assisted by Baichung Bhutia. In the finals versus Tajikistan, he scored a hat-trick which facilitated India's victory. India thus qualified for the 2011 Asian Cup, the first time they had passed for the tournament in 24 years.
Hundreds of fans crowded outside the stadium to greet India's "poster boy", and manager Bob Houghton affirmed, "He is remarkable, brave and honest. He never gives up."
He was designated the national team Captain for the 2012 AFC Challenge Cup qualification in Malaysia. On 11 December 2011, at the SAFF Cup's final, he met a total of seven goals in a single edition of the SAFF Championship, exceeding I.M.Vijayan's record of six goals in the 97 edition.
2012–16
In 2012, Sunil Chhetri scored a header in the extra time of the first half versus Syria in the first match of the 2012 Nehru Cup. In the final against Cameroon, he scored a penalty kick to equalize tat 2–2. In the penalty shootout that followed, Sunil Chhetri went as the second kick-taker from India and scored a goal which led to India's 5–4 victory.
2017–present
On 11 October 2017, India qualified for the 2019 AFC Asian Cup under the captaincy of Sunil Chhetri. India maintained a 13 match unbeaten run before losing the finals to Kyrgyzstan. Nonetheless, Sunil Chhetri was among four renowned Asian players to be chosen for the seeds for the upcoming Asian cup.
In June 2018, he scored a hat-trick in the first match of the 2018 Intercontinental Cup. After this match, Sunil Chhetri was disappointed with the poor turnout at the stadium. He posted a video on Twitter imploring people to come to Mumbai Football Arena and support the Indian team. His video went viral and earned widespread support from fans, celebrities, and legendary cricketers like Sachin Tendulkar and Virat Kohli.
The stadium was filled with an exuberant crowd for the remainder of the matches. The second match of the tournament was his 100th international appearance for India. On 10 June, he scored twice again in a 2–0 win over Kenya in the final to win the Intercontinental Cup title. He reached Lionel Messi's count of 64 international goals on this day. He became the joint-second active international goalscorer, following Portugal's Cristiano Ronaldo with 81 goals. Sunil Chhetri finished as the top scorer of the tournament with eight goals. Sunil Chhetri's performance against Thailand helped India seize a historic 4–1 win in the 2019 AFC Asian Cup. On 7 June 2021, Sunil Chhetri scored twice in a 2–0 victory over Bangladesh in the 2022 FIFA World Cup qualification.
Also Read: PT Usha, The Payyoli Express and India's Golden Girl!
Honours and Achievements 
Sunil Chhetri's Club Career
I-League: 2009–10
I-League: 2012–13
Indian Super League: 2018–19
I-League: 2013–14, 2015–16
Indian Federation Cup: 2014–15, 2016–17
Super Cup: 2018
AFC Cup: runner-up 2016
Sunil Chhetri's International Representation:
AFC Challenge Cup: 2008
SAFF Championship: 2011, 2015
Nehru Cup: 2007, 2009, 2012
Intercontinental Cup: 2017, 2018
Sunil Chhetri's Individual Honours and Achievements
AIFF Player of the Year: In the years 2007, 2011, 2013, 2014, 2017, 2018–19
FPAI Indian Player of the Year: 2009, 2018
AFC Challenge Cup Most Valuable Player: 2008
SAFF Championship Player of the Tournament: 2011
Hero of the I-League: 2016–17
Hero of the Indian Super League: 2017–18
AFC Asian Icon: 3 August 2018
Hero of the Intercontinental Cup: 2018
Football Ratna Award (first recipient) by Delhi Football Association: 18 February 2019
Presented by the Indian government:
Arjuna Award, by the Government of India (2011)
Padma Shri recipient (2019)
Other achievements
AFC Cup All-time XI (The Strikers): Inductee (2021)
Know more about Harsha Bhogle: The Game-Changer of Indian Commentary
Sunil Chhetri International Goals
Over the previous two decades, Sunil Chhetri has established various milestones. It includes being the most capped Indian international (125) and the top Indian international goal scorer — his record of 80 is only second in the active players' list behind Portugal's Cristiano Ronaldo. Sunil Chhetri's outstanding international career has been mirrored in his performances in Indian domestic football.
Sunil Chhetri's Total Goals in ISL
| Season | Goals | Matches | Team |
| --- | --- | --- | --- |
| 2015 | 7 | 11 | Mumbai City FC |
| 2016 | 0 | 6 | Mumbai City FC |
| 2017-18 | 14 | 21 | Bengaluru FC |
| 2018-19 | 9 | 19 | Bengaluru FC |
| 2019-20 | 9 | 17 | Bengaluru FC |
| 2020-21 | 8 | 20 | Bengaluru FC |
| 2021-22 | 4 | 20 | Bengaluru FC |
| TOTAL | 51 | 114 | Bengaluru FC |

Sunil Chhetri's Ranking in World
| | | | |
| --- | --- | --- | --- |
| Position | Player | Matches | Goals |
| 1 | Cristiano Ronaldo (Portugal)* | 182 | 115 |
| 2 | Ali Daei (Iran) | 149 | 109 |
| 3 | Mokhtar Dahari (Malaysia) | 142 | 89 |
| 4 | Ferenc Puskas (Hungary) | 85 | 84 |
| 5 | Lionel Messi (Argentina)* | 156 | 80 |
| 6 | Sunil Chhetri (India)* | 125 | 80 |
| 7 | Godfrey Chitalu (Zambia) | 111 | 79 |
| 8 | Hussein Saeed (Irag) | 137 | 78 |
| 9 | Pele (Brazil) | 92 | 77 |
| 10 | Ali Mabkhout (UAE)* | 95 | 77 |
Here's all you need to know about the phenomenal journey of our Indian Football team captain Sunil Chhetri. Through multiple hardships and obstacles, Sunil Chhetri has become an inspiration to the youth and a game-changer in Indian football. Stay tuned to Leverage Edu for more exciting and inspirational stories. You can also follow us on Instagram, Twitter, Facebook, LinkedIn, and YouTube & also subscribe to our newsletter.