A well-built and attractive resume can take you the extra mile in landing a job. Especially in the Engineering field, a resume must feature the highlights of an individual's career, clearly mentioning their skills and attributes with the level of proficiency and relevant certifications and awards. Further, in fresher network engineer resume skills of interdisciplinary nature, time management, deadline-management and teamwork are also highly-valued and must be mentioned if it can be supported through evidence. If you are planning to apply for this job profile, this blog details the essential elements that should be a part of a Network Engineering Resume.

Individual/Personal Details
The first and foremost element of a resume is the personal details section which comprises of:
Name of the candidate
Age
Current Address
Relevant contact details such as email, phone number
This section must not be overflowing with information. This is to avoid confusion in the mind of the employer. Further, wherever applicable, it may also mention the social media links (LinkedIn, Facebook, etc) of the candidate.
Also Read: Resume for Electrical Engineer Fresher
Career Summary/Objective
An important but often overlooked section of a Network Engineer resume is the career objective/summary which serves to provide an overview of your accomplishments to the employer. It explains why an individual has done what he has done and what he aims to achieve by it. His motivation behind the listed experiences and education must be appropriately highlighted in this section.
Network Engineer Objective Right Example
Well organised and skilled, graduate from XYZ, with GPA XYZ, Eager to join KILCEE Communications as a junior network engineer to establish and maintain high quality network performance. During a 6 month internship, learnt all details about operating systems and configurations of VLAN'S.
Network Engineer Objective Wrong Example
A fresh graduate in computer networks with high marks. Would love to be part of your company and develop network engineering skills further. Amicable and friendly. The Career Objective of a Network Engineer Resume should put forth the following points:
Summarizes education qualification and academic achievements
Describes the candidate's strong character traits
Describes the candidate's previous experience
States what the candidates can be of use of
Also Read: Declaration in Resume for Freshers
Educational Background
A vital element of a Network Engineer resume is the educational background from which the candidate belongs and hails from. Describing your educational background is important and should be mentioned in your resume in detail. Under this section you must mention:
Courses you have pursued
Year of Graduation should be mentioned clearly
Grades achieved
Institute of education
Highlights of your education, for example, awards and certificates won
Project and Internship Details
This is the section of your resume where you can interconnect your educational qualifications with your practical experience. You can mention the following under this section:
Summer/winter internships undertaken (if any)
Research work conducted
Papers published
The specific area you have worked upon
Also Read: Co-Curricular Activities List for Resume
Certification and Awards in Network Engineering
The awards and certificates which you may have got during your work experience should be mentioned in this section. You should begin with the most recent award and end it with the oldest. Some of the important mentions include:
Certifications like Cisco Certified Network Professional
Red Hat Certified Network Engineer
Coding Languages Proficiency
Popular mentions in any Network Engineer resume include:
C++
HTML
Java
Python
PHP
Swift
Personal Skills and Attributes
For this part of the resume, you can mention your personal skills which you have developed through practical experience during internships or while working under professors or through personal endeavours such as startups etc. Skills generally added to this section include communication, teamwork, computer skills, time management etc.
Volunteering Experiences/Positions of Responsibility
In this section, you can list down your volunteering experiences or positions of responsibility held during college or organisational experiences. Adding these volunteering projects can help you complement your resume and will show your interests in working in cultural and social activities.
Sample Resume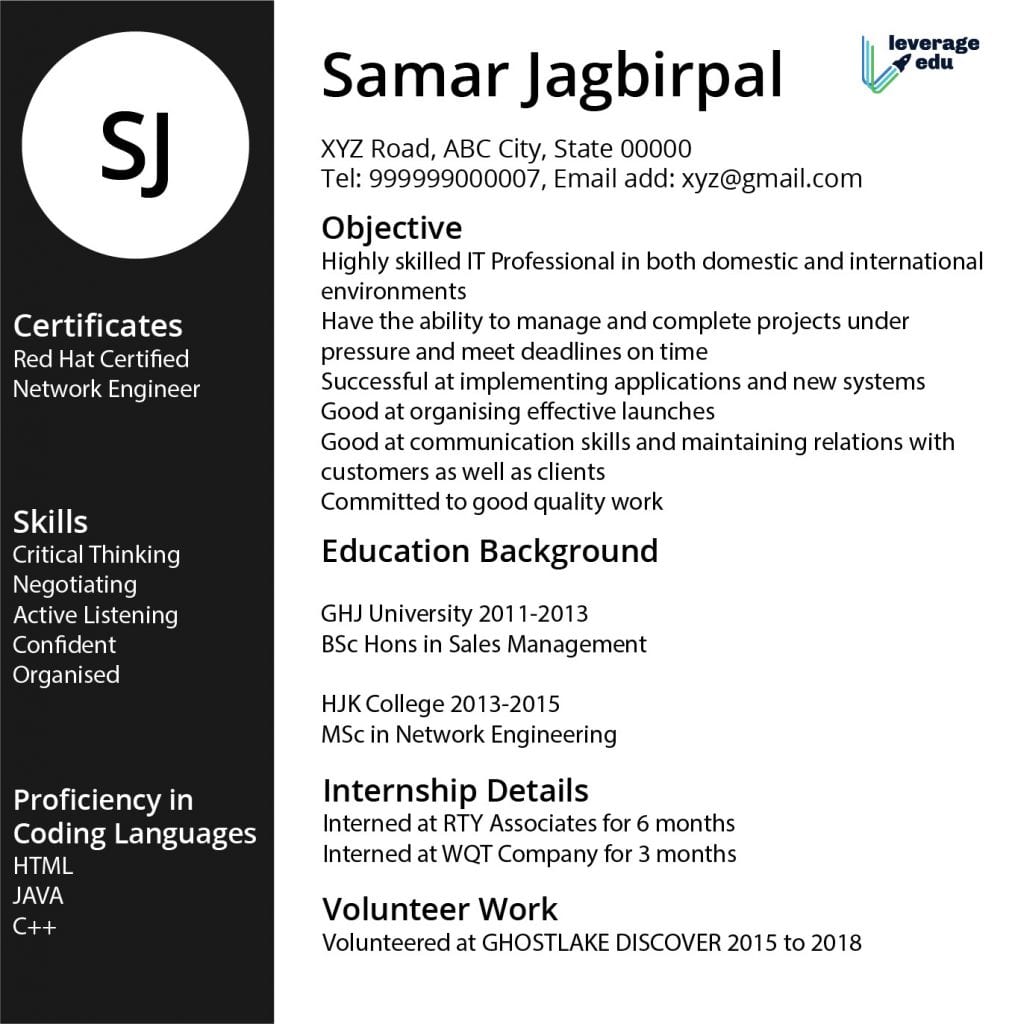 Fresher Network Engineer Resume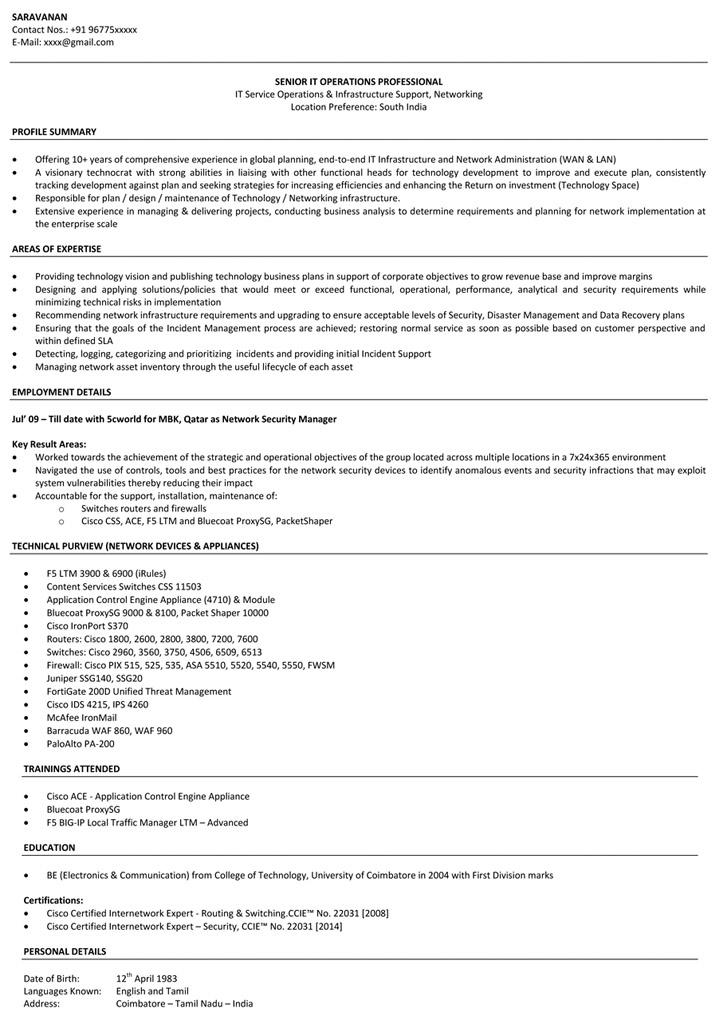 A resume is one of the core essentials of the job procurement process for freshers as well as experienced professionals. The rich repository of value-added services provided by Leverage Edu also comprises assistance for resume conditioning, so that you can progress in your career graph to the highest level you aspire for.