Before applying for any examination especially one like NEET, it is important to analyse the eligibility criteria. We understand that the process of admission is extremely important but exhaustive if you do not possess the required information. But you don't need to exhaust yourself as you will find all the information that is important for NEET eligibility criteria right here. If you planning on appearing for the NEET entrance exam, it is important that you meet every aspect mentioned in NEET Eligibility criteria. The guidelines and the conditions mentioned in the NEET Eligibility Criteria provide you with all the relevant information.
Also read: How to Prepare for NEET?
NEET Eligibility Criteria
There are a number of indispensable eligibility criteria that are basic to the examination, these include-
You must be an Indian National, an Overseas Citizen of India or a Non-Resident Indian (NRI )to appear in the NEET examination.
You must possess an Aadhar card unless you belong to Assam, Meghalaya, or Jammu and Kashmir.
You can appear for the examination even if you've graduated from an open school.
You need to have completed your class 10+2 in Physics, Chemistry, and Biology from a recognized school of a recognized board of education. If you are appearing for your 12th-grade examination, you will still be eligible for the NEET examination.
Also read: Best Books for NEET
Percentage Required for NEET
While there is no limitation to the number of attempts you can take for the NEET examination. You must possess certain qualifying marks in your academic pursuit to be eligible for the NEET examination. As per NEET Eligibility, you should have passed in Physics, Chemistry, and Biology individually to appear for the examination.
| | |
| --- | --- |
| Category | Marks |
| Unreserved category | 50% marks in Physics, Chemistry, and Biology |
| Scheduled Caste/Scheduled Tribes/Other Backward Classes | 40% marks in Chemistry, Physics, and Biology |
| Candidate with disabilities | 40% in Physics, Chemistry, and Biology |
.
NEET Age Limit
NEET exam has a specific age limit for all the students applying for the exam.
The lower age limit of the student should be 17 years by their admission i.e. if they are taking admission in 2022, they should be 17 years of age by December 31, 2022.
The upper age limit of the students depends on their category. For General Category, the upper age limit is 25 years.
Reserved category and PWD students have 5-year relaxation of the age limit. So, their age limit is 30 years.
Unhappy with your NEET scores? Here are the things you can do!
NEET Reservation Criteria
NEET exam has reserved seats for every category of students. Below are the reservations for each category for NEET Exam:
| | |
| --- | --- |
| Schedule Caste | 15% |
| Schedule Tribe | 7.5% |
| General- EWS | 10% |
| OBC- Non Creamy Layer | 27% |
| Physically Handicapped | 3% |
NEET Eligibility Criteria for NRI/Foreign Candidates
If you are an NRI/foreign candidate you need to pass 12 in physics, chemistry, and biology to meet NEET Eligibility. You must pass theory as well as practical to qualify for the examination. Clearing an English fluency test is also a criterion for NEET Eligibility.
NEET Eligibility- Criteria for Total Number of Attempts
Earlier, there was a restriction on the number of attempts by candidates to appear for NEET examination. After the revision of the program by NTA, NEET Eligibility you can now appear for the examination more than once. This criterion applies to all the candidates applying from different aspects and areas.
NEET Eligibility- Criteria for 15% Seat Quota
Medical Council of India allows 15% quota seats to candidates from all states of India, applicable in universities across India. However, if you are from Jammu and Kashmir you will not be eligible for this quota. You will have to provide a self-declaration form along with your NEET application to be eligible for this facility.
NEET Eligibility – Criteria for State Quota Facility
Different states/union territories have 85% seat quota in their respective government universities. Counselling for such programs is conducted by their respective government universities. Admission in these private medical and dental colleges are also implied by the NEET Eligibility, criteria for state quota facility and come under their respective state/union territory.
Those eligible for 15% quota include Indian Nationals, Non-Resident Indians (NRIs), Overseas Citizen of India (OCI), Persons of Indian Origin (PIO) and Foreign Nationals
15% of all the seats are reserved for All India Quota
If seats remain after 2 rounds, they are converted into state seats
Andhra Pradesh and Telangana can participate in the 15% All India Quota
NEET Attempts in 2022
NEET 2022 is in July 2022. There are no limits to the number of attempts in 2022.
Earlier it was announced that NEET will happen twice a year but later the Education Minister announced that it will be once a year.
There is no upper age limit to the exam this year
NEET 2022 Latest Updates
Exam Announcement:
NTA announced that NEET 2022 Exams will take place on 17 July 2022.
The test will be conducted for admission to MBBS, BDS, BAMS, BSMS, BUMS and BHMS courses
The test will be conducted in 11 languages including English and Hindi.
The exam will be held through Pen and Paper.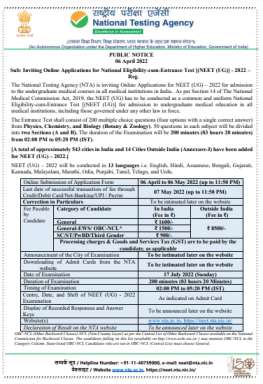 General News:
The NEET exam will be held twice a year, as per the Union Ministry of Health and Family Welfare. It will be organized in the same manner as JEE Mains.
The NEET exam will be held offline
More than 10 lakh students are appearing for NEET 2022
Breaking All the Records, NEET Toppers Soyeb and Akansha Score a Perfect 100%
NEET 2022 Exam: Marking Scheme
Tabulated below is the marking scheme which will be followed for the NEET 2022 exam.
| | |
| --- | --- |
| Kind of Answer | Marks Allotted |
| Incorrect Answer | -1 |
| Correct Answer | +4 |
| Multiple Answers/ No Answer | 0 |
Marks Schedules
Tabulated below is the break up of marks in NEET 2022 exam for your reference.
| | | |
| --- | --- | --- |
| Name of Subject | Questions for each Subject | Marks |
| Biology | 90 | 360 |
| Physics | 45 | 180 |
| Chemistry | 45 | 180 |
| Total | 180 | 720 |
We know it's not easy to prepare for NEET and take the process without stress and pressure. That is why we are here to help you in this journey. At Leverage Edu, we ensure that you get all the information and resources necessary as well as guidance from the best in the industry for a soaring career.