IELTS is available in two variants IELTS Academic and General Training, the exam aims to test the abilities of the applicants on 4 basic methods of learning- Reading, Writing, Speaking and Listening. Candidates have an option to opt either for computer-based or paper-based IELTS exam. Most of the candidates wonder How to Crack IELTS in 3 Months? The best way to do the same and get a good IELTS score is to go through enough IELTS sample tests and follow the correct IELTS preparation tips for each section. Here are some important sample questions for the upcoming IELTS exam!
IELTS Computer-Based vs Paper-Based
IELTS Indicator
IELTS Indicator is the safest and fastest way to demonstrate your English language skills from the comfort of your home. It is an online test-launched by the British Council last year during the havoc of COVID-19 to help students apply for educational institutes across the world. Here are some important aspects of the IELTS Indicator to keep in mind-
It is held once every week online
IELTS Indicator can be administrated online
It covers the four main skills like the IELTS General- Speaking, Writing, Listening, and Reading
It is a timed test that matches the structure of an in-person test.
It is a live, online test with an allocated start time and duration
Listening, Reading, and Writing parts of the test need to be completed in one sitting, while the Speaking test takes place a few days before or after the other sections.
Subscribe to Leverage IELTS for more such information
IELTS Exam Pattern 2022
Being one of the highly competitive exams, IELTS is a comprehensive text for the English Language. Comprising of 4 sections such, as Reading, Writing, Speaking and Listening, the total duration of the IELTS exam is 2 hours 45 minutes. The test for each section will be held separately in a time-bound manner. The aspirants are free to attempt the IELTS speaking test prior to the Reading, Listening and Writing test.
Now that you have a detailed insight of the IELTS exam, let us have a look at the IELTS sample test for each section.
IELTS Sample Test: Speaking
The test for this section would be a face-to-face conversation between the examiner and the candidate. It will be a short test for a duration of 10-15 minutes wherein the examiner will put forward some IELTS speaking questions. Here are some questions from the IELTS sample test-
Some people celebrate their birthdays with friends and some with their families. What according to you is the best way to celebrate a birthday?
Tell us about the change in your leisure activities from being a child to a teenager.
According to you, which is a better and effective way of learning- Reading or Writing?
What are the changes that you have observed in your hometown in the past 8-10 years?
Have you ever made a virtual friend? What qualities of him/her were appealing to you?
Links to Sample Tests:
IELTS Sample Test: Writing
Wondering How to Ace IELTS Writing Test? Writing is an essential section of the IELTS examination. In total there will be 2 questions in this test. The first one would be an essay question and the second one will be a picture-description question based on the diagram, chart, graph etc. Following are some IELTS essay topics from the exclusive IELTS sample tests-
Some people believe that only Computers and Science should be taught in school while others think music should be an essential part of the curriculum. Present your views on the same.
Examine your view in favour and against regarding the experiments done on animals.
Do you agree with the argument that businesses have a social responsibility apart from the money they make?
What are your views on: family members like grandparents, aunts and uncles must be involved in bringing up the children as equally as parents?
Some students take up a part-time job while studying at a university. Is it a good idea or bad?
Along with these questions, here are two IELTS Sample Tests designed by the British Council for General and Academic Writing section:
Links to Sample Tests:
Also Read:
IELTS Sample Test: Reading
There will be 3 reading questions in the IELTS test for this section. Applicants will have to answer the questions on the basis od their inference from the reading. There will be a variety of questions along with MCQs. Here is a reading passage which you can practice to understand the types of questions in this section: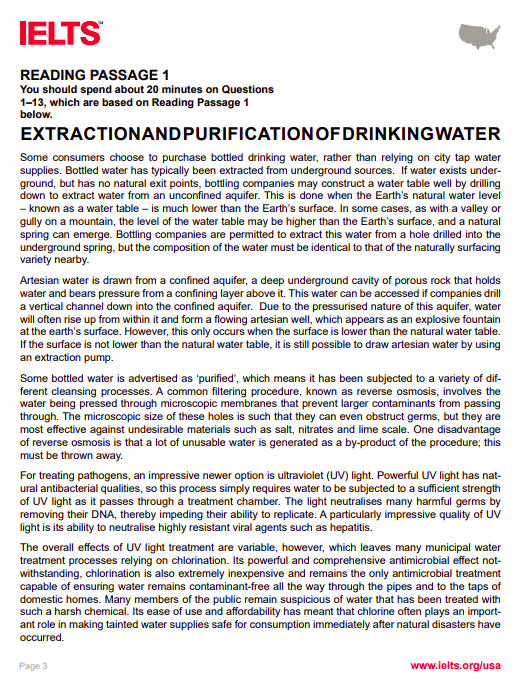 For the complete IELTS sample test of reading section click here.
Link to Sample Tests:
IELTS Sample Test: Listening
In the IELTS listening component, there will be audio-based questions and the students will have to answer them once the audio is complete. To know about the IELTS sample test of listening click here.
We at Leverage Edu provide the best guidance for IELTS exam through live sessions, best quality study material, uncountable IELTS sample tests, tips to fetch a better score and doubt clarifications at any given point. To get an above-average IELTS score, get in touch with us now!