Not a minute passes when any business organizations come to a standstill and stop engaging in trade with other firms around the world. The economy of the world is changing with every ticking second. The exchange of trade between companies includes import and export of products or services. As globalization continues to interconnect, the world economy businesses assume a new definition. There has been a huge shift from the mere financial exchange of goods and services to a whole course in a new direction. Mergers happened between companies, big corporate giants began owning business firms around the world. An organized procedure was established for the various business processes to happen. For this very purpose, business valuation came into being and gained importance. This blog consolidates all the details related to the concept to help you understand what business valuation is all about!

What is Business Valuation?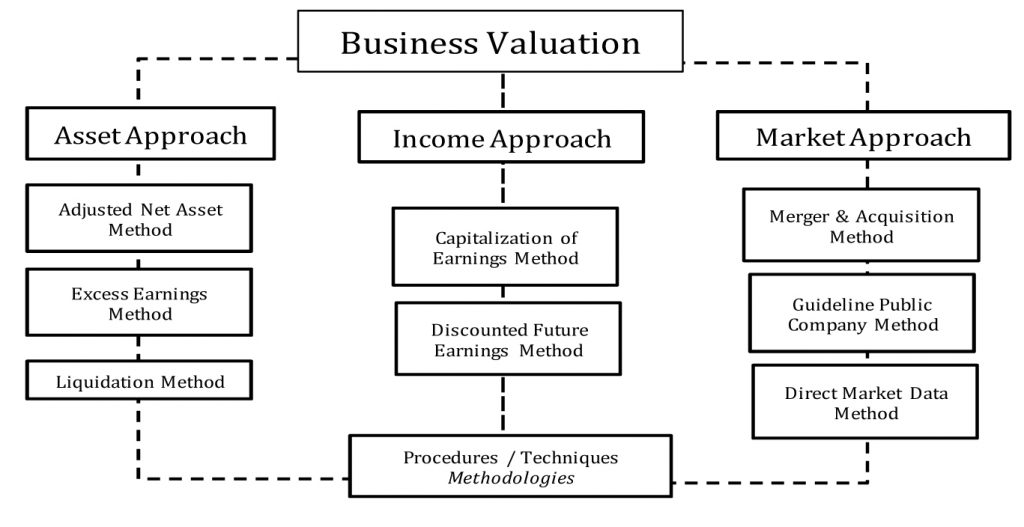 Business valuation is a methodology and a defined set of processes that are employed to evaluate and make an accurate assessment of the financial value of an asset. This crucial task is undertaken by analysts who decide upon the total price of the firm within its market and determine at what price they are ready to purchase or sell the company. Business valuation is sometimes also used to fix share or security value. Moreover, it is an integral task required for establishing the importance of a corporation in an economy.
What is the Process of Business Valuation?
The business valuation process is long, delicate and involves various steps. Before moving on with this process, a lot of factors have to be taken into account. Mentioned below are some of the steps one needs to accomplish to facilitate the process of business valuation.
Reason for Valuation
The foremost step is to carefully note why the valuation taking place. The valuation can be undertaken for a variety of reasons and being able to distinguish between the reasons can affect the valuation which will differ a great deal accordingly. Being aware of the actual reason for valuation can help in creating a better understanding of the organization in the market.
Accumulate Information
Gathering all the economic data is a significant element of business valuation. Combining all the recent years of income and expenditure statements, debt accounts on the table and other relevant information can help in drawing a fruitful conclusion. Listing out any pending contracts and ongoing projects can also be a beneficial part of this program.
Adjust the Books
Sometimes business owners manipulate income statements to dodge or reduce the tax collection. In this case, the process of knowing the actual profits and operating costs of the business can get difficult. Hence, the statements of the finance need to be reworked to reach a conclusive result.
Pick the Appropriate Business Valuation Methodology
The key step is to choose the right methodology and knowing it well beforehand can go a long way. To determine the proper approach is a paramount factor for the successful valuation. Multifarious methods are available, such as market value method, asset-based approach, Return on Investment approach, method of discounted cash flow and the book valuation method.
Implementation of the Method
The final step is the efficient application of the chosen method so as to produce the desired outcomes. Sometimes analysts use various methods and compare them for best results and choosing the one that serves the purpose the best. In the end, the report of valuation is prepared, mentioning the process and results thereof and presented for a final look-through.
Methods of Business Valuation
There are many ways a company can be valued. Each method is different and varies according to each company's unique structure and finances. Here are a few methods of business valuation.
Market Capitalization: This is calculated by multiplying the company's share price by its total number of shares outstanding.
Times Revenue Method: In this method, a stream of revenues generated over a certain period of time is applied to a multiplier which depends on the industry and economic environment.
Earnings Multiplier: In this method, future profits are adjusted against cash flow that could be invested at the current interest rate over the same period of time.
Discounted Cash Flow (DCF): This method is based on projections of future cash flows, which are then adjusted to get the current market value of the company.
Book Value: This is calculated by subtracting the total liabilities of a company from its total assets.
Liquidation Value: This is calculated based on the total worth of a company's physical assets if it were to go out of business and its assets sold.
Business Valuation PPT
Top Courses
An array of courses and degrees are available in the field of business valuation to impart students with a fundamental understanding of the processes involved in it. These courses guide students through the nuances of the field and help them develop expertise in the areas of management, business and finance. Here are popular courses in business valuation offered at different academic levels.
Undergraduate Courses
| | | |
| --- | --- | --- |
| BSc (Hons) Business Management | BA (Hons) Business Management and Financial Management | Bachelor of Science in Economics – Economic Analysis |
| Bachelor of Business – International Businesses and Strategy | Bachelor of Business Administration in Finance – Entrepreneurial Finance | Bachelor of Business Administration in Business Analytics |
| Bachelor of Applied Management | Bachelor of Science in Finance- Risk Management and Insurance | Bachelor of Science in Quantitative Finance |
| Bachelor of Science in Corporate Accounting and Financial Analysis | Bachelor of Business Administration in Finance – Financial Planning | Bachelor of Science in Resource Economics – Managerial Economics |
Postgraduate Courses
| | | |
| --- | --- | --- |
| MA (Hons) Economics with Management Science | MSc Financial Analysis and Fund Management | Master of Science in Applied Modelling and Quantitative Methods – Financial Analytics |
| Accounting, Finance and Strategic Investment MSc | MSc Corporate Finance | Master of Business Administration – Financial Reporting and Analysis |
| Financial Forecasting and Investment MSc | Master of Science in Finance and Risk Management – Financial Analysis and Management | MSc Forensic Accounting |
Doctorate Courses
| | | |
| --- | --- | --- |
| Doctor of Philosophy in Managerial Economics and Strategy | Doctor of Philosophy in Financial Economics | Doctor of Philosophy in Strategy and Entrepreneurship |
Popular Universities
Business valuation has gained increasing importance in the world of business. A major step towards establishing a successful career in this field is choosing the right university to pursue one's educational qualifications from. There are many universities around the world that offer courses in this as a major subject area. Enlisted below are some of the most venerated of these universities.
The University of North Carolina at Chapel Hill
University of Greenwich
University of Huddersfield
Career Prospects
With business valuation taking unprecedented popularity in the world of business, career opportunities in this specialisation are expanding like never before. Picking the right job profile can help a student excel in their chosen field and establish a successful career. Here are some of the popular career choices available to an individual with a degree in business valuation.
[optin-monster-shortcode id="xf2mlnjiouddzrshykdb"]
Valuation Analyst
Research Analyst
Financial Analyst
Financial Consultant
Economic Advisor
Top Recuriters
Being a highly paid job, Business valuation consultants and analysts are in demand in many MNCs, banks and other top companies. Here are the top recruiters that hire business valuation consultants and analysts.
Deutsche Bank
Citco
Deloitte
KPMG
Swiss Re
Barclays

Salary
Business Valuation is a great option for students inclined towards financial modelling. Depending on the job position and company, The initial salary ranges from INR 50,000- 70,000. With experience, the average salary of a business valuation associate in India ranges between INR 10 Lakh – 20 Lakhs p.a.
We hope this blog has provided you with insightful details about business valuation, its process and other relevant information. Are you aiming to study Business valuation? Then get in touch with experts at Leverage Edu who will help you choose the best-matched course and university and further guide you through the entire application process as well. Sign up for a free career counselling session now!