A Master's degree is an essential addition to one's resume and opens up lots of opportunities in terms of career choices and directions. An MSc in Physics is an interesting and rewarding choice to consider. It has tons of career opportunities and furthers the possibilities of your studies. Because of that, an MSc Physics degree has grown into a valuable degree to be considered seriously. In case you are one of the students considering an MSc Physics, you should also be familiar with the different branches in MSc Physics. Let's see why MSc Physics is beneficial, before diving into the different branches of the course.
Course Highlights
Course
MSc Physics
Duration
2 years
Eligibility
BSc in Physics or its equivalent
Branches in MSc Physics
Classical Mechanics, Biophysics, Thermodynamics, Quantum Mechanics, Optics & Atomic & Molecular Physics, etc.
Jobs
Physicist, Assistant Professor,

Research Assistant

, Medical Physicist, etc.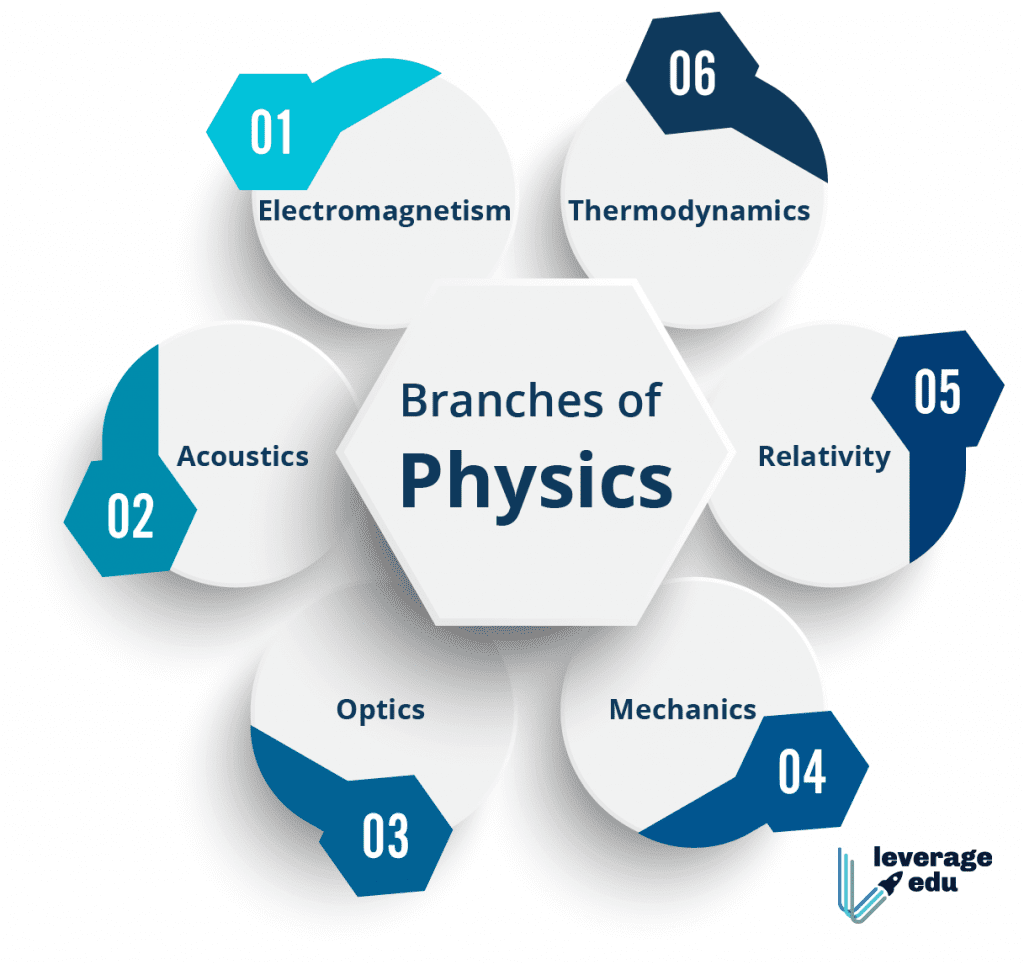 MSc Physics Courses
Before knowing the branches of MSc Physics, one must know about the courses that are taught in the Master of Science in Physics Curriculum. The list given below has names of some of these courses:
Classical Mechanics
Biophysics
Thermodynamics & Statistics Mechanics
Optics & Atomic & Molecular Physics
Electromagnetism &

Electronics

Condensed Matter Physics
Classical Mechanics
Quantum computing
Geophysics
Must Read: How to Make a Career in Physics?
Branches in MSc Physics
An MSc Physics is a two-year-long course that stretches over four semesters. All the branches of MSc Physics aim to strengthen the student's knowledge about the subjects and take them deeper into the world of physics. The student is given the chance to take part in deep research in their chosen specialization and have the chance to write a Master's thesis. The ability to solve more complex problems and equations is an added advantage that one can find in MSc Physics. There are several options to choose from while selecting a specialization for MSc Physics. The branches in MSc Physics are all structured to focus on different aspects of the already broad subject of physics. Here to help you in selecting the right one is a list of a few of them:
Particle Physics
One of the up and coming branches in MSc Physics, this branch explores the wonders and complexities of particle physics, astronomy, general physics, quantum fields, electromagnetic theory, statistical mechanics, relativity and gravitation. They learn to put their basic computer-based knowledge to contemporary scientific topics. Most students who pursue this course choose to stay in the field of academia, although they have career options such as working as a research software developer, data analyst, etc.
How to Make a Career in Engineering Physics?
Quantum Physics
This course is also included under the branches of MSc Physics. Students under this branch learn about the quantum world, where the commonly known laws of physics cease to make sense. This course takes the student deeper into the smallest particle this universe is made of and reveals in-depth knowledge about it. Most of the research in this field is theoretical and focuses on bringing these theories into an experimental reality. It is a field many will find interesting and will have a great time researching. Career prospects of this branch also revolve mostly around academics, but now with science accelerating at a high speed, job opportunities are starting to look very good too.
Nuclear Physics
Another interesting choice amongst the other branches in MSc Physics is Nuclear Physics. As the name suggests, this branch dives deep into the nuclear dimensions of our universe. This course takes the candidate through the world of the atom, nucleus and the subsequent particles. With in-depth knowledge, the students have a wide variety of career choices to choose from such as a teacher, lab supervisor, researcher, etc.
Must Read: MSc Physics Syllabus
Bio and Medical Physics
The perfect blend of quantitative biology and nano/complex physics, this one amongst the other branches in MSc Physics offers students a chance to understand various life forms and activities. It also focuses on innovating and inventing new tools to help cure/manage newer diseases. The students of this branch understand the physical attributes of the building blocks of all living matter. They are also trained to use the mathematical-physical knowledge to understand the mechanisms of living systems. This branch also offers a lot of opportunities in academia, research, and the teaching field.
Geophysics
With global warming taking over, this branch in MSc Physics actually uses scientific equipment, methodologies, and ideas to study the earth, its geographical activities as well as the current phenomenon of climate change. Involved in a lot of fieldwork, the students collect data from field-research and study the characteristics to come up with solutions for the corresponding problems. Studying everything from deserts to oceans, ice caps to rich soiled lands, the students have ample research to come up with solutions to one of the world's biggest problems. This is something that has scope across the planet because these problems are being faced by nations worldwide.
Top Universities for MSc Physics
Now that you are aware of the varied branches in MSc Physics, let's take a look at the top universities you can explore for a Master of Science degree in Physics:
Top Physics Colleges in India
University of Delhi
IIT Delhi
Christ University Bangalore
Fergusson College
Birla Institute of Technology and Science, Pilani
Stella Maris College
Loyola College
Banaras Hindu University
National Institute of Technology Tiruchirappalli
FAQs
Which branch is the best in MSc physics?
There are numerous branches available for MSc Physics such as Classical Mechanics, Biophysics, Thermodynamics, Quantum Mechanics, Optics & Atomic & Molecular Physics, etc. The most popular branches which are referred to as the best ones for MSc Physics are Astrophysics and Nuclear Physics.
How many types of MSc physics are there?
A vast number of branches are there in MSc Physics including, Thermodynamics, Particle Physics, Biophysics, Geophysics, Astrophysics, Optics and Atomic and Molecular Physics, Quantum Mechanics, Classical Mechanics, etc.
What are the branches of physics?
Physics is a vast field of study and encompasses numerous specialisations. Some of the popular branches of physics are Classical Physics, Modern Physics, Thermodynamics, Magnetism, Mechanics, Electricity, etc.
What is the scope of MSc Physics?

MSc Physics graduates can work in the Aerospace and Defence sectors. They also have a great demand in the Automobile industry. Railways, Renewable Energy, Telecommunication and Electronics are also closely related to MSc Physics.
These were some of the branches in MSc Physics that ought to inform you and inspire you to pursue MSc Physics. With lots of branches and career options, this degree is sure to take you places. We at Leverage Edu are determined to help you make your dreams come true. Call us today to start your career the right way.