Adored for his stories revering the beautiful mountains and characters filled with vivid emotions, Ruskin Bond is amongst one of the best Indian authors loved by readers of all ages! You must have come across Bond's enchanting works as a kid or might have fallen in love with his stories as an adult. The canvas that he paints through his striking tales is full of nostalgia, treasuring the delight of mother nature and cherishing human emotions like friendship, love, and an innate desire to explore the world! Referring to himself as a Lone Wolf, Bond is an endearing personality permitting in the old-world charm of Landour. He has penned amazing works for many decades by now including over 500 short stories, novels and essays as well as 50 books for children! If you want to lose yourself in the world of Bond's amazing characters nestled in gorgeous landscapes aligned with relatable situations, this blog brings you a complete list of some of the famous books by Ruskin Bond you must read once in your lifetime!
"Grow something, my friend. Even if it is a potted tomato plant, it will make a difference in your life."
The Poetic Writer: Ruskin Bond
A writer who has been admired for his genres by people from all age groups, Ruskin Bond is truly exceptional with his work. The prolific writer turns ordinary moments into extraordinary memories which capture each scene perfectly. Ruskin Bond is considered to have an upbeat, humble yet inspiring personality. Before we engross ourselves into Bond's world of narratives, let's explore a few lesser-known facts about the author.
List of Famous Books Written by Ruskin Bond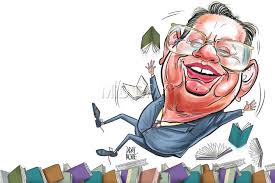 Awarded by the Padma Bhushan, Ruskin Bond has written a wide range of beautiful short stories, novels and autobiographical literature that has mesmerized people of all ages. His literary career spans over six decades and has been adored for his children literature as well as his love for nature, mountains and especially India! If you are looking for Bond's most popular short stories and novels, here are the famous books by Ruskin Bond you must check out:
Time Stops at Shamli and Other Stories
The Ruskin Bond Children's Omnibus
A Book of Simple Living
A Face in the Dark and Other Hauntings: Collected Stories of the Supernatural
Funny Side Up
Maharani
Susanna's Seven Husbands
Angry River
Vagrants in the Valley
A Season Of Ghosts
Lone Fox Dancing
Looking for the Rainbow: My Years with Daddy
Falling in Love Again
Tales of Fosterganj
Dust on the Mountain
Love Among the Bookshelves
The Sensualist
The India I Love
Tigers for Dinner: Tall Tales by Jim Corbett's Khansama
The Hidden Pool
The Kitemaker: Stories
All Roads Lead To Ganga
No Man is an Island: Stories of Friendship and Bonding
Tales And Legends Of India
A Song of Many Rivers
Let's take a fun-filled dive into the best of Ruskin Bond, from the Classic Blue Umbrella and to the amazing Night Train at Deoli and Other Stories!
The Blue Umbrella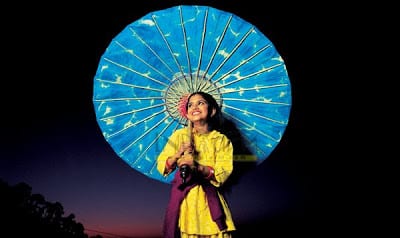 "She was always ready with her smile, and would willingly have lent it to anyone who was feeling unhappy."
The Blue Umbrella is one of the most famous books by Ruskin Bond. Given a cinematic adaptation by Vishal Bhardwaj, the film also went on to win the National Film Award for Best Children's Film in 2006. Set in a village in Himachal Pradesh, the story revolves around a blue umbrella, which is given to a young village girl, Binya, by some tourists in exchange of her lucky charm leopard claw pendant. Her umbrella becomes very popular in the village, to the length that a shopkeeper becomes obsessed with obtaining it and offers to buy it from the girl, only to be rejected. A series of different events follow, which ultimately ends with Binya deciding to give the umbrella to the shopkeeper, who in return gifts her a necklace with a bear's claw.
The Room on the Roof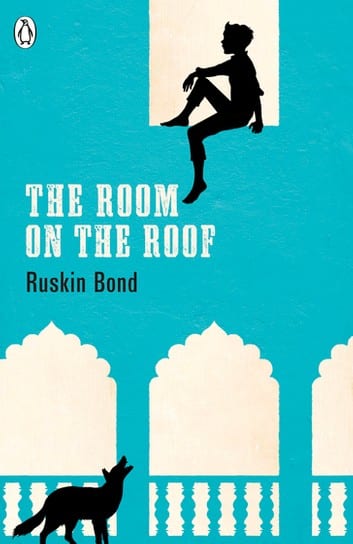 "When we are young, we can put up with a great deal of discomfort in order to follow a dream. If, after thirty-five years, I'm still doing my own thing, it's because I haven't forgotten the dream. Let no man take your dream away. It will sustain you to the end."
The Room on the Roof is Ruskin Bond's first novel which was written when he was only seventeen. As the earliest one amongst the famous books by Ruskin Bond, the story revolves around an orphaned Anglo-Indian boy named Rusty, who lives with his guardians in Dehradun. His guardian keeps him from mingling with Indians and one day after getting punished for going into the bazaar, Rusty runs away and with the help of some friends he made at the bazaar starts a new life. Later, he gets a job teaching English to a boy named Kishen, in exchange for food and a small room on the roof. The novel paints a colourful rainbow of emotions as Rusty observes people from his room on the roof, falls for Kishen's mother and as the story progresses, he becomes a mature adult as he carves a life of his own.
Time Stops at Shamli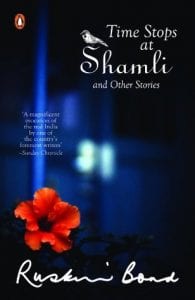 "We remember only what we want to remember."
A collection of numerous short stories, Time Stops at Shamli is another famous book by Ruskin Bond. All the stories mentioned in this work are different in essence but each is as much appealing as another. The short story 'Time Stops at Shamli', which is a part of the book, is based on a small place called Shamli where the train from Delhi to Dehradun stops for only five minutes. A railway passenger who is curious about this place gets a chance to explore it when his train stops at the station for a longer duration due to some problems with the railway lines. The story tells about the day he spends in a hotel in Shamli, getting along with the people, both known and unknown he meets during his stay and the long-lasting impression town leaves on him.
Rusty, the Boy from the Hills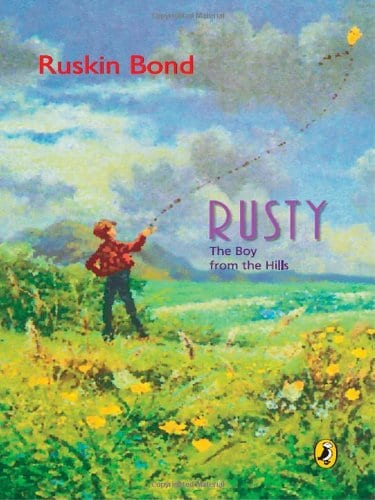 "But the trees seemed to know me. They whispered among themselves and beckoned me nearer."
Rusty, the Boy from the Hills explore around the life and adventures of Rusty, a curious and imaginative boy and a fictional version of Bond himself from his early childhood to his teen years. In this very famous book by Ruskin Bond, he attempts to recount and describe his childhood in the foothills of the Himalayas, which he spent with his grandparents. One of his most popular books among children and adults alike, the stories mentioned in the book range from a pet python to escaping from enemy bombardment during World War II to encountering ghosts. The book is a mixture of weird, funny and wholesome experiences that will surely make you reminisce about your own childhood memories!
A Flight of Pigeons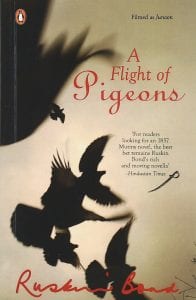 One of the most famous books by Ruskin Bond, A Flight Of Pigeons is set amidst the revolt of 1857. The story revolves around Ruth Labadoor and her family; her father is killed in front of her by rebels who had decided to wipe out all British people in the town. Ruth and her mother escape and take shelter in a house of their servant, from where they are discovered and taken by a notorious Pathan to his own house. Contrary to their expectations, they are treated well in the house and after a series of events are able to safely reunite with their relatives as the British took control and curbed the revolt. Shyam Benegal adapted this heartwarming novel of Bond into a film called Junoon which starred Shashi Kapoor, Nafisa Ali, Naseeruddin Shah and Shabana Azmi and was released in 1979.
Delhi Is Not Far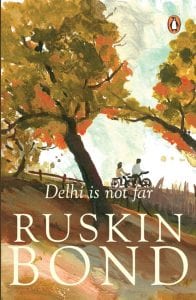 "The rain swirls over the trees and roofs of the town, and the parched earth soaks it up, exuding a fragrance that comes only once in a year, the fragrance of quenched earth, the most exhilarating of all smells."
As mentioned in the foreword by the author, Delhi Is Not Far is a plotless story, revolving around the life of numerous lower-middle-class people in the small town of Pipalnagar. The different characters in the story include a writer, a barber, an orphan, a teenager etc., who all want to make it big in life by moving to Delhi. But due to different reasons mainly financial, none of them manage to make it to Delhi at the end. This book puts forward the struggles faced by middle-class people and also their interdependent relationships with the people around them.
Our Trees Still Grow in Dehra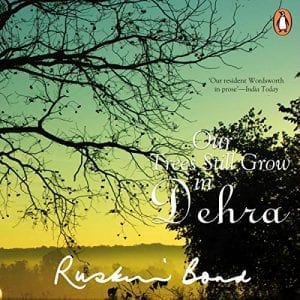 "Live long, my friend, be wise and strong, But do not take from any man his song."
Our Trees Still Grow in Dehra is a collection of numerous short stories that describe the life of the author from childhood to adulthood. Counted among the most famous books by Ruskin Bond, the short stories take us on a ride where we travel with the young Ruskin Bond to the hills of Mussoorie. Along the way, we are introduced to his friends, family and other people who made an impression in his life. This collection of short stories enables us to view India from the eyes of this wonderful author.
"On books and friends I spend my money;
For stones and bricks, I haven't any."
Which is the best story of Ruskin Bond?
Few of the famous books by Ruskin Bond are: The Blue Umbrella, The Room on the Roof, Time Stops at Shamli and many more.
Which is the most sold book of Ruskin Bond?
The Room on the Roof is most sold book of Ruskin Bond.
Which bolloywood movie is based on an Indian novel by Ruskin Bond?
Indian drama film launched in 2005, The Blue Umbrella is based on the novel The Blue Umbrella (1980) by Ruskin Bond.
Written by India's master storyteller, the famous books by Ruskin Bond will transport you to a world of nostalgia, charming natural countrysides and simple yet deeply complicated characters which will leave a lasting impression on your mind! Want to pursue creative writing courses? Reach out to our experts at Leverage Edu and we will guide you in choosing the best course and university to help you actualise your dream career! Sign up for a free session today!