Essay Writing is one of the very important skills that you need in order to get good results in English exams for schools and competitive exams. Many-a-times, students are asked to write an essay on a famous personality where they cover their achievements, life and even what we learn from them. One of the very common essay topics is Subhash Chandra Bose. His life is both interesting and inspiring. So, it's no surprise that exams ask students to write an essay on Subhash Chandra Bose. If you are also hoping to write one, keep reading to check out a professionally written sample for the essay on Subhash Chandra Bose:
Essay on Subhash Chandra Bose
Regarded as one of the most revolutionary and esteemed freedom fighters of our country, Subhash Chandra Bose is indeed a quintessential example of Courage and Selflessness. Whenever we hear this legend's name his famous quote strikes our mind at the drop of a hat, "You Give me Blood,I shall give you freedom" Fondly called,"Netaji" he was born in Odisha on 23rd January 1897 to Janakinath Bose and Prabhavati Devi.
Mr Janakinath Bose was an esteemed and one of the most well-off lawyers of Calcutta and Ms. Prabhavinat Devi was a pious and righteous woman. Subash Chandra Bose was a bright student during his childhood and his intelligence helped him ace the matriculation exam. The teachings of the Bhagavad Gita and Swami Vivekananda had a profound impact on him.
He pursued Ba(Hons.) Philosophy from Presidency College, University of Calcutta, and further he enrolled in the University Of Cambridge to prepare for Indian Civil Services and he was selected as well but Jallianwala Bagh Massacre stirred up his patriotism and he was propelled to alleviate India from the turmoil which it was going through at that time and thus, he left the path of civil services as he didn't want to serve the British Government and he embarked upon his journey as a revolutionary freedom fighter when he came back to India.
He laid the foundation of his political career by first working in the Indian National Congress which was led by Mahatma Gandhi who at that point impacted everyone with his ideology of Non-violence Netaji initially worked in Calcutta for the Indian National Congress along with Deshbandhu Chittaranjan Das whom he considered as his mentor for excelling in politics during the time period of 1921-1925. Bose and C.R. Das had been imprisoned on various occasions due to their proactive involvement in revolutionary movements.
Netaji worked as a chief executive along with C.R. Das who was elected as a mayor of Calcutta then. In the year 1925, C.R. Das died and that deeply devastated him. Netaji Subhash Chandra Bose strongly supported the complete independence of our country not in a phased manner like the Congress party who had agreed to dominion status for our country. Unlike the ideology of Non-violence and cooperation, Bose was more radical in his approach and believed that aggression would definitely aid in attaining independence.
Slowly and steadily, Bose was also becoming powerful and influential among the masses, and because of that he was elected as the president of the Indian National Congress twice but that was short-lived due to the ideological differences between him and Mahatma Gandhi as Gandhiji was a strong believer of non-violence whereas, on the other hand, Bose was a strong supporter of aggression and violent resistance.
He held the teachings of the Bhagavad Gita and Swami Vivekananda in high confidence and that was his main source of inspiration. There is a famous quote which says that "An enemy's enemy is a friend" and he capitalized upon this approach as we know that he was imprisoned 11 times by the British because of his violent resistance and when he was imprisoned around 1940, he cleverly escaped from the prison and went to countries such as Germany, Burma, and Japan and walked the whole nine yards to laid the foundation of Indian National Army(INA) also known as 'Azad Hind Fauj.'
He was highly successful in attacking and capturing some parts of North East India and now the tide was in his favor but it was short-lived as Japan surrendered because of the Hiroshima and Nagasaki bombing and that marked a major turning point. Netaji was steadfast and resolute in his purpose and decided to go to Tokyo in order to devise a further course of action but unfortunately, his plane crashed midway at Taipei. His death though even today is considered a mystery and numerous people still believe that Netaji is alive
In a nutshell, Subhas Chandra Bose was an exemplary leader who had unmatched and unfathomable Patriotism towards his country and as we have recounted his journey from beginning to end, it can be confidently said that his contribution to the freedom struggle is indispensable and unforgettable
Powerful Slogans By Subhas Chandra Bose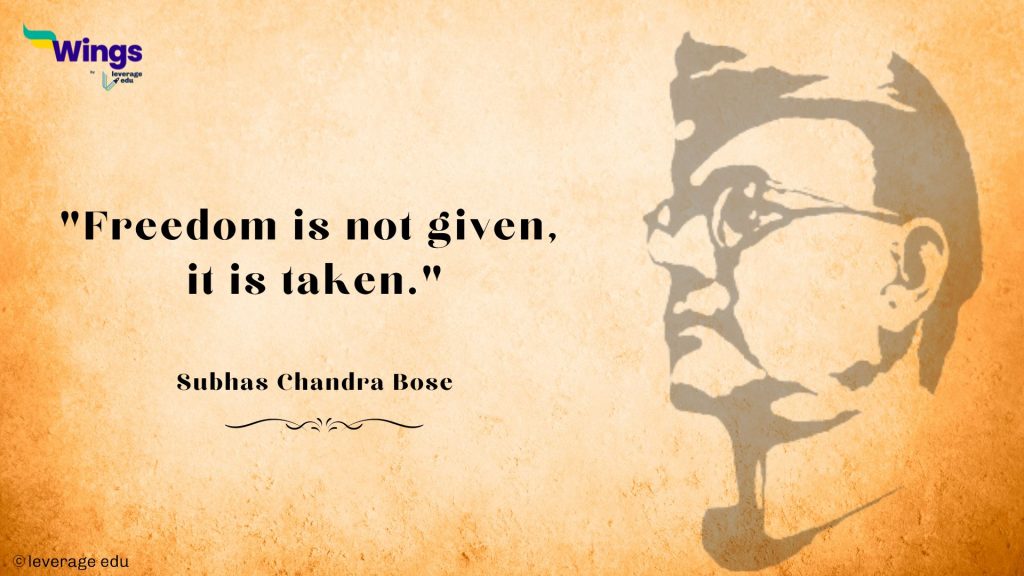 Bonus Essays for You to Read!
So, that was all about an Essay on Subhash Chandra Bose. For more such content, Connect with Us! Worried about which career and university to choose? Son't worry! We are here to assist you at every step and thus, ensure you all a prosperous and meaningful career. For more such insightful blogs stay tuned to Leverage Edu.