In 1982, Rakesh Sharma became the first Indian to set foot in the space and made India proud! It has been almost 26 years since he embarked on the groundbreaking mission to space and is still lauded for his phenomenal mission. He was a part of the most recognizable space program involving the finest astronauts ready to enter the outer space. On his 72nd birthday, we take you on a journey covering his early life and the quest towards becoming the first Indian astronaut in space.
Latest: Indian-American Raja Chari Selected by NASA for SpaceX Mission
Quick Facts
Born
13 January 1949 (age 71) in Patiala, India
Occupation
Test pilot at the Indian Air Force
Awards Received
Ashok Chakra
Hero of the Soviet Union
Total Time Spent in Space
7 days 21 hours 40 minutes
Selection Year
1982
Early Life and Education of Rakesh Sharma
Rakesh Sharma was born in the well-known province of Patiala on 13th January 1949 in the state of Punjab. He attended St. George's Grammar School in Hyderabad where he gained his early education. Rakesh Sharma later pursued his higher education in the National Defense Academy as an Air Force Cadet in the year 1966. He was a bright and hardworking student, and in 4 years, he was approved by the Indian Air Force to become a pilot.
Initial Career in IAF
In 1970, Rakesh Sharma joined the IAF as a test pilot where he operated 21 military operations in the MiG-21 during the Bangladesh War of 1971. He managed to fly a diverse array of planes, where he was promoted to the prestigious rank of a squadron leader. On 20 September 1982, he was selected to become a cosmonaut as part of a collaborative effort involving space research organizations Interkosmos, serving the Soviet Union as well as the Indian Space Research Organisation.
Launching into Space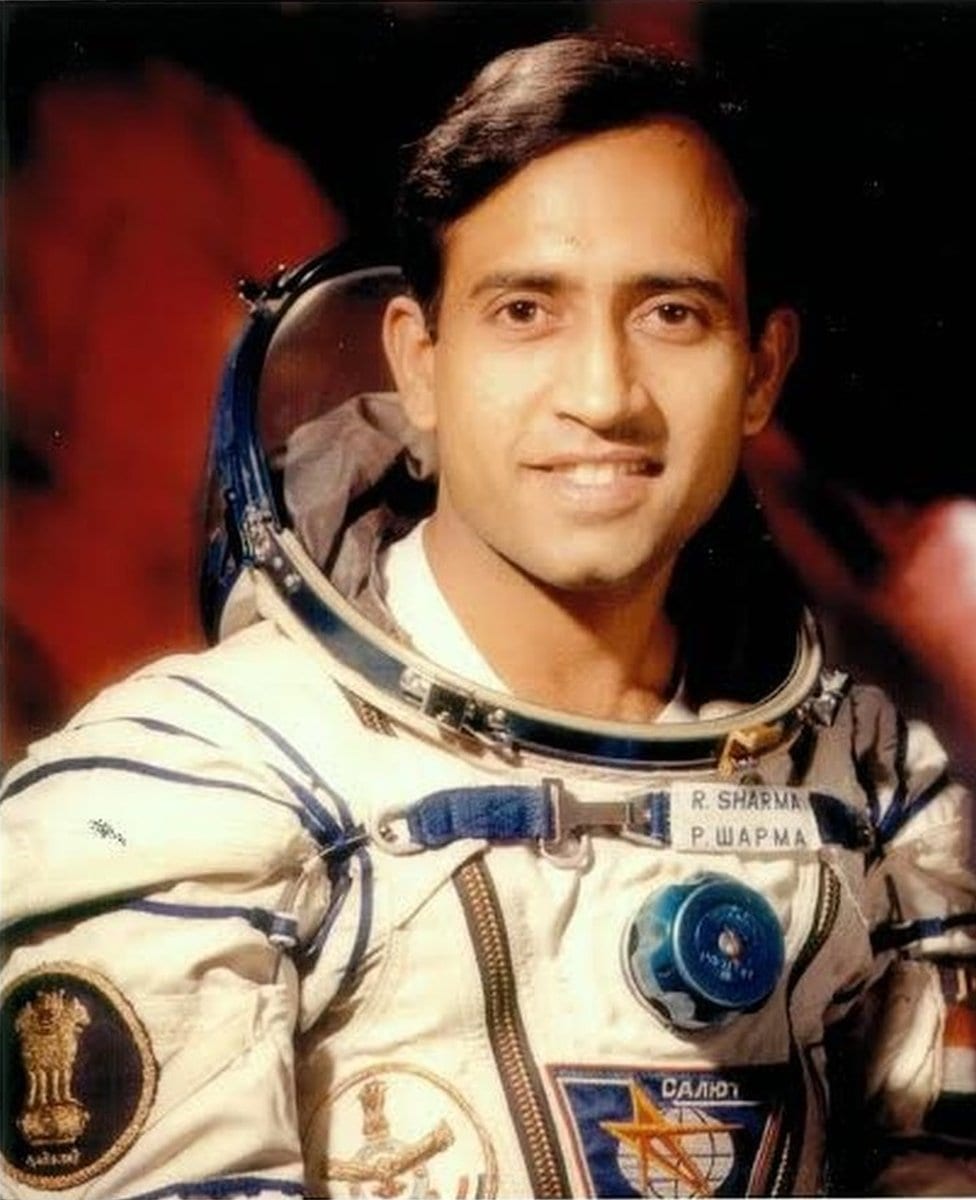 Along with a great percentage of fellow applicants, he qualified many tests at the Institute of Aerospace Medicine in Bangalore and then in Moscow. The huge group was eventually narrowed to a list of candidates of four applicants until the ultimate round diagnostic procedures leaving just two candidates who were Rakesh Sharma and Ravish Malhotra both of whom were IAF pilots.
It was made quite clear at the start that even if just one of them would eventually make the cut for the space odyssey, another would be a contingency for any possible scenario. That being said, finding who would ultimately get in for the final spaceflight was only found out until the last phase.
Space Exploration 

As part of the intensive preparation they had undergone for almost two years at the Yuri Gagarin Cosmonaut Training Centre in Star City, in the outskirts of Moscow, the Sharma and Malhotra pair had also been locked in a contained environment at the IAF facility in Bangalore for 72 hours to determine if they had been suffering from claustrophobia. On April 2, 1984, Sharma became the first Indian to go further into space when he flew aboard the Soviet Soyuz T-11 rocket launched from the Baikonur Cosmodrome in the Soviet Socialist Republic of Kazakh.
Check Out: How to Become a Scientist in ISRO?
Retirement
He retired from the Indian Army as a Wing Commander in becoming part of the Hindustan Aeronautics Limited (HAL) as a test pilot. He's been assigned to the Nashik Division. He then moved to the National Flight Test Center (NFTC) in Bangalore and started working on the Light Combat Aircraft programme, alongside few others.
In 2006, Sharma participated in a conference involving the assembly of the best ISRO scientists working in one of India's space missions. At present, he has retired from his previous operations and is now chairman of the Electronic Workflow.
Awards And Accolades 

Besides the first Indian to be in outer space, Rakesh Sharma was lauded with two awards, i.e. The Hero of the Soviet Union and the Ashoka Chakra Award to celebrate his incredible feats.
Must Read: Education of Kalpana Chawla
Amazing Facts about Rakesh Sharma

Sharma spent a total of 7 days 21 hours and 40 minutes aboard the Salyut 7 where his team conducted scientific and technical research which included 43 experiments.
Intriguingly during space travel, Rakesh Sharma took Indian food to space with the support of the Defense Food Research Lab in Mysore. They brought suji halwa, aloo chole, and veg pulao, which Sharma shared with his colleagues.
When Indian PM Indira Gandhi asked Sharma how India looks from outer space, Sharma said, "Saare Jahaan Se Achcha". He said that the most magnificent moments in space were looking at the sunrise and sunset.
Thus, we wish Rakesh Sharma the happiest of birthdays remembering his amazing feat in space that inspired many to become an astronaut and make the nation proud! Are you also dreaming to pursue a career in Astronomy or Astrophysics? Our Leverage Edu experts are just a call away from helping you find the right program and university that can equip you with the best knowledge and skills you need to make a rewarding career in this field.