National Doctors' Day 2021 is observed on July 1st to honor the contributions of doctors to humanity's well-being. It is a day to appreciate people who believe that "Each Life Matters" and relentlessly strive towards saving lives. It is important that we not only recognize their ceaseless efforts but also inspire others towards the same. Let's see Why is July 1st celebrated as National Doctors' Day, take a look at 2021's history, significance, and theme, and know more about Dr. Bidhan Chandra Roy, a great physician, and West Bengal's second Chief Minister.

National Doctors' Day 2021
As Albert Einstein said, "Only a life lived for others is a life worthwhile." During the difficult times around the coronavirus outbreak, we became aware of the contributions and sacrifices made by doctors and healthcare workers all around the world. National Doctors' Day is observed on several days around the globe to honor this noble profession. In India, it is observed on July 1 to commemorate the memory of one of India's most prominent physicians and the second Chief Minister of Bengal, Dr. Bidhan Chandra Roy.
Significance
National Doctors' Day is observed on various dates in various nations throughout the world. This day is observed by a number of governments and non-governmental healthcare organizations.
On 1st July every year, the Indian Medical Association (IMA) hosts this event. The purpose of the day is to raise awareness of doctors' duties, importance, and obligations, as well as to promote the medical profession. This day allows us to express our gratitude to physicians for all that they do for their patients, the communities in which they operate, and society as a whole. Without a doubt, it is because of their efforts that we are all healthy.
Even though we celebrate Doctor's day on specific days across the world, it is important to acknowledge and be aware of their relentless work throughout the year. Since the pandemic, this Doctors' Day is even more crucial and special. National Doctors' Day 2021 honors all doctors and healthcare professionals who are risking their lives in primary and secondary care settings, as well as in dedicated coronavirus care centers, during these challenging times.
In nothing do men more nearly approach the gods than in giving health to men.- Marcus Tullius Cicero
History
National Doctors' Day is observed to honor Dr. Bidhan Chandra Roy, a great physician and West Bengal's second Chief Minister, whose birthday and death anniversary fall on the same day. This day honors the whole medical profession and emphasizes the importance of doctors in our lives. The National Doctors' Day, which is observed on July 1st, was established by the Central Government in 1991 to honor Dr. Bidhan Chandra Roy.
Who was Dr. Bidhan Chandra Roy?
There is no better time to recall the doctor whose life was marked by hard labor, grit, talent, determination in the face of racial discrimination, love for his country, and an unshakable dedication to his profession. Dr. Bidhan Chandra Roy was born on July 1, 1882, and died on July 1, 1962.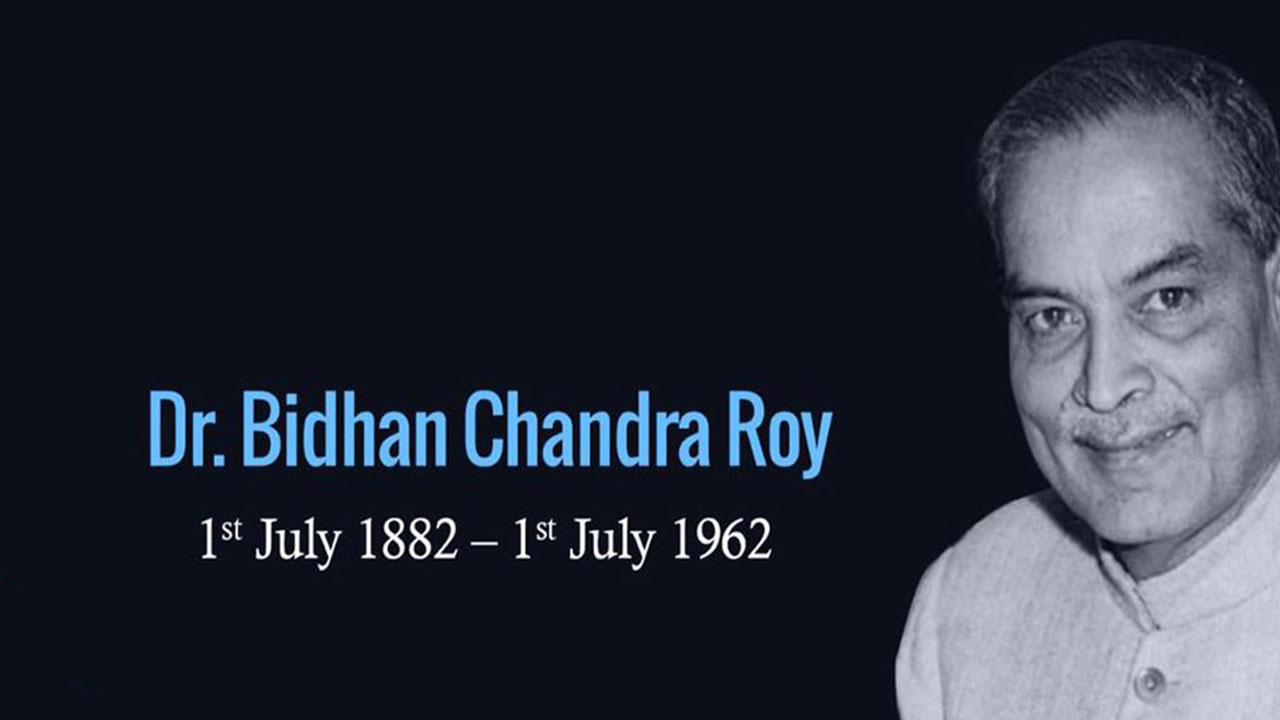 If we exert ourselves with determination, no obstacle, however formidable, can stop our progress. – Bidhan Chandra Roy
He was a well-known physician and a well-known freedom fighter. He served as Bengal's second Chief Minister from 1948 till his death in 1962, a period of over 14 years. He is also regarded as West Bengal's best architect. He also built the five cities of West Bengal: Durgapur, Bidhannagar, Ashokenagar, Kalyani, and Habra.
He was also a Brahmo Samaj member. He was a University of Calcutta alumnus at the Medical College of Calcutta. The Union Government had also established a prize in his honor. He was a key figure in the founding of the Indian Medical Association (IMA) and the Medical Council of India in 1928. (MCI).
National Doctors Day Celebration
For several years, the government and non-government healthcare organizations have celebrated National Doctors' Day to raise awareness of doctors' efforts. On this day, the staff of healthcare organizations organizes a variety of events and activities. The Rotary Club of North Calcutta and North East Calcutta Social & Welfare Organization" organizes large festivities every year to commemorate Doctors' Day.
Health care organizations hold free medical check-up camps at various health care centers and public locations to promote high-quality medical services to the general population. Doctors' rotational medical services are also promoted. Various discussion events are held across the country to raise public awareness about health screening, diagnosis, and proper disease treatment, e.g.
General health screening test camps, health counseling, health nutrition discussions, and chronic disease awareness among the poor and older residents are also held.
A free blood test, random blood sugar test, ECG, EEG, blood pressure check-up, and other events are also planned to raise awareness of the invaluable role of doctors in everyone's lives.
"The awe of discovering the human body. The honor of being trusted to give advice. The gratitude for helping someone through a difficult illness. These things never grow old."- Danielle Ofri, MD
Interesting Facts About Doctors
The celebration for doctors' day calls for some interesting facts that can help us know more about them!
The word Doctor actually comes from the word Teacher! It comes from Latin "docere" which means 'to teach' and Old French 'Doctor of the Church'.
Each doctor takes a Hippocratic oath which includes principles to uphold ethical standards. One of the lines says, "The health of my patient will be my first consideration. I will respect the secrets which are confided in me." (IMA Pledge)
The Greek physician Hippocrates of Cos (460-377 B.C. ) is called the "father of medicine" who established the first school dedicated towards the training of medical practice in times where medical treatment was considered beyond belief and diseases were seen to be superstitious.
The practice of medicine by physicians was particularly advanced in early Asian civilizations. Surgical techniques in India included the removal of tumors, bladder stones, and even cataracts. 
How Can We Contribute?
We commemorate Doctors' Day not only in honor of Dr. Roy but also in celebration of all those who work in the medical industry for their relentless efforts and dedication to the patients. Here are a few ways to express your gratitude to a doctor:
Personalized Video Message: You may communicate with your favorite doctor from anywhere in the country, thanks to the internet and numerous video chatting applications. Express thanks for everything a doctor has done to help you improve your health and live a better life, either film a video or contact the doctor via video calling. You can also contact or message your Pediatrician, Dermatologist, Orthopedist, or any medical professional to extend your gratitude.
We understand the Covid situation this year, therefore, we do not recommend any unnecessary outings in these tough times. However, below we recommend some ways to express gratitude to a doctor once the situation gets normal because we do not need just a particular to celebrate the hard work and sacrifices of a doctor.
Red Carnations: The red carnation is a flower that represents Doctors' Day. On this day, you can deliver them to your favorite doctor. A bouquet of carnations will liven up a doctor's office's gloomy atmosphere. If red carnations aren't available, any red flowers of your choice will suffice.
Greeting Cards: Greeting cards are slightly out of style these days. However, this does not diminish the joy that a card might bring. You can personalize a card and give it to the doctor. Thank you letters can also be included, along with a summary of the event that impacted your life.
If you don't like flowers or cards, a box of chocolates or snacks for the doctor will suffice. A personalized cake, cookies, sweets, or other edibles wrapped in pretty wrapping paper can also be used.

Also Read
In this blog, we discussed the importance of National Doctors' Day, its history and learned how India's government celebrates this day every year. For educational content and amazing quizzes, stay connected to Leverage Edu on Facebook, Instagram, and LinkedIn.