A starry-eyed woman who imagined a world and then infused in that imagination a life, Kalpana Chawla was born in 1962 and grew up in a family where her parents who were originally from Multan, Pakistan had migrated to Karnal, Haryana. A role model for innumerable Indian women, she was an ordinary girl with towering dreams and indomitable courage that made her the first Indian woman and the second Indian person to fly in space in 1997. Here's a little insight into the education of Kalpana Chawla.
"We gazed dreamily at the Milky Way and once in a while caught some shooting stars. Times like those gave me the opportunity to wonder and ask all those very basic questions. That sense of awe for the heavens started there."
As she recalls in an interview before the Columbia mission, how she and her brother used to hop on their bicycles to see where the aeroplanes were headed to. From choosing her own name 'Kalpana' which means 'imagination' to draw colourful aeroplanes, her creativity led her to embark on an explorative journey which gave a reason for many young minds to pursue their dreams.
Early Education of Kalpana Chawla
"I've always been very determined. I don't get easily discouraged."
Being a bright child, Kalpana's inclinations were clear from the start. If we dote upon the education of Kalpana Chawla, she completed her early schooling from Tagore School, Karnal followed by pursuing an undergraduate degree in Aeronautical Engineering from Punjab Engineering College, Chandigarh. After her bachelor's, considering the massive amount of opportunities available in design, construction and research and development in the USA, she moved to complete her masters in USA from the University of Texas in the 1980s. Subsequently, she completed her doctorate in Aerospace Engineering from the University of Colorado in 1988 and progressed in the direction of her dreams with clarity in mind.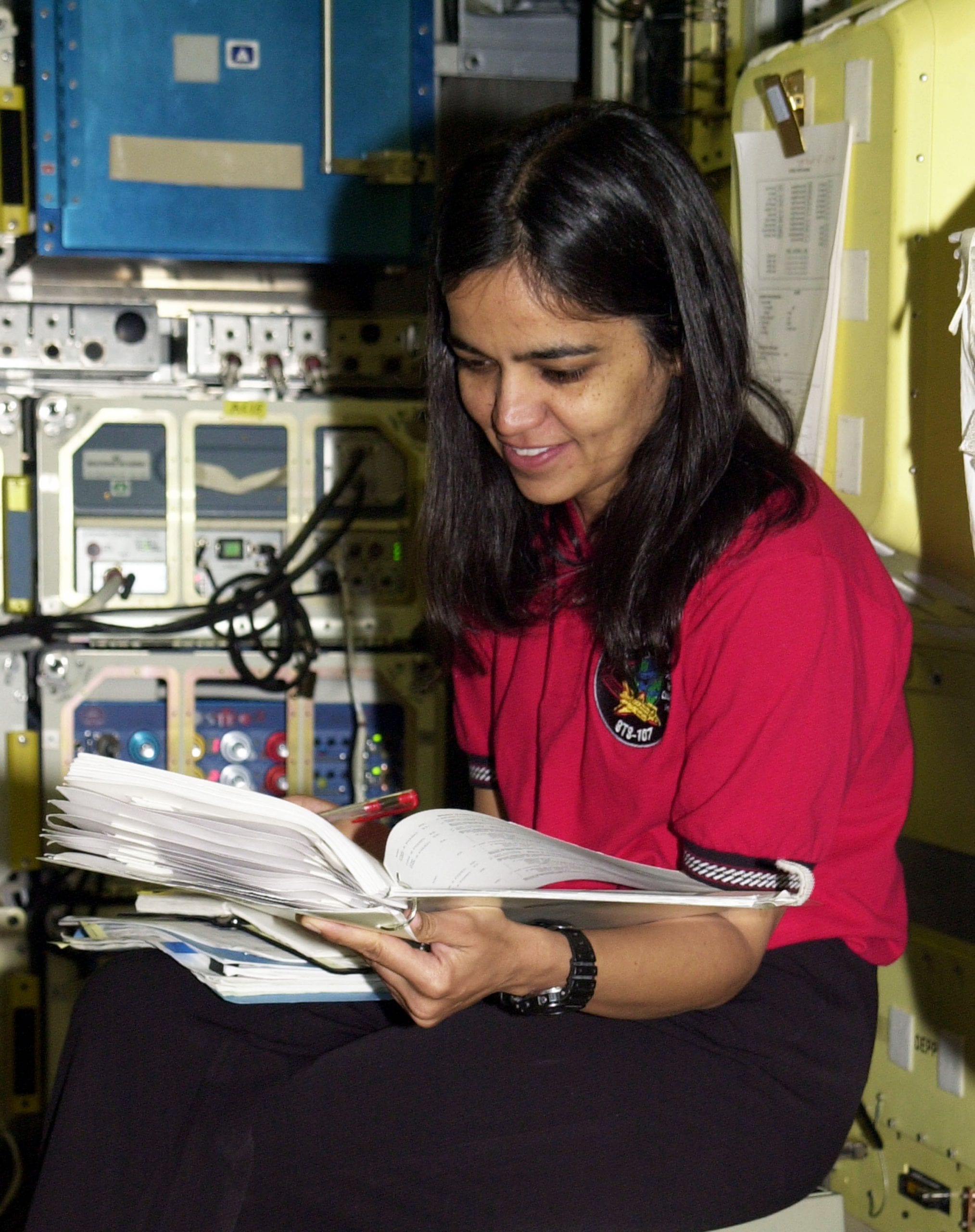 "The first view of the Earth is magical. It is a very overpowering realization that the Earth is so small. It affected me. I could not get over the notion that in such a small planet, with such a small ribbon of life, so much goes on. It is as if the whole place is sacred."
Kalpana Chawla's Career at NASA
Chawla began working at the NASA's Ames Research Center, operating on power-lift computational fluid dynamics. Later in 1994, she was selected as an astronaut candidate and became a crew representative for the Astronaut Office EVA. After a few years of training, she was fully equipped with the right set of skills and knowledge to handle Robotic Situational Awareness Displays and testing software for the space shuttles.
Through the penetrations about the education of Kalpana Chawla, we can identify that she was highly focused and her orientation towards her goals was such that she never deterred from her path and moved swiftly by achieving one thing after the other. She is one of the great personalities teaching young girls to believe in their dreams and always be determined to overcome obstacles in life.
For those who are wondering how many times Kalpana Chawla went to space then you will be astounded to know that she has completed 2 space missions! Being the mission specialist and primary robotic arm reporter on her first flight Space Shuttle Columbia in 1997, Kalpana was the only woman who was a part of a six-astronaut crew. Their space shuttle took over 250 orbits around the earth in just a span of two weeks. With the primary motive to study the outer layer of the sun, the crew performed numerous experiments and made various observations apart from the deployment of a Spartan satellite from the shuttle.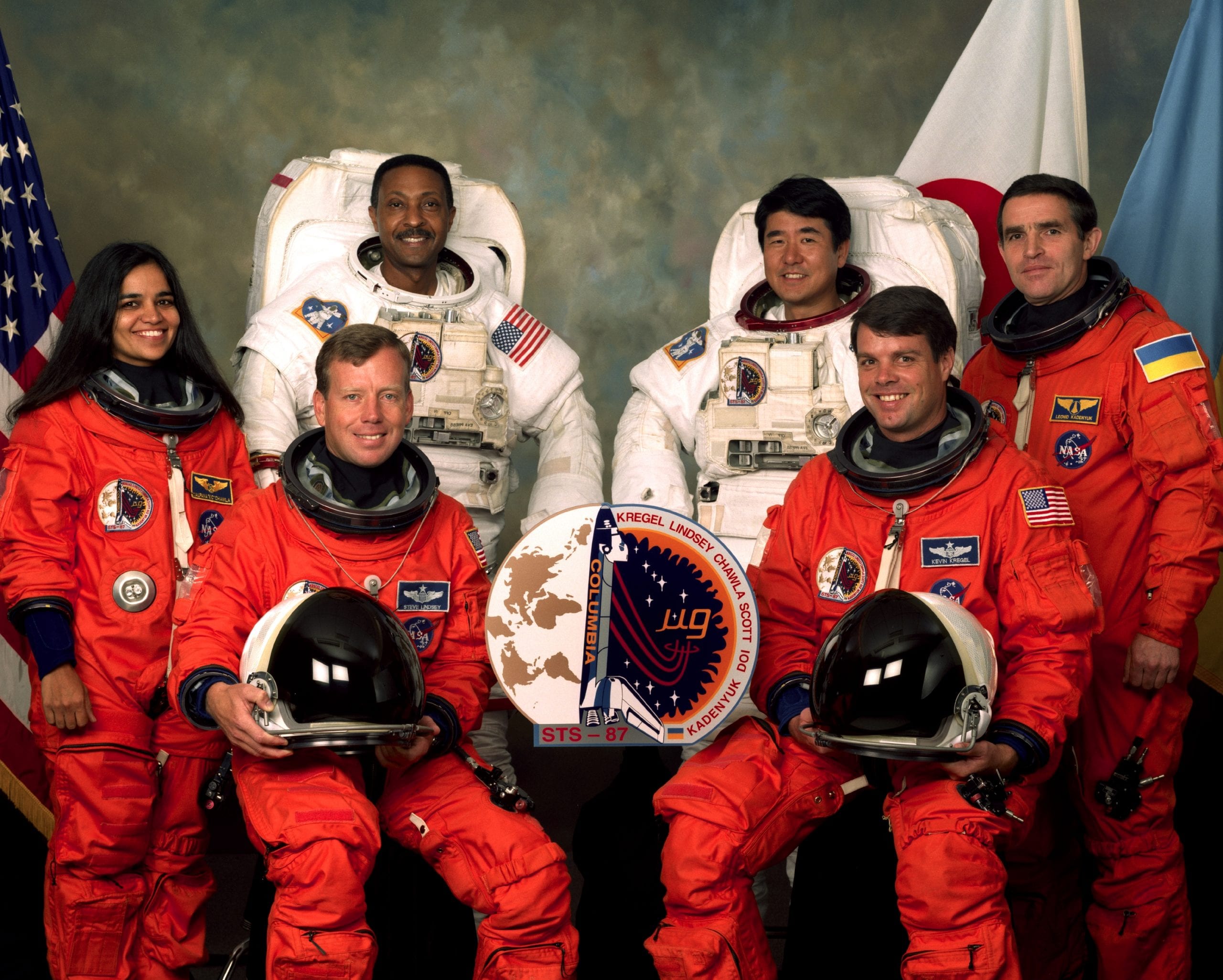 Following this, Kalpana ventured for her second voyage into the outer space with a seven-member crew including herself on STS-107 which turned out to be her last. The mission that was supposed to begin in 2000 was delayed multiple times finally being launched in the year 2003. In the course of its 16 days voyage, the crew performed more than 80 space experiments and it was a successful enterprise when on the morning of 1st February 2003 the flight disintegrated while entering the Earth's atmosphere and no one survived this accident.
"The path from dreams to success does exist. May you have the vision to find it, the courage to get on to it, and the perseverance to follow it."
For her outstanding career achievement and her significant contribution to the country, Kalpana Chawla received a number of awards which included prestigious NASA Distinguished Service Medal, Congressional Space Medal of Honor and NASA Space Flight Medal.
With her 30 days, 14 hours, and 54 minutes in space over the course of her two missions, Kalpana explored the intricacies of the space. Aerospace aspirants take her as their role model and often recall what she said after her first launch as their to success, "When you look at the stars and the galaxy, you feel that you are not just from any particular piece of land, but from the solar system."
Inspiring Lessons to Learn From Kalpana Chawla
The first American-Indian woman in space, the incredible story of Kalpana Chawla continues to inspire us even 17 years later as we look up at the sky remembering her persevering nature to pursue her dreams! Here are the best life lessons to take from Kalpana Chawla's indomitable story and her inspiring journey!
Chase your Biggest Dreams: Having a go-getter attitude towards her life goals and dreams, Kalpana always persuaded others to go after their dreams just like she did. As the first Indian-origin woman in space, she had always been curious about what's there in the sky and kept her head up while she accomplished her dreams. In her own words, "I never truly thought of being the first or second someone. Or being a small-town girl. This is just something I wanted to do. It was very important for me to enjoy it."
The Journey is Quintessential: Another key lesson to remember from Kalpana Chawla education and her incredible story is that the journey is forevermore important than the goal itself. "The journey matters as much as the goal," she highlighted and focused on experiencing the whole quest and learning, growing and making the most of it all!
"If you want to do something, what does it matter where you are ranked?" Most of us often focus on where we are in numbers thus giving more importance to rank over quality, learning and growth. For Kalpana Chawla, the experience and learning were more essential than seeing whether you are the first or second. Our education system might have always ranked us but we don't really have to adapt that focus on ranking and numbers in real life!
Look at the Bigger Picture: Having been inspired by the mysteries hidden in the sky, Kalpana Chawla was more focused on the greater scheme of things rather than material interests. "When you look at the stars and the galaxy, you feel that you are not just from any particular piece of land, but from the solar system," Kalpana always found herself as part of a whole universe and saw her work as devoted to humanity herself. Thus, it is paramount to keep your eye on the bigger picture and do your service to humanity while running after what your heart desires!
Kalpana was always determined to become a Flight Engineer since 10th grade and nothing on earth could convince her to choose other streams. As she said, "I was interested in aerospace and flying, and the U.S. is really the best place in the world for flying." The education of Kalpana Chawla and her perseverance inspires us to believe in our instincts and translate our dreams to reality. So if you're planning to study abroad and need best career guidance, reach out to us at Leverage Edu. We provide you with the insight you need to stand out as a top applicant when admission season rolls around.