Living in a society that is extremely hostile and discriminatory towards the transgender community, Trinertra Haldar fought all odds and emerged as the first Transgender doctor in Karnataka. Popular on social media by the handle "Ind0ctrination", Trinetra has a massive following. She uses her platform to disseminate information on topics like gender, sexuality, queerphobia, bullying, mental health and feminism. Recently she started her youtube channel, The Trinetra method, where she documented her journey of transition. Amidst hate and misinformation on social media, Trinetra is a voice of reason, comforting people with knowledge and hope. Having undergone a tumultuous journey herself, her advocacy and activism aim to make people learn, unlearn and relearn and ultimately do better for marginalised communities. Let us look at the awe-inspiring story of Trinetra Haldar Gummaraju-a TEDx speaker, Doctor, activist and much more!
Trinetra Haaldar Gummaraju Coming of Age
Before Trinetra, she was born as Angad Gummurajju to Bangalore based parents. Her formative years were not easy as she had to deal with insensitive teachers, bullies, rocky parental relationships and a whole lot of confusion surrounding gender and sexuality. For the first three years of her life, things went smoothly. She'd drape her mother's saree, apply make-up and parade around the house but people dismissed it as a childhood folly or "a phase". It all changed very quickly as she grew up when one day a neighbourhood aunty called her a freak. Trinetra recalls being subjected to a lot of bullying and harassment all through school and pathologized by psychiatrists for not being "masculine enough".
She recalls an incident when she accompanied her grandfather to General Bazar in Hyderabad for shopping. She was enamoured by a hair clip studded with brightly coloured stones. When she spotted her classmates wearing one of those clips, she borrowed it under the pretext that it was for her mother. On finding out, one of her class teachers tugged at her hair and attached the clip. Deeply humiliated, Trinetra admitted to crying for 2 whole periods of her class. She revealed that this incident was especially scarring because she realised that everything she was into, was regarded as "abnormal behaviours".
In an attempt to please her parents, teachers she participated in numerous masculine activities and sports but only ended up hating them even further. Any attempt to be masculine would fail and attract rude comments, active sidelining and harassment. By then a lot of damage had been done. It took her years of unlearning and therapy to finally comes to terms with the fact that she was transgender.
Trinetra Haaldar Gummaraju College
Trinetra Haaldar Gummaraju is currently a fourth-year student at the Kasturba Medical College, Manipal. She underwent Gender Confirmation Surgery in February in Abroad. Her parents were always supportive of her choices and even saw it coming. In her words, she is belles to have such supportive parents.
Hobbies and Interests
During her tumultuous period in school, Trinetra found solace in art. A little known fact about Trinetra is that she is an exceptionally good artist and her paintings on her Instagram profile are a testimony to this fact. Trinetra participated in public speaking activities and art-related events in her school. She was also academically sound and always topped her class. She described herself as an "unpopular nerdy misfit".
Fast forward to her 12 std, things got slightly better. Trinetra found friends who remain close to her till date. It was especially a morale booster when she cracked her Karnataka State Entrance exams and made it to one of the best medical colleges in the country – Kasturba Medical college, Manipal. Trinetra said "My mental health, self-esteem and confidence have only seen highs ever since, and for that, I'm extremely grateful."
During her course, Trinetra decided to undergo gender confirmation surgery. It was a seismic change in her life because it meant flipping her social, medical and legal identity upside down. She decided to document every single step in her journey and make it available in the public domain. Trinetra has a strong social media presence. Her Instagram abounds with information related to gender confirmation surgery and other tools of aid and resources for those seeking help. Despite being a noble profession, Trinetra found that doctors were extremely hostile and uninformed with respect to queerness and problems faced by the queer community. Initially, it started out as a journaling exercise, where she found an outlet to release and make sense of things, but when people started benefitting in their own personal journeys because of her content, she realised the impact she could make on social media and decided to use it to bolster the transgender community.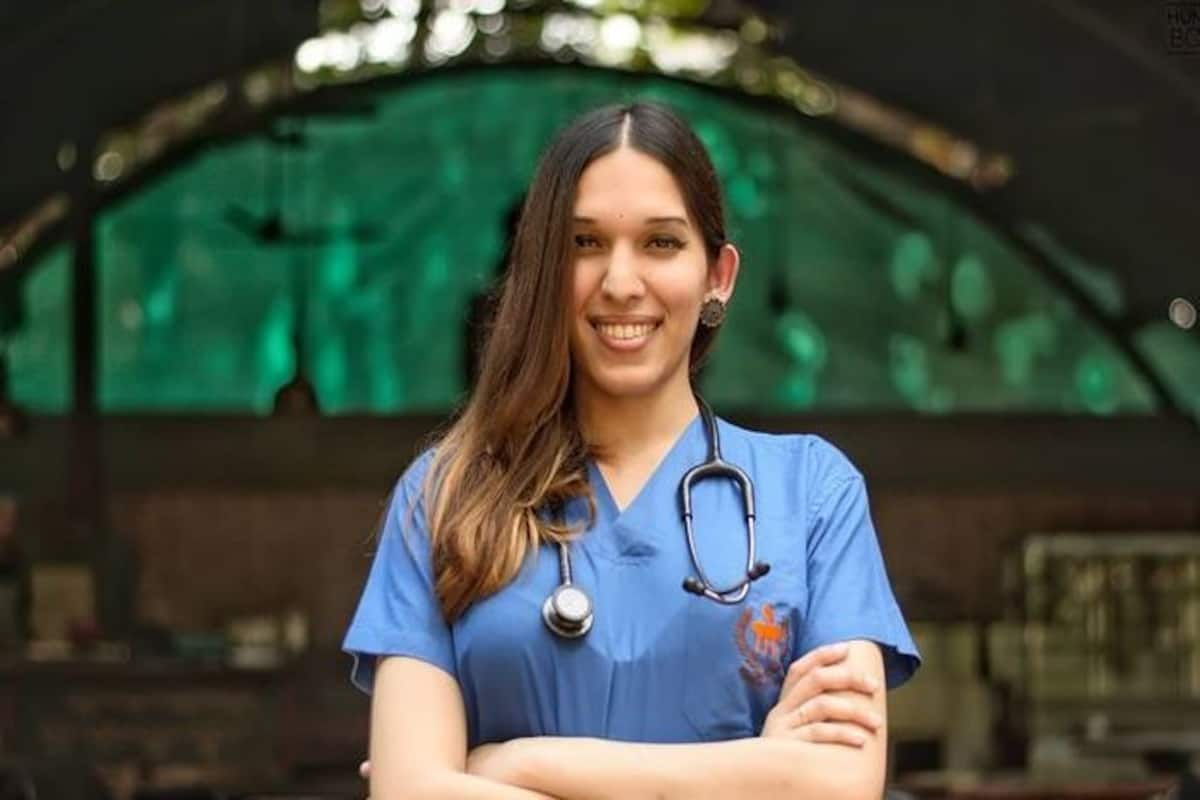 Treinetra is also an active VLogger on her youtube channel- 'The Trinetra Method'. Additionally, she is a TEDx speaker and appeared on channels such as BRUT INDIA, the quint, MOJO story, The Logical Indian and many more. She has also collaborated with other social media influencers like Kusha Kapila, Shrishti Dixit in the famous Netflix series "Behensplaining" reviewing movies like 'Super Deluxe', 'Dostana' and highlighting the transphobic undertones in Indian movies.
Trinetra's Activism
Dr Trinetra Haldar Gummaraju, in the online sphere is not just regarded as a doctor but also a fiercely vocal activist. She crusades against the healthcare disparities faced by the LGBTQIA+ communities, body dysmorphia and exclusionary politics in India. When the controversial The Transgender Persons (Protection of Rights) Act, 2019 came out, Trinetra was at the forefront with respect to analying the bill, highlights the various loopholes and problems in the act that would affect the transgender community. Her incisive analysis and observations helped propel the discourse and create mass awareness.
Her Advice to those struggling to Transition
After having undergone Gender confirmation Therapy herself, her piece of advice to those seeking the same would be to take things slowly and give the confusion some space to exist. She believes being queer is celebrating the grey areas. Having regretted rushing too fast, she admits to being emotionally exhausted. To give the process of self-discovery more time and being okay with uncertainty and approaching it with questioning and curiosity is something Trinetra wishes she had done in hindsight and advises the same to those in the process of transitioning.
This was all about Trinetra Haldar Gummaraju. In our country where the transgender community is ostracised and forced into stereotypical labours like begging or dancing, a remarkable number of transgender people nowadays have pursued their life's calling and live a life of dignity and self-respect. The inspiring story of Dr Trinetra Haldar Gummaraju is one such! We hope you enjoyed this blog. For more interesting content, tune into Leverage Edu!