You get to learn a lot of new things while studying abroad and moving towards success. The USA is the most popular study destination in the world for international students. Quality education, a multicultural atmosphere and a plethora of job opportunities are some of the reasons why many Indian students want to study in the USA. Digitization has made it much easier for the USA to get a student visa and study abroad. Now every candidate can easily apply for a visa. There are different types of visas. Leverage Edu brings you a blog with detailed information about the differences between J, M and F US student visas.
What is a Student Visa?
A student visa is a special endorsement attached to a government passport and issued to students enrolled in accredited international universities. Student visas are nonimmigrant visas that do not require the holder to become a citizen of the country to which they applied. Any student wishing to pursue higher education in another country must first obtain a student visa from the governmental authorities of that country. Students will receive the I-20 form from a DSO at the university in the USA in which they wish to study.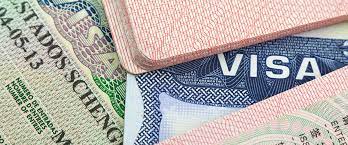 Must Read: HPI Visa 2023: How to Apply, Eligibility Criteria, Benefits
What is the I-20 Form?
The I-20 form shows that you are lawfully enrolled in a study program in the United States. The I-20 form is required to apply for the benefits available to F and M visa students. It should be noted that students who are eligible for Social Security numbers or a US driver's licence must have the I-20 form with them.
Download the Leverage Edu App for all your study abroad needs.
Now let us discuss the Differences Between J, M and F US Student Visas. They are as follows –
J student visa
M student visa
F student visa
Are you facing problems in preparing for IELTS or TOEFL? So register today on Leverage Live and get good scores.
J Student Visa
The J1 visa allows foreigners to study, train, or teach in the United States. It is the first preference of the exchange visitor visa. Your stay in the US is temporary with the J1 visa as it is a nonimmigrant visa and can last from a few weeks to several years. The US Government offers its exchange visitor visa program through certain accredited educational institutions in the US.
It is also aimed at young people who do not have access to the quality educational services their home countries need for development and growth. In addition, it is also intended to promote the development of skills among young people and promote cultural exchange. Another goal of the J1 visa is to help foreigners improve their English language skills.
Eligibility
You must be between 15 and 18 years of age
You must have accommodation from your school or a host family
The College and University category allows you to study a full-time course at any university in the US
You must have a written agreement between your local institution and the institution in the US
You do not have to get any financial support from anywhere and can support yourself completely
Documents Required
You will need to present the following documents at your J1 visa interview –
An international passport is valid for at least six months beyond the period of stay
Form DS-160 confirmation page
Form DS-160 payment receipt
Passport photographs if you did not upload one during your Form DS-160 application
SEVIS authorization certificate
DS-7002 Form
Internship Applicant Confirmation Page Proof of Financial Capability. This includes proof that you or someone else can handle your financial expenses in the US
Evidence that you will be leaving the US at the end of your program. This could be family ties, investments or property that you cannot leave in your home country.
Proof of your purpose of travel
Proof of previous employment, if applicable
Must Read: A Complete Guide on Post Study Work Visa: UK, USA, Australia, Canada, Germany
M Student Visa
The M1 visa is a nonimmigrant visa that allows foreign students to come to the United States for non-academic professional studies. Students cannot enrol in academic courses during the M1 visa. If you are planning to come to the United States to study at an academic institution, you should consider applying for an F1 student visa. Those who come to the US on an M1 visa can study part-time for up to six months but are not allowed to seek and work.
To be eligible for the M1 visa, you must be able to demonstrate that you have sufficient funds to cover all expenses during your stay in the United States. In most cases, the M1 visa is initially issued for a period of one year. However, those wishing to stay longer in the United States can apply for an extension of up to three years.
Eligibility
Admission to an institution on the Student Exchange Visitor Program (SEVP) list
English proficiency should be there, you must be able to understand lectures and courses. To test your language skills, you can take a standardised English test such as TOEFL or IELTS.
Be able to demonstrate your non-immigrant intent. You can do this by showing that you can demonstrate strong ties to your home country which will be returned to you after your visa expires.
You must have sufficient funds to cover your expenses in the United States
You must submit bank statements or other evidence to confirm your financial status
Documents Required
When applying for the M1 student visa, you will need to provide a number of supporting documents to show that you meet the eligibility requirements for it. Documents required for J, M and F US Student Visas –
A passport valid for at least six months beyond your intended stay in the US
Proof of your educational qualifications
Proof of your English language skills
Proof of sufficient financial resources for your stay in the US Proof of close ties to your country of origin, such as an employment contract or apartment rental agreement
A passport-sized photo
F Student Visa
If you are an international student and want to come to the United States to study, you can apply for an F1 student visa. It is the most popular type of student visa and allows you to study any course you want in colleges, universities and high schools in the US as long as they accept your application. 
The institution where you will study must be certified by the Student and Exchange Visitor Program (SEVP). As long as your visa is valid, you can travel freely in the US and abroad without worrying about losing your status. However, the F1 student visa is a nonimmigrant visa, which means that after the visa expires, you must prove your intention to leave the United States.
Eligibility
You have been accepted as an undergraduate student by a SEVP-approved US institution
You are enrolled as a full-time student
You have a good knowledge of English
You have sufficient funds to support your studies and stay in the US
You have a valid passport
Must Read: How to Get a Student Visa for the USA?
Documents Required
Before you come to the interview, you should prepare the following documents –
A copy of your valid passport
A passport-sized photograph
Receipts showing that you have paid the required fees
Form I-120A-B
Your transcripts from institutions you have previously attended
Bank statements showing you have sufficient financial means to live and study in the US Standardised test scores of tests testing your English proficiency, like TOEFL or IELTS 
Proof that you intend to leave the USA after completing your studies.
Steps For Applying For a Student Visa
The process of applying for a student visa is easy and quick as long as you have all the important documents.
Step 1 – Take Admission to a University
Receive the offer letter from the university and pay the enrollment fees.
Step 2 – Fill out the Online Application Form
Make sure you fill in all the personal information carefully, otherwise, your visa application may be rejected.
Step 3 – Upload Required Documents
You must attach the required documents according to the instructions of the authorities of the country concerned. It includes, among other things, educational qualifications, admission notice, sponsorship notice, and personal declaration.
Step 4 – Pay Online
You will need to pay your student visa fee electronically via net banking, debit card or credit card.
Step 5 – Submit Application
Before you submit your application, take some time to review it and revise it if necessary, as you will not get a second chance once you have submitted it.
Step 6 – Print a Copy of the Application
It is important to have a copy of your application form as you will later need to submit this document to the relevant authorities in that country.
Step 7 – Appointment
Schedule an appointment at the nearest Embassy and remember to bring your application form and the documents indicated.
Must Read: A Comprehensive Guide to Types of US Visas
Step 8 – Wait For the Decision
The standard visa processing time depends on the country you have applied for. If successful, you may receive your visa in the mail, or you may receive a courier service with a stamped passport, or you may have to collect it from the embassy or consulate.
You can also get an education loan according to your course and university to study abroad with the help of Leverage Finance.
FAQs
Can I work in the US on a student visa? 
Students can work while studying in the US, but there are some restrictions. International students with an F-1 or M-1 visa can work on campus. 
How long does it take to process a visa application? 
The visa application process depends on the type of visa applied for and many other factors considered by the authorities. 
What is a SEVP-approved school?
SEVP stands for Student and Exchange Visitor Program. Being a SEVP-accredited school means that the institution is authorised to enrol F1 and M1 students. When choosing a school for your professional studies in the USA, you need to make sure that it is recognized by the SEVP.
This was about the difference between J, M and F US Student visas. We trust that this blog covered every one of the significant details of the visas. Still, confused and need to clear your own questions with respect to the top objections to concentrating abroad? Contact Leverage Edu Study Abroad experts to skyrocket your educational dream.