As one of the top-most richest personalities in the world, the CEO of Amazon, Jeff Bezos can do wonders. However, it is interesting to note here that he is ready to risk all that he got for an 11-minutes ride to space. Well, there are numerous risks to this. Read till the very end of this blog to know more about- how risky is Jeff Bezos going to Space for 11 minutes?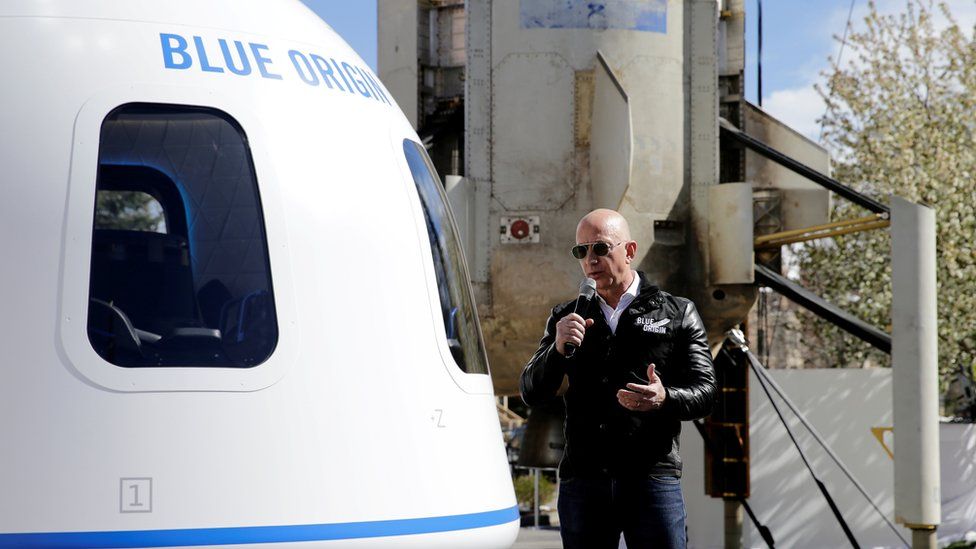 Also Read: Phenomenal Business Leaders & Their Secrets to Success
Associated Risks
This journey however wouldn't be a smooth one and space travel is fraught with dangers. However, the risks are not necessarily astronomical as Bezos's space company, Blue Origin has spent the better part of the decade in perfecting the suborbital New Shepard Rocket. The one on which Bezos will have his journey.
Jeff Bezos, his brother Mark Bezos and the winner of an online auction shall be going on the first crewed flight of New Shepard which is a fully autonomous suborbital rocket and spacecraft system.
What is the Flight Going to be Like
Blue Origin's New Shepard flight, a sub-orbital flight, differs greatly from orbital flights. Blue Origin's New Shepard Flight shall go 62 miles above the Earth. The flight hits about three times the speed of sound. The crew capsule then gets separated from the rock at the top of the trajectory. It gives a feeling of weightlessness. The New Shepard capsule then deploys a large plume of parachutes to slow its descent to less than 20 miles per hour before it hits the ground.
The rocket that flies separately reignites its engines and uses an onboard computer to execute an upright landing. The booster landing looks similar to what happens in Falcon 9 SpaceX rockets.
Must Read: Amazon to Launch Future Engineer Program in India
How Big are the Risks?
Although there have been no explosive mishaps in the last 15 test flights of Blue Origin's "New Shepard", it doesn't imply that the risks are zero. Suborbital flights are considered to be less risky than orbital flights because they don't require as much speed or the intense process of trying to re-enter Earth's atmosphere at incredible speeds. With an orbital re-entry, a spacecraft's external temperatures can reach up to 3,500 degrees Fahrenheit, and astronauts can experience 4.5 Gs of force.
What cannot be ignored here is the fact that high altitudes and speeds also have some inherent risks. The smallest errors can have major consequences. The atmosphere of the Earth above 50,000 feet is not considered survivable and Bezos will be traveling up to 350,000 feet. But the capsule he travels in will be pressurized, so he doesn't need a special suit to keep him safe, and he'll have access to an oxygen mask if the cabin loses supply.
However, there is no way to guarantee absolute safety should in the New Shepard. Even though suborbital flights are considered to be less risky than orbital missions, they can still be deadly. Bezos however says, " The risk is worth it".
Must Read: How to Become a Space Scientist?
Must Read: How to Become a Space Scientist in ISRO?
This was all about Jeff Bezos's space travel and how risky it will be. Hope you found this to be informative and interesting at the same time. For more informative content, stay connected with Leverage Edu! You can even follow us on Facebook, Instagram, and LinkedIn.