Are you interested in exploring the rich culture of the world through different languages and accents? From acquiring new job opportunities to building new connections and experiencing the fun of travelling with personality development, a career in a foreign language comprises gaining an endless knowledge of cultures, people, and languages around the world. Whether you're interested in learning a European language or a language of romance, or an Eastern language, you'll be enhancing your global perspective in the most meaningful way. Moreover, Globalisation has broadened the career opportunities for students across the world and learning a foreign language has become easier. But the questions that arise are which foreign language has more career opportunities? Which is the most demanding language? And, where to learn this language? Through this blog, we're excited to unfold the answer to all these questions for you.
Why Learning a Foreign Language is important?
Owing to the Globalization of the Human Race and borderless industrialization by Multinational Corporations, India has emerged as one of the leading countries for further investments by MNCs. With such borderless inquisition in the market comes a lot of language barriers in a multilingual country like India, and due to this reason, learning a foreign language has opened up multiple job opportunities for students. Gone are those days when learning a foreign language was restricted to being a hobby. There has been an exponential demand for a career in a foreign language in India and the world because of the following reasons: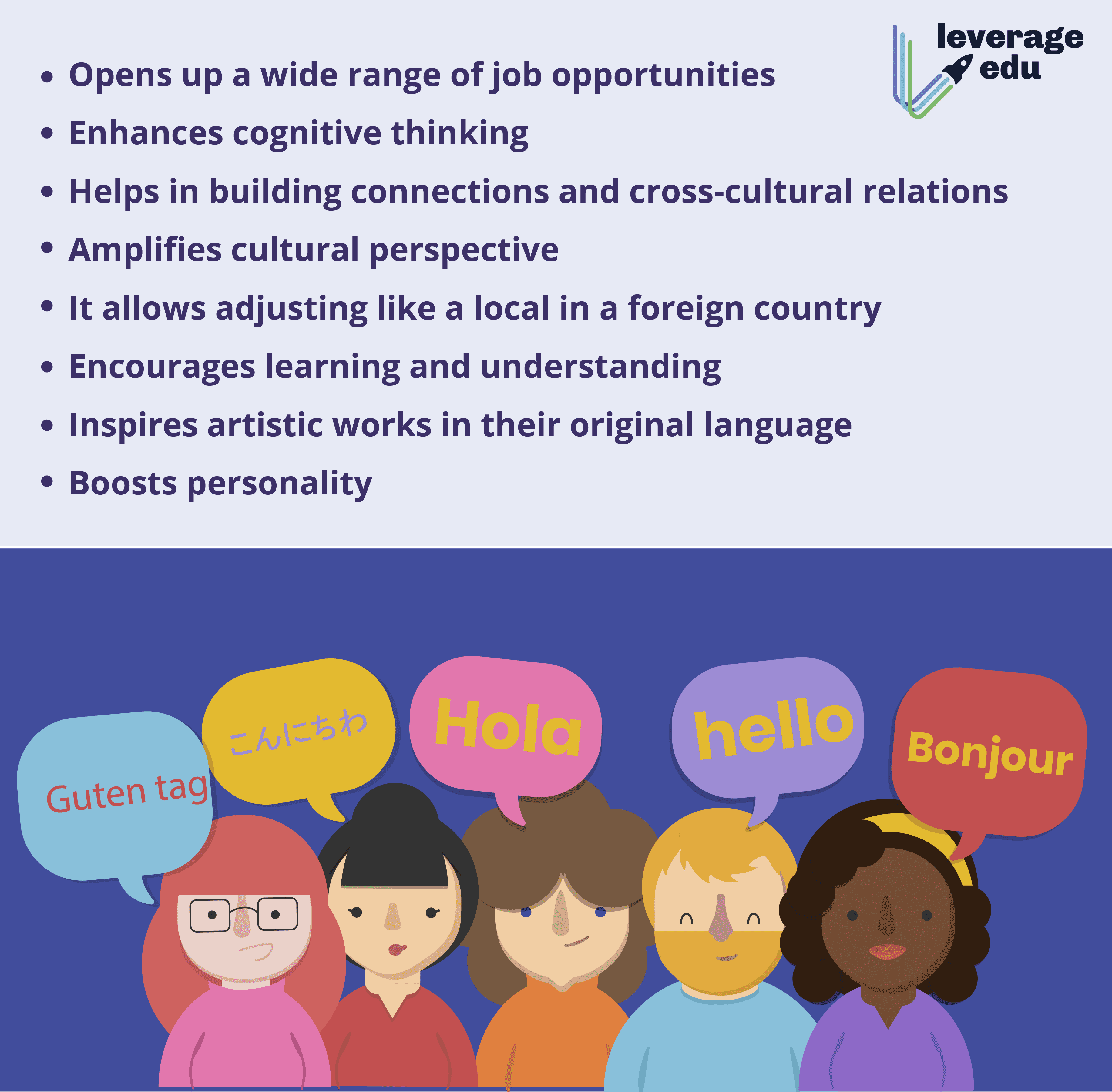 Career in Foreign Language After 12th
If you planning to pursue a career in a foreign language after the 12th, you need to pursue a full-fledged degree in a Foreign Language of your choice. Here are the top foreign language courses after the 12th:
BA in Russian
BA in German
BA in Persian
BA in Italian
BA in Spanish
BA in Turkish Language and Literature
BA Hons in Pushto
BA Japanese
Also Read: Best Foreign Language Courses
10 Popular Foreign Language Jobs in 2023
With the growing demand for skilled professionals with language proficiency, a career in a foreign language is one of the best-sought opportunities for individuals aspiring to work across a wide variety of sectors. So, if you have pursued courses in foreign languages then you can find employment opportunities in the Travel & Tourism sector, Embassies, International Organisations, Public Relations, Foreign Language Institutes, Publishing Houses, etc. Below is a list of super cool career prospects available after pursuing a course in a foreign language.
Online Tutor – With the added benefits of working from anywhere around the globe, an online tutor is a highly sought-after job for foreign language graduates. Because most of the proceedings of this job designation happen digitally, it gives away a wide array of opportunities for a broader market.
Interpreter – Mostly found working in highly affluent events such as Miss Universe Pageants, UFC and diplomat interactions for state relations, interpreters are solely responsible for bridging the language gap between two parties.
Translator – If working next to high-profile diplomats isn't your forte, then perhaps working with a foreign language in the form of written language is your style. Being a language translator will do that job for you. Some of the greatest pieces of literature and academy award-winning movie are all the work of translators who makes it possible to access these masterpieces to a wider group of audience.
Children's Book Writer – A large number of the most popular children's books have been written from very Western perspectives which makes them limited to only a certain section of children globally. Translating these popular books to various other languages in the world and incorporating their own cultural traits in these stories will make them a hit among the diverse children's community worldwide.
Blogger – Imagine you are fluent in speaking Spanish and have a knack for cooking Spanish cuisine. Your in-depth knowledge of Spanish culture while learning the language will make you stand out from the rest if you start a blog such as My Spanish Kitchen. Learning a native language always creates authenticity which is very preferable to the online audience.
YouTuber/Podcaster – If you have a distinct personality that stands out and want that skill to incorporate into your language proficiency, then starting your own YouTube channel can be a great job for you. Other than that, podcasts are also getting quite popular amongst the young generation. It is a great way to remain anonymous and start a channel by just displaying your vibrant personality and language skills.
Tour Guide – In recent years, the travelling industry is growing heftily with China leading the way in outbound tourism. A tour guide who is fluent in foreign languages is highly sought-after by the travelling industry in multiple countries. It is one of the most significant jobs to be a tour guide when it comes to bringing in more clients and that is why they get lucrative salaries with the added bonus of travelling free to many places.
Liaison Officer – In multinational companies where language is not considered a boundary for making business deals and acquisitions, the liaison officers from both parties play an important role to end the language barrier and make successful deals of information sharing, scheduling, managing, and expectations.
(Field) Researcher – A field researcher's main role is to translate ancient texts into archaeological findings. Hence, if you are fluent in a sought-after language while being equally interested in archaeology and history, then this is the perfect job for you!
Product Localization Manager – A localization manager's main task is to understand the in-depth cultural and social knowledge of a location where the company is targeting to start its business. By understanding and speaking the native language of the particular location, a product localization manager helps the company to understand the local demands of the targeted audience and generate products according to their needs.
Top High-Paying Foreign Language Jobs in 2023
Most people end up learning a foreign language as a hobby or due to their passion for understanding a different culture. But there are many who are looking for mastering a foreign language due to the lucrative job opportunities that it provides. Here's a list of high-paying jobs that you can get after learning a foreign language:
International Sales Marketing – Acting as a global sales marketer for an international corporation is a high-paying job with added bonus of travelling cross-borders for free.
College Lecturer or Faculty – Due to the increasing number of students wanting to learn foreign languages the demand for professional language experts with literary knowledge is high on-demand by universities and institutions.
Hotel Manager – Being one of the most sought-after jobs in the hospitality and management industry, a hotel manager is required to interact with guests from all across the world. Knowing a foreign language is an added bonus that will make your profile stand out in such a competitive job designation.
Flight Attendant – Flying across the world requires a flight attendant to interact with passengers speaking various languages. Most of the airlines prefer flight attendants who can speak a foreign language.
Jobs in Embassies – Other than Ambassadors there are other high-paying job positions in embassies where they require someone with multilingual skills.
International Correspondence (Journalism) – If you are interested in travelling worldwide while covering stories to help people, then learning a language and working as a journalist will be very helpful.
As per popular opinion, Mandarin Chinese is considered the highest-paid language in the world and has more than 1 billion speakers!
Top Companies
There are a lot of lucrative job opportunities after mastering one or multiple foreign languages even in the private sector. Some of the top companies that are accepting foreign language experts are:
Foreign Language Jobs in Indian Government & Embassy
There are numerous jobs for multilinguists in foreign embassies and the Indian government. Here are the top Foreign Language jobs in the Indian government and embassy:
Diplomatic Service Professional
Translator
Administrative Assistant
Interpreter
Intelligence Bureau
Language Experts
To apply for a job at Indian Foreign Services for the posts of diplomatic service professionals or officers, you will be required to qualify SSC CGL or Indian Foreign Services exam (IFS) exam.
Tips & Tricks
Many Indian companies are developing their business worldwide in the field of manufacturing, Information Technology, pharmaceutical, hospitality, education, KPO, BPO, healthcare, media, etc. Due to this, English may not be the central language of conversion and transition in these sectors. This is why a career in a foreign language is on the rise and the trend will continue to grow in the future.
Below mentioned are some essentials to keep in mind when building proficiency in a foreign language so that you can further opt for a career in a foreign language:
You should have a passion to learn a new language.
Try learning from scratch and construct your own sentences in order to understand better.
You should have the zeal to learn new words and excel in building language proficiency.
Use your skills to interact with people which will help you understand your mistakes and allow you to learn better.
Here is a complete guide on how to learn a new language!
Top Foreign Language Colleges in India
Here are the best universities and colleges in India that you must consider to pursue a shining career in Foreign Language:
Benaras Hindu University
Jawaharlal Nehru University
University of Delhi
Goethe University (German language courses)
University of Mumbai
University of Pune
Jamia Milia Islamia
To know more about these colleges, their offered courses and fee structure, check out our blog on Best Foreign Language Colleges in India!
Top Universities Abroad
Though academic institutions like Harvard University, University of Cambridge, Stanford University, Yale University, The University of Tokyo, Peking University, Princeton University, etc have etched their names in offering Modern Language courses, with the growing demand for foreign language professionals, a wide range of universities all over the world are now offering quality education through such programs. Below is a list of popular universities and colleges offering courses to develop your career in a foreign language:
Apart from the aforementioned universities, here are some other educational institutes which you can consider:
The University of Buenos Aires
Top Languages to Learn in 2023!   
With more than 6,000 spoken languages in the world, choosing one to build a career in a foreign language can be confusing. So, if you are wondering which languages are in high demand then here are the best languages to learn in 2023!
Mandarin Chinese – With the growing power of the Chinese economy, Mandarin is the most demanding language with around 1,000 million speakers after English. However, it is one of the most challenging languages to learn because of its difficult writing system and the confusing tonal nature of the words. If the Chinese mainland isn't your cup of green tea, the beautiful landscape of Singapore, Hong Kong, and Taiwan also offer an appealing experience for learning Mandarin.
Check Out the Most Spoken Languages in the World!
Spanish – Taking a sunbath on the sun-kissed coasts of Spain and ziplining over the luxuriant forests in Costa Rica can be blended with an incredible experience of learning Spanish. It is known to be the second most spoken and one of the easiest languages in the world.
Portuguese – Portuguese is the 6th most widely spoken language worldwide with nearly 300 million people. It is known to be quite ahead of French, German and Italian. Having similar origins to Spanish, if you have learnt the basics of Spanish, you can easily become proficient in Portuguese as well.
Also Read: DSH German Test
German – German is known to be the language of art and music in Germany. With more than 100 million speakers, learning German can be immensely beneficial especially to work in the US. It is the third most popular language in the world and the second most popular in Japan and Europe. So, whether you want to study in Germany or work there, having a stronghold over the language can be beneficial!
Also Read: German Language Tests
French – There are a variety of places like Canada, Switzerland, France, and Morocco offering several opportunities to study the language of romance, philosophy, and fashion. With more than 200 million people speaking French, it is known to be a very common language to learn. Hence, this can be your ideal choice for starting a career in a foreign language.
Also Read: French Language Courses in Delhi
Russian – Being the largest native language in Europe, Russian is spoken by over 260 million people in the world. Russia is a technologically advanced country in science and research, a wide range of job opportunities in engineering, oil & gas, defence, etc can be easily acquired with the benefit of having a Russian language proficiency.
Japanese – Japan is a strong economic force in science and technology allowing the Japanese to be a popular language with over 120 million speakers. Many big Japanese brands like Sony, Honda, Toyota, Toshiba, and Mitsubishi have Indian operations with technologically advanced products. Moreover, if you are planning to study in Japan then you must know that some of the courses are taught in the Japanese medium.
Italian – Italian is the language of Romeo and Juliet, fashion and art, classical music, culinary dishes and some of the top economic brands. Around 90 million people in the world speak Italian as their first language. With the growing popularity of Italian companies like Fiat, Benetton, Banco, Gucci, Ferrari, Marconi, Pinnacle, and Lloyd in India, gaining proficiency in the Italian language to explore immense career prospects.
Also Read: Language Translator Jobs
Korean – Being a player in global affairs in the economic world, learning Korean will provide you with an edge in the job market. With stunning temples, shrines and coasts and of course, the famous K-pop music, Korea itself is the best place to grab the Korean language.
Arabic – Arabic is spoken by over 300 million people as a native language in 26 countries and is known to be the 5th most spoken language in the world. Famous countries in the Middle East like Dubai, Qatar, Oman, Kuwait, and Bahrain have job exciting career opportunities for people with proficiency in the Arabic language.
Analysis of Common Foreign Languages
Take a look at the detailed analysis of the above-mentioned foreign languages to help you choose an ideal one for building a career in a foreign language:
| | | | |
| --- | --- | --- | --- |
| Foreign Languages | Official Language (Total No. of Countries) | Total No. of Speakers | Features |
| English | 35 | Around 1000 million speakers | Leading international language |
| Mandarin Chinese | 5 | More than 1000 million speakers | Most spoken language in the world |
| Spanish | 21 | More than 500 million speakers | Also known as Castilian due to its origination near the Castilla region |
| Arabic | More than 20 countries | Around 420 million speakers | The word Arab means nomad. Arabic writing starts from right to left |
| Portuguese | 10 | Around 300 million speakers | Modern Portuguese Over 400 modern Portuguese words have their roots in Arabic. The language is similar to Spanish in origin |
| French | 29 | Around 229 million speakers | The French language has its root in the Latin language of Ancient Romans |
| Russian | 10 | More than 260 million speakers | Second most commonly used online language after English |
| German | 6 | More than 132 million speakers | In German, every noun has a gender (feminine, masculine and neutral) |
| Japanese | 2 | More than 120 million speakers | The first Japanese books were originally written in Chinese |
| Italian | More than 6 | Around 90 million speakers | Known to be the official language of classical music |
| Korean | 3 | Around 70 million speakers | It is one of the top language isolates in the world |
Pros and Cons of a Career in Foreign Language
The demand for learning a particular language may go back and forth with the specific country's economic and political situation. Taking this as a risk factor, here are a few pros and cons you should know while learning a particular language.
Pros
Making Connections – Learning a new language opens up a barrier both virtually and in reality. Knowing a new language will let you communicate with people all around the world on social media sites and know more about their daily livelihood. On the other hand, learning a new language will make your travelling memories more interesting when you get to experience a new country by knowing their local language.
Earning Money – Imagine qualifying for that perfect dream job, only to score less in the language requirement criteria. Knowing a separate language will definitely make your profile stand out from your competitors while profile assessment and get you that lucrative job offer with a high-paying salary.
Boosting your creativity – Learning a new language involves an active creative process. If you are in the middle of learning a new language and you're not being able to completely express it in words then you need to put your idea across by using actions and gestures.
Cons
Losing your cultural identity – Although a very rare occurrence, learning a new language and using it more often than your own native language due to its popularity and accessibility may make someone forget their native tongue.
Not your authentic self – While you are in the middle of learning a new language, there can be many instances where you have to speak it and you fail to express yourself completely. This can be really upsetting if you are in the middle of an important conversation and end up using the wrong term to express yourself and people fail to understand your real words.
Also Read: How to Become a Language Translator?
FAQs
Is foreign language a good career option?
Not only will you have several options to visit overseas. However, the foreign language salary is often generous as well. Speaking a foreign language could lead to a job in international sales marketing in the export and import industries.
How do I start a career in foreign language?
If you have strong linguistic skills, you can work as a translator or interpreter. As a corporate trainer, university professor, or foreign language instructor in any institute or school. As a language specialist, you can work for any MNC, KPO, or BPO.
Which foreign language has the highest paid job?
Chinese (Mandarin) is the highest-paid foreign language in India.
If you're willing to learn more than the language of your motherland, experts at Leverage Edu can help you discover all the options that suit your interests and find an ideal language so that you can build an incredible career in learning and exploring the world.