As a child, you must've been curious and would've wanted to see the Aurora Borealis or Northern Lights after looking at the picture on your Classmate notepads. If the magnificence still excites you and so does the prospect of an affordable education abroad, Norway is just the place for you! To study in Norway means to meet a diverse group of people, work on skill development, have an opportunity to live an adventurous life close to nature, be part of a society that is expected to be carbon neutral by 2030, and obtain a quality education. To make things easier, here's a blog that elucidates various factors you need to know about studying in a country that has been ranked 3rd in the world's happiest place by the World Economic Forum!
Population
5.3 Million
Capital City
Oslo
Currency
Norwegian Krone(NOK)
Academic Year
Spring Session – January
Autumn Session – Autumn
Why Study in Norway?
High-Class and Affordable Education
Norwegian universities not only provide quality education to students coming from different backgrounds but also offers free education across disciplines. With state-of-the-art facilities, experienced academic staff, and a healthy study environment, pursuing higher education in Norway can be a viable option to explore!
Medium of Instruction
Apart from Norwegian and Sami, the 2 official languages of Norway, there is an extensive range of courses and programs which are taught in English. Not just limited to education, the language is also used at a professional and personal level. Thus, you will feel right at home if you study in Norway!
Picturesque Surroundings
You will get to experience adventurous outdoor destinations like Fjords, Lofoten Island, and the midnight sun when you study in Norway. We have mentioned just a few but there are scores of destinations to stay connected with nature.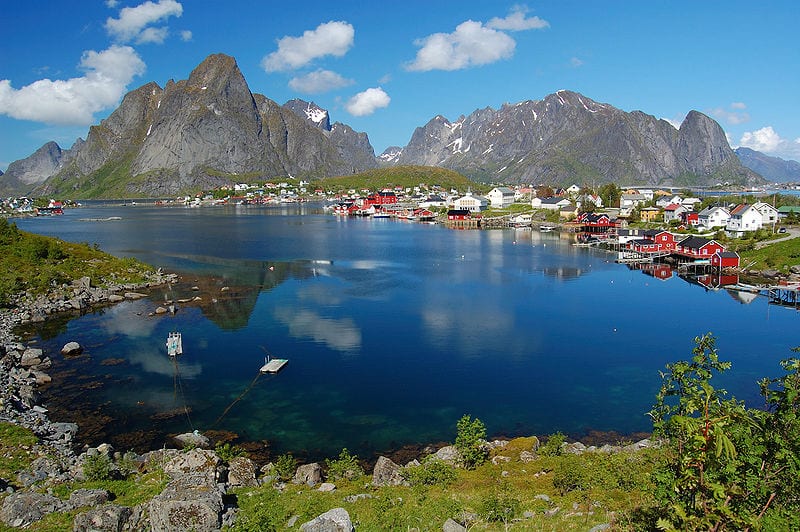 Modern Society
The principles of Norwegian society is rooted in the ideas of equality and modernity. In fact, the people of Norway are very tolerant in nature. And if you ever get stuck, they will be there to help you out. It is a bonus that you get to experience if you study in Norway!
Green Initiatives of the Nation
This is what we love the most about the nation's government, they levy heavy taxes on unhealthy commodities like cigarettes, beer, disposable items, fuel, etc. They also give subsidies on healthcare products and giveaway outdoor experiences for free to people who come to study in Norway. Further, with an impetus laid on energy management, electric cars have become a significant trend in the country.
How to Study in Norway for Free
Norway's public universities levy semester fees rather than tuition fees. Many international students choose Norway as their study abroad location for this reason. It is possible for Indian and foreign students to receive free education in Norway. However, just because Norwegian colleges don't charge tuition doesn't mean you'll be able to study for free. You still have a few bills to pay.
Free Study Universities in Norway for International Students
Even for international students, tuition fees are not levied at Norwegian public institutions. Students, on the other hand, must cope with their daily routine as well as other costs. For international students, below is a list of low-cost Norwegian universities:
Norwegian University of Science and Technology
University of Oslo
University of Nordland
Oslo Metropolitan University
University of Bergen
Bergen University College
The Arctic University of Tromsø, Norway
University of Stavanger
BI Norwegian Business School
Top Reasons to Study in Norway for International Students
Norway is ranked among the top countries in the world in terms of global wealth, education, health, and security. This lovely country has a good level of living.
Norway is recognized for its rich history, but it is also seen to have a bright future since it places a greater emphasis on information, technology, and innovation.
Colleges in Norway place a premium on assisting overseas students in adjusting to a new environment and culture.
Telecommunications, shipping, oil and gas, high-tech goods, and fish farming are all fields where Norway is a leader. If you want to pursue a profession in one of these fields, studying in Norway will give you several options.
While Norwegian is Norway's primary language, English is the country's second most spoken language. As an international student, you will find it quite easy to acclimatize to your new surroundings.
Norwegians are known for their friendliness. International students are welcomed and made to feel at ease. They are always willing to provide any form of assistance to help overseas visitors adjust to their new country swiftly.
Best Courses to Study in Norway
In line with the Bologna process, Norwegian universities offer three levels of degree, the bachelor, the master's, and the doctorate. Here are some of the most popular courses available in the nation.
Study medicine in Norway
Study Economics in Norway
Study law in Norway
Study Chemistry in Norway
Study nursing in Norway
Study Business Administration in Norway
Study Mathematics in Norway
Study in Norway in English
Norway's society has a high level of English, making it easier for international students to study and live there. There are over 200 English-taught master's programs available, as well as many English-taught undergraduate programs in a variety of fields. Here are several English-language courses to consider:
Study medicine in Norway in English
Study Data Science in Norway in English
Study Economics in Norway in English
Study Philosophy in Norway in English
Study Physical Geography in Norway in English
Study Biology in Norway in English
Study Electrical Engineering in Norway in English
To get accepted into the EnEnglish-speakingniversities in Norway, international students need to have proficiency in English. You can satisfy the English language requirement by taking one of the examinations below:
A minimum 5.0 band IELTS score is required.
A minimum TOEFL iBT score of 60 points or a TOEFL PBT score of 500 points is required.
Study in Norway without IELTS
Even if they do not have IELTS, international students can study in Norway if they meet one of the following criteria:
Completed one year at any university in an English-speaking nation, such as the United States, the United Kingdom, Australia, Ireland, Canada, or New Zealand, using English as the language of instruction.
Previous education was completed in a university where English was the medium of instruction.
If you are accepted into a Norwegian institution without taking IELTS, you can apply for a Norway study visa by presenting your acceptance letter.
Study in Norway For Indian Students
Students can study a variety of courses at Norwegian universities and university institutions. International students can choose from a wide range of English-language courses and programs. Furthermore, most colleges and universities feature a vibrant student life. International students cite a variety of reasons for studying in Norway, including the country's safe, peaceful, and technologically advanced society; breathtaking scenery; the ability to participate in a variety of outdoor sports and activities – both summer and winter; and the fact that studying in Norway will improve their job prospects.
Can I work and study in Norway?
To cover your expenses, you can work and study in Norway at the same time! Although EU/EEA students don't need any work permit, they have to get themselves registered with the police prior to 3 months of their arrival. Non-EU/EEA students will have to get a work permit and those who have a valid permit are allowed to work for 20 hours per week and full-time during the holidays for a year.
But remember! After a year, if you renew your study permit, you won't be permitted to work automatically just like the first time. So, you will have to renew the work permit separately and submit all the required documents to the officials when you study in Norway.
Eligibility to Study in Norway
There is no unified application portal in Norway. Rather, applications are sent to specific schools. This implies that criteria differ from one institution to the next and from one program to the next. You should double-check before submitting your application.
This is what you'll need to apply to schools in Norway in general:
completed application form downloaded from the school's website
certified copy of your passport
copy of your transcripts of grades
Your curriculum vitae. For postgraduate studies, you may additionally be required to provide a professional CV.
Proof of your ability to communicate in English. More information regarding this may be found here.
Two recommendation letters
In Norway, not all international qualifications are accepted. If this is the case, you will be required to take an entrance exam. Application dates vary for each institution, but you'll usually need to submit your application by February of the year you wish to start.
Cost of Studying in Norway
Academic expenses are not that costly, but as Norway lies within the European region, the living expenses are high. You will have to spend more than expected on daily use commodities and if you plan to study in Norway. Tabulated below are the approximate expenses that may incur during the journey of your course:
Tuition Fee
1. Most of the public-funded universities don't levy tuition fees. The only expense would be to pay a student union fee or what is also called a semester fee that can vary between €30-€60.

2. If you are planning to study in Norway from a private university, you will have to shed between €7,000-€9,000 for undergradute and €9,000-€18,000 for postgraduate programs on a yearly basis.

Accommodation
The government offers a subsidy on student housing and thus one can find good standard accommodation at a reasonable cost when you study in Norway. You will be required to spend close to around €300-€750 per month.
Other Expenses
Keeping other expenses like laundry, stationery, etc, one needs to spend between €900-€1,400 per month on average. This can further vary based on the city you are living in.
Transportation
Scores of students prefer taking public transport to commute in the Scandinavian country. It can cost anywhere between €50-€70 per month [Depends on whether you travel by bike or a taxi]
Admission Process to Get in a Norwegian University?
It is always better to have a sense of direction and so here is a step by step guide for the admission process to study in Norway:
Step 1: Choose the right degree and course that suits you the most to study in Norway.
Step 2: Check the eligibility criteria on the official website of the university because every institution has its own requirements. You have to keep up with them to ensure you face no hurdles to study in Norway.
Step 3: Collect all the required documents such as:
An academic transcription from the previous institution which will depict your qualification.
Letter of reference (LOR), if needed
A Statement of Purpose (SOP)
Your marksheet or bachelor's degree
Step 4: Every university here have their own rules. If you go on the website of your desired university, you will definitely find a way to submit your application. After applying, wait for the letter of acceptance so you can begin your journey to study in Norway!
Norway Student Visa
Before we understand the process of how to apply for a student visa, let us first understand who needs it and who doesn't. A student visa won't be needed if you're from these countries and plan to study in Norway:
Iceland
Finland
Denmark
Sweden
However, if you have planned to stay here for more than 6 months, you will have to report to a tax office for an ID check. Those who are from EU/EFTA/EEA are allowed to stay in the nation for up to 90 days without applying for a student visa. After 90 days, you will have to get one if you want to study in Norway. Those who don't belong to any of the categories need to have a residence permit in order to study in Norway. Further, you will also be required to prove your financial stability.
List of Documents
Health insurance
Proof of financial ability
Birth certificate
Receipt of the fees that you have paid for the admission
A valid passport
2 passport-sized photographs
Statement of purpose
Any evidence that proves you will leave Norway after course completion.
Note: Students can apply either online or offline route. If applying through offline mode, It is advised to contact your nearest Norwegian consulate or embassy to prevent delay. Further, It may take 2-3 months to get a visa that allows you to study in Norway. Therefore, we advise you to apply as soon as you get the letter of acceptance. Also, you will have to visit the police station within a week of your arrival to report your presence.
Top Universities to Study in Norway
1. University of Bergen
This public university was formed in the year 1946 and currently houses almost 17,000 students. Considered one of the top 8 universities in Norway, one can find all the faculties within the Univerity of Bergen except the faculty of dentistry and medicine. It has also been ranked 163 and 201 in the QS 2022 and THE 2022 rankings respectively.
2. BI Norwegian Business School
Natives claim it's the largest business school in Norway and yes, it is! In fact, it's the 2nd largest business school within the European region. Generally, the locals of Norway abbreviate it as "BI." At present, it has 4 campuses and the main one is in Oslo. BI is a perfect private institution for those students who want to pursue Management courses and a must-consider option when you plan to study in Norway.
3. Kristiania University
As compared to other universities of the Scandinavian nation, it's relatively small in terms of size and students. This aspect can work in your favor because you can communicate with teachers more easily in a small classroom. Moreover, Kristiania University also aims to provide a good learning environment for its students. Bachelor of Data Science, Master of Human-Computer Interaction, Masters of Information Systems, etc are some of the courses offered at the university.
4. Molde University College
Another option to consider when to plan to study in Norway is Molde University College. All the degrees are provided for bachelors, masters, and Ph.D. level students. Professors of this university are also friendly like the Bergen's ones. If you're doing well in your studies, you can also take extra classes here for free! This college provides degree programs in various fields like:
Social Care
Health Sciences
Social Sciences
Sports Sciences
Management
Business Administration
Economics
Logistics
5. Norwegian University of Science and Technology
As the name suggests, the university specializes in the field of science & technology. It's the largest public research university to study in Norway. The academic performance of international students is expected to boost because of the highly experienced professors, students, and a learning environment. With a high acceptance rate, Norwegian University of Science and Technology also offers various other academic disciplines like:
Arts
Social Sciences
Life Sciences
Teacher Education
Architecture
If you've always wanted to pursue an education abroad without burning a hole in your pocket, Norway can be one of the best options for you. It may seem a little difficult to understand the university and course best suited for you in order to study in Norway. Take the assistance of the leading overseas education consultants, Leverage Edu, and take an informed decision towards a fruitful career! You can contact us at – 1800 57 2000.