The world is facing an alarming situation where animal extinction is continuously rising. Wildlife impacts the environment and the world as a whole. The conservation of wildlife is the ultimate tool that can protect the animals and their habitat. Students who are keen on learning about animals and have the dedication to protect them and their habitat can pursue a career in wildlife conservation. There are multiple career opportunities in the field of wildlife conservation that can satisfy your needs as well as provide a decent salary. In this blog, we will go explore the top careers in wildlife conservation.

Top Careers in Wildlife Conservation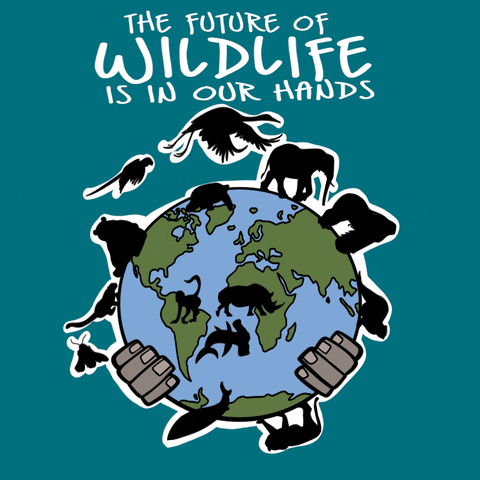 Wildlife conservation is not merely wandering in the forest and preserving exotic species. In fact, it is a broad spectrum that includes many job profiles such as mentioned below.
Wildlife Veterinary
This career belongs to people qualified in treating wildlife such as birds, reptiles, mammals. High profile educational background is preliminary. The certified practitioners are paid really well for this job.
Also read: Wildlife Photography Courses
Zookeeper/Curators
The main responsibility of a zookeeper is to take care of the animal requirements in the zoo. It includes feeding, cleaning, medications, behavioural changes reporting, and similar other aspects. Zookeepers need a relevant degree regarding wildlife. Zoo curators are responsible for the overall management of animals in the zoo including the hiring of staff.
Mammal Trainers
Mammal trainers teach and perform specific behaviours to Marine mammals. They take care of the animals daily and provide adequate nutrition. The behavioural changes are noted. At least two years degree is required to become a mammal trainer.
Herpetologist
Someone who studies every biological aspect of reptiles and amphibians is called a herpetologist. They are involved in research and study. A four-year degree in biology or science is required to become a herpetologist.
Check out How To Become an Environmentalist?
Wildlife Biologist
This job profile includes researchers with a keen interest in wildlife species and the management of local wildlife. At least a four-year degree is required to become a wildlife biologist. They are well paid for the animal care and services.
Ichthyologist
Another emerging career in wildlife conservation is a career as an Ichthyologist. They are biologists who specialise in learning about fishes and sharks. A four-year degree is a minimum requirement along with research and educational experience.
Entomologist
The biologist who studies the nature of insects is called an entomologist. They are involved in forensic research and similar studies. A four-year degree along with research and work experience are minimum requirements for this role.
Read about What is Environmental Conservation
Marine Biologists
The primary job of a marine biologist is to study aquatic wildlife. The work may lie in research or education. A minimum degree of four years, a master's degree or a doctorate is necessary for this job profile.
Wildlife Educator
This teaching profession is adequate for educating high school and university students about wildlife science and the importance of conservation. The educators also contribute to research and policy development.
Law-enforcement Officer
A wildlife law enforcement officer is responsible for regulations and maintenance of wildlife populations. The primary job is to perform surveys and implement regulated policies to prevent nuisance wildlife and educate people.
Wildlife Inspector
Just like other inspectors, a wildlife inspector Ensures the maintenance of law and order in the wildlife. It is among the top careers for wildlife conservation. Wildlife inspectors prevent illegal shipments of wild animal products for any purpose. A four-year degree and a masters degree is compulsory for this position.
Forensics Specialist
A forensic specialist carries out scientific investigations to document the nature of the evidence collected on illegal imports and exports. A four-year degree along with a Masters degree or PhD degree is required for becoming a forensic specialist.
Related Read: Veterinary Courses
Wildlife Consultant
A wildlife consultant is a profile where the person evaluates the ecosystems and determines the environmental impacts from the actions. Consultants provide reports on industries, businesses, governments to ensure the maintenance of a quality environment.
Beekeepers
Beekeepers are the managers of the colonies for the extraction of products such as honey and beeswax. They divide colonies, construct new hives, and replace the combs for the bees. The Job does not require any specific degree but an adequate amount of experience is needed. Although many professional beekeepers do have degrees.
Wildlife Conservation: Eligibility
The aspiring candidates wishing to pursue a career in wildlife conservation should fulfil the following criteria.
The candidate must have passed 10+2 in science stream with a minimum of 60% marks.
They must have a bachelor's degree in biological sciences or any other relevant field.
The candidate must have a postgraduate degree in wildlife conservation.
Also Read: How to Become a Marine Biologist?
Top Universities in India for Wildlife Conservation
The top Indian Universities offering a course related to wildlife conservation are mentioned below.
Anna University, Chennai
University of Kota, Kota
Gauhati University, Gauhati
Fergusson College, Pune
Loyola College, Chennai
University of Delhi, Delhi
Mount Carmel College, Benguluru
The Wildlife Institute of India, Dehradun
The National Centre of Biological Science, Bangalore
Tamil Nadu Veterinary and Animal Sciences University, Chennai
Top Universities Abroad for Wildlife Conservation
The top International Universities abroad that offer relevant courses in the field are mentioned below.
Harper Adams University, England
Wildlife Conservation: Salary & Scope
According to the U.S. Bureau of Labor Statistics (BLS), conservation scientists, including wildlife conservationists, made a mean annual salary of $69,020 in May 2020. According to SalaryExpert, the average salary of wildlife conservationists in India is INR 4,18,433 per year. The difference in salary pay depends on the job profile, experience, skillset, interpersonal skills, and many more.
The competition in the field is comparatively low. Hence, the chances of landing up a decent job are high. Any wildlife enthusiast with in-depth passion can easily pursue a career in wildlife conservation. The opportunities in this domain are abundant.
Everything you need to know about World Nature Conservation Day 2021

FAQs
Is wildlife conservation a good career?
Yes, wildlife conservation is a great career for animal lovers and environmentalists.
What is the best wildlife career?
There are many wildlife careers that an inspiring student can pursue. Some of the best career options are wildlife consultant, wildlife biologist, marine trainer, zookeeper, beekeeper, and many more.
What are the highest paying jobs working with animals?
The highest paying job working with animals is wildlife conservation. Going on wildlife surveys and monitoring the situation is the key role. A decent salary is paid to the wildlife conservationist.
What should I major in for wildlife conservation?
For wildlife conservation, students should major in surveys, environmental studies, policies, regulation laws, and so on.
A career in wildlife conservation is an ideal choice for animal and environment lovers who seek passion in spreading awareness and educating others. Wildlife Careers are rare and those who pursue them are highly regarded for their jobs. If you require help with choosing a suitable career in wildlife conservation, approach our experts at Leverage Edu to find the best-fit course and university in this field.