Located in Central Europe, the landlocked country Austria consists of nine federal states with Vienna as the capital. It is bordered by various nations like Germany, Czech Republic, Hungary, Italy, Switzerland, Liechtenstein, and Slovakia. Apart from its colossal history, well-connected cities, state of the art infrastructure, and pleasant weather, the country is also revered for the quality education it offers across disciplines. Many Austrian universities have also been ranked in the list of top educational institutions of the world by both QS and Times Higher Education (THE) due to the emphasis the country has placed on Modern education. Thus, if you want to attain overseas education and kickstart a career in Psychology, Music, STEM courses, etc, then you can consider pursuing higher education in Austria! This blog aims to highlight the salient features, admission process and other requisites for those who want to study in Austria.

An introduction to Austria
Austria is not just at the geographic heart of Europe; it has also played a significant role in European history, helping to shape the Europe we know today.
The Arlberg region, the cradle of modern Alpine skiing, and Innsbruck, in the Alps' foothills, are both well-known for their stunning winter sports scenes. However, Austria is primarily hilly, providing spectacular landscapes and year-round walking opportunities.
Many baroque castles, palaces, and gardens, as well as museums detailing Austria's role in both musical history and psychology, can be found in the major towns of Vienna and Graz. Haydn, Mahler, Liszt, and, of course, Mozart are famous Austrian musicians and composers, while Sigmund Freud, the pioneer of psychoanalysis, was also born here.
Why Study in Austria
All EU and EEA nationals have free access to public universities in Austria; foreign students pay roughly 1,500 EUR each academic year. Tuition fees at universities of applied sciences (UAS) range from 365 to 7,500 EUR based on the degree programme and nationality.
Austria is one of the safest countries in the world, enjoying a low crime rate and a high standard of living and social security. While living in Austria, you won't have to worry about political and military tensions, armed conflicts, or violent protests.
If you pick Austria, you will have the option to study and live in Vienna, which has been voted the best city in the world for the past ten years! Everything is fantastic, from transportation to lodging, student services to administrative assistance, salary to employment prospects.
Do we need to say more about Wolfgang Amadeus Mozart, Franz Schubert, Egon Schiele, and Gustav Klimt? Austria also boasts a vast list of museums and galleries that each visitor should see.
What is it like to study in Austria?
In an Austrian university, the overall mood is calm, and teachers are always happy to assist students, answer their questions, and ensure that they grasp everything they are studying.During seminars and team projects, students work in small groups, which gives them a significant edge in terms of understanding new material. Students can also participate in active debates and express their own points of view.Overseas offices at colleges frequently organise visits to adjacent towns and environs to assist international students in acclimating to a new country and culture.
How Much Does it Cost to Study in Austria?
The average cost of studying in Austria is somewhere around €1400 for tuition fees every year while the living costs are quite economical ranging around €1200 per year. Here is an overview of the cost of studying in Austria:
Tuition Fee
€700-€750 (INR 62,917 – INR 67,410) per semester
Accommodation Charges
Hall of residence(dormitories): €250-€450 per month(INR 22,473 – INR 40,449)
Shared flats: Varies
Personal Expenses
Approximately €300 per month (INR 26,966)
Food
€250-€300 (INR 22,473 – INR 26,966) [excludes luxury food items, tobacco products, etc]
Cost of Living in Austria for International Students
On an average, the monthly cost of living in Austria for international students is 950 Euros (84,553 INR approx. ) and can vary as per the city you have chosen to live in.
Universities in Austria
Here are the top universities in Austria:
| | | |
| --- | --- | --- |
| Universities | QS 2021 Rankings | THE 2021 Rankings |
| University of Vienna | 150 | 164 |
| Vienna University of Technology | 192 | 351-400 |
| University of Innsbruck | 265 | 351-400 |
| Johannes Kepler University Linz | 362 | 601-800 |
| University of Graz | 581-590 | 601-800 |
| University of Klagenfurt | 511-520 | 301-350 |
Medical Schools in Austria
Here is a list of top medical schools in Austria
Medical University of Vienna
Medical University of Graz
Medical University of Innsbruck
Paracelsus Private Medical University
University of Graz
University of Innsbruck
PhD in Austria
Here is a list of top universities in Austria fo PhD:
FH Kufstein Tirol – University of Applied Sciences
Danube University Krems
University of Innsbruck
TU Wien
Medical University of Graz
Graz University of Technology
Johannes Kepler University of Linz
Medical University of Vienna
University of Graz
University of Klagenfurt
Medical University of Innsbruck
WU (Vienna University of Economics and Business)
Austria Engineering Universities
Here are the top universities for engineering in Austria:
University of Innsbruck
University of Leoben
Johannes Kepler University of Linz
Graz University of Technology
WU (Vienna University of Economics and Business)
Vienna University of Technology
University of Salzburg
University of Klagenfurt
University of Vienna
Focusing both on teaching and research, the University of Vienna, which was founded in the year 1265 is one of the most popular educational institutes amongst those who want to study in Austria. With 15 faculties and 5 centers, Theology, Mathematics, Microbiology, Business, Law, etc are some of the fields in which courses are offered. Thus, for those who want to kickstart a career in Microbiology or want to build a career in Theology, this can be an ideal education institute. It is imperative to know that the oldest university of german-speaking nations also houses Austria's largest library!
Vienna University of Technology
The university, which was established 204 years ago as imperial Royal Polytechnical Institue is now known as TU Wien. Many innovation-oriented enterprises have formed a partnership with the university. Currently, the educational institute has 8 faculties:
Mathematics
Physics
Technical Chemistry
Informatics
Civil Engineering
Architecture
Regional Planning
Mechanical Engineering
Informatics
Civil Engineering
Electrical Engineering
Information Technology
University of Graz
Considered as the 2nd largest university of the nation, it came into existence when Pope Sixtus approved its formation 314 years ago. Currently, the university is home to more than 30,000 students and 4,300 staff. Offering scores of diploma, bachelor's, masters, joint, and doctoral programmes, the university is a popular choice amongst students who want to study in Austria. With the largest faculties being that of Arts & Humanities and Natural Science, here is a list of the 6 faculties of the institute:
Arts & Humanities
Environmental
Regional and Educational Sciences
Natural Sciences
Catholic Theology
Medicine (Was separated in 2004 and now is an independent university named as "Medical University of Graz")
Public Universities in Austria
Public universities in Austria offer free and affordable education to international students and are also renowned for their varied programs. Here are the top public universities in Australia:
Universität Wien Vienna
Technische Universität Wien
Universität Innsbruck
Technische Universität Graz
Karl-Franzens-Universität Graz
Johannes Kepler Universität Linz
Wirtschaftsuniversität Wein
Universität für Bodenkultur Wein
Medizinische Universität Wein
Alpen-Adria-Universität Klagenfurt
Universität Salzburg
Medizinische Universität Graz
Veterinärmedizinische Universität Wein
Donau-Universität Krems
FH Oberösterreich
Institute of Science and Technology Austria
Universität für Musik und darstellende Kunst Wein
Montanuniversität Leoben
Fachhochschule St. Pölten
FH Joanneum Graz
Universität für Musik und darstellende Kunst Graz
FH Technikum Wien
Study in Austria for Free
Several universities in Austria cost little to no charges to study there. All the public universities in Austria are highly affordable. But your tuition fees depends on your nationality. Even if you do not qualify for free tuition fees, you have to pay $1,600 per annum i.e. INR 1,16,186.
Tuition Free Universities in Austria for International Students
If you are from EU or Switzerland, tuition fees for you in every public university of Austria will be zero. Another case where your tuition fees will be of zero cost is if you belong to one of the developing countries. Here are the top developing countries which are eligible for free education in Austria:
India
Turkmenistan
Turkey
Gabon
Croatia
Liberia
Mozambique
Philippines
Solomon Islands
Anguila
Morocco
Honduras
Senegal
Djibouti
Central African Rep.
Oman
Laos
Korea, Dem. Rep.
Lebanon
Kenya
Nigeria
Maldives
Netherlands Antilles
Tajikistan
Vincent and Grenadines
Mexico
Mauritania
Costa Rica
Tonga
Algeria
Bhutan
Togo
Guinea
Montserrat
Burundi
Sudan
Uzbekistan
Guadeloupe
Syria
American Samoa
Palau
Cape Verde
Fiji
Argentina
Ethiopia
Vietnam
Malawi
Slovak Rep.
Somalia
Tuvalu
Chile
Belarus
El Salvador
Paraguay
Cambodia
Mali
Estonia
Latvia
Kazakhstan
Guinea-Bisseau
Afghanistan
West Bank and Gaza
Pakistan
Egypt
Bahrain
Azerbaijan
Lucia
Ghana
Cook Islands
Mayotte
Isle of Man
Jordan
Romania
Zambia
Poland
Burkina Faso
Myanmar
Moldova
Angola
Iran
Dominican Rep.
Uruguay
Nicaragua
Botswana
Lithuania
Dominica
Chad
Congo, Rep.
British Virgin Islands
Lesotho
Albania
Venezuela
China
Zimbabwe
Madagascar
Guatemala
Libya
Iraq
Benin
Bolivia
Niger
Gambia
Sri Lanka
Swaziland
Czech Rep.
Antigua and Barbuda
Colombia
Slovenia
Armenia
Yemen
Martinique
Mauritius
Macedonia
Russian Fed.
Korea, Rep.
Kiribati
Guyana
Malaysia
Bulgaria
Papua New Guinea
Vanuatu
Haiti
Bosnia/Herzegovina
Puerto Rico
Kyrgyz Rep.
Saudi Arabia
Hungary
Malta
Cote d'Ivoire
Ecuador
Cameroon
Sierra Leone
Suriname
Brazil
Trinidad and Tobago
South Africa
Micronesia Fed.
Cuba
Tanzania
Marshall Islands
Namibia
Belize
Rwanda
Nepal
Mongolia
Eritrea
Yugoslavia, Fed. Rep.
Kitts and Nevis
Barbados
Thailand
Indonesia
Congo Dem. Rep.
Samoa
Tunisia
Seychelles
Ukraine
Panama
Bangladesh
Jamaica
Uganda
Equitorial Guinea
Georgia
Grenada
Peru
Sao Tome and Principe
Comoros
If you do not qualify for any of these, you can still, practically, study in Austria for free. By taking admission in public universities, you have to pay a meagre amount of $16,00 per annum which you can easily pay off by doing a part-time job in Austria.
Study in Austria without IELTS
It is possible to study in Austria without IELTS in the following conditions:
You have a higher impressive score in your last academic course or degree
You can also provide other language proficiency scores like PTE, C1 Advanced, etc.
You can opt for a German-taught course for which you will be asked for German langueg test like TestDaf, DSH, etc.
Austria Student Visa
In order to study in Austria, you need to have a residence/study visa or both. Its criteria can vary based on nationality. But before delving into the procedure to obtain the aforementioned documents, let us first understand the types of visas:

For Non-EU students, If the course duration is less than six months, you need to apply only for a student visa. But if your course exceeds six months limit, you will have to get a residence permit too. Make sure that you get yourself registered with the registration office within 3 working days of arrival in Austria. Further, If you intend to stay in Austria for more than six months, you will need to apply for a residence permit.
EU/EEA or Switzerland students don't need any visa. All you need is valid health insurance and a budget to study in Austria. To stay for more than 90 days, you will have to get registered with municipal authority.
For Interns: Since 2018, third-country students, who have been issued Visa D can apply for internships in Austria. Such applicants can work between 3-6 months in the country. To understand who qualifies as an "Intern", you can click here.
Those students who are studying a bachelor's program can work up to 10 hours a week, and those who are doing masters can work up to 20 hours a week. Though this can vary based on the nationality and visa conditions.
Note: To get your visa, you will have to apply at the consulate or embassy before traveling to Austria. It may take 15 days to receive your student visa.
Documents Required
Application form
Passport size photographs
Proof of financial ability
Educational qualification proof
A certification from the police that represents that you haven't been into any criminal activity.
Medical examination certificate
Student pass
Entry Requirements to Study in Austria
To study in Austria you have to qualify the eligibility criteria which is required by the admission department of all the universities/ colleges. They are mentioned below.
Fill the Application Form – The application form for the university you wish to study in can be downloaded from the university's homepage. Interested candidates must fill in their personal information as well as the program they wish to study.
Proof of Nationality – Candidates interested in applying to universities in Austria must provide their proof of nationality with a copy of official ID along with a photo. Candidates must also submit their valid travel documents
University Entrance – There are different requirements for different programs.

For Bachelor and Diploma Degree Courses: Candidates must submit copies of their Secondary School Examination or any other equivalent.
For Master's Program: Candidates applying for a Master's program in Austria need to submit copies of their Bachelor's degree and their Secondary School Examination mark sheet or any other equivalent.
For Doctoral Studies: To get admission in a Doctoral studies program candidates will be required to submit copies of their master's degree along with their bachelor's degree.

Entrance Exam – Certain universities will require students to sit for an entrance exam. These are mostly for courses like Universities of Arts or Medical Universities.
German Speaking Certificate: Students may also require to provide a certificate stating that they know and understand the German language.
Study in Austria in English
Austria is a beautiful country with some of the best universities in it. But one of the major problem that students face is the language barrier. Since a lot of people in Austria speak German, people assume that all the universities also teach in German. But that's not the case as many universities that take international students give a choice of language or teach courses in English.
English Universities in Austria
Several Universities in Austria offer bachelors in English and Masters in English. Other than this, you can find more than 200 courses that are taught in english in the universities of Austria. Courses that you can learn in English are:
Master of Engineering
Master of Public Health
Bachelor of Science
Bachelor of Education
Bachelor of Engineering
Bachelor of Laws
Master of Laws
Bachelor of Arts
Bachelor of Fine Arts
Master of Business Administration
Master of Science and Master of Art
Master of Social Work
Universities in Austria that teach in English
Vienna University of Technology
MCI Management Center Innsbruck
Vorarlberg University of Applied Sciences
University of Applied Sciences Burgenland
MODUL University Vienna
Salzburg University of Applied Sciences
Webster Vienna Private University
IMC University of Applied Sciences in Krems
Medical University of Graz
Medical University of Innsbruck
Upper Austria University of Applied Sciences
University of Innsbruck
Scholarships in Austria
Tabulated below are the scholarships for international students to study in Austria:
| | | | |
| --- | --- | --- | --- |
| Name of Scholarship | Duration | Funding Organisation | Closing Date of Application |
| Scholarships of the Scholarship Foundation of the Republic Austria for Master's Degree in International Relations | 9 months | OeAD-GmbH on behalf of Scholarship Foundation of the Republic of Austria | March 1st |
| Webster University Vienna Scholarships | Grants for the whole degree program | Webster University, Vienna | November 30th |
| DUO-India Fellowship Programme | 4 months | ASEM-DUO | September 30th |
| AAI Graz Scholarship Programme | Afro-Asiatisches Institut | Other Institutes | March-End of May |
| Summer School AEMS – Alternative Economic and Monetary Systems | 1 month (Usually July to August) | OeAd-Housing and Partner Institutions | July 12th |
| Ernst Mach Grant | 9 months | Austrian Federal Ministry of Education, Science and Research | October to February |
How to Apply to Universities in Austria?
Step 1
Conduct thorough research about the university you want to enroll in. Check the eligibility criteria, documents required, English language proficiency scores, etc. You can also check the official website of the universities or simply let experts at Leverage Edu do this for you!
Step 2
Collect all the required documents like:
Photocopy of your valid passport
School leaving certificate
A proof of purpose that states why you're staying in Austria.
Your birth certificate
Step 3
If you want to apply for applied sciences programs, you will have to attend entrance exams before getting admission.
Step 4
It's time to fill the application form and submit all the necessary documents along with it in order. Make sure that all documents get certified.
Step 5
Once your application is approved, you will be notified and will be issued a student pass. This student pass is just like a letter of acceptance. It acts as proof to get your student visa!
Step 6
With an acceptance letter in hand, the next step is to apply for a student visa. Read the following paragraphs to understand the process in detail.
Popular Jobs for Students in Austria
There are a host of job opportunites for students while studying in Austria. However, while looking for a job, students must keep in mind that a profeciency in German as well as English is required for proper communication.
Education Industry : There is always room for students who can teach and educate in the English language. It is a good job prospect and the salary pain is also reasonable. Mostly studenst who are pursung their post graduation get selected as research assistants or teaching assistants in the departments they are studying in.
On Campus Jobs: A lot of students get employment opportunities on their very campus. The jobs are varoed and can be in the international student brach of the university, the faculty adminstration, the department libray and even the college cafe.
Internships: If you are looking for part time jobs hwile studying in Austria, then getting an intership is a great idea. There is a broad scope for internships in Austria. Not only are they financially rewarding but they also help you build a a strong resume for the future.
Is Austria Good for International Students?
Here are the top reasons why Austria is the best study destination for international students:
Austria has been ranked in the list of the top 10 peaceful countries in the world by Global Peace Index.
It is also one of the happiest countries in the world as per the World Happiness Report.
As per the Corruption Perception Index, Austria is amongst the least corrupted countries.
The cost of studying in Austria is also economical as the fee per semester is around 70,000 INR and the living costs are also affordable.
The universities in the country offer a plethora of full-time and short-term courses in almost every specialisation.
After completing your studies, you can also find numerous post-study work opportunities in Austria.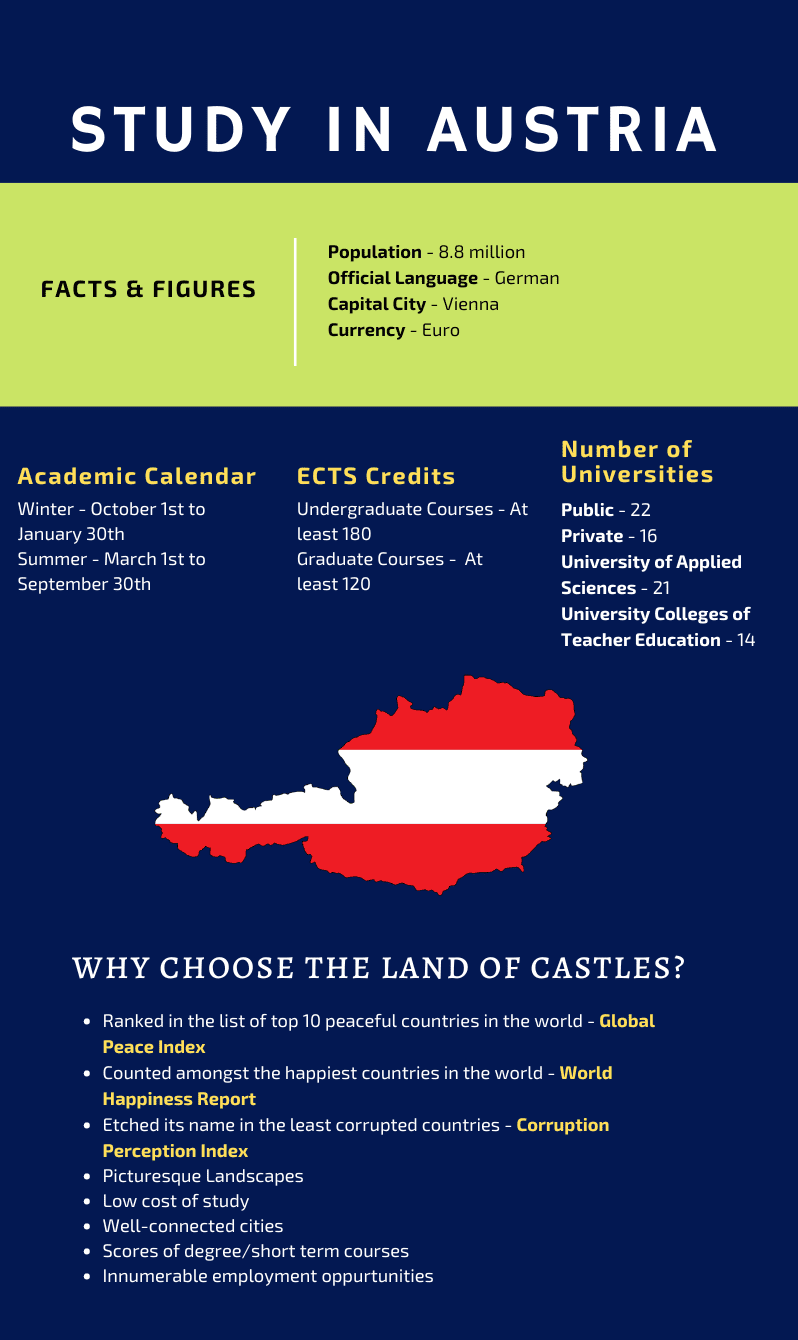 Note: Even though the tuition fees are affordable, accommodation, traveling, food, and miscellaneous costs may raise your expenses. It is thus advised to plan your budget accordingly if you want to study in Austria.

FAQs
What is the average tuition fees for private Austrian universities?
The average tuition fees for private Austrian Universities ranges between 3,000 to 23,000 EUR per annum (INR 2,69,707 – INR 20,67,759 per annum).
I want to pursue my PhD in Austria. Can I be eligible for any scholarship?
I want to pursue my PhD in Austria. Can I be eligible for any scholarship?
When will i become eligible to apply for a scholarship? Is it after i receive the notification of admission or after i reach the university in Austria?
The application procedure for a scholarship varies from one scholarship program to the other. While some scholarship programs require you to get the admission letter first, in other programs you can apply for scholarship before getting the admission notification. It is always beneficial to check for scholarship announcements. 
Can I Study while working in Austria?
As far as the students form EEA, Switzerland, and the EU (Excluding Croatia) are concerned, they can study without any permit. For those belonging to other countries and have a residence permit, the number of working hours is restricted. This can further vary based on nationality and visa.
Is IELTS required for Austria?
Just like other countries, to study in Austria, one needs to have English language proficiency test scores. If not IELTS, then one needs to submit other test scores like that of TOEFL, PTE, etc.
Hence, to study in Austria means to open the doors to an array of career opportunities! Needless to say, completing the documentation process of the Austrian universities can be a daunting task. Take the assistance of experts at Leverage Edu who will guide you in the admission process, right from crafting an impeccable SOP to completing visa formalities!