From the first picture taken by Niépce in 1826 in his estate to flash forward to the digital age in which people are clicking selfies with a simple click, the art of photography has captured the world in all its glory and resplendence! In contemporary times, learning photography has become extremely easy and everyone can be deemed a photographer with their own unique ways of capturing visual delights. All you need is a suitable camera which reflects your interest, an eye for clicking photos and the relevant basic knowledge of composition. With the accessibility and easiness, you need to stand out among the huge competition this field invites. Thus, if you are aiming for a career in Photography, there are certain skills and knowledge you must acquire! This blog brings you a complete guide on how to become a photographer.
Begin with the Basics
To begin on your journey towards becoming a professional photographer, the first and foremost thing is to buy a professional DSLR camera and start understanding how it works and its technicalities. There is a wide range of online tutorials and YouTube videos available on the internet which you can explore to learn the basics of operating a digital camera. Alongside this, you must also explore the intricacies of composition, its rules as well as the aesthetics of capturing a photograph. While online videos are a great way, to begin with, pursuing a short-term or undergraduate program in Photography [check the list of courses mentioned in the below section] can also impart you with the foundational knowledge of photography, composition and other aspects.
Experiment with Varied Genres in Photography
There are various genres of photography and being intrigued by a particular type will help you attain clarity and further enhance your skills in it. Here are the prominent specialisations in Photography:
People photography
Abstract Photography
Food Photography
Travel Photography
Wedding/Event Photography
Product Photography
Scientific Photography
Sports Photography
Architectural Photography
Aerial Photography
To become a successful photographer, you must explore these genres and experiment with your interests to find the best one. Moreover, you can also pursue specialised photography courses in these areas of study and steer towards a career in the same.
Practice the Right Equipment in Photography
Photography is not just about clicking pictures with a camera but it essentially encompasses the aesthetics of the subject being photographed thus lighting, lenses, camera angles, etc. play an imperative role in the composition of engaging photographs.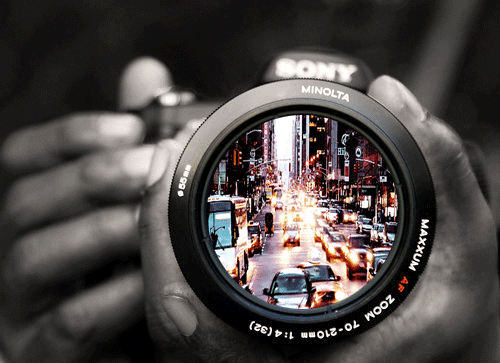 Once you have learned the basics of operating a camera, you should also explore the importance of other equipment, be it lenses, cameras, supporting equipment, amongst others. A major step which people often overlook is buying a suitable lens for the type of photography they wish to execute. Every type of photography requires a different millimetre lens which defines the image. Pursuing a short-term course in Photography, you can understand the technicalities of cameras and their related equipment. Further, another factor you need to consider for how to become a photographer is getting the right professional exposure. For this, you can explore training opportunities as assistant photographers and crew for professional and commercial photography and master the basics on the job!
Skills and Qualifications
To build a promising career in Photography, you must also be familiar with the skills required as well as educational qualifications demanded in this field. Go through the following sections to understand the skills, competencies and courses available in Photography:
Skill Required
Here is a complete list of skills you must master to become a photographer:
Familiar with composition and aesthetics of Photography
Artistic vision
Attention to detail
Excellent communication skills
Observational skills
Problem-solving skills
Technical knowledge of different types of cameras, lenses and other equipment used in Photography
Patience
Knowledge of Photo editing software
Photography Courses
To become a photographer, you can pursue a bachelor's degree in Film Production, Commercial Photography, Journalism or Visual Communication, etc. after completing high school. If you are exploring short-term courses after completing graduation or want to experiment with your interests then diploma and certificate courses are the best ones to opt for. Here is a list of Photography courses:
Associate Degree in Photography
Diploma in Professional Photography
Bachelor's/BFA in Photography
BA Hons in Fashion Photography
BA Hons in Photojournalism
Top Universities & Colleges in Photography
Choosing the right university or college for your chosen course is also a crucial decision. Here are the top 10 universities in the world for Photography as per the QS World University Rankings 2020:
Royal College of Art, United Kingdom
Massachusetts Institute of Technology, United States
Rhode Island School of Design, United States
Parsons School of Design, United States
University of Arts London, United Kingdom
Pratt Institute, United States
School of the Art Institute of Chicago, United States
Stanford University, United States
Yale University, United States
Politecnico di Milano, Italy
Here are the top colleges and universities for Photography courses in India:
Delhi College of Photography (New Delhi)
The Light and Life Academy (Ooty)
College of Art University of Delhi (New Delhi)
Mass Communication Research Centre, Jamia Millia Islamia (New Delhi)
Asian Academy of Film and Television (Noida)
Salary and Employment Areas
Photography is such a vast domain where you can promising opportunities across varied fields. While considering the process of how to become a photographer, you must also know about the salary and employment areas available. The salary of a photographer depends on the field and company you are working with as well as your experience, specialization and your position. The entry-level salary of a 2 Lakh – 3.5 Lakh p.a. The major employment areas you can explore in this field are:
Film Production Houses
Advertising Agencies
Product Design
Professional Photo Studios
Sports Photography
TV & News Channels
Newspapers and Magazines
Fashion Shows and Boutiques
You can also work as a freelance photographer and explore a plethora of photography jobs across a range of areas, be it travel, food, wildlife, documentaries, amongst others.Hence, we hope that you are familiarized with the career map of how to become a photographer through this blog! Planning to pursue a short-term course or degree in Photography? Our Leverage Edu experts are always here to guide you through the process of finding the best course and university as well as sorting out the admission procedure! Sign up for a free session with us today!