If you enjoy Urdu Shayari then you must have heard the name of Mirza Ghalib. Known as the poet of love and heartbreak, Ghalib Shayari has the ability to stir the soul to a deep level. His musical verses can melt your heart every time, transcending every barrier of race and language. Born on December 27, 1797, in Agra, Mirza Asadullah Khan Ghalib started writing at the young age of 11. Ghalib wrote both in Urdu and Persian; however, his writing pours out the feelings of the young and old till today because of the magic he could spin through his Shayari. Here in this blog, we look at the 10 most popular gems from Ghalib Shayari that will leave you mesmerized!
Must Read: Harivansh Rai Bachchan
Early Life
Before we dwell and take notes from the brilliant Ghalib Shayari, let us find out a little about his early life. Writing with the nom de plume of Asad before choosing Ghalib as his pen name, came from a family of Aibak Turks. Both his father and grandfather had joined the army during the reign of Shah Alam II. They had migrated to India and got killed in an army action in Alwar. Unlike his forefathers, Ghalib had a keen interest in poetry and prose. After losing his father at the young age of 5, Ghalib was raised by his uncle. His uncle also passed away four years later shifting Ghalib under the care of his maternal aunt and uncle.
Har ek baat pe kehte ho tum ki tu kya hai
Tumhi kaho ke yeh andaaze-e-guftugoo kya hai
Personal Life and Works
Ghalib got married at the early age of 13 and moved to his favourite place – Delhi. He lived in a locality called Ballimaran and died there too. He had very little financial security and tried to sustain his uncle's pension.
Ghalib was a person with a unique personality and enjoyed playing chess and wrote the finest Persian and Urdu poetry which contributed to the great Ghalib Shayari! He poured brilliance and intelligence into his couplets that can still leave you wondering about the meaning of love and life.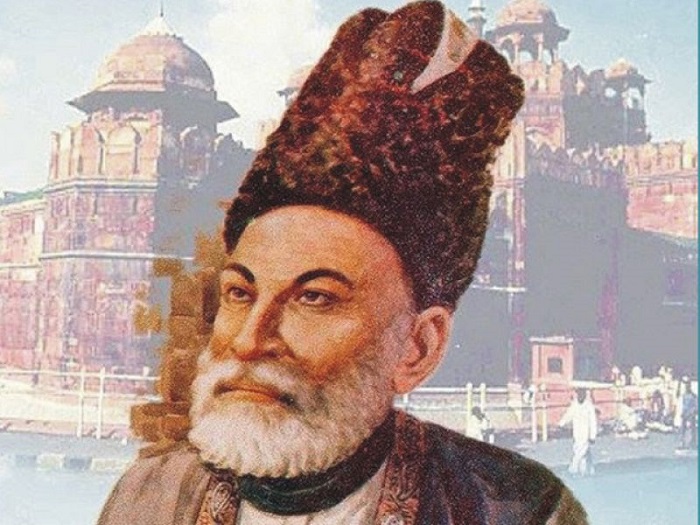 Ghalib was later appointed as the counsellor for Bahadur Shah Zafar for poetry, for Ghalib Shayari to be precise and a mentor in history. He immediately stood out in the court of Bahadur Shah Zafar for his indomitable wit and spirit and his fantastic diction which gave a distinguished feature to his poetry and prose. Ghalib died due to a prolonged illness and was buried in Nizamuddin. His works include his most popular Diwaan, Diwan-e-Ghalib, Taigh-e-Taiz which is a rebuttal of literary work and Meher-e-Neem-Roz which is a historical narrative.
Titles Earned During The Mughal Era
Ghalib Shayari became popular and was enjoyed by many. He was awarded several titles during the Mughal era. They are mentioned below:
'Dabir-ul-Mulk' by Bahadur Shah Zafar in 1850.
Ghalib was also awarded the title of 'Najm-ud-daula' and 'Mirza Nosha'.
Mirza Ghalib also served as a Historian in the royal Mughal court. He led his life under the patronage and tutelage of the Emperor.
Mirza Ghalib lived in the colony called Gali Qasim Jaan in Ballimaran, which has now been declared a heritage site by the Archaeological Survey of India. It is now called 'Ghalib ki Haveli'. The second name of this house is Ghalib Memorial. It helps in giving his admirers and followers a snake peek into his lifestyle as well as the rich and beautiful architecture of the Mughal Era.
Ragon mein daudte phirne ke hum nahin qaa-yel
Jab aankh se hi na tapka to phir lahu kya hai
Ghalib Shayari
Let's begin with Ghalib Shayari and our translations so that next time you don't know what to say or express your feelings, you can pick the couplet that suits you or your emotions best and leave everyone else marvelling at you.
Unke dekhe se jo aa jaati hai munh pe raunaq
Woh samajhte hain ki beemar ka haal accha hai

Translation: My face lightens up when I see her face,
She presumes that the condition of her lover is good
Hazaaron khwahishein aisi ki har khwahish pe dam nikle
Bohot nikle mere armaan lekin phir bhi kam nikle

Translation: I have a thousand yearnings, each one afflicts me
Many of them were fulfilled for sure, although not enough
Mohabbat mein nahin hai farq jeene aur marne ka
Usi ko dekh kar jeete hain jis kaafir pe dam nikle

Translation: There is no difference between life and death in love
I live by looking at the one I am willing to die for
Hum ko maalum hai jannat ki haqeeqat lekin
Dil ke khush rakhne ko 'Ghalib' ye khayaal accha hai

Translation: It isn't that I don't know the truth about Paradise
Why not fool oneself o Ghalib by harbouring this delusion
Yeh na thi hamari qismat ki visaal-e-yaar hota
Agar aur jeete rehte yahi intezaar hota

Translation: It was not in my destiny to have my beloved's union
As I die with the pain of separation, I know the wait would continue for as long as I lived.
Jaate hue kehte ho ke Qayamat ko milenge
Kya khoob Qayamat ka hai goya koi din aur

Translation: Leaving me behind, you promised to meet again on doomsday
Indeed! As if for me there will be some other doomsday than today.
Ghar jab bana liya tere ghar par kahe baghair
Jaanega ab bhi tu na mera ghar kahe baghair

Translation: I have set up residence at your door without your permission
Do you still deign to deny knowing my house until I point it out to you?
Tere vaade pe jiye hum to yeh jaan jhooth jaana
Ki khushi se marr na jaate agar aitbaar hota

Translation: I managed to stay alive in the hope that you will fulfil your false promise of becoming mine
How else do you think I have survived the ecstasy of the thought of union?
Popular Books on Ghalib
If you wish to learn and know a little more about Mirza Ghalib and the famous Ghalib Shayari, you can read the books mentioned below. Have a look here:
Explore: Famous Personalities of India
This was all about the marvellous lyrical genius that Ghalib was. Ghalib Shayari is often quoted by many and studied by quite a few too. We hope you enjoyed this blog, and it made your day a little more 'poetic'. Stay tuned to Leverage Edu for more such interesting reads. Follow us on LinkedIn, Facebook, Instagram and Quora.