Tuition fee is as important as any other aspect before taking admission into a college. Often students have to go through the burden of taking a student loan from reputed banks and financial aid centres. It might be easy to get money with a student loan, but it becomes difficult to repay it in a limited time. Before applying for a heavy loan, you must clear your doubts and questions revolving around it. Specifically, don't fall for the honey-trapped myths! In this blog, we have briefly discussed the common myths about student loans. Let's tackle them one by one!
Myth 1: Borrow as Much Money as You Can
The most common myth about student loan while borrowing money for a student loan is ignoring the fact that it has to be repaid on time. Students must be considerate about their finances in future and their career choices. Even if there is an opportunity to get more loans sanctioned, you shouldn't do it. When you apply for financial assistance, you get the eligibility criteria and the amount available as a loan. You must play smart at this moment and try to lower the costs by applying for suitable scholarships and choosing institutes with lower fees. 
Many private financial aid centres will allow you to borrow money as much as you want to until the course finishes. However, this is highly discouraged to reduce future financial burdens. Students must be calculative and a step ahead of time. Before agreeing to any paperwork, all future estimates must be made clear. One should also consider the job opportunities and the future salary. 
So the first rule is never to borrow unnecessary money for your luxuries or leisure items. If the payments are genuinely very high try to reduce the cost of unwanted things. Also, return the unused money to get rid of the interest burden.
Read How to Manage Money While Studying Abroad?
Myth 2: Don't Worry About Paying Student Loans
This is not a myth particularly but students often forget to repay their loan amounts after they have graduated. A six-period duration called a grace period is provided to the graduates where they are bound to pay the loan back. Many students try to re-pay during their course period by paying a small amount of $30 or so or interest amounts every month. This is a smart way to reduce the sudden pressure after graduating. It is an ideal way to reduce the interest amount to be paid with the mean balance after graduation. If you are in a condition to pay during the course, it is great. Students often take part-time jobs to ease the process.
Myth 3: You will never be able to Repay Student Debt
This is common among the myths about student loans. Don't be hopeless if it is extremely stressful for you to pay off your debt on time. It happens to many students at the beginning phase of their careers. The huge debt amount might seem unachievable but there are several options available. These are income-driven plans, refinancing, and loan consolidation. Some students reduce their expenses and raise their incomes to pay off the debt even before the deadline. By working extra hours or teaming up with people can help in achieving this goal quite early.
Myth 4: You Need a Lot of Money to Repay Your Master's Fee
Students after graduation who wish to pursue post-graduation and higher studies have to pay their entire fees. Many government policies work in favour of students where a loan is provided for a Masters's degree in the UK. A loan of up to £10,000 or £11,000 is available which is enough to cover the education fee. However, students have to look for alternatives to fulfil other expenses. Try to go to institutes which are located in less expensive countries. Several scholarship programmes and student loan schemes are available for PhD and master's degrees abroad. An amount of up to £25,000 can be borrowed as a student loan. The living expenses and tuition fees, both can be managed easily with this amount. However, there is always the choice of taking a part-time job for other necessities.
Myth 5: Rely on Loan Services for Advice
The loan services and their advisors may have several suggestions for you but go for the one that you want. Putting complete faith and reliance on others is never a good idea. Have your own approach towards your finances and their management. At the end of the day, it's you who will repay all the student loan amount so take every step with caution. Sometimes lone services might offer you more help and lend more money but do not fall into this trap because it might become a burden in the future. You are your best partner. Hence, always take your suggestions before finalising any deal.
Myth 6: You Need to be Wealthy to Go to University
Since the tuition fees are extremely high, around $10,000 a year, it might be a problem to pay it from your own pocket. Any worthy candidate fulfilling the eligibility requirements can take admitted to the college of his choice. The cost of living and tuition fees can be paid with the tuition fee loan and maintenance loan to cover the living cost. 
The more you belong to the middle class to lower class family, the better maintenance loan is provided to you. The finance centres understand your financial situation and help accordingly.
There are many scholarships and financial grants available for such students to meet their requirements. However, the maintenance loan does not meet the requirements appropriately. So the students do part-time jobs to raise their income. There are multiple ways to earn money while studying if the financial situations are below average.
Also Read: How to Get PhD Funding? MBA Scholarships in India & Abroad
Myth 7: It Takes an Entire Life to Repay Student Loans
This is among the common myths about student loans. It is not true that a student has to spend his entire life repaying their loan. The government loans such as tuition fees loans and maintenance loans are wiped after 30 years. If you graduate at 21, it means that your repayments will automatically stop when you are 52. This is certainly a relief since there is no pressure after this age.
If you're looking for education loan that will help you pursue your higher education abroad, Fly Finance is here to help you out.
Check out the Difference Between a Scholarship And a Fellowship
Myth 8: The Loan Interest Rates Keep on Fluctuating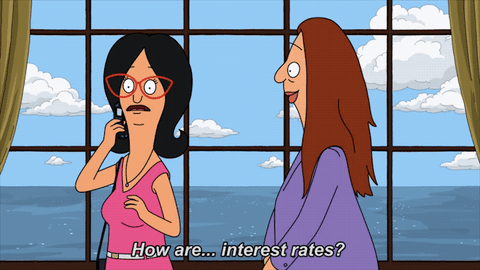 An absolutely baseless myth about student loans is that fluctuating interest rates are included in your loan interest rates. During the agreement for the loan proposal, the interest rate chosen at that time would continue till the amount is paid back. The government agencies which lend you the money certainly do not take new interest rates into consideration for an old agreement. Even private money lenders don't do that. Yes, the interest rates keep fluctuating every year at different geographical locations. But you do not have to worry about it at all. You are bound to pay only what you had agreed upon before signing the contract. 
Myth 9: One Has to Start Repaying as soon as They Graduate
As discussed above, the grace period is viable for six months after graduation. You won't be expected to pay until the next session starts in universities. For example, if you graduate in June 2020, your first payment would be around May 2021. This clarifies a year off from payments after graduation. It gives a chance to start a new life and settle down with a new job or earnings. You can start repaying if you receive a good job above at least the £27300 salary threshold.
FAQs
Can a student loan prove beneficial for you?
A student loan will undoubtedly prove extremely beneficial for you, especially when you have a great academic background but don't have adequate funds to complete your higher education from a reputed overseas university.
What do you need to submit while obtaining a student loan?
Depending on the bank you're choosing as well as the student loan amount, there are numerous documents such as your passport, academic certificates, visa, university offer letter, etc, you need to submit.
What will be covered under the student loans?
Apart from the tuition fees, the student loan can also cover other expenses as well. However, it depends on the student loan you're applying to.
We hope that this blog busted many myths about student loans. It is important to be careful about signing any legal documents regarding student loans. Just read everything and be well-informed in advance. To know more about the many scholarships or best-suited loans for your course, get in touch with our Leverage Edu experts and we will help you with the same. Make sure you call us on 1800 57 2000 for a 30-minute free counselling session. Book your free e-meeting with us today!