You must have read about the significance of forests in the working of the natural world order. Every species on earth is dependent on forests in some way or the other. For the wild animals, forests act as a shelter and for human beings, they are a source of livelihood or a means through which some needs of ours are fulfilled. What adds to it is the fact that forests are home to 80% of the world's terrestrial biodiversity including flora and fauna. Also, the forests cover over 31% of the world's land area. Through this blog, we bring you a comprehensive list of the largest forests in the world that you must know about!
Meet the Forest Man of India Who is Now a Part of US Study Curriculum!
Amazon Rainforest, South America
Area : 6.7 million km²

Considered as one of the largest forests in the world, the Amazon Rainforest, popularly known as Amazon Jungle or Amazonia is a tropical rainforest located in South America. The forest shares its location with 9 nations including Bolivia, Brazil, Colombia, Ecuador, French Guiana (France), Guyana, Peru, Suriname, and Venezuela. Being the largest forest in the world, over people of 350 ethnicities reside within the Amazon Rainforest. It's the home to 40,000 plant species, 1,300 bird species, 2,200 species of fishes, 427 types of mammals, 430 amphibian species, 380 reptile species and is also home to over 2.5 million different types of insects. Amazon Rainforest is also the source of 20% of Earth's oxygen. And this all together is enough to reflect the significance of Amazon Rainforests. 
Congo Rainforest, Africa
Area : 3 million km²

Second largest in our list of largest forests in the world, Congo Rainforest, Africa is located across the boundaries of six countries, i.e. namely Cameroon, the Central African Republic, the Republic of Congo, the Democratic Republic of Congo (DRC), Equatorial Guinea and Gabon. The Congo Rainforest is home to around 600 species of trees,10,000 species of animals and more than 1000 species of birds. It also home to the second largest river on the planet, i.e. the Congo river, and another unique fact about this rainforest that the Congo Basin is also the sole sheltering home of all the three species of gorilla namely the lowland gorilla, the endangered mountain gorilla and the endemic eastern lowland gorilla.
Valdivian Temperate Rainforest, South America
Area: 248,100 km²

Valdivian Temperate Rainforest, the third-largest forest a Neotropical Realm located in South America. The forest shares its borders with Chile and Argentina and comes under the category of temperate broadleaf and mixed forest. It's home to a number of exotic plant and animal species including Chusquea quila, nalca, southern pudú (world's smallest deer), kodkod (South America's smallest cat) and even Copihue which is Chile's national flower. The Valdivian Rainforest is also the only Rainforest which consists of glaciers. 
Want to pursue a Career in Forestry?
Tongass, North America
Area: 68,000 km²

The other largest forest in the world is Tongass National Forest which is also a key mention in our list. The largest national forest of the USA, it's a temperate rainforest and is home to a large number of endangered species of both flora and fauna. The Tongass National Forest offers both shelter and livelihood to over 75,000 people and consists of islands, mountains, glaciers, etc. It is also home to the largest number of bald eagles and various species of brown bears, moose, porpoises, humpback whales, mountain goats, killer whales, sea otters, hair seals, black bears, wolves. 
Read our exclusive blog on Environmental Conservation!
Rainforest of Xishuangbanna
Area: 19,223 km²

China's Rainforest of Xishuangbanna is one of the largest forests in Asia and the world. It comprises 16% of China's total plant diversity and contains more than 5,000 species of vascular plants. This Rainforest is quite significant to the ecosystem of China as it's home to a significant portion of China's birds, mammals, reptiles and amphibians. Some of the key species of the Rainforest of Xishuangbanna include Asian Elephants, Green Peacocks and Indo-Chinese Tigers. This particular Rainforest can be divided into three categories on the basis of its composition namely tropical rainforest vegetation, the tropical montane rainforest and the tropical seasonal rainforest. 
Explore Forestry Courses
Sundarbans
Area: 10,000 km²

Sundarbans deserves a prominent mention in our list of largest forests in the world as well as India. Located between Indian region of West Bengal and the Khulna Division of Bangladesh, it is a Mangrove Forest where over 290 species of birds, 120 species of fish, 42 mammal species, 35 species of reptiles and eight amphibian species live. The endangered species which find a habitat in Sunderbans are royal Bengal tigers, northern river terrapins, olive ridley sea turtles, estuarine crocodile, Gangetic dolphin, ground turtles, hawksbill sea turtles and king crabs. What adds to the significance of Sunderbans is the fact that it is the largest source of forest produce in Bangladesh and is, therefore, an important contributor to its economy.
Daintree Forest, Australia
Area: 1,200 km²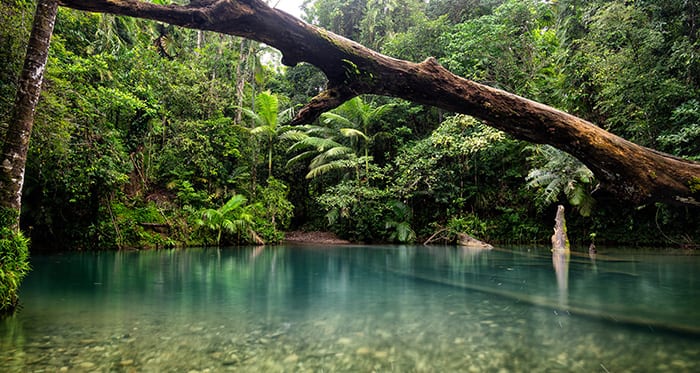 The Daintree Rainforest derives its name from Richard Daintree who was an Australian photographer and Geologist. Located in the North-East coast of Queensland, Australia, Daintree is the world's oldest rainforest, estimated to be around 135 million years old. Listed as a world heritage site, the Daintree Rainforest is known for its beautiful lush canopy and vines, forest-clad mountains and valleys. It's not only one of the largest forests of the world but also a popular tourist attraction which attracts people from across the world. 
Kinabalu National Park
Area: 754 km²

The Kinabalu National Park established in 1964 is Malaysia's first world heritage site. It is home to over 4,500 species of flora and fauna, consisting of around 326 bird species and 100 mammal species. The Kinabalu National Park ranges over 4 different climate zones and therefore has a rich variety of the montane oak, rhododendron, the coniferous forests, alpine meadow plants, and the stunted bushes. The Kinabalu Giant Red Leech and Kinabalu Giant Earthworm are two of the endemic animal species of the region.
Sinharaja Forest Reserve, Sri Lanka
Area: 111.9 km²

Sinharaja Forest Reserve is one of the largest forests of the world which was designated as a World Heritage and Biosphere Reserve by UNESCO. It was established in 1978 and is governed by the department of Forest Conservation. 50% of Sri Lankan's endemic species of  butterfly, amphibians, birds, snakes and fishes are found in the Sinharaja Forest Reserve. More importantly, It is home to 95% endemic bird species. It is a source of habit and livelihood for the local population which resides at the borders of this particular reserve and therefore is an important contributor to Sri Lanka's economy. 
Mindo-Nambillo Cloud Forest, South America
Area: 86 km²

The Mindo forest, a cloud forest located in South America is one of the largest forests in the world. The Mindo-Nambillo Cloud Forest is home to over 450 different species of birds. The Yumbo-Nigua people, a tribal community finds habitat and shelter for themselves in these forests and acquire their livelihood through it. Apart from this it's also an important ecological location and one of the key tourist attractions of South America. The Mindo forest also has over 4,500 varieties of Orchids and other plant species like cedro trees, aguacatillo, arrayan, canelo and plants like berries, hill red peppers and the ortiga which form it's ecological cover.
Hence, these are the 10 largest forests in the world that are home to diverse species and habitat for wild animals! Want to pursue a degree in Forestry? Our Leverage Edu experts are here to help you find the best course and university as per your interests! Sign up for a free session right away!