Peking University China is the oldest university located in the heart of China. It is honored as the founding institution of higher education in the country and has over 1000 international students pursuing masters and doctoral programs at the China campus in Peking University. The university is known for offering students not only excellent academic programs, voluntary work, internships, and cultural activities but also a melting pot of diversity, ideas, and harmony. As a modern campus, the university has on-campus facilities like Psychological Counseling, Medical Services, Housing, Library, Internet Services, Banks and Foreign Currency Exchange, Student Organizations and Extracurricular activities, and affordable Public Transportation. Let's delve into the Peking University China Campus and the student life for international students!
Campus Life at Peking University China
The campus of Peking University is considered one of the most beautiful campuses in China. Peking University campus includes many traditional and old Chinese imperial buildings, the popular Weiming lake, and the Boya Tower.
Interesting Fact: Peking University synthesized bovine insulin artificially for the first time in the world in the year 1965.
Peking University has a large campus that is convenient enough for living and studying as an international student. The campus at Peking University provides basic facilities to meet a student's daily needs that include supermarkets, stores, and extensive on-campus services such as cafeterias. The location of Peking University is thriving as there are lots of off-campus services for students such as food and beverages, shopping malls and general stores on campus such as a Family Mart, a Guoan Community store, and a fruit store for essential items such as food and groceries and entertainment places such as theaters, parks and more.
A Myraid of Student Facilities
Student Life is undoubtedly the best at Peking University as there are numerous facilities available for students at Peking University.
Self-Study Areas 
During the summer break, students have access to self-study in the teaching buildings at Peking University.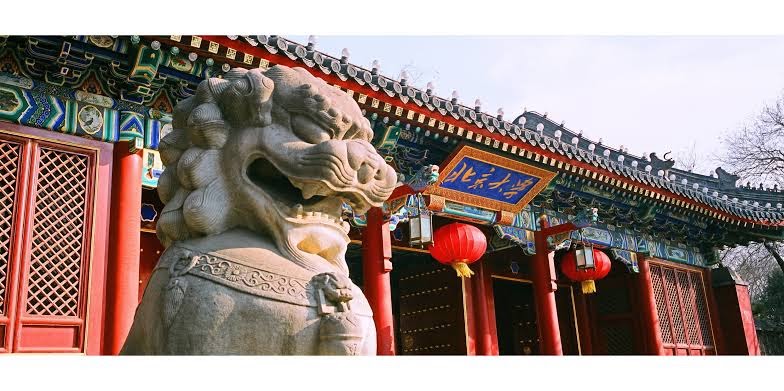 Library 
It is a well-known fact that Peking University has one of the largest libraries in the world and the largest one in all of Asia. The library is open on weekdays for students to study, read or borrow books
Computer, Printing and Internet service
Peking University has great wifi coverage on campus and students are provided login details upon arrival at Peking University so that they can access the internet. International Students' dormitories or rooms have Internet connections. Peking University also has an on-campus Internet café. Also, students are allowed to access computers and e-resources at the library for educational purposes. Apart from that, Peking University has two printing stores on campus.
Recreation Facilities for Entertainment and Sports
Students have access to the following sports-related facilities:
PKU Tennis Court
Khoo Teck Puat Gymnasium
Kang Mei Lang Fitness Center
Wu-si Field
PKU has a Peking University Centennial Lecture Hall or Bai Zhou Nian Ji Nian Jiang Tang that holds academic, cultural, and artistic activities for students.
Health Facilities
Peking University provides students with several health insurance programs such as free health insurance and social insurance. Peking University also offers counseling services on campus for students' well-being and mental health.
Miscellaneous Facilities
Miscellaneous facilities at Peking University for international students are hospitals, post offices, banks, bookstores, laundry facilities, a photo development shop, and a theater. For traveling, Taxis are also readily available on and around campus for students.
Student Organizations and Campus Activities
Peking University has over 100 Student organizations that recruit freshers during September. Students can choose societies or clubs they are interested in and are encouraged to actively participate in the activities. The societies or clubs and associations include cultural performance clubs, dance clubs, athletic clubs, choir, orchestra, and more. However, each program or department organizes its activities on campus for students to make their studies more interesting.
Internship Opportunities
Peking University offers numerous off-campus Internship opportunities to international students who are enrolled in a degree program and hold a residence permit for study and want to work or intern outside of the University. The student should apply to the Exit and Entry Administration of the Public Security Bureau for residence after approval by the school at Peking University.
The following mentioned are the requirements to apply for off-campus internships for international students:
You must be a Full-time international student officially registered at Peking University.
You must hold a residence permit for study.
If you're an undergraduate student then you are required to have successfully passed all compulsory courses.
Your GPA should be in the top 50% of the class.You must have no failed course if you're a graduate applicant.
You must have no record of misconduct, no violation of either school rules and regulations or relevant management regulations for international students; no record of disciplinary punishment; has not violated Chinese laws; has not been punished by the judicial department or the public security agency.
You are required to obtain approval from your respective department of study.
You must have obtained the internship qualification of the relevant enterprise or organization, and the content of the internship must be related to the respective field of study.
The period of internship should not exceed the duration of your study program at Peking University.
Peking University offers incredible on-campus and off-campus facilities for its international students. If you want to experience student life in the UK as a Peking University international student then wait no more, call our Leverage Edu experts on 1800 572 000, and get your admission letter in NO time!