If it sounds good, it is good- Duke Ellington. Music has the power of uniting the whole world with its universal symphonies. Even with diverse languages, no one can escape the emotion that music creates. The gifted musicians can only understand music in its truest sense and transform it into something universal yet magical and personal for all of us to feel something! Want to pursue a career in Music Production? Read this blog to know all about what a Music Producer does and how you can become one! 
What does a Music Producer do?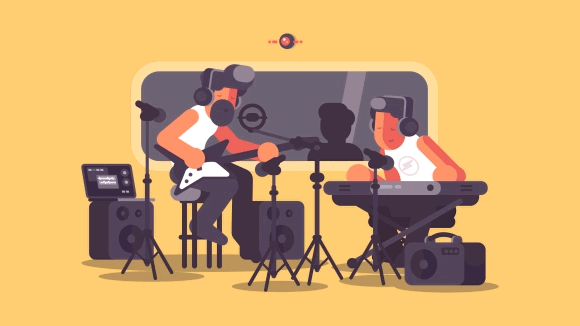 Essentially, a music producer oversees all the aspects of creation of a song. From creating a song to its lyrics, they also ensure that the recording of music is as per its harmonies and structure. It is not necessary that the music producer sings a song on his own or even has to sing for that matter. You can think of a music producer as a film director. A film director brings their vision into the form of a movie, just like that a music producer brings their vision into reality by integrating all the aspects behind the making of a song such as sound engineers, singers, instrumentalists etc. in such a way that the final output is as he/she desired. Music producer has to deal with a lot of different people at the same time which requires excellent management and communication skills.
Skills Required
Music production, unlike singing, doesn't come naturally to anyone, but you need to practice certain skills, both technical and aesthetical to pursue this amazing career path! The production side of music is a mixture of the creativity and technicalities of music. Here are the skills you need to become a successful Music Producer:
Sense of Rhythm: Rhythm is deep-seated in every aspect of our life and we cannot actually learn rhythm. Each one of us is born with a sense of rhythm, it's just a matter of fact that some people actually work on it and make something out of it. You might be less inclined towards it but you can always practice it. Developing a good sense of rhythm will help you to understand and play the music in tempo.
Team Work and Leadership Skills: Music production is not just sitting alone with a laptop and creating some music. It actually involves your interaction with a lot of people. You actively need to work with your team and lead them. You will have to motivate your team from time to time to help them improve their work.
Communication Skills: Communication skills are just an extension of leadership skills. In order to lead your team and make them understand your vision, you will need to express yourself clearly and that depends on your communication skills.
Knowledge of Sound Engineering, Production and Editing: The production part of music also comes with a lot of technicalities. Music production involves sound engineering, music editing and many such technicalities. You might not have to do all of them personally but you need to have a basic understanding of how different things work in order to be efficient.
Music Production Courses & Universities
In order to become a music producer you will need some training whether it be formal or informal and there's no way around this. This field requires rigorous training for years until you can call yourself a good music producer. We know that it is hard to find good music colleges but worry not we have combined a list just for you. Here are the top Music Production courses you must consider to become a Music Producer:
Bachelor of Science in Music Production
BA (Hons) in Music Production
Bachelor in Sound and Music Production
Bachelor in Music Production and Recording Arts
Music Media Production Major
BSc (Hons) Music Technology and Audio Production
Masters in Music Production
M.A in Music Management
MMus in Contemporary Music Production
Online Music Producer Courses
With the pandemic and acceleration of online educational platforms, you can easily find any course or degree online. Many certified websites like Udemy, Coursera, Skillshare offer Music Producer and Production courses to people across the globe.
Eigibility Requirements
While studying these music production courses you'll gain in-depth knowledge about music theory, music history, sound engineering, recording technology and production. Take a look at the general eligibility criteria for these courses:
The applicant must have attended 10+2 from any stream from a recognized board.
University-specific entrance exams if required.
A bachelor's degree for master's level courses.
Top Music Schools in the World
Here are the top music schools and universities in the world that can equip you with the requisite skills and knowledge to become a Music Producer:
University of Michigan School of Music, Theatre and Dance
Indiana University Jacobs School of Music
Georgia State University
Academy of Art University
California Institute of the Arts
Full Sail University
If you want to pursue a degree in Music Production in India, the following are the major schools and universities offering music programs in the country:
The Swarnabhoomi Academy of Music
Sri Aurobindo Center for Arts and Communication
True School of Music
Beatfactory Audioqube
Whistling Woods International
Electronyk Academy
Prayag Sangeet Samiti
Delhi School of Music
Calcutta School of Music
To know more, check out Top Music Schools in India!
Mastering the Music Genres
This can be one of the strongest and important tips if you are thinking of becoming a Music Producer. A true musician doesn't limit themselves to just one genre. So, if you plan to pursue music as a profession in your future, you should start exploring different genres and artists of music as it will help you develop a more sound sense of music and will help in your overall growth as well. Experiment your music in terms of rock, pop, classical as well as different musical eras where music swept the world and this way, you will find your style of genre which will be your forte that you can specialise in!
Music Production Jobs and Careers
As the media industry grows rapidly, so does the need for good music. There is no doubt that the independent music scene is finally getting the recognition that it deserves and needless to say that the demand for music producers is continuously growing. Going forward with this career path, you"ll have the freedom to work in different kinds of places with different kinds of artists such as radio stations, recording labels or you can even start your independent music production. The starting salary of a Music Producer in India is around 2 Lakhs to 3 Lakhs per annum and with experience, you can further aim to earn around 4 Lakhs to 5 Lakhs per annum.
Thus, we hope that this blog helped you explore the career path of a Music Producer! Want to explore the top Music Production and Sound Engineering courses abroad? Our Leverage Edu experts are here to guide you throughout the process of finding the right program and university as well as sorting out the admission requirements to ensure that you get successfully shortlisted! Sign up for a free session now!