Imagine being able to orchestrate the most important and memorable day in someone's life. Weddings across the world have seen major changes in trends, celebration styles, decors, etc. Being the biggest multicultural hub in the world, you will come across diversified cultural marriages in India filled with astonishing, extravagant and rich traditions, ethnicities and religions. From varying marriage vows and protocols to a variety of food, Indians don't really mess around when it comes to their weddings. Being a wedding planner is a perfect career choice if you love planning and hosting parties and are passionate about weddings! This blog brings you a detailed guide on how to become a wedding planner from the wedding planning courses to the skills you need to master!
What does a Wedding Planner Do?
Wedding planners have been considered to carry out the aesthetic task of organizing the decorum of a person's wedding. Being a wedding planner includes wearing many hats. They help the couple and their family stay stress-free amidst all the lunacy of the marriage and make the event impeccable for the guest the couple and their family. They basically run the show by considering all the desires and needs of the couple and their family and keeping the guests entertained. They bring life to the wedding by perfectly arranging the seating, flowers, photography, carters, music, etc. They also tackle last-minute problems and errors by coming up with solutions to save the day.
Skills Required
Without a doubt, The marriage institution in India is profitable and is burgeoning. However, to avail its monetary benefits, you need to possess strong qualities to stand out. Apart from having excellent communication and customer service skills, you need to be master the following skills:
Organizational and Managerial Skills
Preparing Budgets
Negotiating with people
Strong patience and being calm
Knowledge of religions and their marriage traditions.
Time Management
Critically Solving Problems
Networking Skills
Attention to detail
A good eye for details and aesthetics
How to Become a Wedding Planner?
While there is no fixed path you can follow for this career, there are certain benchmarks and milestones you can set for yourself to become a successful wedding planner! Here is a step-by-step guide to becoming a wedding planner:
1. Start with Writing Down Your Career Goals
Since the career path of a wedding planner is more of a simpler yet complicated one, you need to first clear out your career goals which include knowing whether you want to start your own company, work under someone, type of wedding you wish to organize and so on. Having a clear sight of your career aspirations will help you find the right training programmes as well as capture the best professional opportunities.
2. Enroll for a Wedding Planning Diploma or Degree
Getting the required knowledge and skills needed in this specialisation of event management is essential to follow the career path of a wedding planner. Here are the top Wedding planning courses:
Diploma in Wedding Planning
ICI Diploma in Wedding Planner
Certificate Course in Wedding Planning
Diploma in Special Event Planning
Bachelor's in Event Management
MBA in Event Management
3. Pursue Internship Programs
Whether you are pursuing a diploma or degree in Wedding Planning or Event Management, exploring internships and training opportunities at a reputed organization or with famous wedding planners will prove to be extremely beneficial to expand your network as well as earn the much-needed experience.
4. Start as a Party Planner and Organizer
The best way to brush up your knowledge and skills required in Wedding Planning is to begin as a party planner or organize for the birthdays, anniversary parties and even assist in planning weddings for your friends and family. This will help you build a strong network and you will also get popular in your social circle along with building contacts with vendors that were involved. It will also familiarize you with the process before actually applying it at a bigger level.
5. Explore Suitable Opportunities or Build Your Own Venture
Once you have earned a diploma or gained enough experience as an assistant for wedding planners or in event management, you can explore many lucrative opportunities in this field. You can work with wedding planning companies and then build stronger networks and connections to start your own venture!
Popular Universities
There are numerous universities around the world which offer professional diplomas and degrees in event management or hospitality courses. The academic training to become a wedding planner includes event promotions, food catering for events, history, culture, etc. Here are the top universities you must consider for event management and wedding planning courses:
Ferris State University
Carver Career Center Charleston
Atlanta Technical College
Madison Area Technical College
Fox Valley Technical College
College of the Ozarks
Career Scope & Salary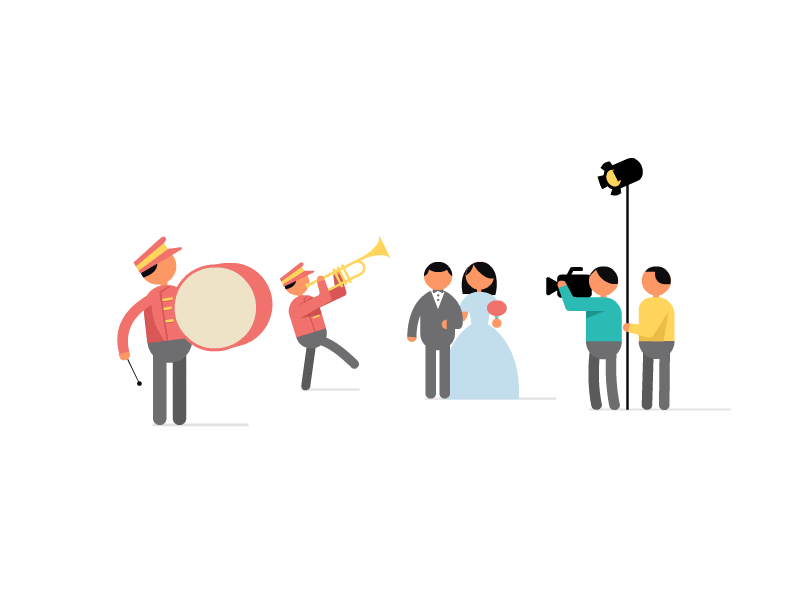 Event Management as a career is filled with lucrative opportunities as well as high commissions. Some employers pay a commission of the total profit while others have a fixed salary allotted for each position. The pay scale varies according to your experience, position, and type of company. On average, the highest that wedding organizers earn is about $75,000 (54,93,240 INR) along with bonus and profit-sharing. The salary of a self-employed wedding planner depends upon the client's deal. Larger the deal, greater the money. Owning your business involves a lot of responsibility, but as you get recognized and build expertise, you can aim for better earning.
Hope this blog helped you understand the intricacies of how to become a wedding planner. If you want to pursue a career in event management and don't know where to start, our experts at Leverage Edu are here to guide you in finding the right course and university and building a career map to help you actualise your professional goals! Sign up for a free session with us today!