Students get excited whenever they get selected for their dream University. It is the beginning of a study-abroad journey. Most international students plan for their essentials like the cost of living, accommodations, and travel expenses but another important aspect can be finding good restaurants near your University as food is a necessity to survive. Today we are going to take a look at the best restaurants near Curtin University. So continue reading to know more about it.
Must Read: Study in Australia: 2023 Aspirants Guide
About Curtin University
Curtin University is one of the reputed Universities in Australia that has campuses all over the world. Some of the leading campuses are in Australia, Malaysia, Singapore, and Dubai. The University is known for providing quality education and research opportunities to its students in various fields such as engineering, arts and business.
Curtin University was established in 1966 as the Western Australian Institute of Technology and later it was renamed Curtin University of Technology in 1987. The University also has a strong global presence and is currently ranked #183 in the QS World Ranking 2024.
Overall the University has a 50% acceptance rate with a decent student-teacher ratio of 33:1.
Also, Read- Best Restaurants Near RMIT University
Best Restaurants Near Curtin University
We understood that Curtin University is one of the finest Universities in the World but when it comes to finding good restaurants, Curtin University, Australia has numerous options for different cuisines at affordable rates. Let's take a look at them below:
Bentley Pines Restaurant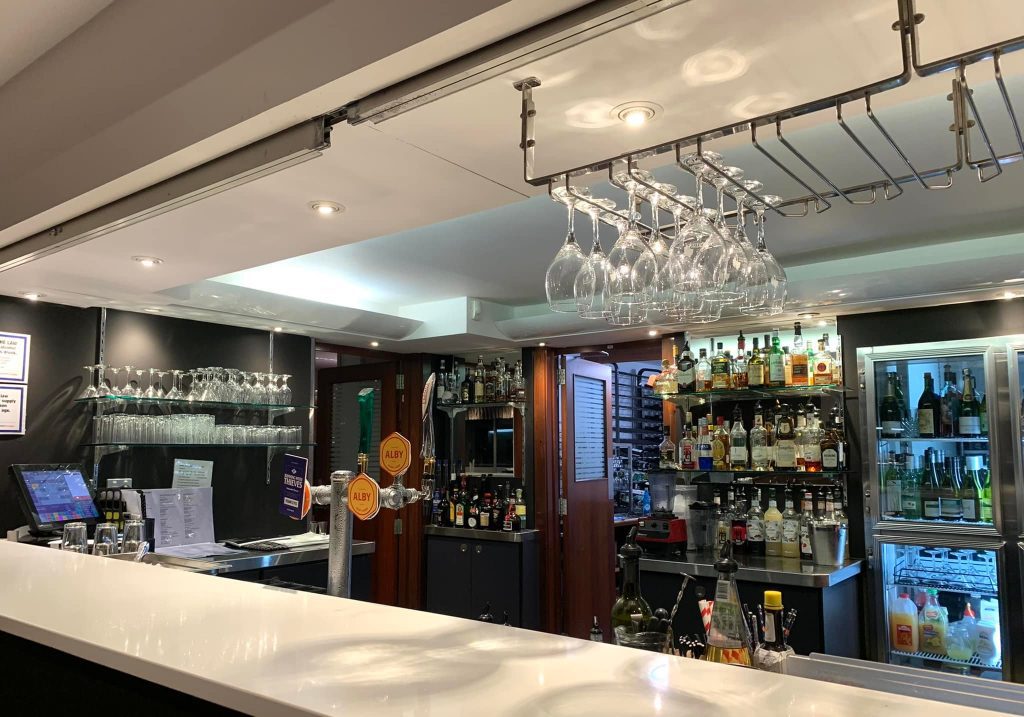 Bentley Pines Restaurant is located on-site at the Bentley campus of Curtin University. This is the best option for the hospitality students of the university as it has a live, interactive training environment. Throughout the semester, the restaurant offers a wide range of dining experiences from a casual bistro lunch to an extravagant five-course dinner. The best thing about this restaurant is that the menu changes every semester and features different cuisines and themes.
| | |
| --- | --- |
| Address | Hayman Road, Bentley, Canning, Western Australia Australia |
| Contact | +61 8 9267 7219 |
Jay's Masala Junction
Coming to a different nation you might be missing the taste of your Indian food. Jay's Masala Junction is exactly the place you should visit at least once if you miss the taste of Indian food. This is a popular Indian restaurant located on Etwell Street which is about 2 km from Curtin University. As it offers authentic Indian cuisine you can find various famous Indian dishes such as curries, tandoori dishes, biryanis, naan and so on. Additionally, there are also vegan and gluten-free options.
| | |
| --- | --- |
| Address | 64B Etwell St, East Victoria Park WA 6101, Australia |
| Contact | +61 1300 508 822 |
George's Kebabs
In case you are looking for an affordable restaurant on the campus of Curtin University then George's Kebab can be worth checking out. This place prioritises using fresh ingredients and provides a large variety of dishes apart from kebabs such as burgers, salads, and chips with different options of sauces and toppings to choose from. You can also get a wide range of meat like chicken, lamb, beef and even vegetarian options too. The kebabs are famous for being juicy and flavourful.
| | |
| --- | --- |
| Address | Curtin University, Kent St, Bentley WA 6102, Australia |
| Contact | N/A |
Relevant Read: Top-Ranked Universities in Australia
Varsity – Waterford
If you want to enjoy an American-style restaurant with attentive staff at affordable rates then Varsity – Waterford is the way to go for. It is an American-style sports bar and grill located at Waterford Shopping Centre. This distance from Curtin University is about 0.7 km. It offers various kinds of foods such as burgers, wings, salads and wraps. As it is a restaurant cum bar you can have various drink options like milkshakes, cocktails and beers. The restaurant has a lively vibe with TVs showing sports games.
| | |
| --- | --- |
| Address | 55/230 Manning Rd, Karawara WA 6152, Australia |
| Contact | +61 8 6149 6633 |
Bravo's Restaurant
Bravo's Restaurant is claimed to be one of the best Italian restaurants in Perth which is located on Albany Highway, about 2.4 km from Curtin University. The restaurant offers authentic Italian dishes made with fresh ingredients, a balance of spices and then cooked to perfection. The menu includes all types of Italian dishes such as pizza, pasta and risotto. You can also get different types of seafood, meat, salads and desserts. Overall, the restaurant cosy and elegant atmosphere with soft lighting and music.
| | |
| --- | --- |
| Address | 933 Albany Hwy, East Victoria Park WA 6101, Australia |
| Contact | +61 8 9361 6055 |
Relevant Read- 100 Interesting Facts about Australia That Will Amaze You!
FAQs
Q1. Which are the top places to visit near Curtin University?
Ans. Besides eating at the restaurants near Curtin University, there are some places you can visit which are as follows:
John Curtin Gallery
Bentley Technology Park
Canning River Regional Park
Q2. Which are some of the vegan restaurants near Curtin University?
Ans. Here are some of the vegan restaurants near Curtin University:
Veggie Mama
Paws Restaurant 
Veggie Hunt
Q3. What is the average tuition fee of Curtin University?
Ans. The average tuition fee of Curtin University for international students is AUD 39,200 (INR 22 Lakh).
This was all the details related to Best Restaurants near Curtin University. If you are planning to study in Australia, don't forget to reach us at 1800 57 2000 and contact our Leverage Edu experts to make your study abroad process hassle-free.