For an ailing patient, blood is nothing less than red gold. Access to blood can be a matter of life or death for people who have faced an accident leading to excessive blood loss or require it for their medical treatment. The noble act of blood donation can save lives. Hence, it is a practice that organisations worldwide spread awareness about, and people are encouraged to step forward to become donors as a sign of humanity. World Blood Donor Day is amongst the important international days celebrated worldwide on 14th June.
World Blood Donor Day
To raise awareness about this life-saving procedure, we observe World Blood Donor Day on 14th June every year. The day is marked to promote blood donation and urges people to save lives by donating blood. The event serves to create awareness of the necessity for safe blood and blood products and thank voluntary, unpaid blood donors for life-savers.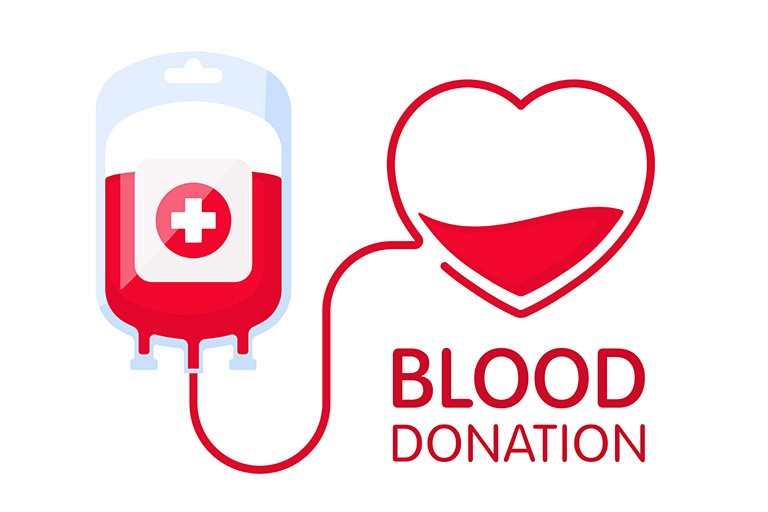 The World Blood Donor Day was organised for the first time in 2005. It is the joint initiative of the World Health Organization, the International Federation of Red Cross and Red Crescent Societies and is one of the 11 official global public health campaigns marked by the World Health Organisation.
History of World Blood Donor Day
World Blood Donor Day is celebrated on the birth anniversary of Karl Landsteiner, who was born on 14 June 1868. Landsteiner was an Austrian biologist, physician, and immunologist. He was awarded the Nobel Prize in 1930 for his discovery of the ABO blood group system, the modern system of classification of blood groups. This discovery enabled physicians to conduct blood transfusion without risking the life of the patient.
Criteria for Blood Donation
There are specific criteria one must fulfil to donate blood that not everyone is aware of. Organisations are invigorated to start a conversation about these matters while promoting World Blood Donor Day. Most importantly, the WHO organises a campaign that invites people to donate blood on this day.
| | | |
| --- | --- | --- |
| Blood Type | Can Donate Red Blood Cells To | Can Receive Red Blood Cells From |
| O | O, A, B, AB | O, O- |
| O- | Everyone | O- |
| A | A, AB | A, A-, O, O- |
| A- | A, A-, AB, AB- | A-, O- |
| B | B, AB | B, B-, O, O- |
| B- | B, B-, AB, AB- | B-, O- |
| AB | AB | Everyone |
| AB- | AB, AB- | AB-, A-, B-, O- |
Past Themes of World Blood Donor Day
Here is a list of past themes for World Blood Donor Day for the last decade:
2021: "Give blood and keep the world-beating."
The campaign's focus highlights the contribution blood donors make by saving lives and improving others' health. It reinforces the call for more people worldwide to donate blood regularly.
A special highlight of this year's campaign will be the essential role of the youth in corroborating a safe blood supply.
2020: Safe Blood Saves Lives
World Blood Donor Day 2020 centred around the theme, 'Safe Blood Saves Lives'. The slogan was 'Give Blood And Make The World A Healthier Place'. WHO announced a virtual rally for the Covid-19 pandemic.
2019: Safe Blood for All
The campaign expressed gratitude towards voluntary, unpaid blood donors. It aimed to spread awareness about regular blood donations. Attention to this shall ensure access to affordable and timely blood and blood products, a key component of effective health systems.
Transfusion of blood and blood products can help save lives every year. It can help patients suffering from life-threatening conditions live longer, have a higher quality of life, and support complex medical and surgical procedures.
2017: Give Blood. Give Now. Give Often
The theme for World Blood Donor Day in 2017 focused on blood donation in emergencies. The concept behind this slogan was: the first response when an emergency happens is "What Can You Do?" "Give Blood. Give Now. Give Often" is the only answer.
2016: Blood connects us all
The theme of this World Blood Donor Day, 'Blood connects us all,' highlights the notions of sharing and connecting amongst blood donors and patients. The WBDD 2016 focused on expressing gratitude towards blood donors while emphasising the role of voluntary donation. The host country was The Netherlands. King Williem-Alexander, the king of the Netherlands, inaugurated the ceremony by thanking donors.
2015: Thank you for saving my life
The slogan of this year was "Give freely, give often". The campaign paid attention to stories from people whose lives were saved through blood donation. Activities included significant events, publications of anecdotes and journals, scientific conferences, and other activities that would help in encouraging the title of this year's World Blood Donor Day. China was the host country for World Blood Donor Day 2015 through the Shanghai Blood Centre.
2014: Safe blood for saving mothers
The centre of the WBDD 2014 campaign was "Safe blood for saving mothers". The campaign's objective was to raise awareness about why timely access to safe blood is a crucial part of a comprehensive approach to preventing maternal deaths. The host for the event was Sri Lanka.
2013: Give the gift of life: donate blood
Blood donation is a gift that saves lives. The WHO encouraged all countries to highlight anecdotes of people whose lives have been saved through blood donation. This campaign aimed to motivate regular blood donors to continue giving blood and inspire people in good health who have never given blood.
France was the host country for World Blood Donor Day 2013. Through the Etablissement Français du Sang (EFS), its national blood service, the nation has been promoting voluntary blood donation since the 1950s.
2012: Every blood donor is a hero
As we can see, World Blood Donor Day and the noble act of humanity it stands for is undoubtedly an essential mark on our calendars. Awareness around blood donation can save thousands of lives annually lost due to the dire blood and blood products shortage. Blood donors are the real-life heroes of humanity.
Benefits of Blood Donation
As we all can understand by now, blood donation is beneficial. A person might require blood for various reasons. The blood that we donate makes a difference. It enhances the health condition of people in need of it and can make them overcome their critical situation.
Blood donation does not only help that particular person but also contributes to a responsible gesture towards society. It also revitalises the health of the donor. The cell depletion allows a way for the production of new cells that freshen our body system.
Blood donation makes the functioning of blood banks easier. It stabilises blood collection, which helps other people get blood urgently instead of searching for a donor. There is a shortage of supply in blood banks compared to the heavy demand, so more and more people are required to donate to help save lives in need.
Here are the important facts you must know about for blood donation:
One in 7 people entering a hospital needs blood.
The average red blood cell transfusion is 3 pints (or three whole-blood donations).
It takes our body 48 hours to replenish plasma and up to 8 weeks to replace the red blood cells.
More than 1 million people are annually diagnosed with cancer for the first time. Several of them will need blood, sometimes every day, in the process of chemotherapy.
More than 38,000 blood donations are required every day.
Type O-negative is rare and faces short supply issues.
Type AB plasma faces short supply too. It can be transfused to patients with all other blood types.
While 38% of the population of the U.S. is eligible to give blood, only 10% donate annually.
In 2017, close to 8 million people donated blood in the U.S. In the same year, people donated 12.2 million units of blood, according to AABB reports.
In India, the count of voluntary blood donors progressed from 54.4% in 2006–2007 to 83.1% in 2011–2012, with the number of blood units rising from 4.4 million units in 2006–2007 to 9.3 million units in 2012–2013.
In 2016, the Ministry of Health and Family Welfare, India, reported a donation of 10.9 million blood units versus a demand of 12 million units.
While our country fights the second wave of the COVID-19 pandemic, there are several pieces instances that have promoted blood donation initiatives:
College students in Chennai use Tinder, and other social media apps for blood donation drives during the pandemic.
Goa's nightlife fraternity and Covid Care Goa and Lourdes Soares from Sabrcare Trust organised a blood donation camp held at Panjim Convention Centre, Goa. There were 30 blood donors from the area who donated blood in the centre.
Nirmal Chhetri, the ex-India defender, organised a blood donation drive in his hometown, Sikkim, through his local football club FC Melli.
India's blood banks could face a supply crisis, with thousands of people getting vaccinated against COVID-19 from May 1 as The National Blood Transfusion Council (NBTC) said blood banks shouldn't receive from people within 28 days either dose of the vaccine.
When is World Blood Donor Day 2022?
The 14th of June is World Blood Donor Day. Blood donation is beneficial to the health business in many ways, not simply for transfusion purposes.
Why World Blood Donor Day is Important
It saves lives
Before blood transfusions were a standard medical procedure, people died all the time due to a lack of blood. Blood donations are used to help with a broad range of medical requirements, from routine operations to emergency surgery. Blood transfusions are a crucial element of cancer patients' or pregnant women's treatment plans, as well as critical in the event of disasters or vehicle accidents.
There's always a need for more blood donations
Donating blood is a simple, painless, and extremely safe procedure, yet only a small percentage of the population donates blood on a regular basis. Only around 10% of those who are rated "eligible" for blood donation choose to do so. Because blood donation is a completely voluntary activity, World Blood Donor Day serves as a timely reminder that "too much blood donation" is never a good thing. Every two seconds, someone in the United States requires blood!
It's a global issue
Every country on the planet, obviously, needs a sufficient blood supply. Many wealthy countries can currently satisfy 100% of their blood supply demands with voluntary, unpaid blood donations. However, in impoverished countries, locating volunteers and ensuring that the blood is safe is still a challenge, and people are sometimes forced to rely on family or paid donations. The WHO is working hard to ensure that blood donations will be fully unpaid and voluntary in the near future all across the world.
Why Blood Donor Day is on June 14th?
Nobel Laureate Karl Landsteiner was born on this day, hence it was chosen as the holiday's date. A blood transfer would not be feasible today without his knowledge. He is a scientist who identified human blood types, which led to the widespread use of blood transfusions.
Also Read
That's all about World Blood Donor Day. We hope this blog motivates you to donate blood for those who need and help save many lives. For more such informative content, follow Leverage Edu.