Do you strive for a career that can create a positive impact on the world? Climate change, global warming is not just a national issue but an international concern.  Green jobs are part of the solution to the fight towards climate change. These jobs aim to preserve the environment by practicing production and other works with sustainable means. As this field is expanding, these jobs can fit best for your motive to do something positive for nature. Let's explore everything you need to know about green jobs.
What are Green Jobs?
Unlike traditional jobs, these jobs are created to help restore or preserve nature. Various sectors, such as agriculture, manufacturing, and construction have resulted in polluting the environment. The motive of green jobs is to undo it by using sustainable development. The sectors are now utilizing renewable sources of energy and converting normal jobs into green jobs.
Also Read: Top 15 Highest Salary Jobs for Commerce Students
Importance
According to the United Nations Environment Programme (UNEP) green jobs are defined as "positions in agriculture, manufacturing, R&D, administrative, and service activities aimed at substantially preserving or restoring environmental quality". This implies that environmental jobs are aimed to protecting and promoting environment and minimize the impact of various entities on the health of the Earth. Green jobs make a huge contribution in sectors like energy, agriculture, design, tourism and transport.
How Can You Get a Green Job?
There is no specific qualification for these jobs. Some of the popular courses that will help you get a green job are mentioned below:
Zoology
Conservation Science
Sustainability Management
Environmental Engineering
How are Green Jobs Different from Usual Jobs?
There is a major difference between green jobs and usual jobs. Usual jobs use natural resources without realizing their impacts and are focused on generating profit. They both have different motives and use different means to fulfill the motives. Let's have a look at the differences in detail:
Usual jobs have the sole motive of making a profit by utilizing the available resources. They do not consider the other elements. The usual jobs operate to make and increase the profit, without considering much about it's effect on the environment. However, green jobs' motive is to preserve and restore nature.
The usual jobs use all the natural resources without realizing the impact they leave on future generations. Green jobs make sure that you do not produce anything at the expense of depleting natural resources. When you are doing a green job, you have to be careful about using natural resources wisely and efficiently. The harsh production process to meet the demand of people has led to the depletion of various natural resources. It uses alternative and renewable sources of energy to help in preserving and restoring nature.
The workforce in usual jobs is not trained to use the resources efficiently. The labor is taught traditional ways for the production that is not at all suitable for sustaining the environment. Green jobs include people or labour having extensive knowledge about preserving the environment
Why are Green Jobs in Demand?
Today, the world is facing a high production demand to meet the needs of people. This has made various natural resources either go extinct or become endangered. They have the aim of stopping the over-utilization of natural resources. By using alternative or conventional means they produce the products by efficiently utilizing the natural resources. Most of the new businesses have created the opportunity for these jobs to build a better future. The various reasons for its demand are:
Use resources effectively to improve the energy
Limiting emissions of greenhouse gases
Reducing pollution and wastage of natural resources
Restoring and preserving the ecosystem
Adapting to the climate change
Also Read: Visa Sponsorship Jobs in UK
Skill Requirements
Wondering if you are the right fit for green jobs? There are two categories of skills that are required for green jobs: technical and soft skills. Let's explore the skills required for these jobs:
Technical Skills
Understanding of the environmental social, economic issues to design effective policies
Understand environmental regulations, schemes
Energy efficiency analysis
Passive design & RE in buildings
Recycled materials techniques
Water conservation techniques
Insulation techniques
Solar PV and thermal systems installation and maintenance
Soft Skills
Leadership
Teamwork
Risk management
Analytical skills
Marketing skills
Communication
Environmental awareness
List of Popular Jobs
The scope of green jobs is increasing with time. Here is a list of popular jobs that you consider: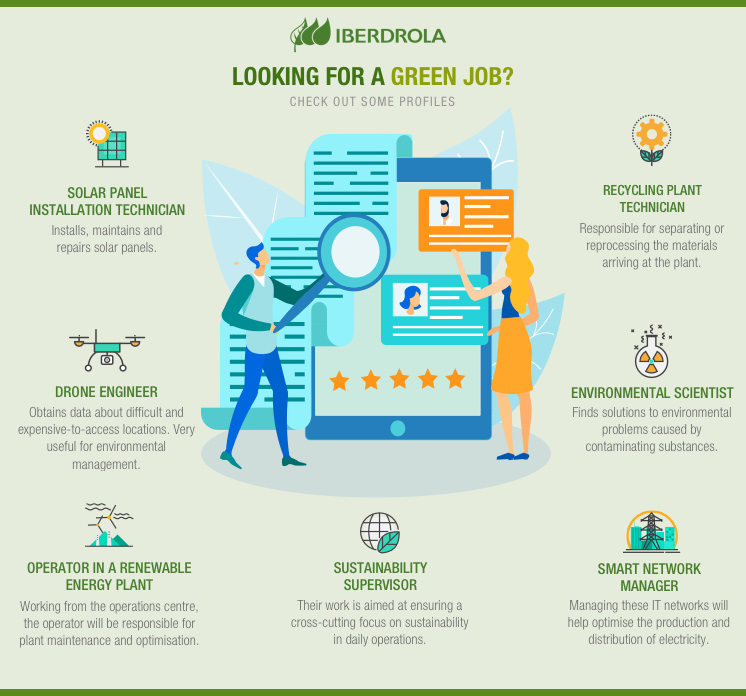 Agricultural Scientist
Ecologist
Environmental Scientist
Environmental Health Officer
Green Building Designers
Environmental Manager
Recycling Worker
Environmental Consultant
Renewable Energy Engineer
Environmental Engineer
Solar Photovoltaic (PV) Installers
Forestry Manager / Forester
Conservation Officer
Urban Grower / Urban Farmer
Climate Change Scientist
Water Quality Scientist
Electric Car Engineer
Wind Energy Technician
Also Read: Digital Marketing Jobs for Freshers
Benefits of Green Jobs
The following are the benefits of green jobs:
It allows and increases efficient consumption of energy and raw material
It limits and reduces the greenhouse emission
Another huge benefit is that it reduces waste and contamination
Opportunity to restore ecosystem and biodiversity
Adds value to the adaption to climate change
We hope that this helped you in acquiring the essential details related to Green jobs. Planning to study abroad, Our Leverage Edu counsellors and experts will guide you through the process. Call today for a free 30- minute session.