The teeming capital city of Ireland, Dublin is a unique combination of historic marvels and a modern aura that makes it a perfect study destination. With economical study costs and housing the world's top academic institutions, opting Dublin for higher studies is filled with numerous advantages and perks. Four universities in Dublin out of 8 Irish academic institutions have secured a position in the QS World University Rankings 2022. If you are planning to pursue a degree program in the heart of Ireland, then you have definitely come to the right place. Through this blog, we aim to provide you with a list of renowned universities in Dublin as well as their offered courses that you can choose from.
Universities in Dublin: QS and Irish Rankings 2022
Dublin has a vibrant city atmosphere coupled with warm and welcoming locals, scenic landscapes and world-renowned institutions. Some of the major higher education institutions in Dublin are elucidated in the following table. Read on for a closer look at the country's top eight universities with their QS and Irish rankings 2022:
Trinity College Dublin
Founded in 1592, Trinity College Dublin is a public university which is home to over 17,000 from 122 countries. The library of Trinity College is the largest research library in Ireland which consists of 5 million books, thousands of manuscripts and collection of maps and printed music. Moreover, the university offers several scholarships to students from every discipline such as Go Clean Scholarship, Global Study Awards, BrokerFish International Student Scholarship, amongst others. Some of the courses offered here are as follows:
University College Dublin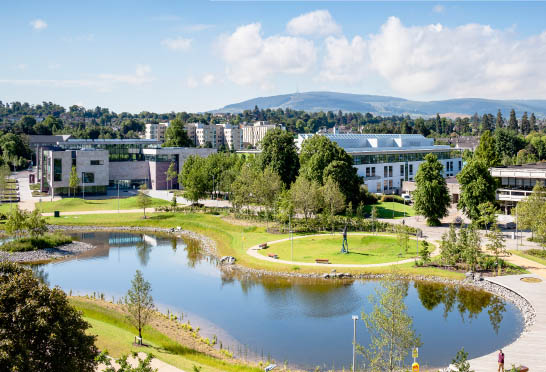 University College Dublin (UCD), incorporated in 1854, is a public research university and one of the largest international universities in Ireland. As per QS World University Graduate Employability Rankings for 2018, 2019, 2020 and 2021 UCD has been consistently ranked at the first position in Ireland. Further, it has partnered with around 400 institutions around the world for student exchange programs and is renowned for its research-intensive master's degree programs offered in almost every field of study. Some of the popular courses provided by University College Dublin include:
Also Read: Types of Civil Engineering
Dublin City University
Founded in 1869, Dublin City University is a public university that offers more than 200 programmes at undergraduate, postgraduate and doctorate level in Science and Health, Business, Humanities and Social Sciences, etc. Presently, it is home to 16,000 students from across the globe and has over 150 clubs and societies situated on the premises. Breaking away from the traditional system of education in Ireland, the university has introduced revolutionary approaches with a unique emphasis on entrepreneurship. It has emerged as one of the leading universities in Dublin and some of its popular courses offered by DCU include,
Dublin Institute of Technology
Dublin Institute of Technology, incorporated in 1887, is a public university situated in Dublin, Ireland. This technical institute offers undergraduate and masters program in arts, business, science and technology. It essentially emphasizes student-centred learning, critical enquiry, encouragement for entrepreneurship, amongst others. DIT currently houses 20,000 students and 2,000 faculty members and 25% of the student population comprises of those from outside Ireland. It is another crucial mention in our list of top universities in Dublin and some of the key courses offered by DIT are:
Griffith College
Established in 1974 and amongst the largest colleges in Ireland, Griffith College is an independent private institution that offers academic and professional programmes, full and part-time, short-term and distance courses. Since its establishment, this college has remained as a Centre of Excellence in Ireland and that's why it is an essential feature in our list of universities in Dublin. Some of the famously pursued courses offered by Griffith college are:
Also Read: Masters in Marketing Management
Dublin Business School
Founded in 1975, Dublin Business School (DBS) is a private college and is one of the leading independent institutes in the city offering quality business and law education. It also offers plentiful programs in Media, Arts, Humanities, Psychology and Social Sciences. Amongst the top business schools and universities in Ireland, DBS provides over 100 accredited programs and is home to more than 9,000 students. Some of the major courses provided by Dublin Business School are:
Universities in Dublin: MBA
The table given below depicts Global MBA courses some of the top-ranked institutes in Dublin, Ireland:
Universities in Dublin: MBBS
The chart below presents MBBS courses and some of the top-level Institutes in Dublin, Ireland:
Universities in Dublin: MSc
The information listed down represents MS courses & some of the top-level Institutes in Dublin, Ireland:
Universities in Dublin: PhD
Let's now look at the Ph.D. courses and the best universities for the same in Dublin, Ireland:
Thus, there are numerous universities in Dublin that offer quality degree and diploma programs to those wanting to study in the land of intellectuals! If you are planning to study in Ireland, consult our experienced counsellors at Leverage Edu and we'll help you find a suitable course and university as well as throughout the admission procedure to ensure that you get successfully shortlisted.