Owing to the great quality of education and the reputation, many international students choose Germany for higher education. The country also provides an affordable cost of studying and various other facilities. However, studying in Germany comes with a few do's and don'ts in Germany for international students. This blog brings you all the things you should never do in Germany.
Don't Disrespect their Food and Culture
Germany has a lot when it comes to food and diversity in culture. If you want to have fun in Germany during the tenure of your degree, it is important to have fun and take part in their celebrations and holidays such as Oktoberfest, Karneval, etc. Germans are known for their love of beer and partying. They are also known for their foods like different types of bread and cheese, cakes and cookies, and bratwurst! Hence, do not disrespect their food or culture just because it's different from yours.
Also Read: Part time jobs in Germany
Don't Believe in the Stereotypes
Germans are mostly stereotyped for being rude or harsh with other people. But in reality, most Germans take a while to get to know you, they don't beat around the bush and they take some time to get friendly enough to give you a hug every time they see you. So, do not fall for the stereotypes and give them time to become acquainted.
Never be Late Anywhere
Germans see lateness as a rude and insulting act so keep this point in mind among the things you should never do in Germany. If you're running late, you should send the person you're meeting a text or give them a call to explain. If you don't and proceed to show up late without good reason then it can cause a problem.
Check out the Free Universities in Germany
Don't Take your Education for Granted
In most countries, the universities think that it is their responsibility to make sure that you complete your graduation. But in German Universities, it is not the case. If you do not show up for classes or submit your work on time, they will not inquire about your absence. It would be great for you if you do not take your education for granted.
Never Forget to Carry Cash
While countries like Sweden might not be far off from becoming cashless societies, Germans still prefer good old-fashioned cash payments. Germany's decline to paying by plastic is widespread so don't assume that everywhere credit/debit cards will be accepted. In fact, assume the opposite or risk running to an ATM every time the check comes.
Don't Jaywalk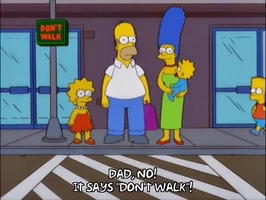 If you walk around cities in Germany, you'll notice that most pedestrians wait patiently for the traffic lights to turn green even if there are no cars on the road. Crossing the road at a red light can cost you a €5 fine and angry remarks by other pedestrians who don't hesitate to educate you on the traffic rules.
Never Show the Nazi Salute
The most important point among the things you should never do in Germany is never showing the Nazi salute. Showing the Nazi salute, or any other Nazi symbol, flag, or slogan is prohibited. It's not only considered offensive but it is illegal. Any violation of these rules can result in fines and up to five years in prison if you're caught by police.
Also Read: Free Education In Germany
Don't Work Under the Table
If you are a student in Germany, you are allowed to work but will limit the number of hours you are allowed to work which will be mentioned in your visa. You are allowed to work 20 hours a week when the semester is in session. Do not work more than that or under the table because if the government or your University finds out, you will be banned from the country.
Don't Throw your Water Bottle in the Dustbin
The next point to note among the things you should never do in Germany is, don't throw your water bottle in the bin. When you purchase a water bottle in Germany you are charged 25 cents more than the rate mentioned on the water bottle. You will get your 25 cents back if you return the empty bottle to the shop. This is done to make sure that you return the bottle for recycling purposes.
Related Reads: Study in Germany without IELTS
Don't Enter a Local's Home with your Shoes on
If you have been invited to the house of a local, then make sure it is okay to enter with your shoes on. Most Germans automatically take their shoes off at the entrance before entering the house. So, you should also do the same if you are visiting a friend or family.
Stick to the rules and have an amazing experience studying in Germany. If you are interested in higher studies in Germany and don't know which program to opt for or where to begin your application, reach out to our Leverage Edu experts and counsellors and we will guide you at every step of the way from finding the right course as well as university to kickstarting the admission process and ensuring that you get successfully shortlisted.