The northern part of Europe has beautiful landscapes and spectacular scenery for you to discover! The Nordic (Norden meaning "the north") countries include Denmark, Finland, Iceland, Norway, and Sweden, and are home to the 'Vikings' and 'Game of Thrones'. These Scandinavian nations attract a large number of foreign students each year because of their ancient culture, attractive environment, and high-quality education. The countries have a stellar track record in terms of citizen well-being, safety, and equality. So, if Northern Europe has piqued your interest and you want to continue your higher education there, read on to learn about the top reasons to study in Nordic countries.
Where are the Nordic Countries?
Before digging deep into why one should study in Nordic countries, let's first explore these countries on the world map. The Nordic countries are a group of northern European countries that include Denmark, Sweden, Norway, Finland, and Iceland. Greenland and the Faroe Islands are also included, despite the fact that they are self-governing yet officially part of the Kingdom of Denmark. These countries have a common history and culture, and they work together politically through the Nordic Council. There is some overlap with the Scandinavian area, which includes Denmark, Norway, and Sweden.
Why Study in Nordic Countries?
Now that we are well acquainted with the geographical location of the Nordic countries, let's find out and discuss the top reasons to study in Nordic countries:
Home to the World's Top Universities
The universities in Nordic countries are regarded as few of the most innovative, interactive, and sought-after destinations for studying in Europe. The universities provide intense and high-class study programs for both graduates and undergraduates. International students can explore a wide range of English-taught programs at the undergraduate, postgraduate and doctoral level and further explore global research opportunities as well! The Universities mend and amend their own structure and freely designs their own curriculum tailored for reaping out best results. Thus, quality education and top-ranked universities truly make it all worth studying in Nordic countries! Here are the top 20 Universities to study in the Nordic countries:
Free Education!
No tuition fees! I repeat no tuition fees! One of the best perks of choosing to study in Nordic countries is that you can possibly avail yourself of the golden opportunity to get free education or programs at very affordable tuition fees. Almost all public universities have low tuition fees for undergraduate study programs for both citizens as well as international students. For international students from around the world, Norway offers free education for select programs while you can opt for tuition-free doctorate degrees in Finland. When it comes to EU/EEA, Swiss nationals and international students opting for an exchange program, the Nordic countries offer free education with minimal administrative expenses.
Excellent Teaching
Along with prestigious universities, Nordic countries are globally acclaimed for teaching and academic excellence. Amongst the best education systems in the world, Nordic countries emphasise a unique approach to education which inculcates skills of independent and practical thinking. If you are planning to study in Nordic countries, you can take advantage of the best infrastructure and learning curriculum and the Faculty in the Nordic universities are internationally renowned and foster the holistic development of each and every student. The universities are well-equipped with the latest technologies and state-of-the-art infrastructure as well as excellent research prospects. These reasons have added to the competition of nordic universities among other institutions in Europe. The universities also have a strong network of alumni and also has tie-ups with many industries for students to build their connections. A few popular courses at the Nordic Universities are:
Business Management
Engineering and Technology
English Literature
IT
Ease of Living
The cost of living in Nordic countries is much lesser than in other western countries depending on where you reside. With approx 70,000 INR per month (rough estimate) which is inclusive of accommodation, groceries, transport, study materials and miscellaneous. The famous shivery climate and midnight sun is prominent in all Nordic countries throughout the year. The student life in these Nordic countries is exciting and filled with adventurous activities from skiing to golfing and lively locals will surely help you settle down and make you feel right at home there!
High-Quality Lifestyle
All Nordic countries regularly rank high in terms of quality of life and development, providing great healthcare, material well-being, and political freedom. You must not be knowing that Nordic countries are always on top of the list of the happiest countries in the world. From 2013 until the present, the 5 Nordic countries— Finland, Denmark, Norway, Sweden, and Iceland – have all been in the top 10 of the World Happiness Report (WHR) yearly list of countries.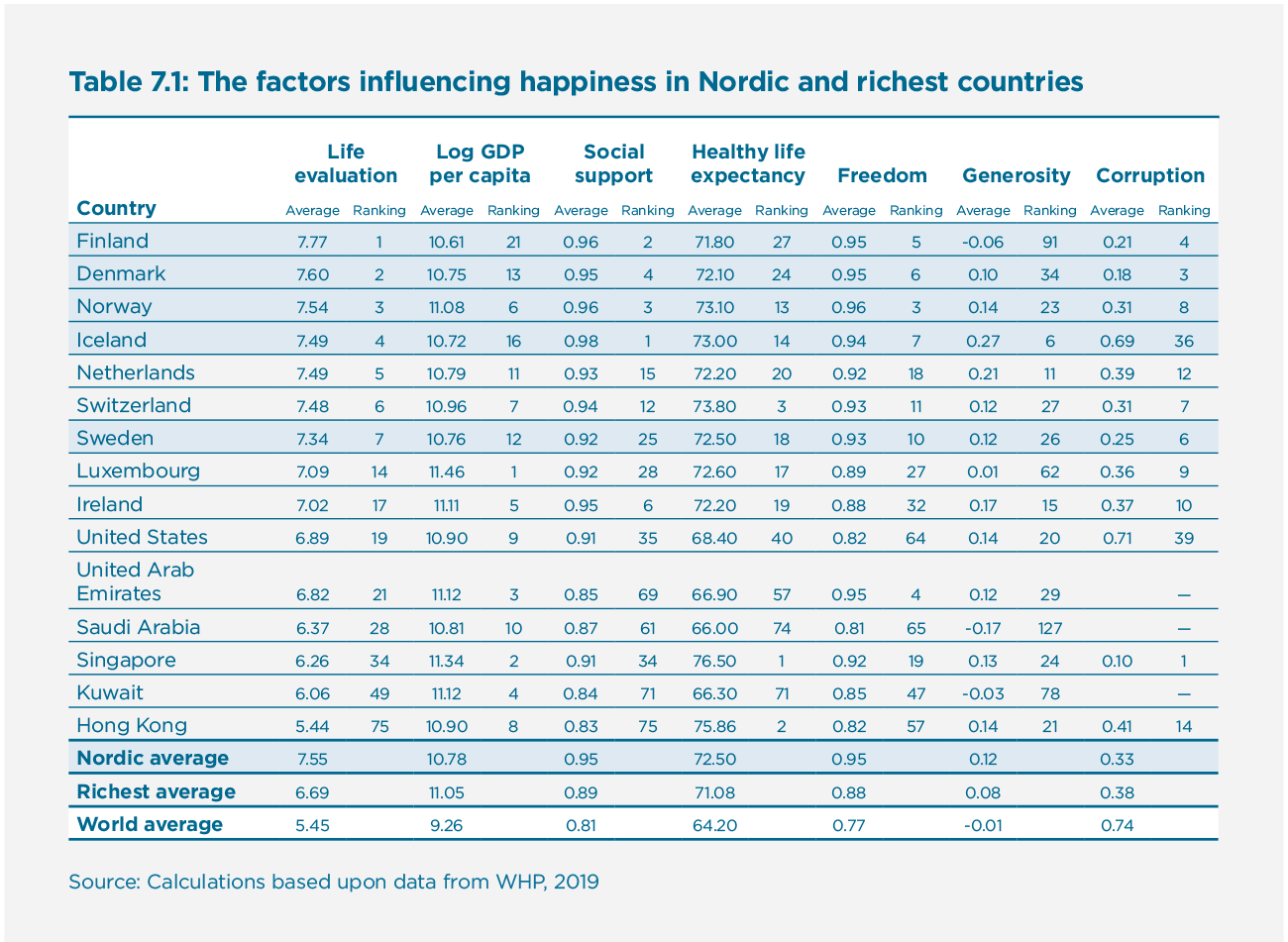 Culture and Values
The Nordics score fairly high on fulfilment and contentment and are always regarded and have been ranked amongst the happiest countries to study abroad. The happy, lively and friendly locals warmheartedly welcome students from around the world and the Nordic life promotes tolerance and equality which also reflects on the gender gap and female empowerment in the countries. The societies in nordic countries are peaceful and safe and have the most cooperative and mindful people thus adding another essential factor you can consider to study in Nordic countries. Having an immensely rich cultural history, Norway has 28 ancient churches with 2 of them being a part of the UNESCO heritage list.
Interesting Fact: People in Iceland do not have proper last names! Their last names are an amalgamation of their father's (or mother's) first name, with the suffix -dóttir (-daughter) or –son.
Beautiful Landmarks
Who wouldn't want to explore the pristine landscapes Northern Europe offers while studying there! The historically glorious and scintillating landmarks in the Nordic countries attract tourists from around the world and have been the setting of many movies and TV series! Despite various people flock to the usual bustling European hubs and metropolitans, Nordic offers people a whole new world of aesthetics. The beauty is beyond praise and the locations could make it your prime reason to study in Nordic countries. A few major landmarks you must explore in Northern Europe are:
Bergen, Norway
Ring Road, Iceland
Copenhagen, Denmark
Tromsø, Norway
Blue Lagoon, Iceland
Reykjavik, Iceland
Gothenburg, Sweden
Many Work Opportunities
International students in Nordic countries are allowed to combine studies with a part-time job for extra monetary relief. More than half of the students choose to opt for a part-time job to earn extra pocket money, explore and gain experience. The work experience will be essential after you complete your studies because it can help you find a job easily if you choose to stay in any Nordic country. Since the universities provide extensive networks and tie-ups with various industries and companies, it is easier for students to explore jobs among the various choices provided. Thus, plentiful work opportunities is also a worthwhile reason to consider while planning to study in Nordic countries. Non-EU students with a student residence permit (student visa) are permitted to work part-time. Countries like Sweden have no restriction on the number of hours you may work, but you must maintain your studies in order to preserve your visa status, therefore you cannot work more than part-time. International students can work no more than 20 hours per week in Norway and Denmark, and 25 hours per week in Finland. If you stay in the country throughout the summer, you can work full-time in Denmark and Finland.
Scholarships
Native students in Nordic countries receive free tuition as well as government scholarships and loans. As a result, scholarships are not as common in this country as they are in many other nations. However, with the introduction of tuition fees for foreign students, the Nordic nations have begun to provide more university-based and merit-based scholarships to overseas students who are eager to study here.
Study in Estonia (BONUS)
You are not alone in asking where Estonia fits into the jigsaw of top reasons to study in Nordic countries. Depending on the criteria, this Northern European country toes the line, and many Estonians consider themselves more Nordic than Baltic. But, whether or not it qualifies to be called a Nordic country, Estonia is one of the world's fastest-growing economies in Europe right now. With an excellent dedication to innovation, the country has plenty of options of its own when it comes to providing foreign students with unique higher education possibilities. Check out more about why study in Estonia here!
FAQs
Is education free in Nordic countries?
All of the Nordic countries – Denmark, Finland, Iceland, Norway, and Sweden – provide free higher education to their residents, and overseas students have had the same opportunity until recently. Tuition fees are not collected from overseas students in countries such as Finland, Norway, and Iceland.
Which is the cheapest Scandinavian country to study?
Here is a small list of the Nordic countries with the lowest tuition costs for foreign students, which will allow them to study here without breaking the bank.
Norway 
Finland 
Denmark 
Sweden 
Iceland
Is English spoken in Nordic countries?
The vast majority of Norwegians or Nordic people speak English also in addition to their native language. The use of English as a medium of communication is generally high. Many university degree programmes and courses are taught in English too.
Is it easy to get PR in Norway?
Although there is a lot of paperwork involved, the procedure is pretty simple. This comprises a National Population Register transcript, job contracts, and tax returns spanning the whole 5 year period, as well as any supporting paperwork, such as a property purchase contract.
Thus, there are innumerable reasons to study in Nordic countries from top-ranked universities to affordable education and exciting and thrilling landscapes and lively locals! Unsure about which university to opt to study in Northern Europe? Our Leverage Edu experts are to provide you with the best guidance on finding the best university as per your interests as well as sorting out the admission process and scholarships to ease your higher education journey abroad! Sign up for a free session with us today!