"I like to wake up each morning and not know what I think, that I may reinvent myself in some way."- Stephen Fry. Despite being an excellent actor and comedian, only a few people would know that Stephen Fry is also a poetry enthusiast. He is renowned as the UK's National Treasure, who has been gracing our screens for over thirty years. Stephen Fry's personal life story has several layers to it. This blog brings you a sneak peek into the life of Stephen Fry!.
Stephen Fry: Early Life and Education
Stephen Fry was born on August 24, 1957, in London, UK to Marianne Eve and Alan Fry, who was a physicist. In his childhood, he lived in Norfolk and went to Uppingham School and Stouts Hill school. A lot of people may not know that Stephen Fry experienced a very disturbed childhood. After high school, he continued his studies at Norwich's City College, earning a scholarship to Queens College, Cambridge. He majored in English literature and graduated with honours. Despite the fact of having a troublesome childhood, Stephen Fry started taking interest in the field and world of comedy when he was at the University of Cambridge.
Interested in Cricket? Then must read our blog on Sunil Gavaskar, the Little Master of Indian Cricket!
Stephen Fry's Road Towards a Career in Comedy
From 1979 to 1982, he was a member of the Cambridge Footlights Dramatic Club, where he met Hugh Laurie, with whom he formed an extremely successful writing relationship. Soon Stephen Fry and Hugh Laurie went on to become the best comedian duo among the audience of all time. His television career began in 1982 when he appeared in the revue The Cellar Tapes, written by Laurie, Emma Thompson, and Tony Slattery. Granada Television hired him, along with Laurie and Thompson, to star in There's Nothing to Worry About!' with Ben Elton. He also appeared in a number of serials, including Alfresco, The Young Ones, and Happy Families.
From 1990 to 1993, he appeared in the television series Jeeves and Wooster', in which Hugh Laurie played 'Bertie Wooster,' while Stephen Fry played 'Jeeves.' In 2003, he began hosting QI (Quite Interesting), a comic panel game television quiz program.
Fry has also hosted a number of documentaries, quiz shows, and radio shows that have been shown on major networks such as the BBC and Channel 4. Fry has also provided his voice for a number of films, including Alice Through the Looking Glass, Duck Duck Goose, and Missing Link. He took part in a British telethon called The Big Night In in 2020. BBC One carried the telethon to help individuals afflicted by the COVID-19 pandemic. By the end of the program, more than £27.3 million had been raised.
He did not restrict himself to just comedy, he also showcased popular films and plays. He became more famous after giving his voice to J.K. Rowling's three movies of the Harry Potter series. Moreover, he has written several books on versatile topics including his autobiography. His first autobiography, Moab Is My Washpot, was published in 1997 and covers the first 20 years of his life. His first autobiography is continued in a second volume named The Fry Chronicles: An Autobiography, which was published in 2010. The second book was followed in 2014 by More Fool Me (memoir). Apart from these 3 books, he has also published:
Meet the Genius Behind India's Fastest- Growing Fast Food Chain, Kabir Jeet Singh
Stephen Fry Movies
Here is a quick list of top movies of Stephen Fry that you should watch to witness his remarkable and noteworthy performances and roles in the following movies:
V for Vendetta (2005)
The Hobbit: The Desolation of Smaug (2013)
Chariots of Fire (1981)
Blackadder Back & Forth (1999)
Sherlock Holmes: A Game of Shadows (2011)
Tickled (2016)
A Fish Called Wanda (1988)
The Hobbit: The Battle of the Five Armies (2014)
Gosford Park (2001)
The Man Who Knew Infinity (2015)
Did you know? Stephen Fry has been described as having a "deeply dippy love of all things digital." He claims to be the owner of the second Macintosh sold in the United Kingdom.
Also read about 10 Iconic Roles of Naseeruddin Shah
The Inspirational Journey of Stephen Fry
The life of Stephen Fry is full of inspiration. His bipolar disorder disease is no secret to the world. The disease makes a person either hyperactive or depressed at times. He publicly spoke about his experience and told how difficult it was. In one of his documentaries, Stephen Fry: The Secret Life of the Manic Depressive, his struggle with bipolar disorder has been depicted and highlighted quite well.
In 2013, he addressed and accepted that he had to take medication to control his symptoms for the first time. Apart from taking interviews with other patients of bipolar disorder, he has also been involved in the mental health charity foundation named 'Stand to Reason'. He has always made efforts to bring awareness towards mental health and has become a vocal advocate for LGBT rights. His contributions to humanism and LGBT rights have been acknowledged and honoured. He even married his partner, comedian Elliot G. Spencer, in 2015.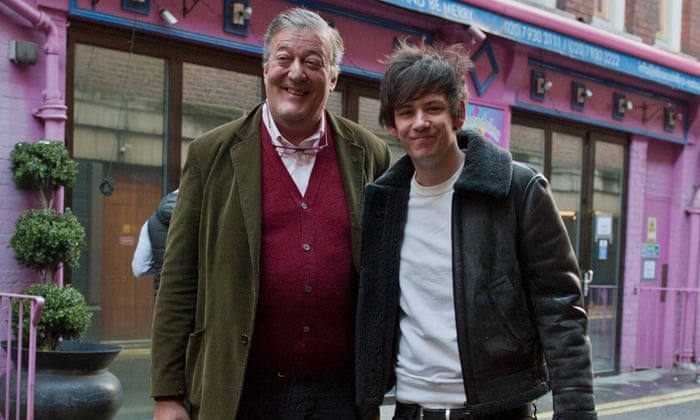 Certainly, destiny had another chapter written for him apart from this as well. In 2018, he revealed through a video that he was diagnosed with prostate cancer and had undergone surgery. He said he was still recovering from the surgery, and the early diagnosis helped in saving his life.
Grab a snack and read our blog on 11 Chris Hemsworth Facts You Didn't Know!
"Choking with dry tears and raging, raging, raging at the absolute indifference of nature and the world to the death of love, the death of hope and the death of beauty, I remember sitting on the end of my bed, collecting these pills and capsules together and wondering why, why when I felt I had so much to offer, so much love, such outpourings of love and energy to spend on the world, I was incapable of being offered love, giving it or summoning the energy with which I knew I could transform myself and everything around me."

Stephen Fry
Did you know? Stephen Fry has been nicknamed "Britain's Favorite Teddy Bear" in the United Kingdom. He is an avid teddy bear collector and has hosted a bear-related television documentary.
His Journey to Success
Despite having a stressful or moreover challenging childhood and adulthood, Stephen Fry fought and established an inspirational career. It is essential to see how he defied all the odds and became successful in the television industry. He started his television career with The Cellar Tapes' revue, in 1982: written by Laurie, Emma Thompson, and Tony Slattery.
Later, he also appeared in various television shows including, 'Alfresco,' 'The Young Ones,' and 'Happy Families'. He appeared in many shows with Hugh Laurie. In 2003, he appeared in a comedy serial, and in the same year, he started hosting a quiz show. In 2006, he narrated a documentary on BBC. In 2001, Fry's Planet Word was broadcasted on BBC, which was a series of a documentary about languages.
Recently, he appeared in a guest role in 'Yonderland', in 2016. He was also seen in some popular TV shows like 'Doctor Who,' Neo Yokio,' and 'Sex Education.'
Demi Lovato: Outside the World of Music!
Awards and Achievements
The life of Fry is enough to give motivation to a person. Throughout his successful journey, he has achieved many awards for the contribution he has made in the Television and Movies industry. The highlights of some major awards and achievements are mentioned below:
Read about the Top 35 Educated Hollywood Stars
Through his hard work, dedication, consistency, Stephen Fry has set an example and has proved to the world that if you have the determination, you can shine without getting stopped by the obstacle in your journey. For more such interesting and inspirational reads, stay tuned to Leverage Edu.