When a student is planning to study abroad for post-graduation, there are tons of documents that need to be taken care of. Starting with writing and typing to drafting those documents, the entire process can be difficult and stressful. An SOP, i.e. Statement of Purpose is an equally important document that needs to be written with utmost care and perfection. No matter what course it's being written for, an SOP is important in showing who the student is as an individual and what he expects from the university. In this blog, we talk about how to write an SOP for  MS in Data Science. Before we jump to the details of writing an SOP for MS in Data Science, let us understand what an SOP is and what it consists of.
An SOP is essentially an essay. The student needs to write this essay to properly define their ambitions and motivations. It is meant to be read by the administrative staff so they can understand why you want this degree and what you hope to accomplish in the future by enrolling in the course of your choice. The universities expect students to be creative and try to analyze the individuality of the person through their Statement Of Purpose. This essay has the chance to make a remarkable first impression on those on the admission committee. The SOP should match the course details. It is always advisable to go through sample SOPs before attempting to write one and once you have written it, make sure to revise and make at least two three drafts. Before writing the final draft, write a sample SOP for MS in Data Science and keep all the above details in mind to check whether a final draft is worth it.
SOP for MS in Data Science
There are several points to keep in mind when writing the SOP for MS in Data Science. These are general points that one needs to remember to write the perfect SOP-
The SOP for MS in Data Science should be written with the idea of answering the basic questions asked by the institution, that is, what kind of aspiration the prospective candidate has and the inspiration behind it.
The students should keep in mind that the tone of the essay should be formal instead of conversational. The entire essay should be creative but shall not be casual in any way.
Write your SOP for MS in Data Science in the form of stories and incidents that inspire you instead of blunt or short statements. A narrative tone keeps the reader interested in why you chose Data Science as your subject for Masters. Flat statements tend to become monotonous after a certain point.
It should be kept in mind that while a story can be interesting, having a lengthy SOP for MS in Data Science is not a good idea. It is important to keep the piece compact and crisp, instead of being meandering and full of irrelevant details. It is necessary to prioritize the main points and include only those that will make a difference.
Another very important point to keep in mind is to never lie. It may seem like a better idea to make up stories that seem good enough to impress the selection body, but do not even consider that. More than anything, institutes appreciate honesty, and it is better to make sure that your future in the institute does not start off with the wrong foot.
Lastly, after completing the essay, remember to proofread it multiple times. In fact, proofread the sample SOP for MS in Data Science time and again before writing the final draft. Remember, one cannot afford a mistake when dealing with any document required by the institute, and this is especially true for an SOP.
Format of SOP for MS in Data Science
A standard SOP is written in a paragraph format. Avoid using bullet points and other such demarcations to give your statement a sense of wholeness.
Dedicate a separate paragraph for each of these i.e., one for your qualifications and a separate one for your aspirations.
A standard SOP is not more than 1000 words. So, while it's important that you include all the relevant facts
Choose a simple font and don't use any highlights or colours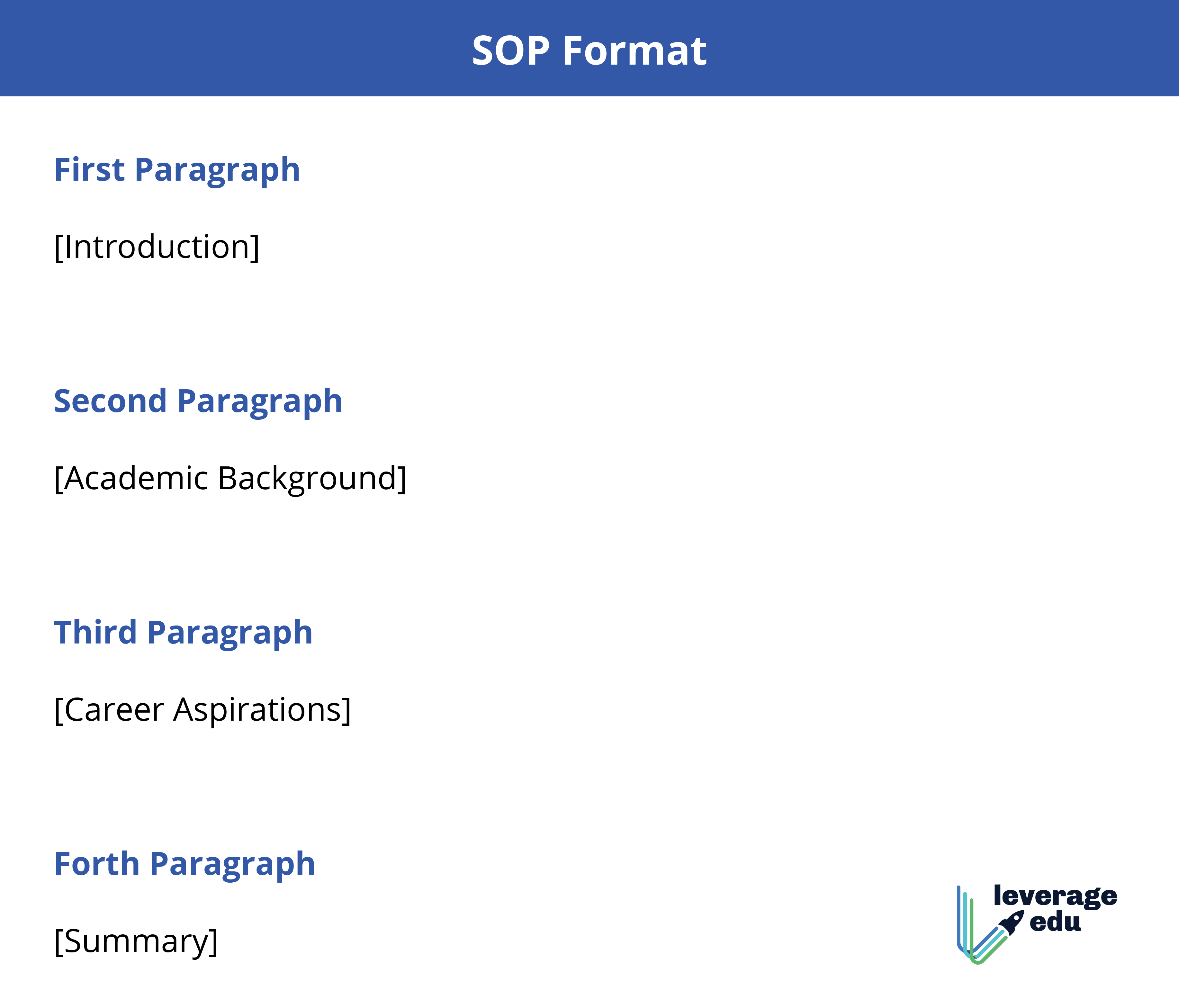 Paragraph Wise Division for an SOP
Introduction
Background and why you chose this course.
Career aspirations and why you choose this University
SOP for MS in Data Science – Sample 1
I have had a keen interest in mathematics and technical fields since I was a kid. When at my age, this interest also started growing I knew that my professional endeavour had to be something related to this particular field. It's while trying to find the right opportunity and field for myself that I was introduced to this world of Data Science and it immediately captured my interests. I found for myself in the field of Data Science an opportunity that will bring together my interests and my desire to do well in my life.

The first step towards materialising this dream of mine was when I took up the science stream in my high school and opted for computer science as an extra subject. The second which actually gave me full exposure and therefore helped in concretising my dreams was my enrollment into BSc mathematics and computer science course in IIT Bombay. From there it was a clear dive into the world of maths and computers learning about Data Science, Operating Systems, Fundamentals of Computation, etc. I learnt so many things during the course of these three years and most important among these was the understanding of how diverse the field of data science is. I learnt how data science is making a mark for itself in every possible field there is including business, communication and health. So the more I studied, the more I wanted to explore and learn. And this enthusiasm is what brought me to apply for an MS in Data Science.

What drove me towards pursuing an MS in Data Science is my curiosity to know more about the fields that I just touched upon during my undergraduate years. I have built a strong foundation for myself through BSc but now I wish to take it further and claim complete proficiency in the field. So, before entering the professional world I wish to learn all that I could on the academic front.
And I believe that acquiring an MS in Data Science would be a step in the right direction. This is exactly what probed me to pursue a masters in Data Science and I believe that this will be the stepping stone towards the heights that I wish to reach in the field of Data Science.
Sample 2
Education is how the ideas of various generations stay connected. It plays a crucial role in understanding the complexities that life offers as we progress. The crux point of learning is not about knowing, but being able to differentiate what you know and what you don't. Therefore, one should value the pursuit of knowledge and must be able to follow wherever the quest for knowledge leads them. The world, as we know, today, is becoming smaller and smaller as it is interconnected and is radically different from the world that the preceding generation has witnessed before. People are well informed by different modes of communication and are in the process of taking a giant leap from being a citizen of one country to becoming a global citizen. Globalization has bought people from different continents closer, and at the same time, it had opened up opportunities for a layperson to understand many issues without even going to the library. As an epitome of globalization, there is no multinational company comprising people from different races working in their offices. This throws a challenge for any organization to organize the workforce as people from varied cultures and interests come under one roof to serve their respective companies.

The Management of several campuses in the workforce is a challenge for any Multinational Organization. It includes resource allocation on an international scale. Efficient Trans-Cultural Management across the employees holds the key required for the effective functioning of any multinational organization. The thrust to uptake such challenge above had prompted me to look for new avenues to explore. With this level of understanding, I would like to introduce myself as a prospective graduate student seeking out to extend my academics by pursuing an MS/Masters program in Data Science.

As we move into the twenty-first century, it is undoubtedly clear that computers and information technology have a crucial role to play in human lives. n 2017, I completed my Bachelor of Computer Engineering from IIT, Mumbai. They were brilliant 4 years of my academic life where I witnessed the most challenging as well as memorable times. The program's rigid curriculum was well designed and challenging enough to deliver my best at college. Electricity and magnetism, computer programming and utilization, Data Analysis, and Algorithms were the subjects that I enjoyed studying. I worked on a project titled '……………………………………………………' in my final year. The objective of the project was to ………………………….. My suggestions such as ………………… worked and helped in the successful completion of the project. the outcome of the project drew me high grades and received appreciation from my professors. I participated in many poster presentations during the four years. One of them was …………………………… which earned me the first prize. In the final year, I appeared for many campus interviews and amongst them, I was appointed as a Junior Data Engineer in Intel, India.

An MS from XYZ University will broaden my skills and would equip me with the right skills and network and thus help me with my quest of becoming a leading entrepreneur. Courses offered at the University aimed at imparting technical education required by current market leaders, and well-distinguished faculty will bring me closer to my dreams. Also, students of diversified backgrounds from various countries would put me into a situation analogous to the working atmosphere.
Tips for Writing an SOP for MS in Data Science
When you sit down to write the final draft after working with the sample SOP for MS in Data Science, here are some essential tips that you must keep in mind. Following these instructions, we are sure, you will be able to draft a stellar SOP for MS in Data Science-
Most of the time, universities specify the font. So, is your institution has suggested some specific instructions related to fonts, follow it and any other formatting suggestions strictly.
You do not need to write the title with the name of the course, e.g. SOP for MS in Data Science.
The body should include your experiences and the expectations of the university in detail Keep the information short and crisp.
Elaborating upon your interests, specify what led you to choose this particular university.
It is essential to mention your previous achievements as well as past working experiences in an SOP
It is important to use a formal tone, but the overall SOP should be easy to read and understand. Refrain using complex sentences and words.
Avoid crossing the suggested word limit and if it is not mentioned, try completing your SOP in 1000 words.
Are you also writing an SOP for MS in Data Science? Need any help? We at Leverage Edu provide expert SOP guidance. Reach out to our experts and ensure your SOP is the best!