Distance learning has been around for about 60 years. Part-time and distance learning programs prove to be extremely helpful for those who can't opt for full-time courses due to certain restraints. For many years, Online degrees have been undervalued due to the focus on traditional learning. But as the pandemic surfaced in 2020, online learning has been found to be the best approach to adapt to the lockdown while not compromising with school or college education. So, if you are finding it difficult to choose between an online degree vs campus degree, we are here to help you sort out the difference and find the right option that suits your interests. Read this blog to know about the differences between online degree vs campus degree.
Online Degree vs Campus Degree
The debate between Online Degree vs Campus Degree is quite a popular one as both these are poles apart from each other in terms of their approach to learning as well as costs and other factors. Here are the pros and cons that elucidate the major differences between online degree vs campus degree.
Pros
Cons
Online Degree
-Cost-Effective
-Flexible and convenient
-Easy access
-No geographical barriers
-Available in short-term and skill-based options
-Simpler admission process and requirements
-Lack of practical exposure
-Restrained to textual study materials
-Less subject options
-Lack of interaction
Campus Degree
-Enhances social skills
-Holistic Development of students
-Practical exposure
-Access to resources on campus
In-person support and acknowledgement
-Expensive
-Rigid schedules
-No flexibility for those pursuing a job or facing other restraints.
-Admission process and eligibility requirements can be complicated
Now, let's elaborate the showdown between online degree vs campus degree in further detail:
Learning 
Academic learning isn't compromised at all when it comes to online degree v campus degree. When it comes to online courses, people often believe that lack of one-on-one communication and a traditional classroom atmosphere can hinder their learning. But online degrees are meticulously designed with virtual classes are either recorded or sometimes live. The use of the internet can open many ways for students to avail of reference to many online books. Another benefit of an online course is that professors and students can interact with each other globally without facing any geographical barriers. Despite these facilities, virtual learning requires a lot of discipline and dedication from students as well as teachers.
Talking about campus degrees, the learning environment is quite traditional and much more scheduled and structured. Campus life has much more academic and practical exposure on offer when compared to that of an online degree. You will get to interact with like-minded people at a university as well as take part in societies and clubs to further improve your interpersonal and communication skills while also facilitating community involvement. An online degree stays limited to the regular classes as well as activities carried out online but a campus degree goes beyond that as students get to grow immensely in a holistic way which is often not incorporated in an online degree.
Flexibility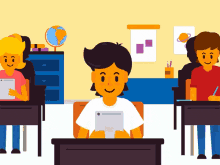 The need for flexibility led to the inception of online degrees and distance learning programs especially for working professionals or those who can't pursue a full-fledged degree program due to personal responsibilities or geographical barriers. Campus degrees focus more on full-time classes and attendance without offering students with flexibility in terms of classes. This is where distance learning and online programs play a pivotal role. This is a prominent difference between online degree vs campus degree as online courses provide working professionals, homemakers and those facing personal restraints with the opportunity to continue their learning on their own schedule.
In the present pandemic scenario, traditional learning environments still need to be adapted to the safety measures for the Covid-19 and thus online learning has proven to be incredibly helpful and prevalent as students and teachers can connect through virtual platforms without worrying about travelling or leading to a community spread of the virus.
Affordability
Online learning has also been preferred mode due to its cost-effectiveness. Whether you are thinking of pursuing an online degree from a foreign university or pursuing a full-fledge degree course online, you can explore many affordable options. Campus degrees are found to be slightly costly than online degrees in such cases and also have added expenses like travelling costs. Despite being at the lower end when it comes to affordability, campus learning enlightens a student to various endless opportunities and facilities.
Employment
One critical factor we need to consider for online degree vs campus degree is how do employers view both these modes of learning. Are online degree are respected by employers? As online learning has become prevalent with time and especially in the pandemic scenario, online degrees are quite a sought-after mode of learning as they are short-term, flexible and skill-based and thus can powerfully augment your resume. Campus degrees have always been preferred by employers and online degrees are also accepted widely as you can successfully depict your strive to learn and gain imperative skills while also managing other responsibilities. On the other hand, campus degree help you work on your interpersonal skills as well as facilitate community involvement and holistic development and thus have their own set of pros to be preferred by an employer.
Thus, we hope that this blog helped you explore the differences and similarities between online degree vs campus degree. Planning to pursue higher studies abroad? Our Leverage Edu experts are here to help you find the best course and university combinations and select the right one as per your preferences! Sign up for a session with us today!