Located in the city of Brisbane, The University of Queensland (UQ) is the founding member of the Group of Eight (Go8) universities in Australia. Having been ranked amongst the leading 100 universities in the world and top 5 universities in Australia by the QS and THE World University Rankings, the university has been globally recognised for academic and research excellence and has been honoured with the most number of teaching and education awards than any other university in the country. UQ graduates have excelled across varied fields and areas and have made remarkable contributions in global research as well. Want to know about notable UQ alumni? This blog enlists some of the best minds and global leaders who completed their higher studies at The University of Queensland! 
Geoffrey Rush
Award-winning actor and film producer, accoladed with Triple Crown of Acting & named 2012 Australian of the Year
One of the most notable UQ Alumni and amongst the renowned Australian actors, Geoffrey Rush was born in Queensland on 6th July 1951. During his undergraduate years studying Arts at The University of Queensland, he was noticed by the Queensland Theatre Company from where he began his acting career. The founding president of the Australian Academy of Cinema and Television Arts, Rush is well known for his roles in films like The Book Thief, Pirates of the Caribbean, Munich, Shine and Les Miserables. He is one of the 24 actors who have been honoured with the Triple Crown of Acting (an Academy Award, an Emmy Award and a Tony Award). Moreover, he was named the Australian of the year in 2012.
Thea Astley
Author and four-times Miles Franklin Award Winner (1962, 1965, 1972 & 2000)
Born on 25th August 1925 in Brisbane, Thea Astley was a well-known Australian novelist. Considered among the most notable UQ alumni, she completed her graduation in Arts from The University of Queensland. A very prolific writer, her writing career which started from 1958 spanned for more than 4 decades. Along with being a writer, she was also an academician as she taught at the primary, secondary and tertiary levels of education. Significant as the only woman novelist in Australia who made her mark in the male-dominated literary world in the 1960s and 1970s, she had won more number of Miles Franklin Awards (a major literary award in Australia) than any other writer till her death.
Peter Varghese
Former Head of Foreign Affairs and Trader and Retired Australian Diplomat
A retired Australian diplomat, Peter Varghese is also among the most notable UQ alumni. Born on 19th March 1956, he graduated with a Bachelor of Arts (Hons) in History from The University of Queensland and was also a recipient of the university medal. He has held various important positions in the 38 years of his diplomatic career, which includes the Australian High Commissioner to Malaysia (between 2000 to 2002), Australian High Commissioner to India (between 2009 to 2012) and the Secretary of the Department of Foreign Affairs and Trade (between 2012 to 2016). In 2013, he received an Honorary Doctorate of Letters from The University of Queensland. He currently holds the position of the chancellor of the UQ since 2016.
Quentin Bryce
Governor-General of Australia (2008 – 2014); Governor of Queensland (2003 – 2008)
Another prominent mention in our list of notable UQ alumni, Quentin Bryce was born on 23rd December 1942 in Brisbane. She pursued a Bachelor of Arts (1962) and Bachelor of Laws (1965) from The University of Queensland and was among the first women to be accepted into the bar council of Queensland. She joined the law school at UQ as a faculty member in 1968, becoming the first woman to be appointed to this position. She has held several prominent positions throughout her career, which include the first director of the Queensland Women's Information Service (1984), Officer of the Order of Australia (1988) and the Governor of Queensland (2003-2008) among many others. This eminent personality is also the first woman to hold the position of the Governor-General of Australia (2008-2014).
Paul de Jersey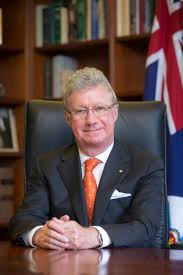 Former Chief Justice of the Supreme Court of Queensland (1998 – 2014); Current Governor of Queensland
Counted among the most notable UQ alumni, Paul de Jersey is a well-known Australian Jurist and completed his graduation with a Bachelor of Arts and Bachelor of Laws (Hons) from The University of Queensland in 1971. He has previously served as a Judge of the Supreme court of Queensland (1985) and the Chairman of the Law Reform Commission of Queensland (1996-1997). In 1998, he became the Chief Justice of Queensland, a position that he held till 2014. He currently holds office as the current Governor of Queensland since 2014.
Kate Morton
International Bestselling Author of the Forgotten Garden, the Lake House, among others
Born in 1976, Kate Morton is one of the most notable alumni of The University of Queensland. She graduated with a first-class bachelors in English Literature (Hons) from UQ in 1999 and also won a scholarship for her postgraduate study. A bestselling author acclaimed internationally, Morton has written six novels till date, which include bestsellers like The Forgotten Garden, The House at Riverton and The Secret Keeper. Along with winning numerous international and national awards, her novels have sold more than 11 million copies in over 42 countries worldwide.
Professor Tademati Chakrapani Rao
Indian Mineral Processing Scientist and a Pioneering Researcher in the field of Mineral Engineering
Regarded as the Father of Indian Mineral Processing, Professor Tademati Chakrapani Rao has been globally recognized for his contributions to the field of mineral engineering. The first international PhD student at the UQ, he is amongst the notable India alumni and studied his doctorate degree in Mining Engineering from the university. T.C. Rao has published more than 225 research papers in the national and international journey and has contributed immensely towards the development of mineral processing technology and has also been a part of the advisory committees in the Indian government and many mining corporations.
Vikas Gora
General Manager, Save the Children, India; Rotary World Peace Fellow (2006-08), Australia
Another notable Indian UQ alumnus, Vikas Gora is a social worker by profession and has worked as an international facilitator for humanitarian agencies. He pursued Masters of International Studies at UQ and is considered to be an expert in disaster and emergency management with 23 years of diverse professional and consulting experience working with inter-agency platforms on a national and global level including the U.N., INGOs, among others.
Madhan Karky
Indian lyricist and screenwriter; Research Head at Karky Research Foundation
A doctorate holder from The University of Queensland, Madhan Karky is a renowned lyricist and screenwriter as well as a software engineer and researcher. Having begun his career as an Assistant Professor at Guindy's College of Engineering in Chennai, Karky worked extensively in the Tamil film industry as a lyricist and screenwriter. One of the notable Indian UQ alumni, Karky has launched a one-of-its-kind Karky Research Foundation which essentially works in the field language computing and language literacy.
Apart from the aforementioned ones, here are some more notable UQ alumni you must know about:
Hope you found this blog on some of the notable UQ alumni interesting and informative. Want to study your dream degree at The University of Queensland? Our experts at Leverage Edu can not only help you with selecting the perfect course as per your interests, but we'll also assist you throughout the application process. Sign up for a free session with us today!