The legendary Indian sprinter Milkha Singh aka the 'Flying Sikh' passed away at the age of 91 on 18th June 2021 after a month-long battle with Covid-19. He left a legacy that still inspires millions across the globe and his incredible story continues to serve as an inspiration even today. In this blog, we pay our heartfelt tribute to the Indian and international icon Milkha Singh and how he taught us the value of hard work and chasing your dreams!
Read About the Famous Personalities of India
The Early Life of Milkha Singh
Milkha Singh was born in a Sikh family at Govindpura on 20th November 1929. He had 14 siblings, of which 8 died before the partition of India. He lost his parents during the partition and grew up as an orphan. To escape the mass killings in Punjab, he moved to Delhi in 1947, where he lived with his sister's family. He was also imprisoned for a short period for traveling without a ticket. He had lost hopes and considered resorting to dacoity when he was persuaded by one of his brothers to join the Indian Army. He successfully joined the army in his 4th attempt and was recruited at the Electrical and Mechanical Engineering Centre.
He was introduced to athletics in Secunderabad where he was selected by the army for special training in athletics after finishing sixth in a compulsory cross country run for recruits. 
Acknowledging the role of the army in introducing him to sports, he was once quoted saying, "I came from a remote village, I didn't know what running was, or the Olympics".
"You can achieve anything in life. It just depends on how desperate you are to achieve it."

Milkha Singh
Also Read: What Can We Learn From The Great Personalities?
Career
Milkha Singh represented India in the Olympics of 1956, 1960, and 1965. At the 1960 Olympics in Rome, Milkha Singh lost the 400 m race. He secured the fourth position with a time of 45.73 seconds. This became an Indian national record that stood for 40 years. But Milkha Singh always said that the regret of not winning an Olympic medal haunted him.
"That race in which I made a mistake, I can never forget or let go of for the rest of my life. I have run 80 international races in my life and won 77, but the Rome Olympics was one race I will never forget until I die." His four Asian Games golds; 200m and 400m in 1958 and 400m and 4x400m relay in 1962 went on to put him firmly in the pantheon of legends.
"Even today, if I look back on my life, there are only two incidents that still haunt me – the massacre of my family during Partition and my defeat at Rome. "

Milkha Singh
Know About the Education of Rabindranath Tagore
Milkha Singh Later life
In appreciation of his achievements in the 1958 Asian Games, Singh was upgraded from sepoy to junior commissioned officer. He afterward became Director of Sports at the Punjab Ministry of Education, from which he retired in 1998. Following his victory in 1958, Singh received the Padma Shri, India's fourth-highest civilian honor. In 2001, he declined the Indian government's offer of the Arjuna Award, claiming that it was designed to honor young athletes, not adults like him..He also believed that the Award was being granted to persons who had little or no noticeable engagement as active sportspeople. He said that the prize had been worthless because he had been "grouped with athletes who are nothing near the level that I had accomplished." Singh was taken to the Fortis Hospital in Mohali's acute care unit on May 24, 2021, with pneumonia caused by COVID-19. His health was classified as stable for a time, however, he died on June 18, 2021, at 11:30 p.m. in Chandigarh. Nirmal Saini, his wife, had died a few days before on June 13, 2021, also from COVID-19With a photo of his wife in his hands, Singh was placed to rest on his cremation pyre.
Milkha Singh Personal life
Singh was a resident of Chandigarh as of 2012. In Ceylon in 1955, he met Nirmal Saini, a former captain of the Indian women's volleyball team; they married in 1962 and have three daughters and one son, golfer Jeev Milkha Singh. They adopted Havildar Bikram Singh's seven-year-old son, who had perished in the Battle of Tiger Hill, in 1999.
Milkha Singh – Media and Popular Culture
Milkha Singh along with his daughter co-authored his autobiography 'The Race of My Life' which was published in 2013.
This book inspired a biographical film in 2013, 'Bhaag Milka Bhaag', which was directed by Rakesh Mehra and starred Farhan Akhtar in the lead role. The film was widely acclaimed and won many national awards. 
Then in 2017, Milkha Singh's wax statue was inaugurated in Madame Tussauds, London. The statue depicted Milkha Singh in a running posture during his victorious run at the 1958 Commonwealth.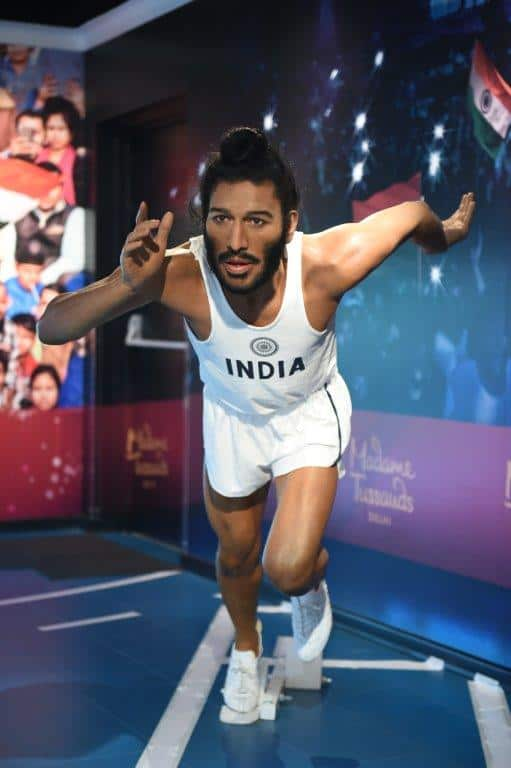 An International Inspiration!
Milkha Singh was promoted from the rank of a sepoy to a junior commissioned officer in recognition of his success at the 1958 Asian Games. He then became a Director of Sports in Punjab, Ministry of Education. In 2001, he refused to accept an Arjuna Award from the Indian government. He argued that it was intended to recognize young sportspeople. His medals were donated to the nation and displayed at the Jawaharlal Nehru Stadium in New Delhi and later at a sports museum in Patiala.
Read About Indian Freedom Fighters
Honors and Awards
During his lifetime, Milkha Singh has been accoladed with multiple rewards and honors. Here's a list of his rewards and honors:
He won the Padma Shri Honour in 1959.
He won a gold medal in the 1958 Asian Games in 200m and 400m.
He won a gold medal in the 1958 Commonwealth Games in 440 yards.
He won a gold medal in the 1962 Asian Games in the 400m and 4x400m relay.
He won a gold medal in the 1958 Cuttack National Games in 200m and 400m.
He won a silver medal in the 1964 Calcutta National Games in 400m.
"When I reflect upon my life, I can clearly see how my passion for running has dominated my life. The images that flash through my mind are those running….running…running… "

Milkha Singh
Know All About Sunil Chhetri: India's Goal Machine!
Milkha Singh Conflicts and Controversies
Athletics, which takes center stage at all international competitions, is no stranger to controversy. Athletes gaining money by breaking regulations was a constant problem until the IAAF's trust-fund system was implemented. Since around 1970, the issue of drug abuse has been a big concern. Athletes are prohibited from using a variety of medicines that are claimed to enhance performance. At the big meetings, testing for such usage is necessary, and while the vast majority of competitors tested are deemed to be drug-free, a tiny number of athletes are found guilty of breaching the drug regulation each year and are prohibited from competition for an average of 18 months. The most common method utilized by offenders to improve muscle growth and strength was anabolic drugs.
So, this was all about the journey of Milkha Singh. We can indeed say he was a man of great valor. His story of life shall continue to inspire millions. Hope you found this blog to be informative and insightful. For more such content, stay connected with Leverage Edu and do follow us on Facebook, Instagram, and LinkedIn.