While the Tokyo Olympics are just around the corner, we are constantly hearing news about the confirmed athletes in their respective sports. Amongst the top Olympics athletes from India, Maana Patel, a 21-year-old girl from Ahmedabad, Gujarat will be the first and only Indian female swimmer to participate and represent our country India in the Tokyo Olympics which will commence from 23rd July 2021. Read this blog to know more about the lesser-known super-swimmer of India, Maana Patel.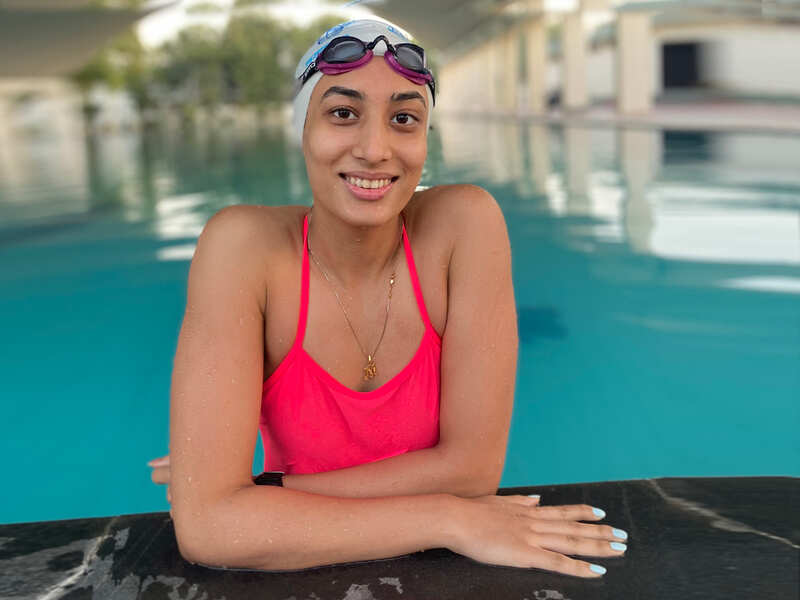 Who is Meena Patel?
Maana Patel, born on March 8, 2000, is an Indian backstroke swimmer from Ahmedabad, Gujarat. She has studied commerce at Ahemdabad's Udgam School for Children. At the Gujarat Vidyapeeth Swimming Centre, she was coached and trained by Mr. Kamlesh Nanavati. She is presently being trained and coached by Peter Carswell at the Glenmark Aquatic Foundation in Mumbai.
Patel's Olympic Performance Updates
On Sunday, 25th July 2021, Maana Patel competed in the Women's 100m backstroke and finished 2nd in the race. She finished with a time of 1.05.20 but missed the spot to Katai from Zimbabwe to the semi-finals for Tokyo Olympics 2020.
Maana Patel has made history as the first Indian female swimmer with a university quota to qualify and compete in the world's largest sporting event.
Swimming Career of Maana Patel
Maana Patel began swimming when she was just 7 years old. As a swimmer, she broke the national record of 2:26.41s held by Shikha Tandon at the Asian Age Group Championship in Tokyo in August 2009 when she was 13 and clocked 2:23.41s in the 200m backstrokes in the 40th Junior National Aquatics Championship in Hyderabad. Maana has also won gold medals at the National Games in the 50-meter backstroke and the 200-meter backstroke.
Maana has also won a gold medal in the 100-meter backstroke at the 60th National School Games (2015), breaking the national backstroke record. At the 60th National School Games, Maana Patel, Rashi Patel, Gitanjali Pandey, and Dilpreet Kaur won silver in the 4X100 meter freestyle relay.
In 2015, she was chosen for the Olympic Gold Quest. At the 12th South Asian Games, she won silver in the 50 meters, 100 meters, and 200-meter backstroke; bronze in the 50 meters freestyle; gold in the 4100 meters freestyle relay; and bronze in the 4100-meters medley relay (2016). Maana took home three gold medals in the 2018 72nd Senior National Aquatic Championships. Maana won six medals at the 10th Asian Age-group Championships, 2019 in Bangalore, including one gold, four silver, and one bronze.
The First Indian Female Swimmer in Olympics
Maana Patel has qualified for the upcoming Tokyo Olympics as the first Indian female swimmer. On July 2, 2021, the Sports Authority of India (SAI) confirmed that she has qualified for the prestigious event through the universality quota.
Maana Patel will be the third Indian swimmer to compete in the Tokyo Olympics 2020 after Sajan Prakash, the first Indian swimmer to qualify for the Tokyo Olympics, and Srihari Nataraj, both of whom earned automatic qualification (A time) for the Olympics.
The Indian Sports Authority tweeted, "Many congratulations to backstroke swimmer Maana Patel who becomes the 1st female and 3rd Indian swimmer to qualify for Tokyo Olympics. Patel qualified through the universality quota."
Maana Patel was also congratulated on her qualification for the Tokyo Olympics by Kiren Rijiju, Union Minister of State for Youth Affairs and Sports (Independent Charge).
The Superswimmer of India: Maana Patel
Here are five interesting facts about the swimmer to learn more about Maana Patel:
At the Belgrade Trophy, she smashed her own record
Maana set a new Indian record at the Belgrade Trophy in Serbia on June 20, 2021. In the 100m backstrokes, she established a new personal best of 1:03.77s, bettering her previous best of 1:04.21s set in Uzbekistan in 2015. In the subsequent women's 100m backstroke event in Tokyo, she set a target of finishing 1:02s or faster.
The first swimmer to receive funding from the Olympic Gold Quest, Mumbai
Maana has carved her place in swimming history as the fastest Indian backstroker across all age levels. She broke Olympian Shikha Tandon's Senior National Record of 2:26.41s by clocking 2:23.41s at .13. She was even the first swimmer to receive a scholarship offer from the Olympic Gold Quest's scholarship program. Veteran badminton player Prakash Padukone and former Billiards Champion Geet Sethi are leading the Olympic Gold Quest (Headquarter – Mumbai)
Maana in TedxYouth
In 2020, the swimmer was also a speaker at TedxYouth@MGIS, where she discussed her idea of Vision Beyond Winning. She spoke about her swimming career's ups and downs. When Maana suffered a labrum tear in her left shoulder, she focused on how she dealt with despair. As a result, she could not compete in some of the most crucial games, such as Junior Nationals and the World Championship.
She overcame the obstacle by facing the challenge with self-assurance, faith, and optimism. Beyond winning, Maana feels her vision is to appreciate the journey and appreciate the things that keep her going.
Animal rights activists
Patel is a vocal proponent of animal rights. She feeds stray dogs daily and has even saved the lives of a number of them by providing vital medications. Her Instagram bio reads as 'Pashu Pakshi Mitra', as she considers herself a big-time friend of all animals and birds.
Relatable Reads
Leverage Edu congratulates Maana Patel, the first Indian female to be qualified for the Olympics. We feel proud of the fact that she will be representing our country and tricolour in Tokyo this year. We also wish her the best of luck for the upcoming matches. Maana is a true role model and an inspiration for the youth of our country. If you too are passionate about fulfilling your life ambitions and dreams of studying abroad, then get in touch with our Leverage Edu experts today for a free 30 minutes consultation.