The year began with the announcement of our first institutional fundraise. It was a big moment of sorts. We had been able to raise capital from VCs I looked up to and was keen to work together with. I say to hell with the 'fundraising shouldn't be celebrated' gyan, because for a young company trying to break out it 'does' really feel special. It gives you the ability to build with more solid support, the momentum/cheerleading all around is worth it!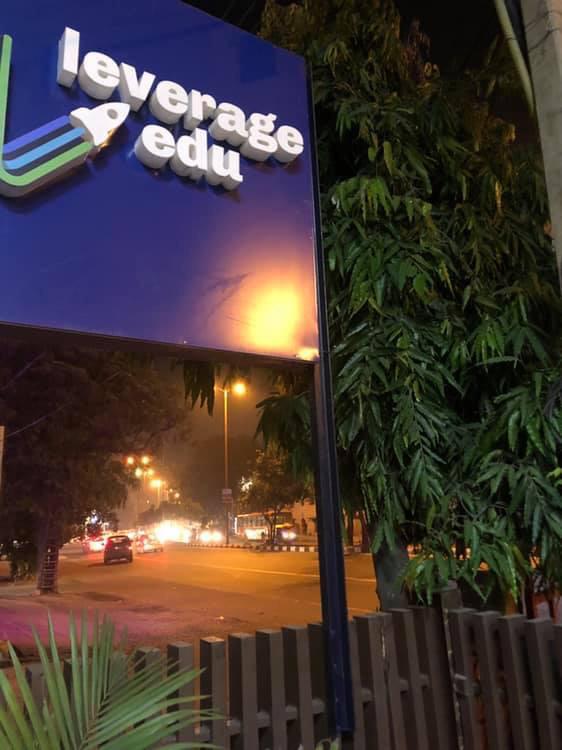 We were lucky to receive about 5 term sheets in the weeks right before – which meant part jubilation, part 'saying-no-doing-business-as-usual'. I still remember one crazy night when Sada (our first angel investor, who had given me 20 lakhs on what was literally Konark's dosa-smeared tissue paper!), visited me on super short notice to help ease out the stress. Here is a selfie he took while I paced up and down a hotel lobby for close to 3 hours, negotiating/ making up/ shouting and getting shouted at, etc etc.
There was an HNI who even sent a 1 Crore cheque my way!
Like Karthik said on a long call back then, "right now you are hot, at this performance, at this price", and in there lay a big learning for times to come.
Couple of us stayed up the night at a hotel, to welcome the announcement next morning. Here is a video clip of me & Aman heading back at 8 am, with a Badshaah song (of course) blaring out of the loudspeakers.
Soon after, my next task was to bring Aman onboard. Aman had been the second person I called in October 2014 when Leverage struck (first was brotherman Digvijay, and the third was Prof Anindya Ghose – both of whom later became Leverage's biggest champions personally, Anindya investing in our first angel round). Quite literally, Aman had seen the entire journey, while being an entrepreneur before me, and running his tech services company successfully. I had to convince him to move on from his life's work, wasn't easy but then..what's life if you don't win some! In the last 12 months, with Aman together every night and day, I believe I was able to do some of my life's best work.
Aman has built a very deep-rooted technology-first DNA into Leverage Edu over time, so much that when hit by process hurdles, almost all teams believe "technology will do some magic!". Lot of what Aman & his mad smart/clear-minded team has built over the last few months will be launched in the coming quarters – and that excitement keeps us all up every single day.
The quest of building a solid leadership had more pieces missing – and I was glad to bump into Gaurav around the same time. The way our team puts it, Gaurav & I are diametrically opposite, and perhaps that's the reason I really enjoy working with him. He defines "skin in the game", not to forget his humble ways, calm demeanour, plus A-grade quality of always standing by the team – which inspires so many of our young team members. Gaurav buttoning up the astronaut ‍ suit became all the more important as it overlapped with a lot of other changes we did in what/how we wanted to build this. We forced ourselves to go through some necessary pain. Also, all this while, I was also spending time crisscrossing the city to find our new HQ.
The old office had clearly given up, and my rockstar team members were now seated in storerooms/ on floor rugs. And as Silicon Valley, as it seemed, it was my job to fix it.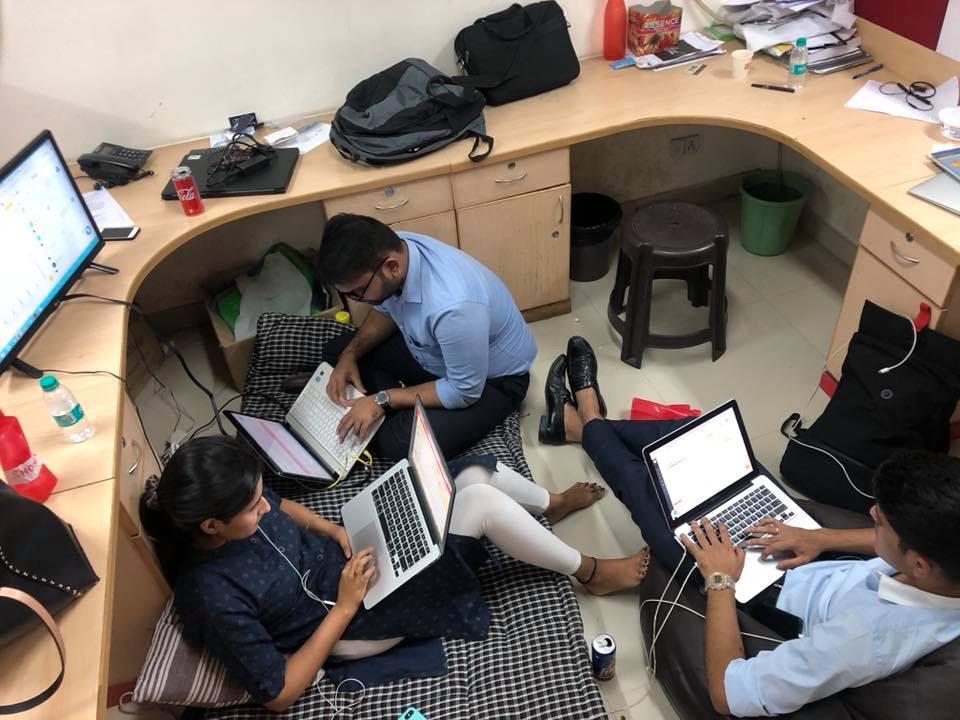 With a lot of help from my beloved wife who took time off to help me do what had seemed very simple at first – moving and setting up a new office – we finally moved in on May 5. That day, I believe, a lot changed. Something clicked. The next few months saw us accelerating all metrics at a breakneck speed, to end our peak season (Sep) at about 400% of where we were just 5 months back!
And while I think about the cool stuff, I can't forget all the hard decisions, and many sleepless nights. In tough moments, you need to hear from operators who've been there and done that, who you trust blindly, and who believe in you as much in the rough phases – that, for me, was Vishal Gondal. Over the 100+ hours we would have spent all of this year on the phone and in-person, Vishal gave me hard feedback and pushed me to take decisions that made me a very different version of what I had previously been all my life.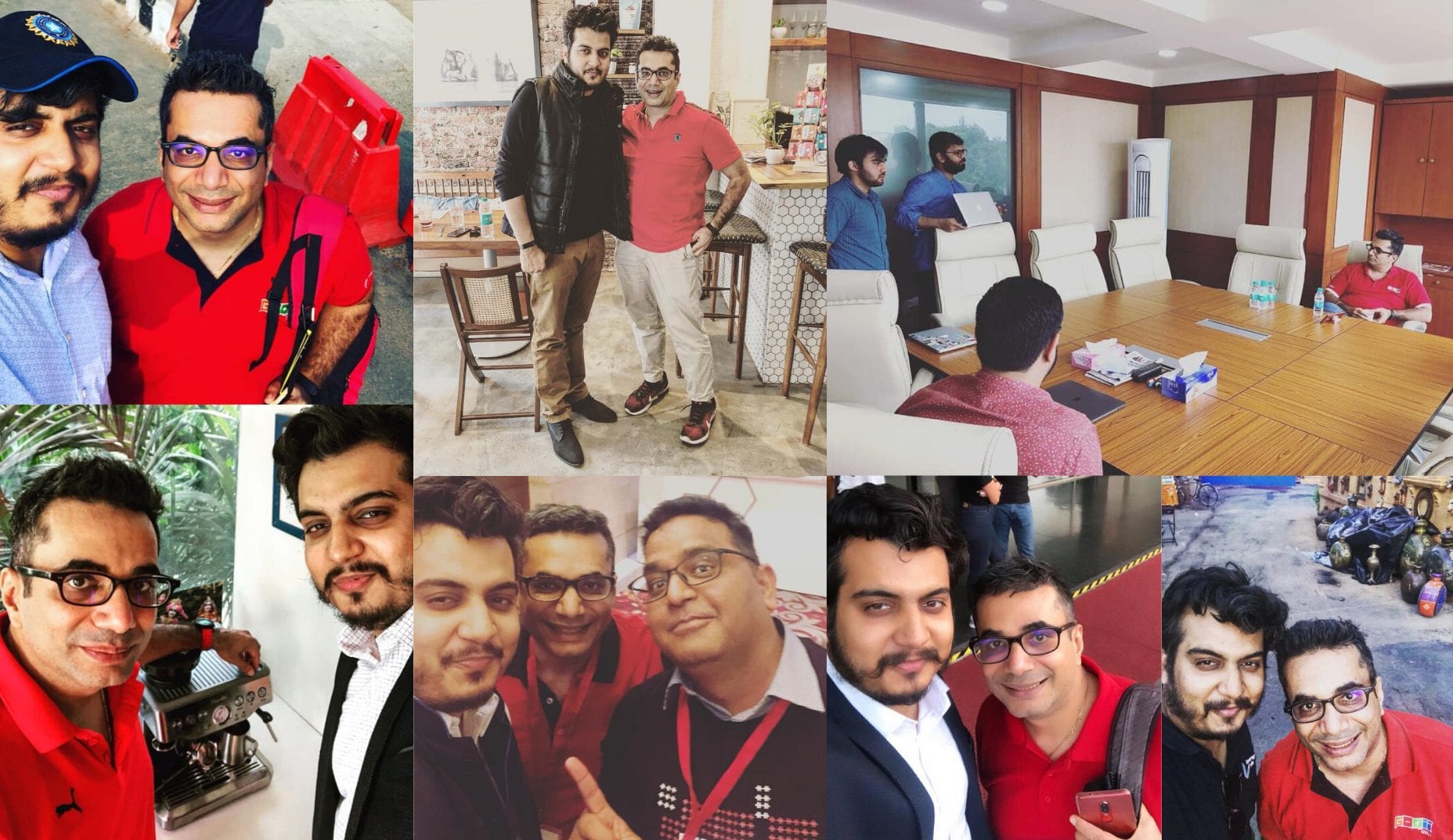 This year was full of operational upheavals of all kinds – which in those moments, looked like tall bad mountains, but in hindsight, were so necessary to trek over, cross and hoist the flag at. So as expected, like the business, I also continued to grow up. And that also included in us redefining what we do / what we stand for.
We had started as a career advice marketplace to begin with, and only after a long chat that I had with one of my earliest special mentor Heidi, had we decided to introduce categories on this marketplace. Later, of course, the "mentor helping get to a University" category had broken the roof – but I still had some sort of "where I started from" hangover. Remember this one event which Karthik & I attended, and he pulled me to the side to ask why I introduced the company as a marketplace (how we do it) vs the "what we do". Some soul searching, and the writing was clear – I was a legit "University Admissions" company first and foremost the next morning – and everything else post that.
Another fundamental personal win was building "the ability to focus". While there are many examples to demonstrate how things turned around on this front, the best one is from the summer board meeting, where I pushed the case for starting another city, only to be advised against it by Deepak Shahdadpuri, who wanted me to "focus" before "a playbook could clearly emerge". I remember going around in circles for the next hour, but did end up buying into it towards the end of the marathon 6 hour meeting. Over time though, I myself became the loudest voice in the room to talk about focusing, on winning small and wining right, so much so that when CNBC Young Turk featured us, this became a pretty prominent point:
Executing with clear focus for the six months that followed, also saw us winning the prestigious TiE Lumis Entrepreneurial Excellence Award – to join the league of startups we have looked upto – MakeMyTrip, Oyo, ShareChat and The Beer Cafe, and to receive it from someone who has seen parts of my journey across the last decade (as a Headstart Volunteer in 2008, as his MBA-shadow in 2014), Deep Kalra Sir, the founder of MakeMyTrip.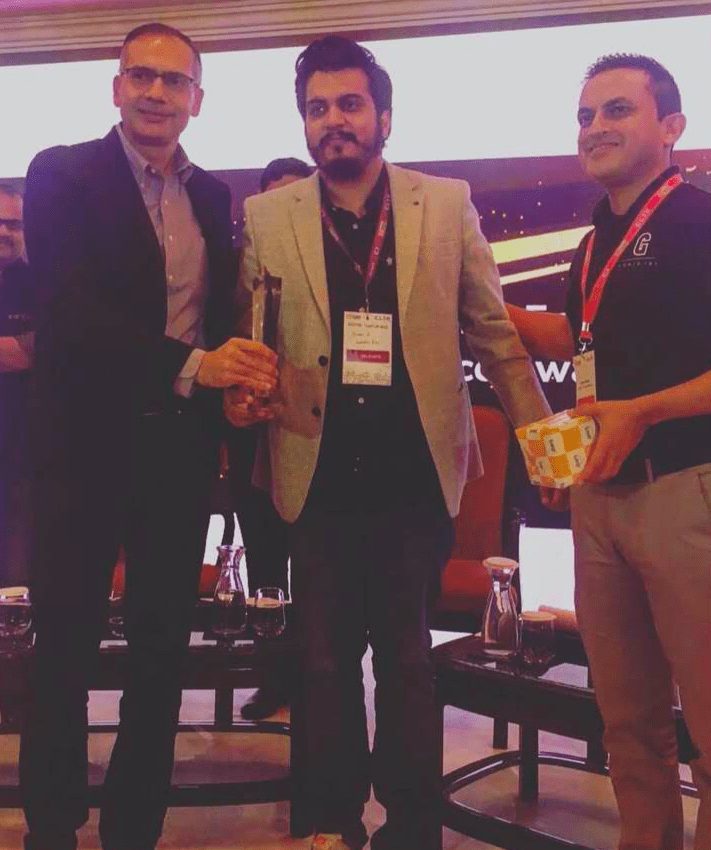 While 2018 had seen me spending a lot of time with VCs – this year, I grew more comfortable (and happy?) spending time deeply entrenched into my industry – with academicians, associations, senior peers, this ecosystem's rockstars, and so on.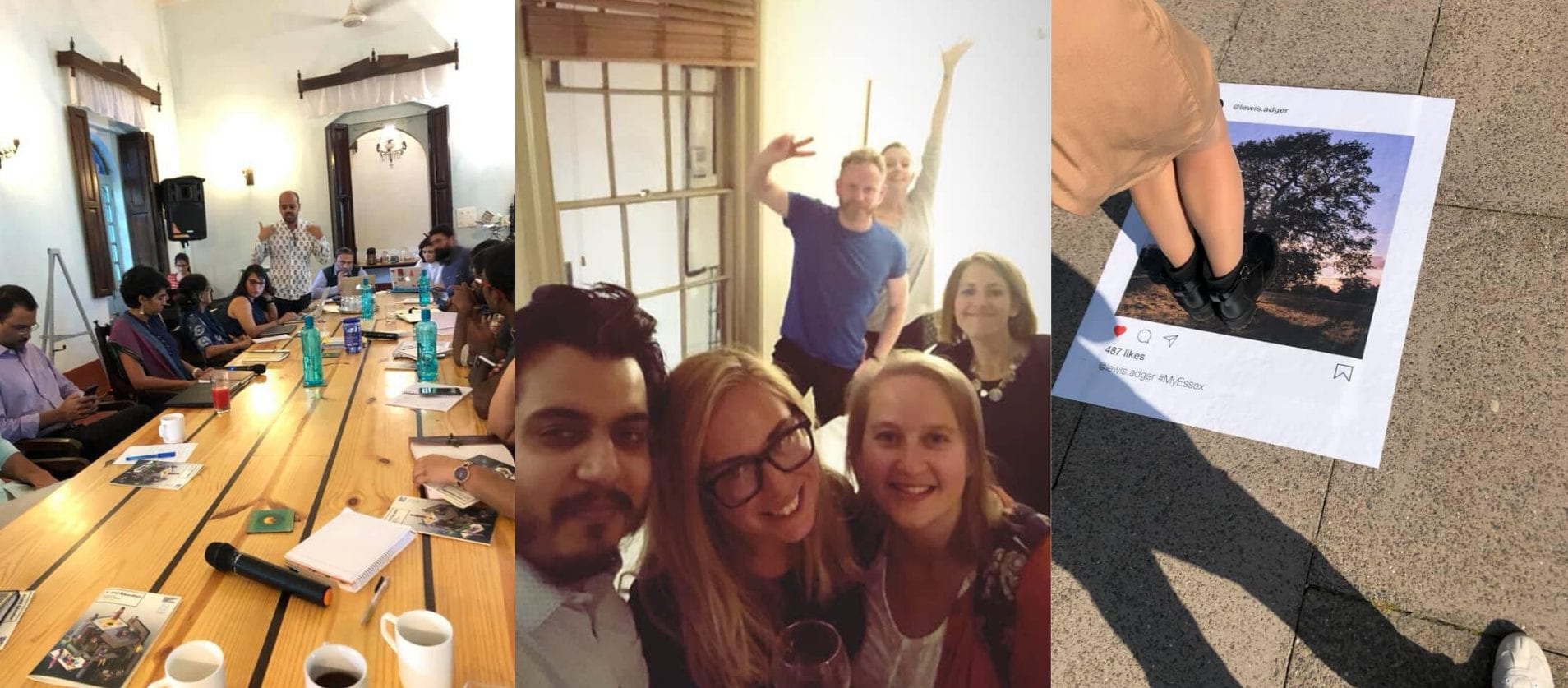 We are now about 80+ people. And as I write this, the faces of my top quartile favourites (who doesn't have some!) immediately flash across my face. I have a huge bias for performance, put in black and white – in numbers – & we have tried to build that into our 'everyday trait' as an org. In the last couple of months, we have had new leaders join us across Marketing, Product, + have also had a lot of early folks rise up like rockets to be in significant leadership positions within a very short span of time (I madly love this part!).
As an earlier version of myself, I honestly believe I wouldn't have stood a chance competing with a large set of our team – neither their analytical mindset, nor their creativity, and nor their perseverance. It is truly exemplary and inspires me every day.
There are some things you get and some that you don't. I remember the Board putting it in my to-do's to hire Managers across the HR & Finance function. I did not quite agree on the spend / seniority, but was literally forced into doing this. And boy oh boy, was I wrong. Life changed by ten times into ten times thanks to HR @ LeverageEdu Q2 onward, and then later Finance Q3 onward.
What I constantly say out loud / am transparent about, is that as a founder, I became a CEO by choice (and not by design > aka, I did not have to rise to it by learning 1000+ management principles etc) – and hence, I am learning alongside my team every single day. Yes, I make mistakes. Yes, I am also fortunate to learn very very fast. And yes, I am open to be coached towards becoming a better leader than yesterday – be it via feedback from my team, my customers, my board, my mentors, and the ecosystem at large which has public seen me grow amongst them across the last decade.
I have also drawn a lot of flak on the 'work-life balance vs work-life integration' debate, front from a lot of people. And while I had no idea about Jack Ma & his 996 theory before, I don't seem to hold views that are too far away from it. Company building is a massive all-encompassing "mission" to be on, and the formative years or so-called 'startup' stage of building asks for that 'go all in' attitude and nothing else. It's another thing that I picked this as an Analyst/Consultant while working in a much bigger Ernst & Young at 21, but with a boss who considered work as nothing less than war/temple depending on what day it was. It shaped a lot of me.
Was sharing this with one of our advisors few days back:
I also believe that working hard / having an A-level work ethic, is not separate, and in fact, furthers adds towards building a great culture. Team members become entrepreneurs over employees, develop an extreme ownership mindset, become close to each other (having seen highs and lows together), and the belief system skyrockets. – leading to not only creating high growth opportunities for themselves, but also evolving into war-tested leaders.
And with all that, is the constant reminder to continue doing good – both, by way of work everyday as we help students win, and outside work, by contributing to the communities around us.
We also believe in having a lot of fun of course!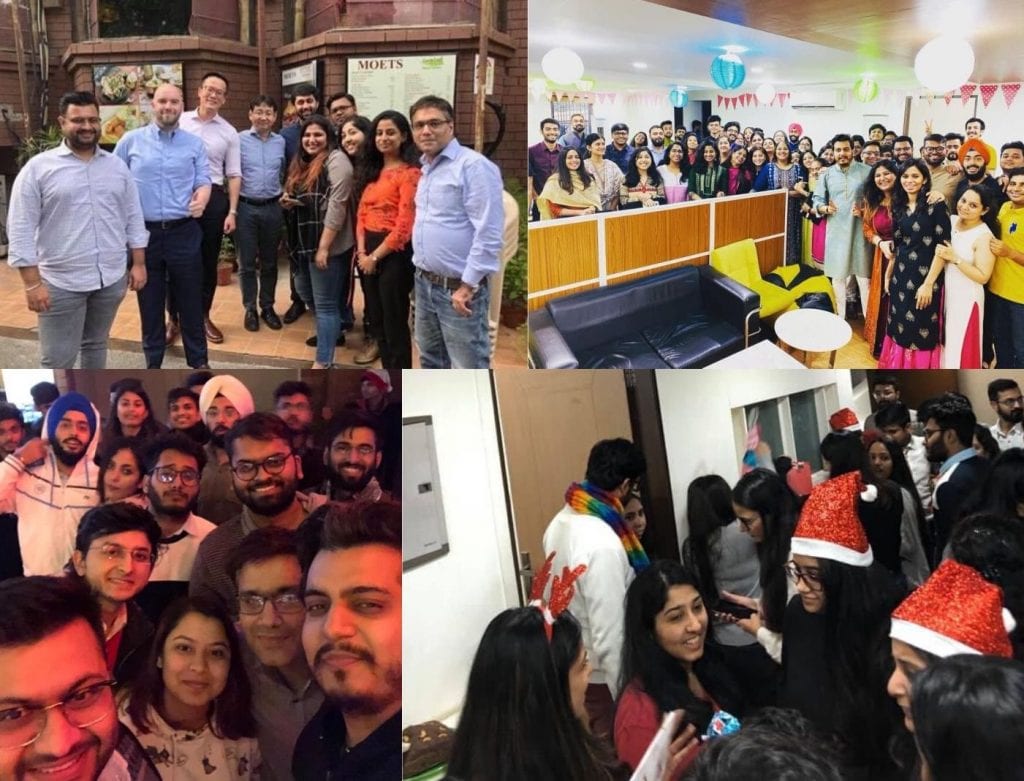 Two board meetings back, thanks to some very fast-paced revenue growth, I asked both our existing investors, DSG Consumer Partners & Blume Ventures, if it would be the right time to start fundraising / get along another new investor on the ride. What they said surprised me, because that wasn't how I (had) thought until then (about how venture $$ worked). They offered to co-lead another round into the company, giving me the option to choose what that amount will be (basis how much we'd need, to execute what was next!), and more importantly, advising me to continue operating/building vs anything else. In hindsight, a lot of more solid fundamentals that got built in the last quarter of the calendar year – came in part because of that support.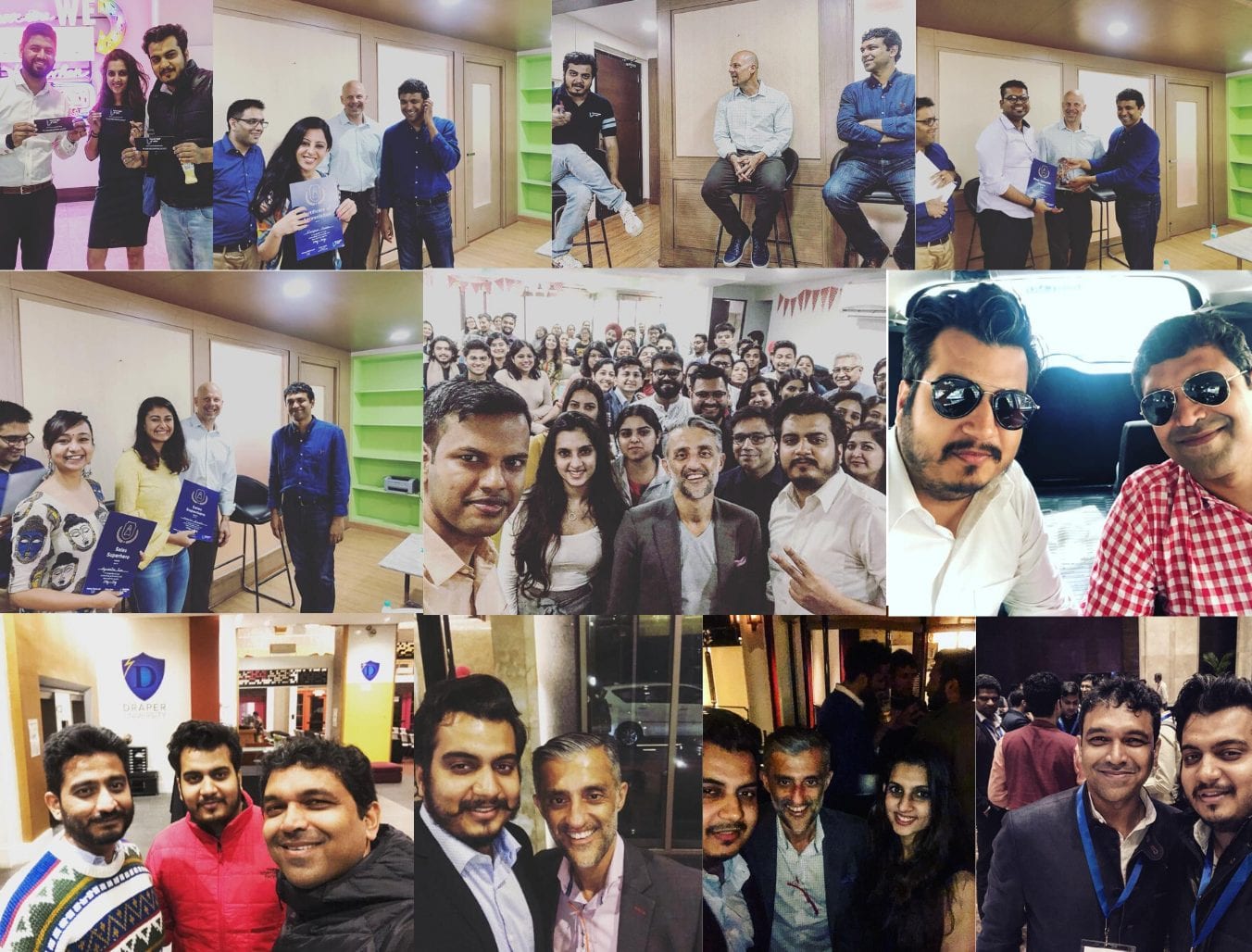 And hence, we ended the year pretty much the same way we started, announcing our round a day before the year ends.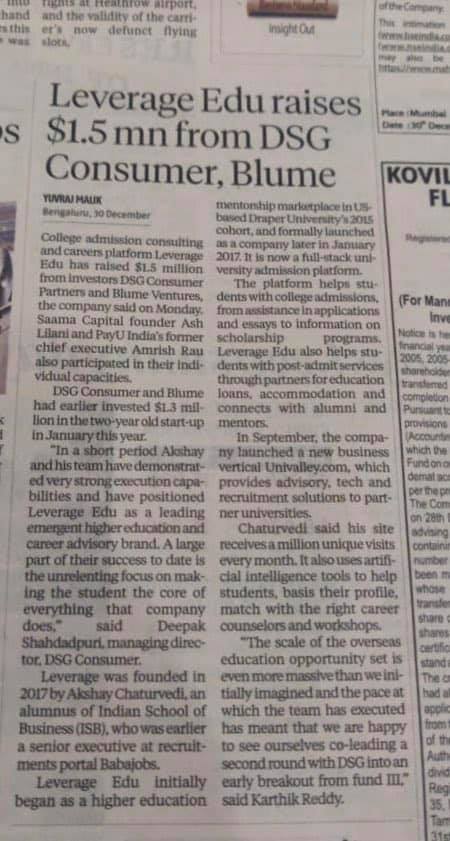 We raised a total of $2.7Mn in the last 12 months. And while a fundraise gives us great (hidden) opportunities – to talk about our existence, what we do/ how we are different (for future customers), the brand message, attracting great talent to consider working with us, for everyone associated with us to feel that tinge of pride & excitement – I will share what I wrote to the team when the news of the raise first reached them (here is the extract):
"That said, fundraise should always be thought of as fuel that will help us gear up > move to the next level in the journey. More hard work, more smart work, more clean execution, and much much bigger wins scripted by each one of us!!
I am personally more excited about celebrating your many individual and team wins over the next phase, which will together then lead to where we want to be next!
Only begun. Let's keep chasing. Leverage It!"
The real wins lie in execution.
In another two weeks from now, we will complete 3 years. It's been more than just a rocket ride, rather feels like a space center, where we are still getting ready to fly, one day.
There is always so much to do. As I draw a close to writing this year-end blog on New Years' Eve, I know that on the other side of the evening lies completing my own OKRs before the big company-wide review beginning next week, those emails that I need to send to the Universities, those congratulatory calls to successful students, that long persuasive discussion to convince someone to come onboard and work with us, the daily sales standup, the student servicing sheets, preparing my own inputs for the product & marketing roadmap discussions, and responding to the hundreds of emails and WhatsApps I missed as life happened.
It's adrenaline pumping. It's love, and obsession.
Will end with my favourite words, which now adore the Leverage Edu walls:
Doing is everything. Leverage It!
Thanks,
Akshay