All of us are familiar with the ever-rising cases of security breaches that compromise the data of people worldwide. Many organizations, both large and small have been the victims of such misuse of data and this has made information security a very important aspect of all organizations. With ever-increasing demands and huge scope, it is emerging as one of the most sought-after career options among today's youth. Want to pursue a career in info security? Take a look at this blog to learn more about the eligibility criteria, top universities, and career options in this field!
What is Information Security?
Information security is more than just avoiding unauthorized data access. info security is the practice of preventing unauthorized access, use, disclosure, disruption, alteration, inspection, recording, or destruction of data. Physical and electronic information are the two types of data. Personal information, social media profiles, mobile phone data, biometrics, and other types of data are all examples of information. As a result, Information Security spans a wide range of academic issues, including encryption, mobile computing, and cloud computing. mobile computing, cyber forensics, and online social media, among others.
The Multi-tier Classification System was developed during WWI with the sensitivity of the information in mind. The categorization system was legally associated with the onset of World War II. The Enigma Machine, which was employed by the Germans to encrypt military data, was cracked by Alan Turing. The three fundamental aims of information security initiatives are confidentiality, integrity, and availability (CIA).
Confidentiality – means that information is not shared with unauthorized people, organizations, or processes. Consider the case where I had a password for my Gmail account that was found when I was trying to get in. My password was taken in this case, and my privacy was invaded.
Integrity – implies ensuring data correctness and completeness. This implies that data cannot be altered without permission. If an employee quits an organization, for example, data for that employee in all departments, such as accounts, should be updated to reflect the individual's status as JOB LEFT so that data is comprehensive and correct, and only authorized people should be permitted to alter employee data.
Availability – This implies that information must be available when it is needed. For example, if you need to access information on a specific employee to see whether they've exceeded their leave limit, you'll need the help of several organizational teams such as network operations, development operations, incident response, and policy/change management.
Why Choose a Career in Information Security
Information security refers to the methods or processes which are used to protect different types of information. Although often it is thought to be synonymous with cyber security, it covers both digital and analogue information. In other words, cyber security is a subdivision under this area, and not identical to it. A career in this field is among the most popular options today not only because it is a high-paying field, but also because of the numerous choices one has about job positions. The main role of its analysts is to install security measures to protect information databases and systems while monitoring and investigating all issues that can lead to a breach of security. Sound fun? Read on to learn about the courses you can pursue to begin a career in this field.
Certified Information Systems Security Professional (CISSP) Certification
What is an information security management system (ISMS)?
An ISMS is a collection of principles and protocols designed to assist enterprises in the event of a data breach. Businesses may reduce risk and maintain job continuity in the event of a personnel transition by establishing a documented set of rules. ISO 27001 is a well-known standard for a company's Infosecurity Management System (ISMS).
What are Information Security Threats?
Software attacks, identity theft, sabotage, physical theft, and information extortion are all examples of threats:
Viruses, malware, worms, ransomware like WannaCry, trojan horses, and other dangerous algorithms that affect information availability are examples of software attacks on information security.
Phishing emails and websites are frequently used to steal confidential information or log-in credentials to obtain unauthorized access. One of the most dangerous cyber dangers is social engineering, which is difficult to defend against using typical security techniques.
Sabotage attempts, such as denial of service assaults, frequently try to decrease the availability of vital information assets, lowering confidence and productivity until the money is made in exchange for the organization's service being restored.
Theft of information and equipment is growing more widespread as most gadgets, such as smartphones and laptops, are now mobile. This places greater reliance on cloud security than at any other time in history.
Extortion of sensitive information entails acquiring access to it and keeping it hostage until a ransom is paid.
Courses for a Career in Information Security
If you want to pursue a career in this field, you can opt for a course in a field related to this domain, such as Infosecurity, cyber security, information technology, etc. Let's take a look at some courses that you can pursue at different levels of study.
Undergraduate Courses
Below are some of the different specializations you can choose from at the bachelor's level of study:
| | | |
| --- | --- | --- |
| BSc Cyber Security (Hons) | BA Applied Cyber Security (Hons) | BSc Computer Science and Cybersecurity |
| BSc Computer Engineering – Networking and Cybersecurity | BSc Computer Security (Hons) | BSc Ethical Hacking and Cybersecurity (Hons) |
| BSc Computer Security (Hons) | BSc Computer Systems (Cyber Security) (Hons) | BSc Cyber Forensics – Information Security |
Also Read: Cyber Security Courses
Postgraduate Courses
Here are some postgraduate specializations that you can pursue in information security and related fields:
| | | |
| --- | --- | --- |
| MSc info security and Biometrics  | MSc Cyber Defence and Information Assurance | MSc Network and Information Security with Management Studies |
| MSc IT Security Management | MSc infosecurity | MSc Data Networks and Security |
| MSc info security  | MSc Network and Security | MSc Information Technology with Cyber Security |
Doctorate Courses
Want to pursue your Ph.D. in this area? Here are some of the different specializations you can opt for:
| | | |
| --- | --- | --- |
| Ph.D. in Information Security | Ph.D. in Information Assurance | Ph.D. in Cyber Security |
| Ph.D. in Security Science | Ph.D. in Computing and Information Systems | Ph.D. in Digital and Cyber Forensic Science |
Also Read: PG Diploma in Cyber Security
Eligibility Criteria
If you want to pursue a career in Infosecurity, it is necessary to be familiar with the essential requirements that you need to fulfil for pursuing the course. Although the eligibility criteria may vary according to different universities, the basic criteria are as follows:
You need to have completed your 12th board exams in the science stream with the required minimum percentage of marks
For pursuing a master's level course, you need to have a bachelor's degree in the same or any related field with at least 50% of marks in aggregate
PhD candidates need to have completed their master's degree with the required percentage of marks
In addition to the above, there are some other basic requirements if you want to pursue your course abroad. These are as follows:
You would need a valid score on any of the accepted English language proficiency tests such as the TOEFL, IELTS or PTE
For master's and Ph.D. courses, you would also need to submit your GRE score
Big Data Security: Starter Tips by Stewart Dunlop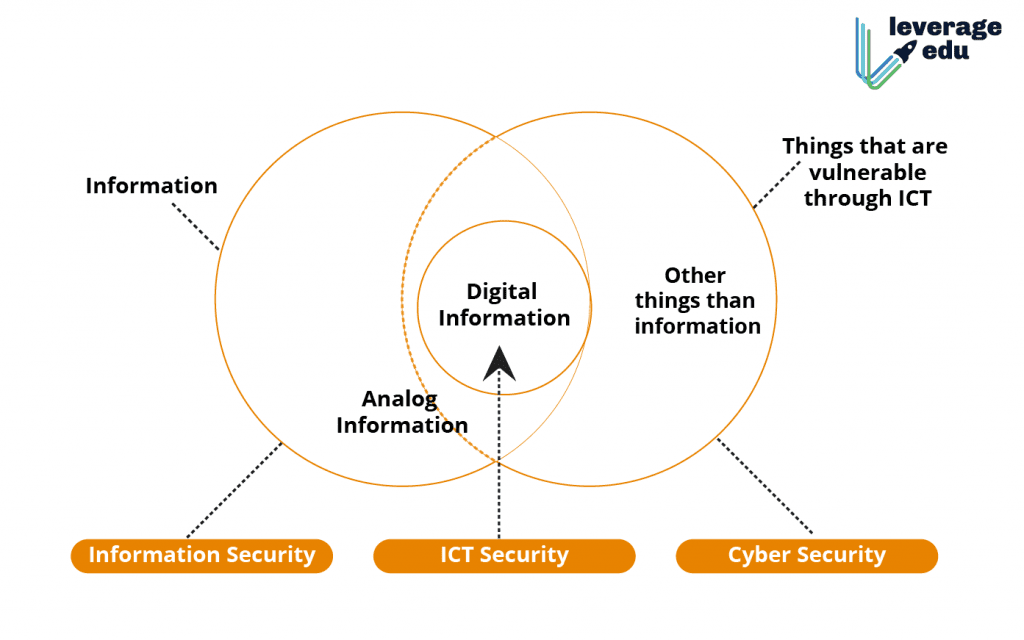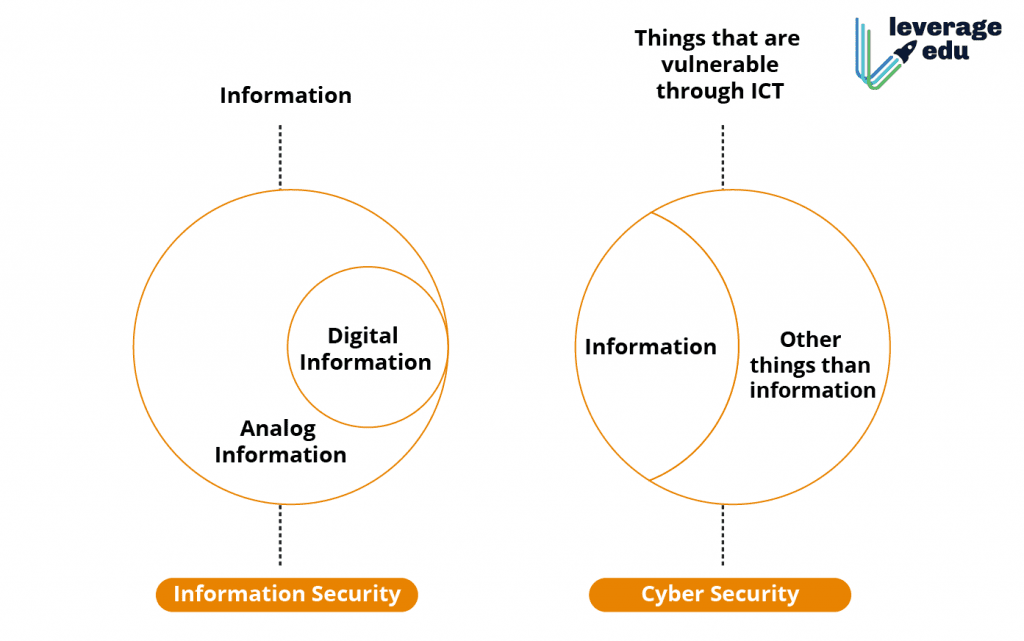 What is the Relationship Between Information Security and Information Risk Management?
Information risk management is the process of detecting vulnerabilities and threats to an organization's information resources and determining what, if any, countermeasures should be implemented to decrease risk to an acceptable level depending on the information's worth.
Any risk management approach must take into account two primary factors:
Risk management is a never-ending and iterative process that must be performed when new risks and vulnerabilities develop.
The countermeasures or controls chosen must find a balance between productivity, cost, efficacy, and the asset's information value.
Because security events happen in a context and might originate from unplanned or unexpected threats like improperly configured S3 buckets or external attackers, risk analysis and evaluation have inherent limitations.
Popular Universities For Information Security
Interested in one of the courses mentioned above and want to pursue it at a top global university? Here are some of the most popular universities that offer the above courses in info security and its related fields:
Also Read: Career in Cryptography and Network Security
Information Security Career Options
Having a degree in this field or a related field makes you eligible for a plethora of different career opportunities. Moreover, there is a huge demand for professionals which also makes it a very lucrative career field. Want to know what opportunities lie for you in this field? Here are some of the job positions that you can be hired for:
Information Security specialist
Security Manager
Chief Security Officer
Security Engineer
Malware Analyst
Security Director
IT Security Consultant
Penetration Tester
IT Security Architect
Forensic Computer Analyst
Security Director
Also Read: Kickstart Your Career in Cyber Security
Q1. Is a job in information security worthwhile
Ans. The majority of people are currently preparing themselves for a career in cyber security due to the lucrative compensation, adaptable work hours, and possibility of working from home. People who work in this field are quite happy with their careers. They can attain a healthy work-life balance, which is desired in most professions.
Q2. How can I get my information security profession started?
Ans. Obtaining a degree is the route that most people take in order to pursue a career in cyber security. These individuals typically register in undergraduate cyber security, IT, computer science, or information assurance programs. Some firms could also require a master's degree if you're aiming for a higher job.
Q3. Is information security is high in demand?
Ans. The Professionals in cybersecurity are in high demand right now Because It is one of the professions that is expanding the quickest.
Hope you found this blog on a career in information security interesting and informative. Want to become a professional in this fun field? Our experts at Leverage Edu can give you the best guidance for choosing the perfect course and university to help you get started on your dream career. Sign up for a free 30-minute session with us today!